Walking the North Wessex Downs on The Ridgeway
By Tara Walker-Rose
I was delighted to be able to walk this trail for my fam trip this year for two reasons. Firstly The Ridgeway is new to Mickledore and I wanted to visit some accommodation hosts and familiarise myself with the route. The second reason was that all the Mickledore trips I've been on so far have been in the north of the country and I wanted to travel in the other direction and see some different scenery! I chose to walk the western half of the route over the North Wessex Downs from Avebury to Goring as I wanted to take my dogs and currently only this section has suitable dog-friendly accommodation. I am fascinated by the history of the trail and the white chalk horses carved into the hills of this area and was excited to be able to visit some.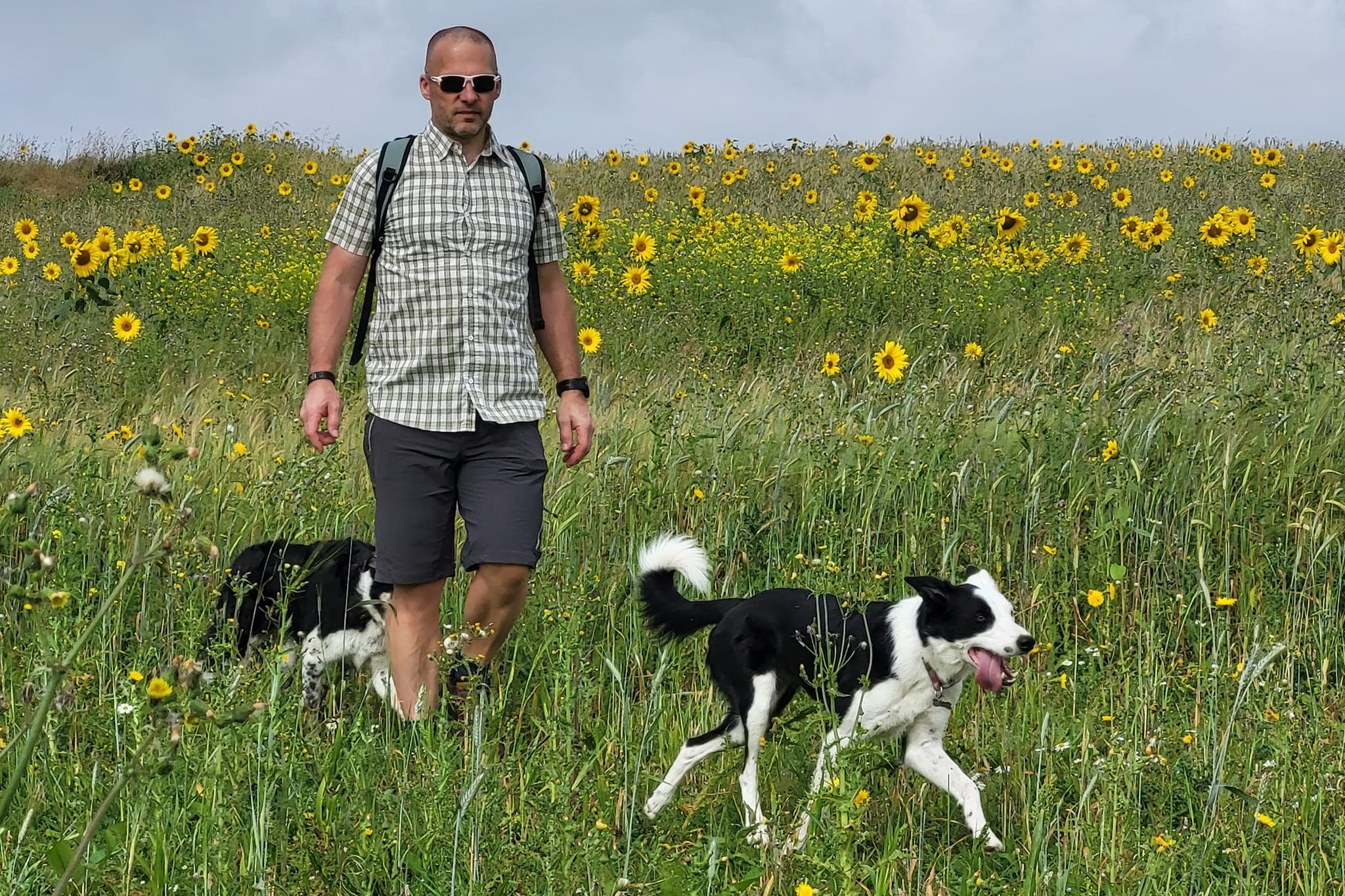 Arriving in Avebury
We arrived early to the World Heritage site of Avebury for our first night's accommodation so that we could explore as there is so much to see here. I would definitely recommend doing this. It is a popular spot at the weekends and the weather was great so Avebury was busy with tourists. Many are there for a day out with a walk and picnic, however Avebury, like Stonehenge, attracts contemporary pagans and druids from both the United Kingdom and further afield, especially around significant dates like the Solstice. It was only 2 weeks until the Autumn Equinox and there were many camper vans parked that looked like they were staying for a while. The village is situated inside one of the largest stone circles in the world, built during the Neolithic period roughly 4000 BC to 2200 BC. The large circle around the village encloses 2 smaller circles and the village itself is surrounded by many other monuments, all of which are free to visit.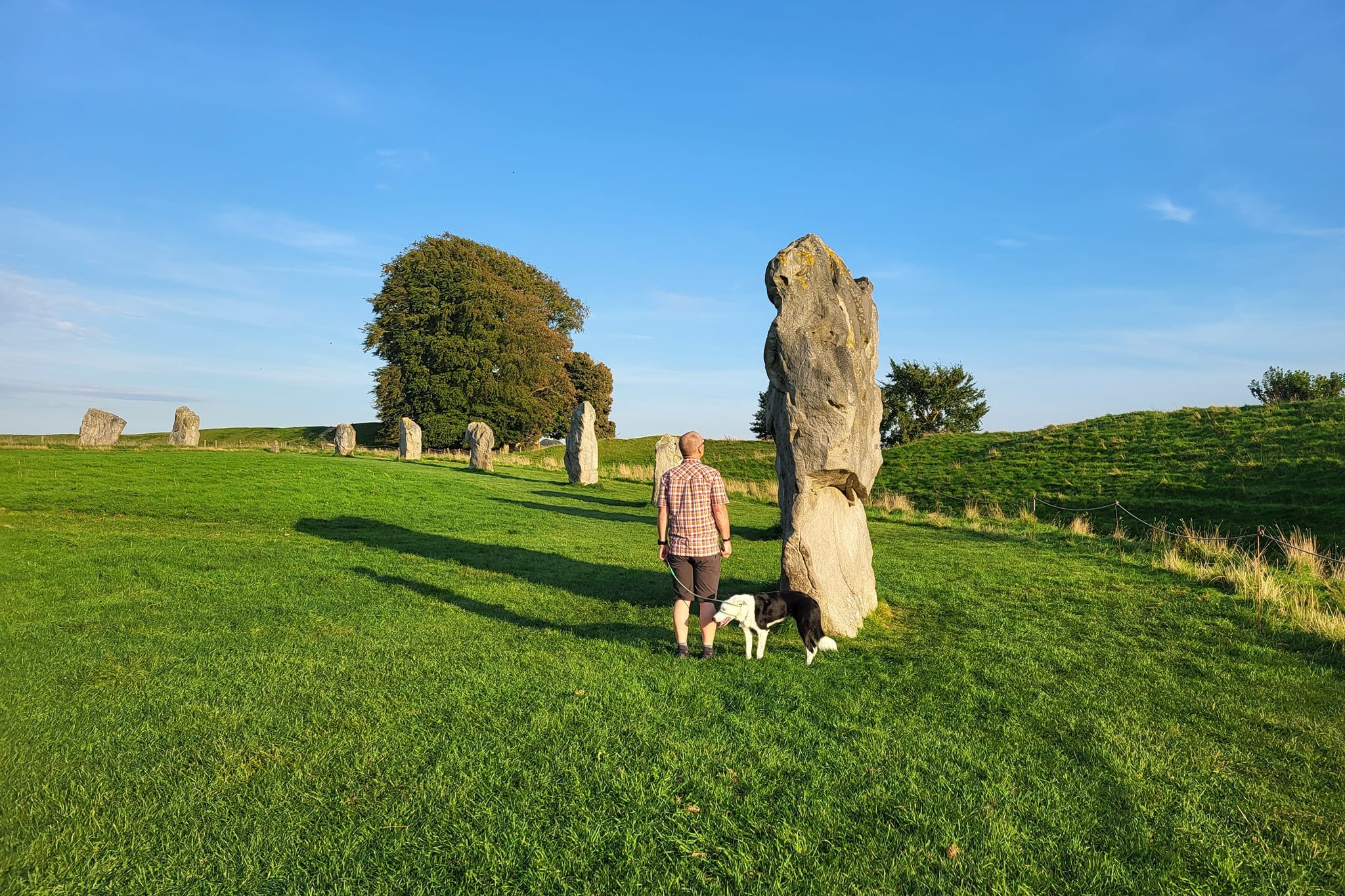 Just outside Avebury we visited Hackpen Hill , the site of the Hackpen White Horse cut into the chalk hillside. This forms part of another trail called the White Horse Trail which visits each of the White Horses in the area.
We visited The Sanctuary which is right at the official start of the route, and is the site of a circular building, probably a temple, dating back to 2500BC. The Sanctuary is connected to Avebury by West Kennet Avenue, an ancient roadway originally marked by two parallel rows of around 100 stones, although they are not all present today.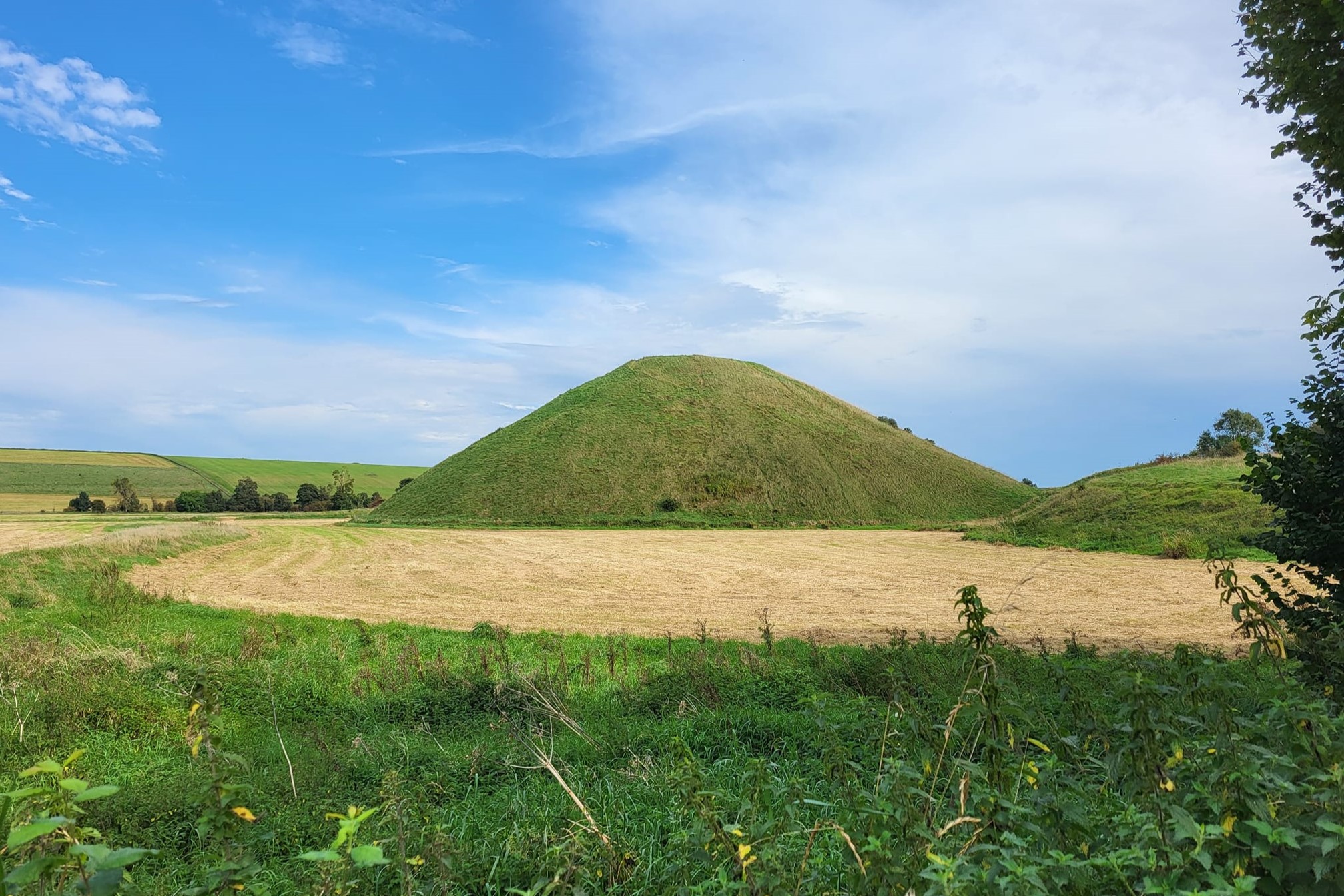 Silbury Hill is another important site close to the start. This is a man-made hill dating back to 2600BC which would have required super-human effort to construct. No-one really knows why it is there despite many excavation attempts in the past and there are plenty of weird and wonderful theories.
Before checking in to our B&B we visited another of our accommodations in Avebury and met Mike, the host there, finally putting a face to a name. He let me look around his lovely house to see what they provide for our guests and I also met some Mickledore customers about to start the full route, who I would be seeing daily on my walk.
Avebury to Ogbourne St George
After spending the night in our B&B, situated slightly spookily right inside the stone circle, we headed out on the most direct route to the trail. This actually excludes the very first part of the route (about a mile and a half) but as we had already been to the official start we didn't feel that we were missing out. The terrain today was in two halves with the first part mainly stony path and the second a broad grassy track.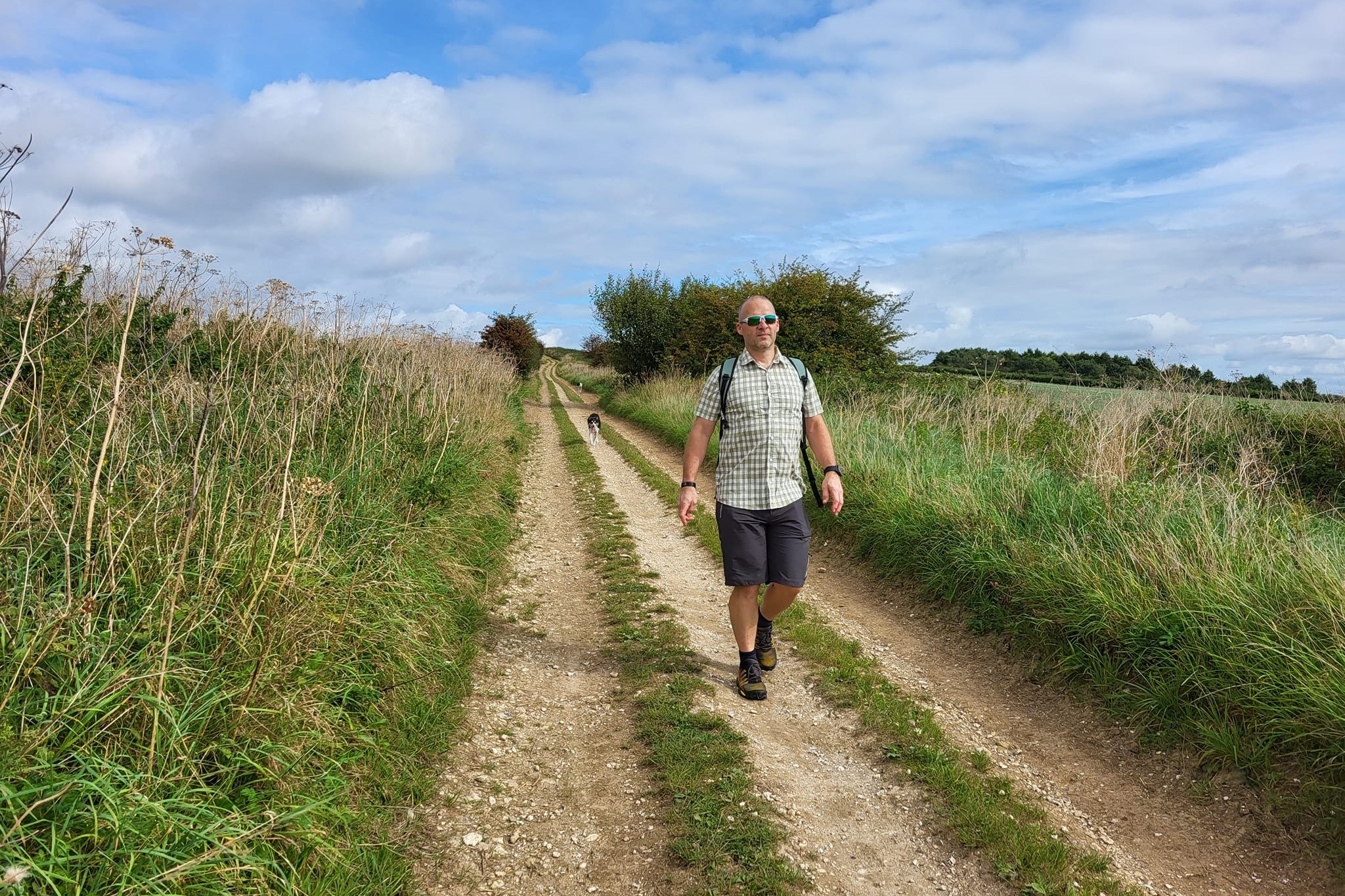 Of interest about half way through the day was the impressive Iron Age Hill Fort of Barbury Castle, 11 acres in size, ringed with double ramparts and deep ditches, with far-reaching views to spot the enemy approaching.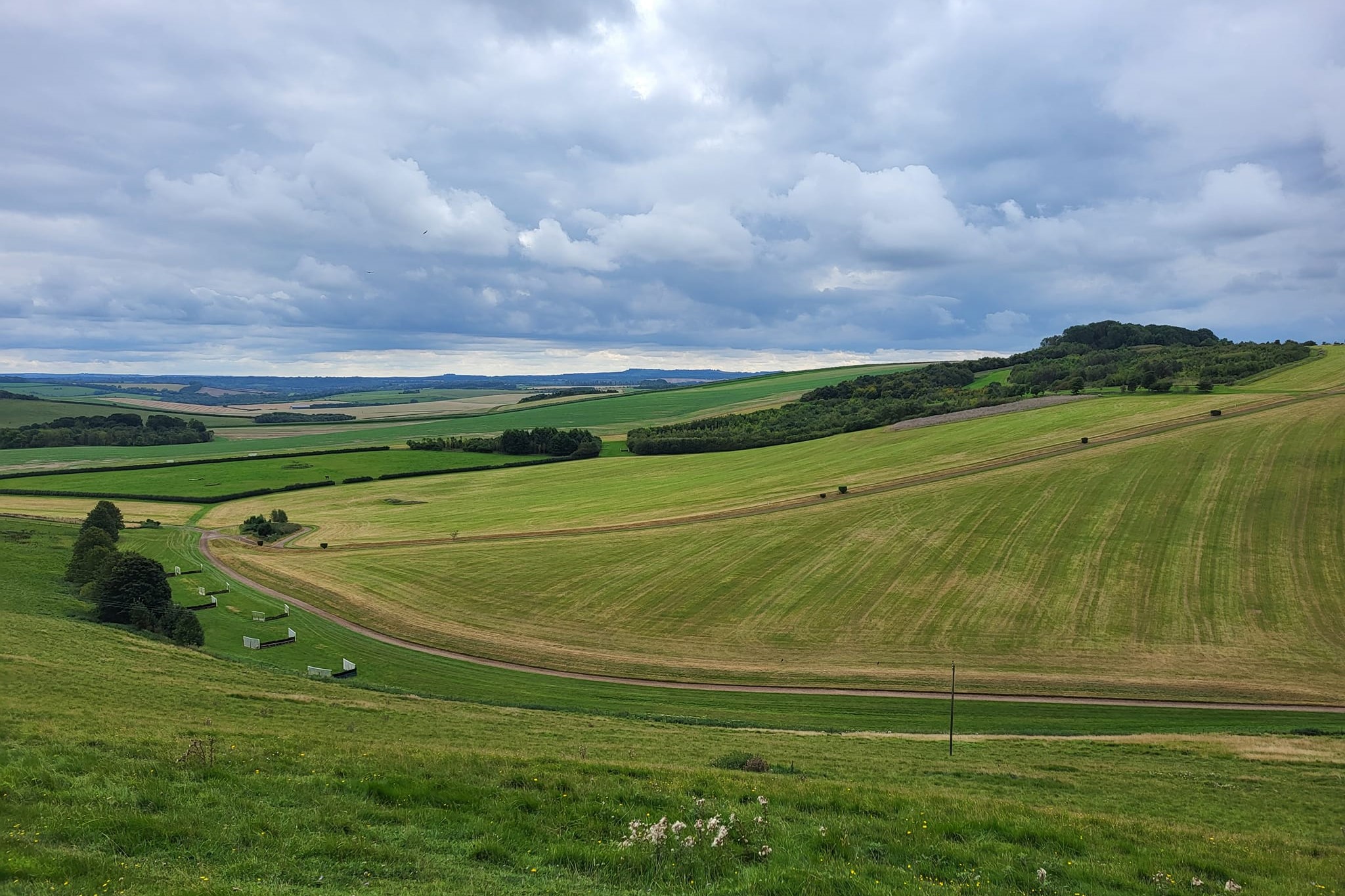 The grassy second half of the day was on Smeathes Ridge, soft and springy for easy walking. This chalky terrain is favoured by racehorse trainers and there are numerous training facilities and gallops visible from the trail. As a horse lover I was hoping I'd see them out one morning, but it seems they get up much earlier than I do!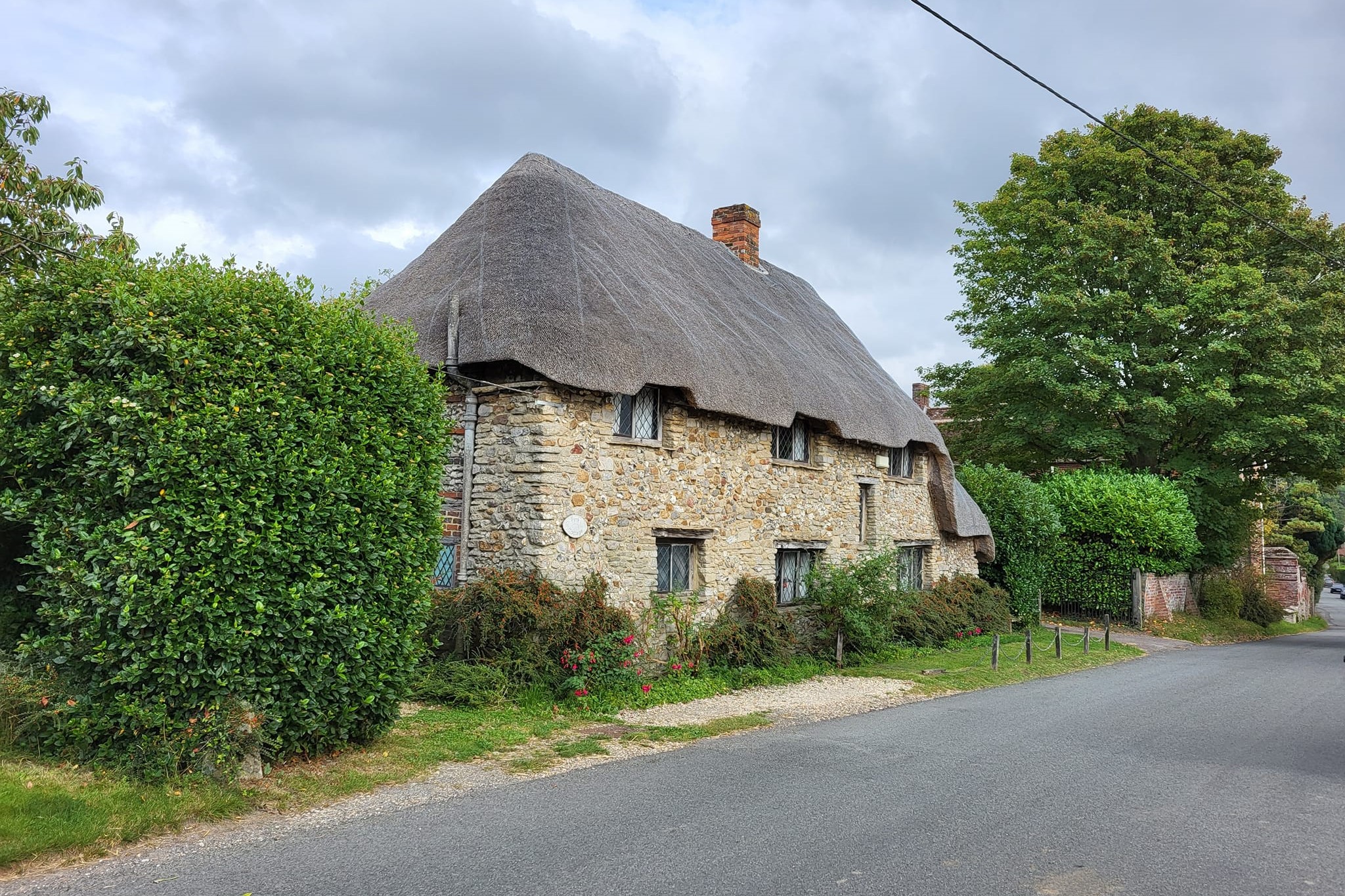 We were fairly early arriving in Ogbourne St George so we had a look around the village, spotting our customers doing the same thing, before checking in to our accommodation for the evening.
Ogbourne St George to Woolstone
The day started very hot and humid as we retraced our steps back to the trail after a lovely breakfast and a chat with our host about the accommodation and the pub's history, and with our customers about the day ahead.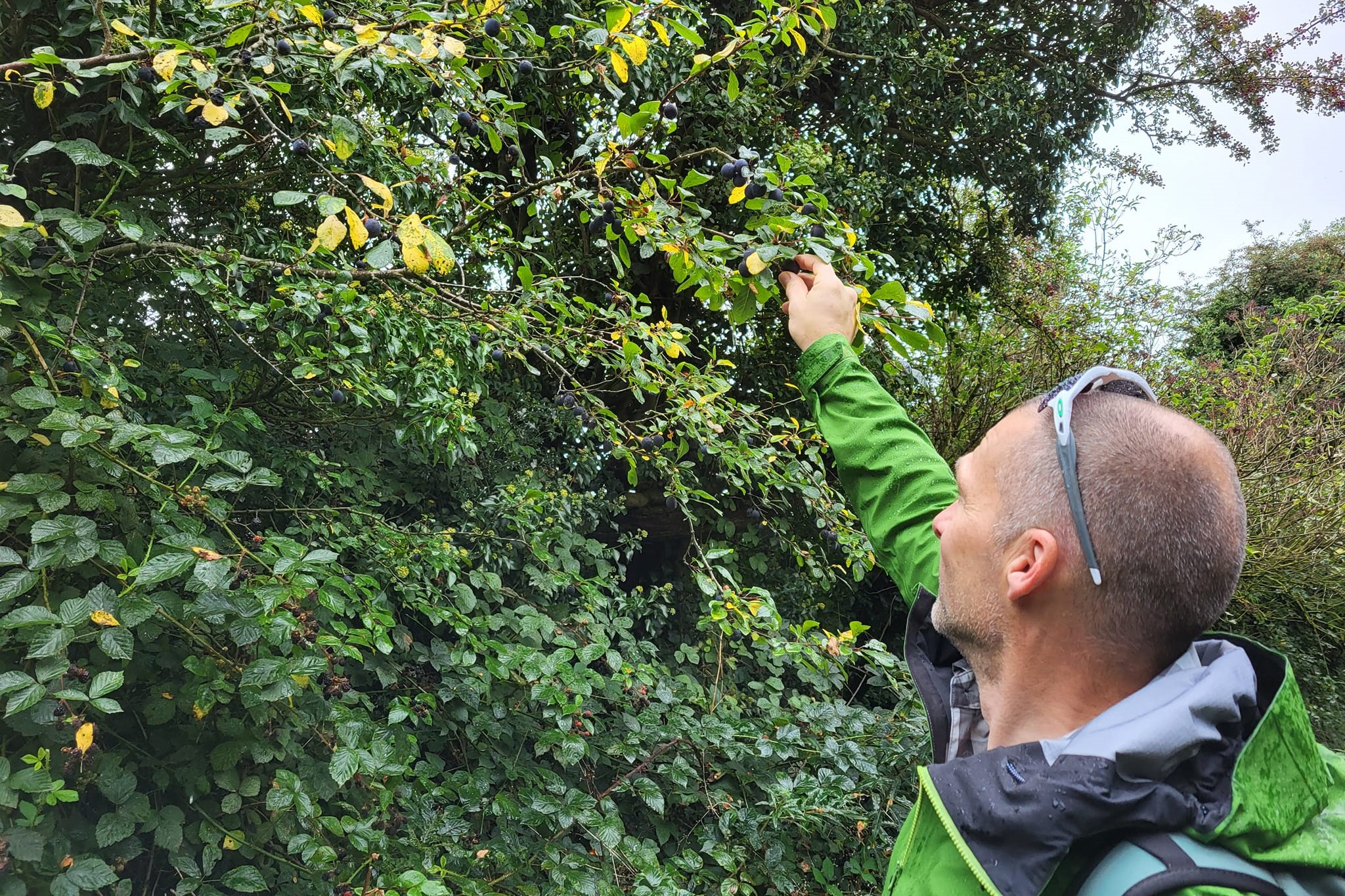 The first half of today was on wooded leafy lanes that were stony underfoot. In spring there would be bluebells and wild garlic but today was a foragers dream with blackberries, elderberries, sloes, damsons, crab apples and rosehips all lining the path.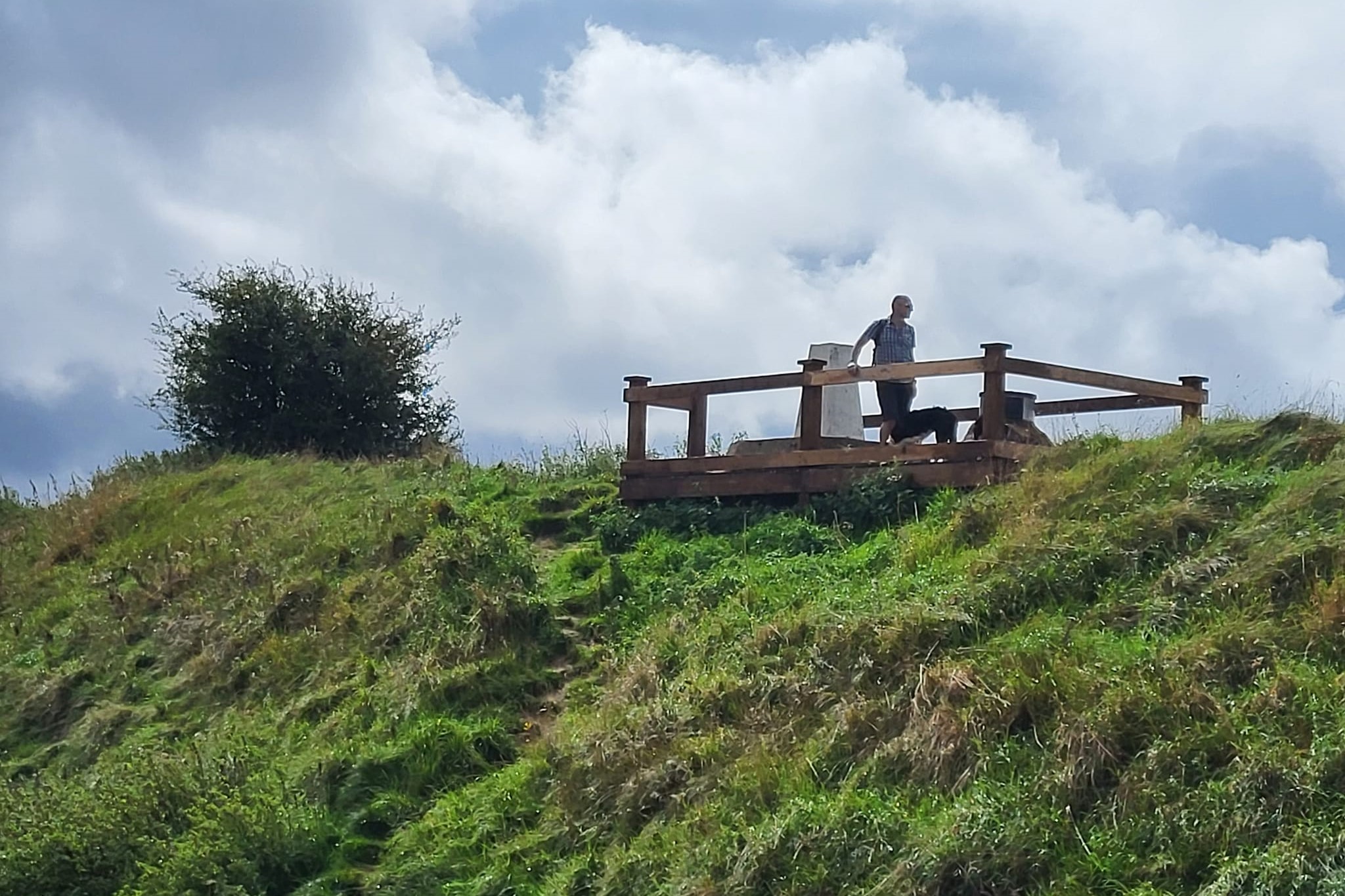 About half way through the day we took the short detour to an Iron Age Hill Fort, Liddington Castle. This is a lot smaller than the fort of yesterday but worth a look. There are views from here over Swindon giving a clue to what is coming up – a section of road walking. It was quite a contrast to the rest of the day as we took the road to cross the M4 and it was surprising how quickly we went from secluded quiet paths to the hustle and bustle of people and traffic then back to peace and quiet again.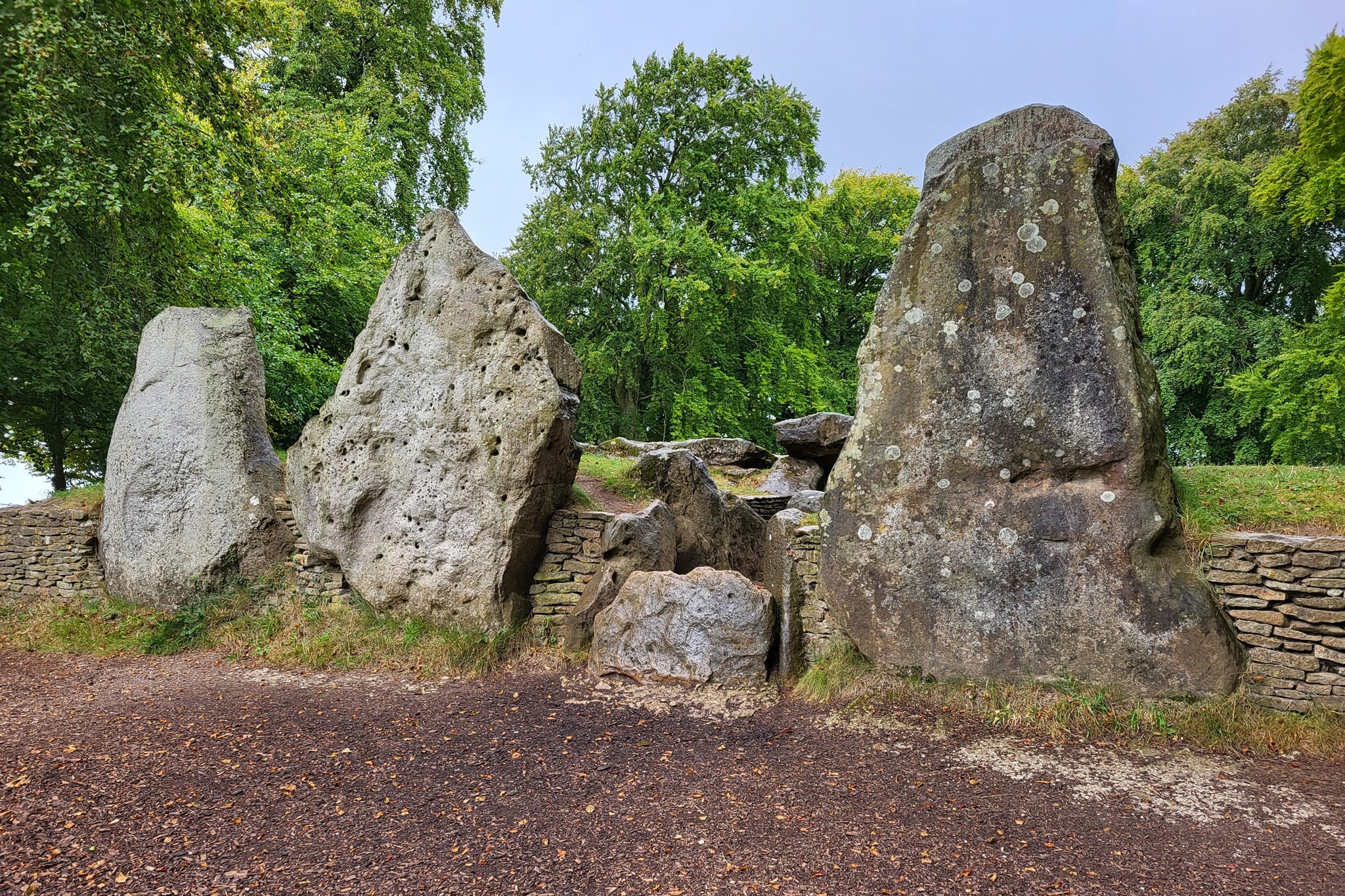 After the road section the trail is mainly on firm wide paths passing Charlbury Hill and on for a few miles to reach the short detour to Waylands Smithy. This has never actually been what we would expect a Smithy to be, ie a forge, but it is actually a Neolithic longbarrow dating back to 3590 BC. It's an impressive structure and was found to contain the bodies of 14 Neolithic people thought to be from important families in the area. It's an atmospheric setting in a clearing beneath the trees and the guidebook says it can be eerie in the mist which I don't doubt. I was glad to get back on the trail!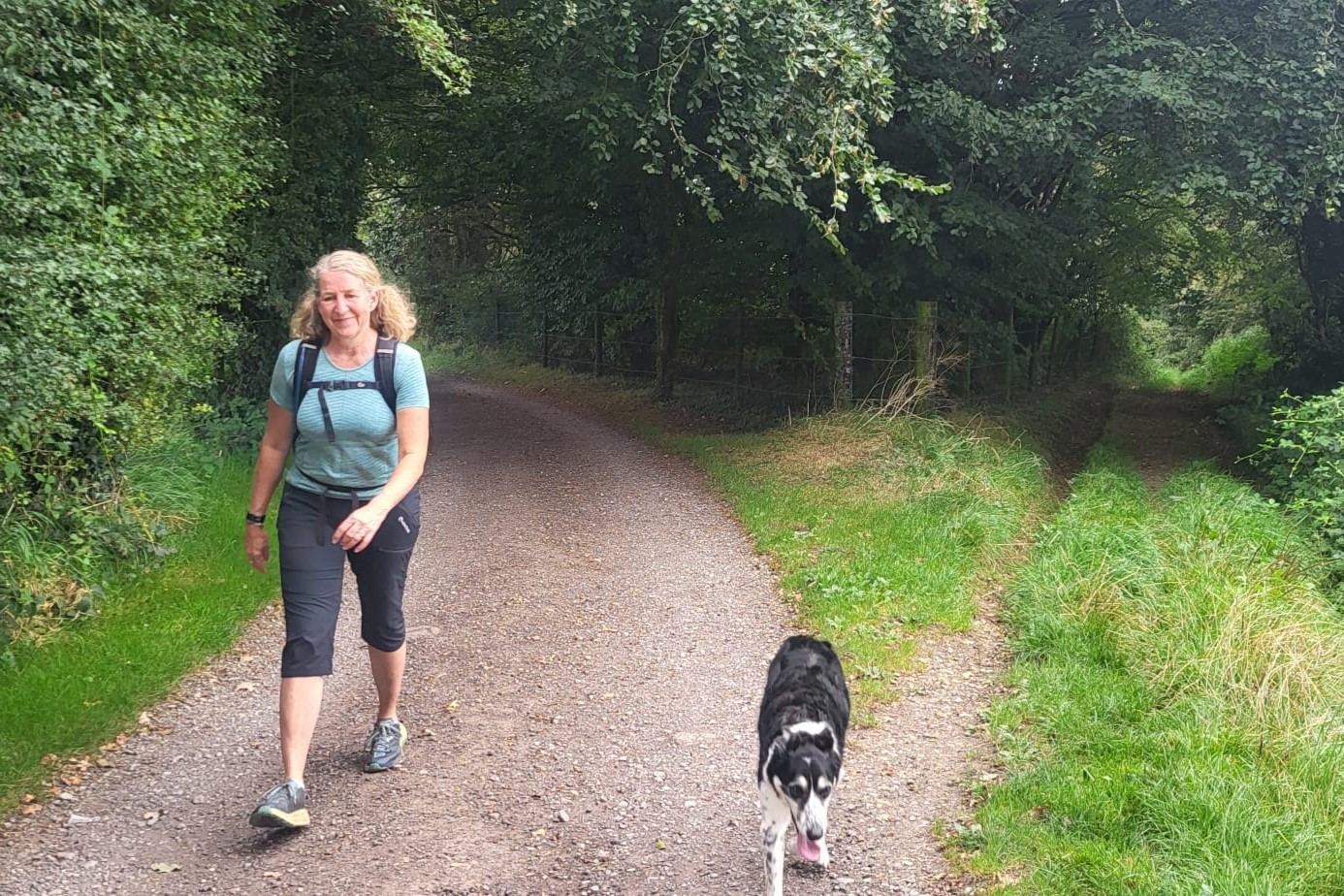 As we reached Woolstone we were able to catch a glimpse of the Uffington White Horse on the hillside. Made from chalk filled trenches carved into the hillside it's the oldest in the UK at around 3000 years old and the one that inspired all others. Knowing we would get a closer look at it on the next section of trail we left the path and walked down into Woolstone to the pub which was our home for the evening.
Woolstone to Letcombe Regis
We knew today was a relatively short section with a mile to get back to the trail from Woolstone, then only 6 miles to reach our accommodation at Letcombe Regis, so we planned in a visit to nearby Wantage. We decided to run what we could today leaving plenty of time for our detour.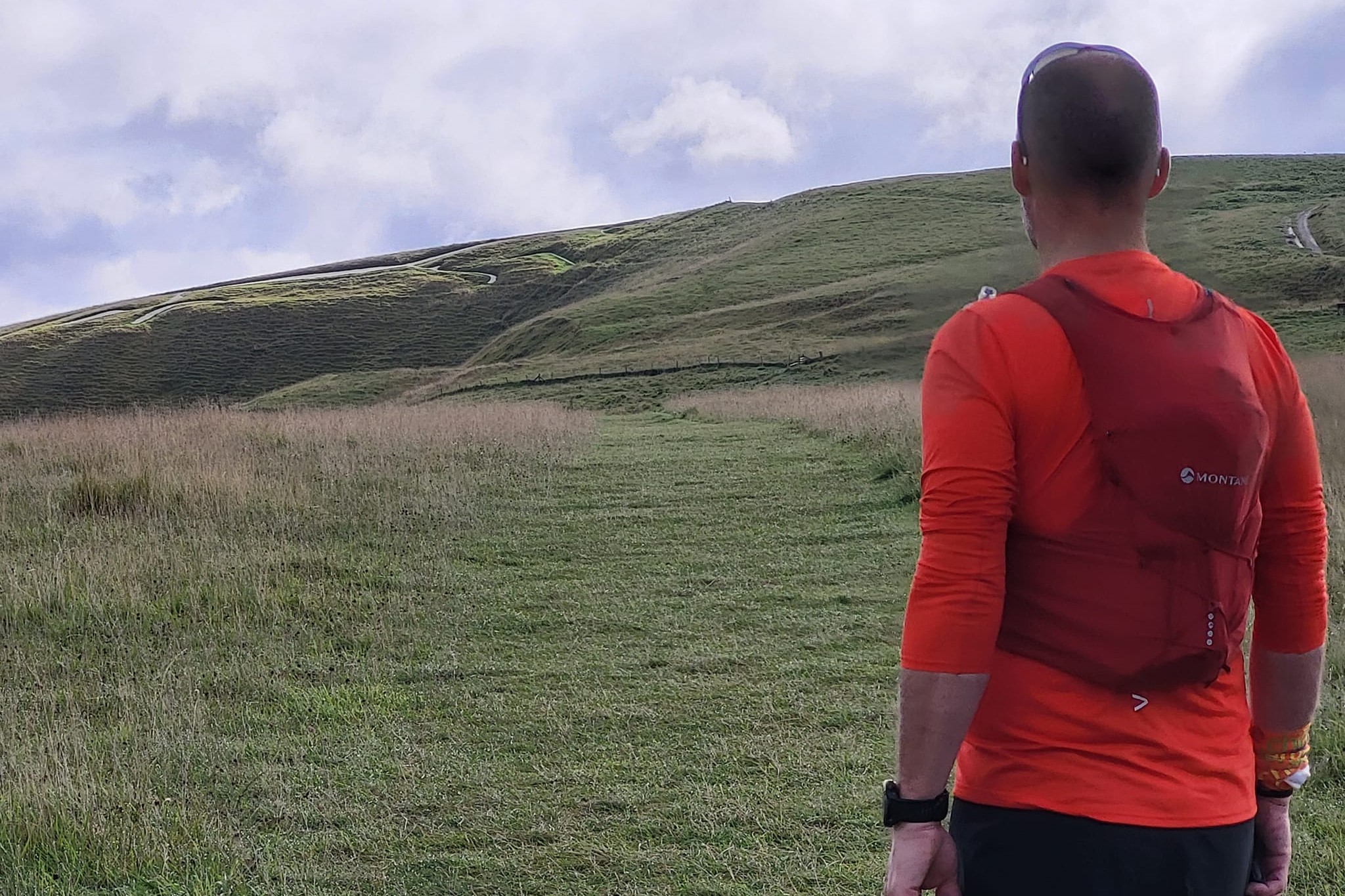 First up was White Horse Hill, named for the Uffington White Horse that we saw yesterday.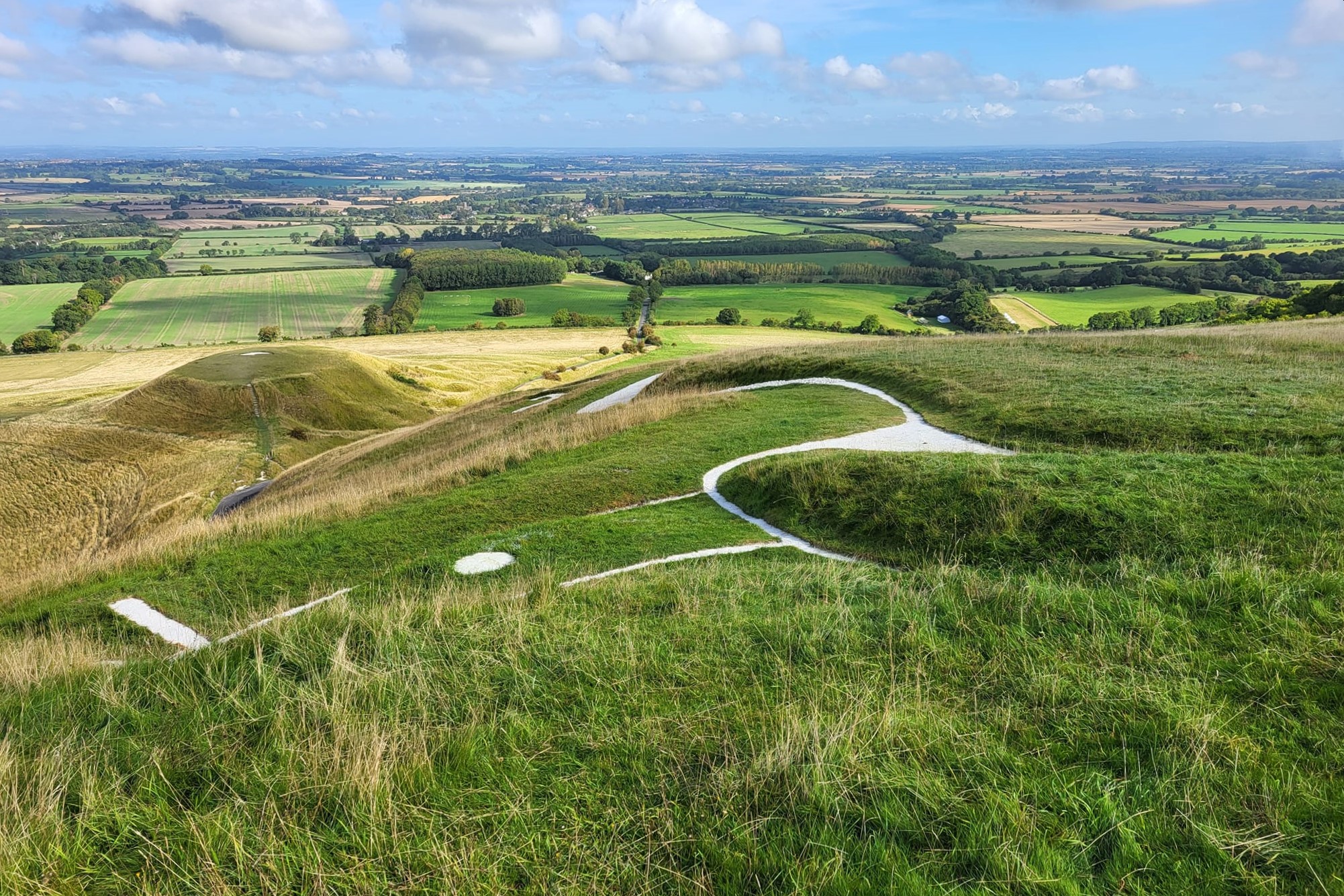 It's just visible from the valley at the start of the day, then the trail climbs up towards and then alongside it but it's really hard to see it close up. It's best viewed from above, from a helicopter. Drones are not permitted here. It's difficult to imagine how it was created without the use of any technology to help. The horse is just below Uffington Castle which is passed on the trail, another Iron Age Hill Fort with amazing views. The ramparts here are really well preserved and we spent some time walking around the Fort.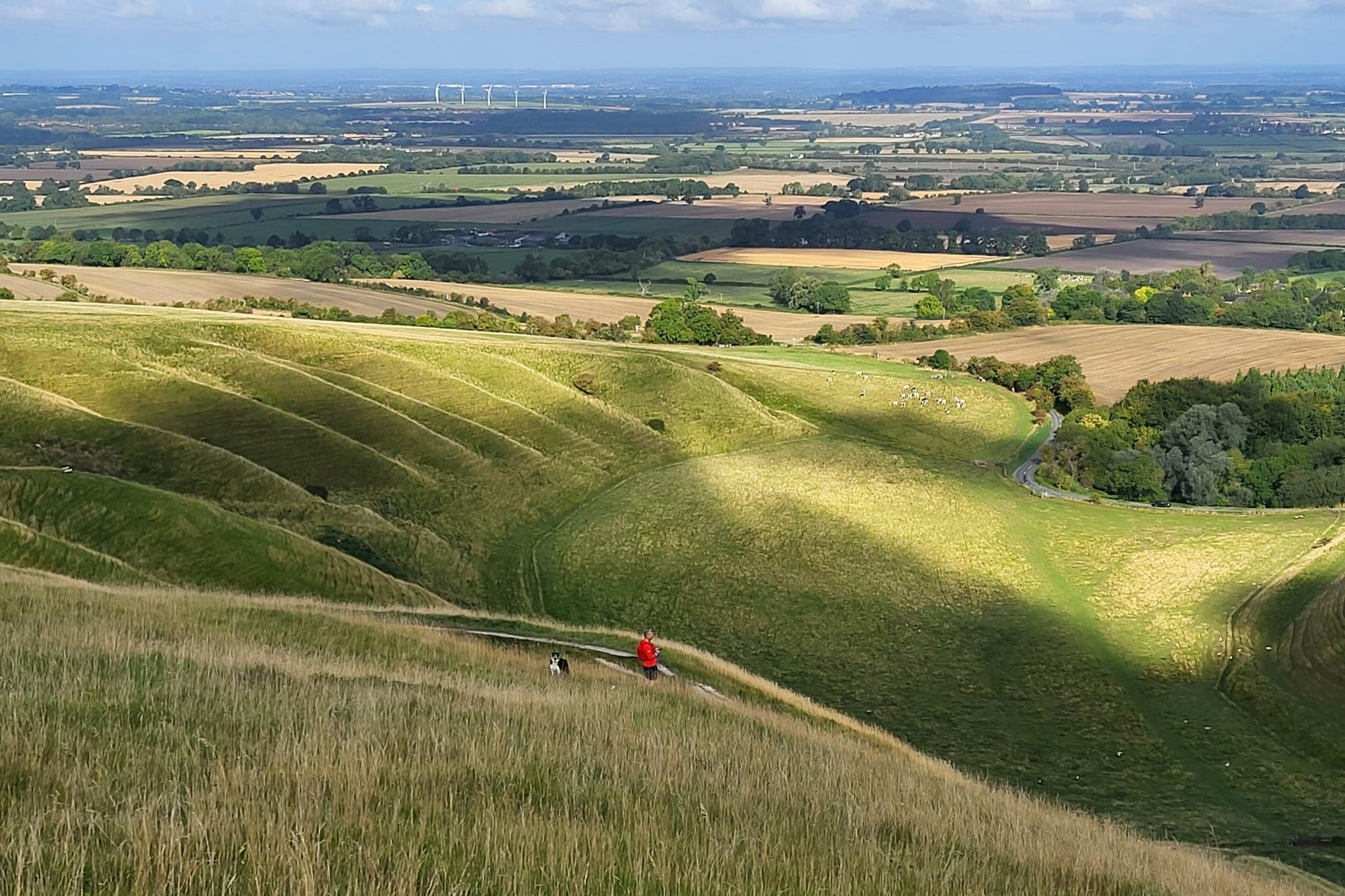 From here The Ridgeway is really chalky underfoot and this type of terrain continued all day. The chalky ground is actually quite slippery in the morning dew, despite the weather being dry, so I can imagine you'd need good boots in wet conditions. We've worn trail running shoes all week which have been perfect in the warm weather. I always bring boots just in case but try and avoid wearing them if I can.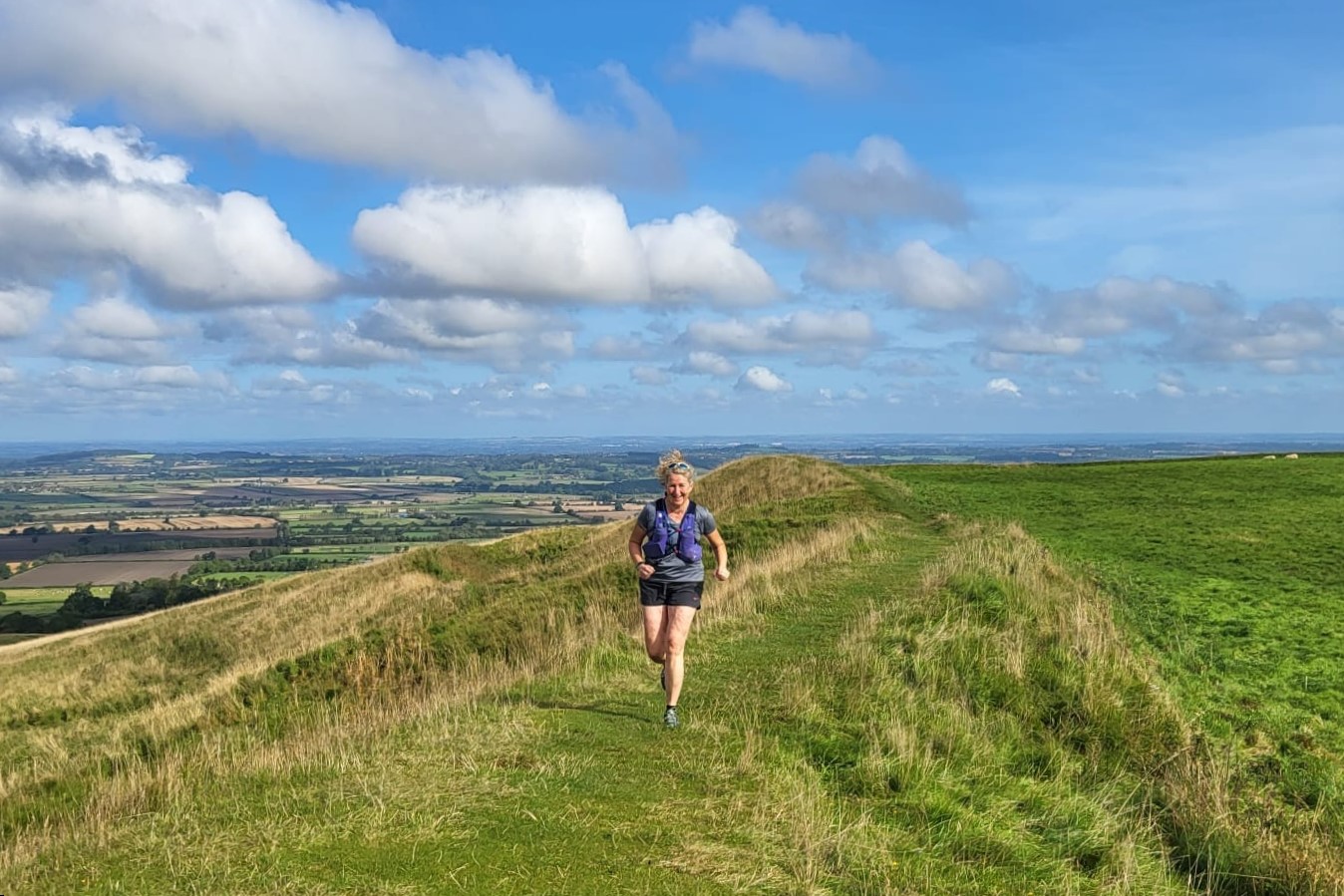 The trail was more exposed and higher than yesterday with great views all around until we turned off at Segsbury Camp, another Iron Age Fort, and took the lane down to Letcombe Regis.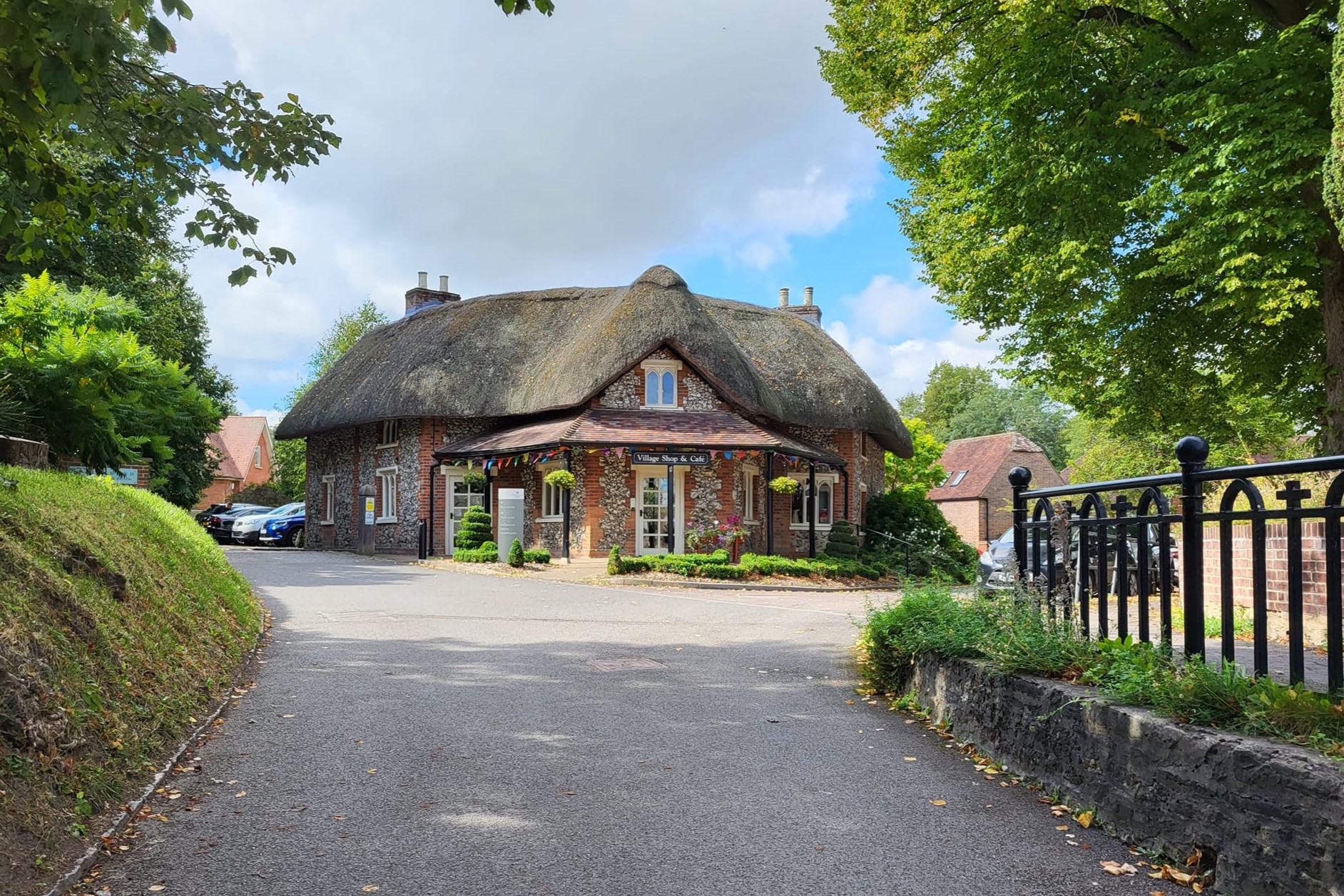 Letcombe Regis is a really pretty village dating back over a thousand years. It has a 12th century church and many thatched buildings. The lovely pub we are staying in was open but we pushed on to visit Wantage for the afternoon as planned via a footpath avoiding any roads. It's about a mile each way. I'd promised myself cake, it's the law on a walking holiday, and Wantage didn't disappoint. This is one of the only opportunities to buy anything you need as shops and facilities are scarce on the route. I still haven't seen racehorses on the gallops but Wantage had a gallery with lots of paintings. I secretly wondered whether our luggage courier might agree to transport one along with our luggage but I decided he might not be very enthusiastic about my plan.
Back at the pub we took the opportunity to check out their beer garden and chatted to a fellow walker travelling with another company. She's going to give Mickledore a try next time!
Letcombe Regis to Goring on Thames
After a short spell on the road back to the trail we found ourselves on more wide grassy trail offering fairly easy walking. This terrain continued for most of the day over the downs.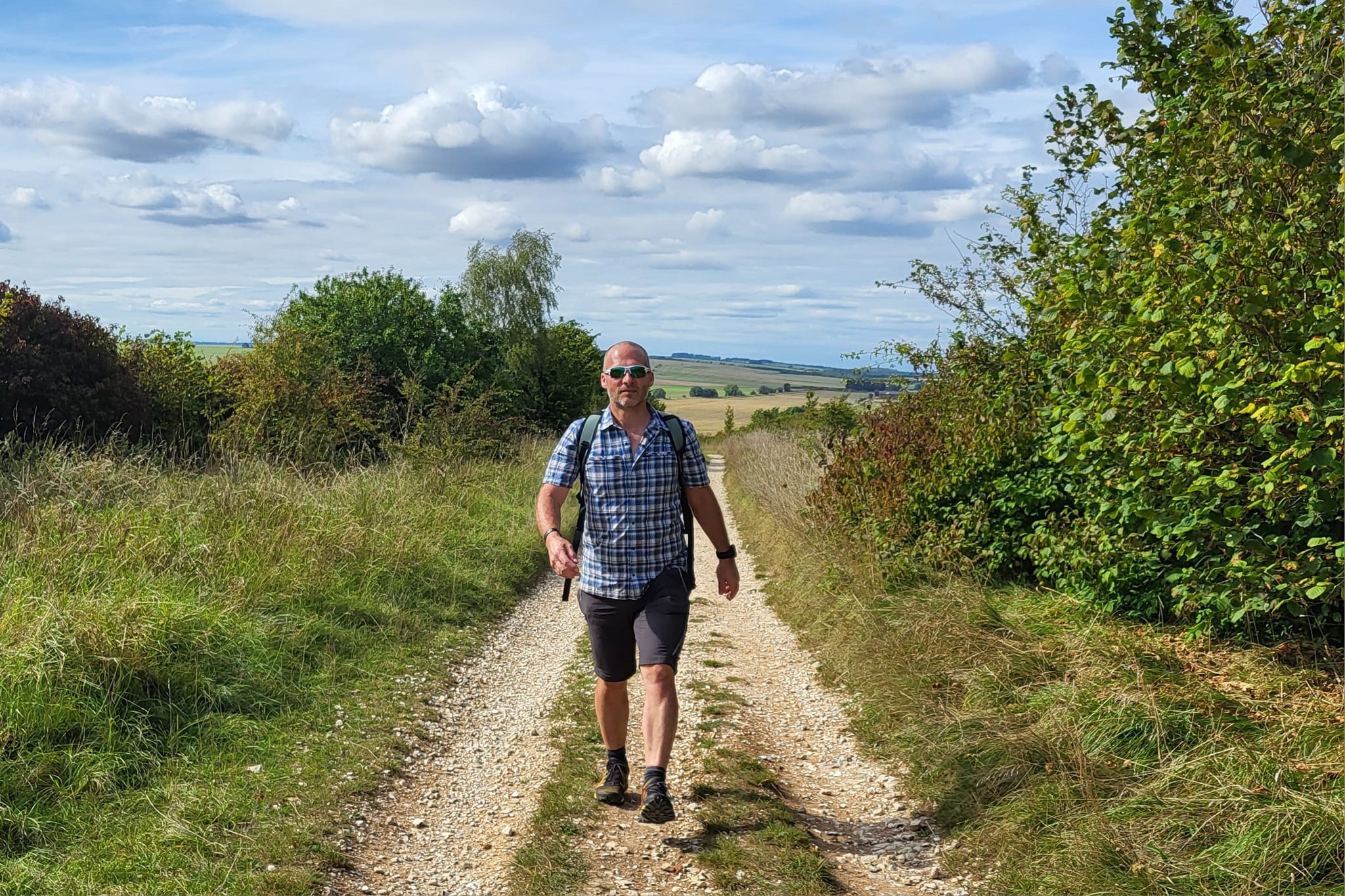 There were no Iron Age hill forts today, but other things to see included lots of private gallops (still no horses) far reaching views, Red Kites overhead, and at one point a Spitfire doing aerobatics. We passed cyclists and dog walkers along the way, but very few people who looked like they were doing a long distance walk.
On the approach to Streatley is the steep sided valley of Streatley Warren where the guidebook promised lots more Red Kites, but this section actually had many Buzzards circling today.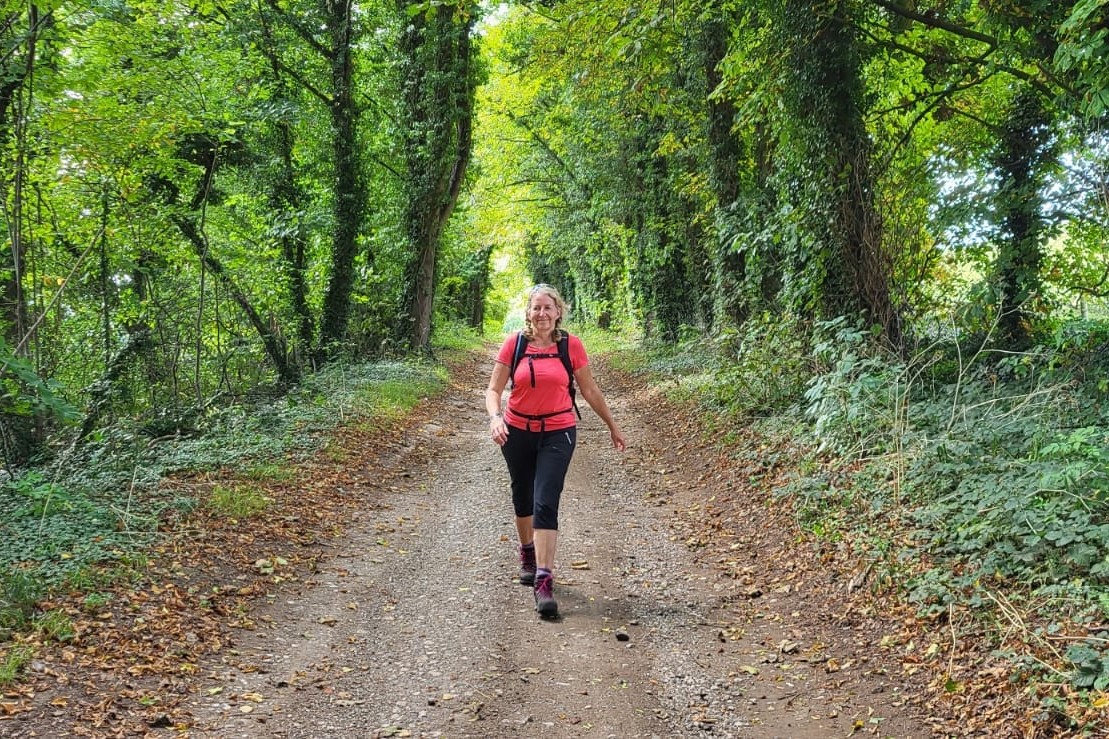 We were carrying a lot of water, including all that we needed for the dogs, as there are no facilities close to the trail in this area. You really do have to take into account that you need to carry everything that you need. It's possible to detour off to some villages but this adds at least 2 miles each time. Standing water and streams don't exist on chalk downs so you cannot rely on a water filter. I have learned that before the days of piped water farmers built dew ponds to collect what they needed for their livestock up on the downs.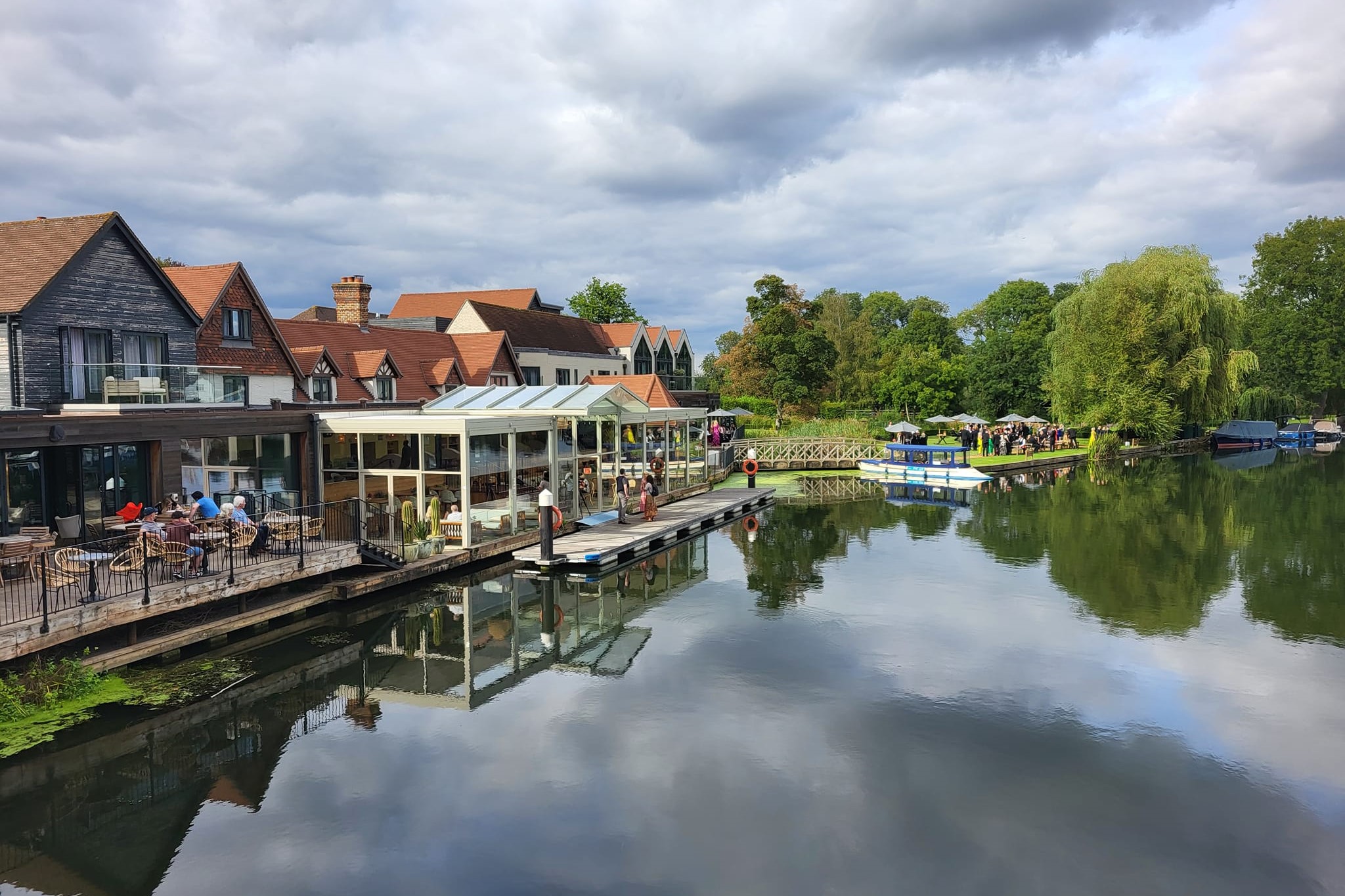 The terrain changed about 2 miles from the end of the day, it became a lot more urban on the approach to Goring with a section of road walking. We crossed the junction with the Thames Path, another walk that Mickledore offers, just before the Goring and Streatley bridge. This is close to our final night's accommodation, only a minute or two from the trail which was welcome. After checking in and ditching our rucksacks marking the end of our 4-day, 5-night walk, we went out again to explore the local area. As a teenage fan of Wham in the 1980s I did have to take a minute to walk on to the Thames Path to see George Michael's house (now under new ownership) visible from the trail where there are still tributes to him hanging from the railings.
---
I really enjoyed this trail (despite not managing to catch the racehorses on the gallops!) There is so much history to learn about and many ancient monuments to see. The walking is fairly easy and the views are far-reaching. My dogs had a lovely time with lots of space to run and just one field of cattle to navigate and it was a change from my local Lake District fells. Thanks to Mickledore for sending me to check out The Ridgeway. I would be very happy to help with any questions from anyone interested in walking this historic route so please do get in touch if it's on your list. Email us [email protected] or call us on 017687 72335.