Advice on having a safer and more enjoyable walking holiday!
By Mickledore Travel
How fit do I need to be? What should I wear on my feet? Do I need to know how to read a map? What should I wear? What if something goes wrong?
These are all questions most of us will have asked at some point in our lives ahead of an adventure. Here we try to answer some of these questions to help you prepare for your holiday and hopefully ensure you have a more rewarding and enjoyable experience.
Fitness
How fit do I need to be? It's a difficult one to answer as one person's idea of fitness can be very different from another's, but you need to be confident that you can complete each day's walk without being completely worn out. Fatigue is good, exhaustion is not! Fatigue gives you a healthy appetite for dinner and a good night's sleep, whereas exhaustion leaves you uncomfortable, dehydrated and dreading the next day's activity.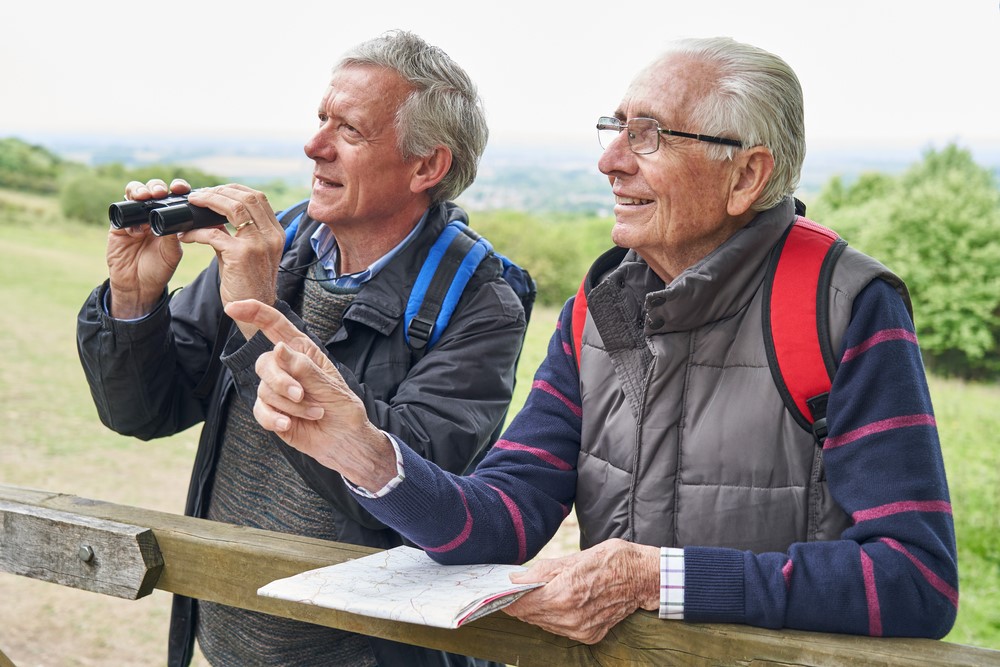 Quite simply, the fitter you are, the more you will enjoy your holiday and your recovery time between walking stages will be faster. Not only does good training prepare you for the walk so that you are strong and comfortable, you will find that you will have more time to take photographs and enjoy the experience if you are not focused only on making it to your accommodation! This preparation also gives you the opportunity to break in any new gear. You can work out whether anything rubs or is uncomfortable before, rather than during, the walk.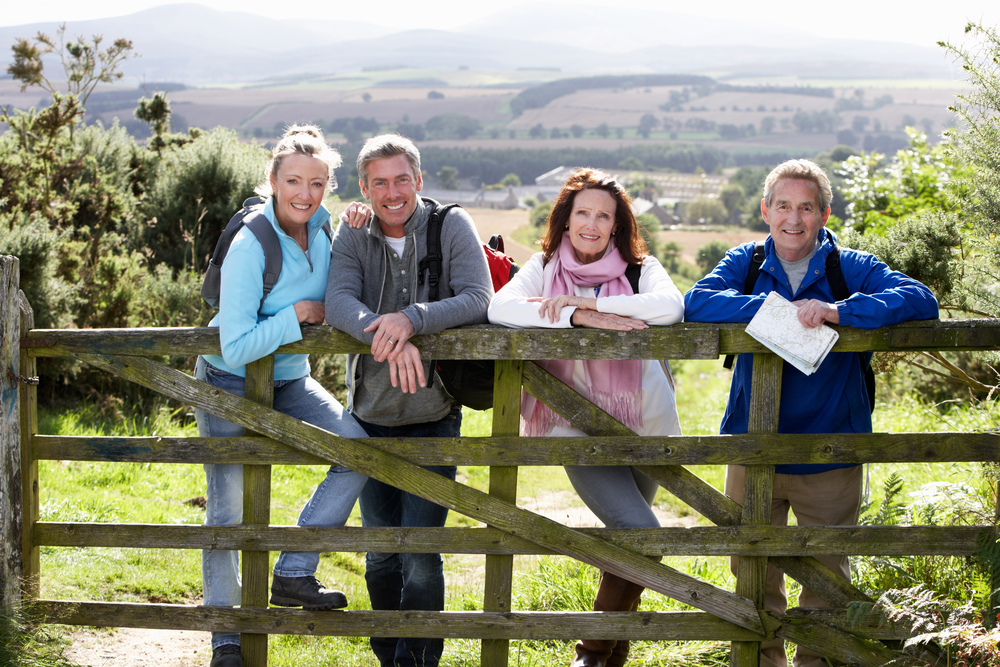 The best training for walking is walking itself, particularly over distances similar to the amount of daily walking you'll be doing on your holiday. If your walking holiday involves hills, try and include some hill walking in your preparation. We're not saying you should do a multi-day 190 mile walk in preparation for a Coast to Coast walking holiday, but you should at least be confident that you can comfortably walk for at least 10 miles without having to take a week off to recover. Some of our holidays have a day or two when you could be walking 20 miles or more. However, you will usually have the option of making the holiday longer to cut down your daily distances and we would recommend you do this if you are in any doubt about your ability.
It is crucial that you build up your fitness gradually instead of attempting too much in the early stages. If necessary, consult your GP or physio for advice on how to prepare for a long-distance walking holiday. There's a wealth of advice on the internet and the NHS website is a great place to start.
Footwear
Your most important piece of kit on a walking holiday is your footwear and you should consider a walking boot purchase as an investment in your happiness. Good quality walking footwear isn't cheap and you definitely get what you pay for. Whether you wear boots or trail shoes is an individual choice and there is no right and wrong when it comes to boots versus trail shoes. The received wisdom that outdoor recreation should only be done in 'stiff-soled stout walking boots' is bad advice. Ill-fitting clumsy boots are just as likely to lead to lower-leg injury as a pair of sloppy plimsolls. There are some great low or mid-cut trail shoes now available that are just as supportive and hard-wearing as a pair of boots.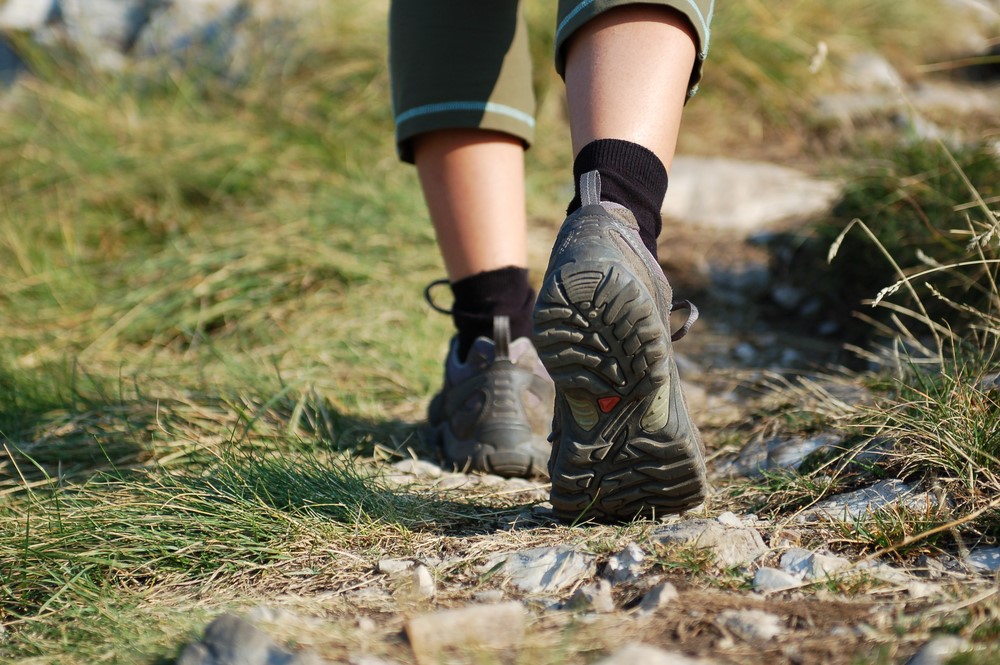 Whatever you wear on your feet, you'll have to make sure they're comfortable, well-worn in and capable of lasting the distance, so we recommend taking any new footwear out on a few training walks at the very least. Five miles into your first day's walk is not the time to find out that your brand new, expensive pair of walking boots are giving you blisters or making you walk with a limp!
Mickledore customers are entitled to a 12.5% discount at Cotswold Outdoors. This can be used in the stores or on-line at www.cotswoldoutdoor.com. You'll be provided with your discount code after making your booking with us.
Route Finding
The holiday pack we provide will include the route map and guidebook for your walking holiday. All the maps we provide are of the best quality available and are produced either by Ordnance Survey or Harveys. The signposting of the walking routes can vary. Some routes are very well signposted and you might only use your map and guidebook as backup, whereas other routes can only be navigated in conjunction with good map-reading skills. Whichever route you choose to walk, you will need to be confident with your map-reading to ensure a safe and enjoyable holiday. Occasionally losing your way and finding it again can be part of an enjoyable adventure, but frequent wrong turns and backtracking can quickly detract from the enjoyment.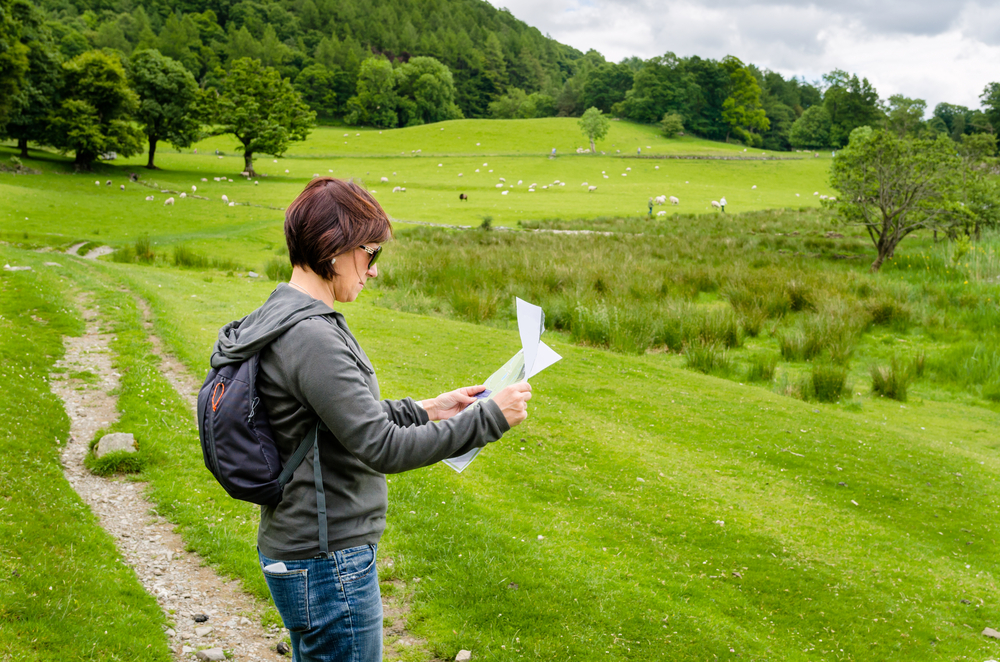 A GPS device is handy for locating yourself and recording your progress, but should not be solely relied on and is no replacement for being able to navigate using a map and compass. Besides, in an increasingly digital and screen-focused age, map-reading is a truly rewarding 'analogue' skill that can only add to your enjoyment of the great outdoors.
If your map reading confidence is low then we strongly recommend a course by a qualified trainer. In the UK, the National Navigation Award Scheme  https://nnas.org.uk/  oversees a comprehensive range of courses. A good online resource for the skills and techniques of navigation is the Ordnance Survey: https://www.ordnancesurvey.co.uk/resources/map-reading/
Weather
Britain is an island and the surrounding sea gives us a varied and changeable climate. We can experience different weather from one hour to the next, even in summer. However, the changing weather is what makes our countryside so appealing and varied. To stand at a vantage point and see the shifting patterns of sunlight and shade across fields and hillsides adds a great deal to your experience of the great outdoors in the UK.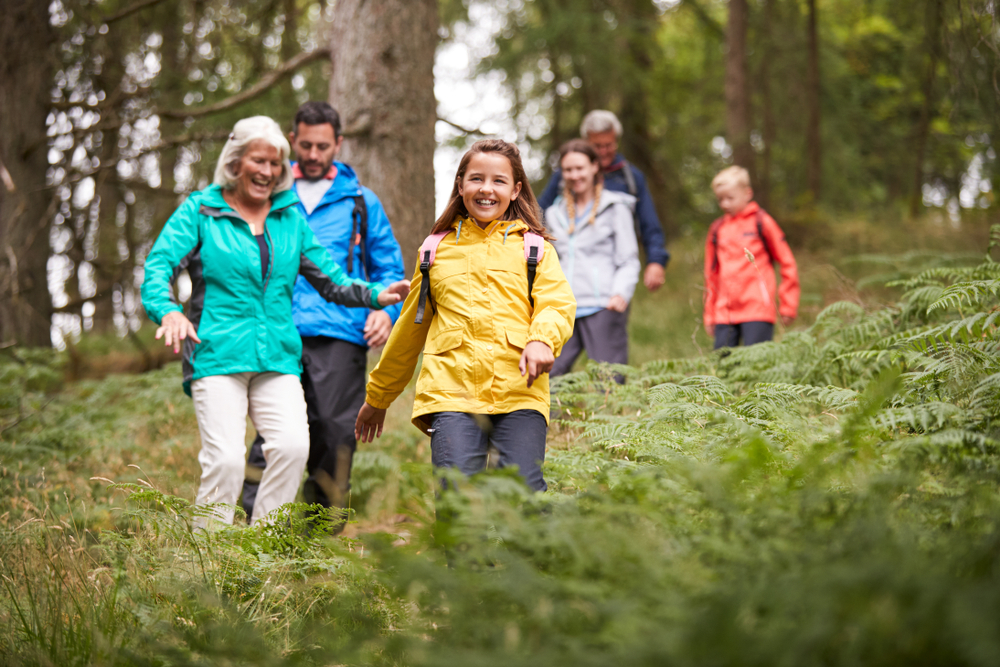 The location of your walking holiday may have an influence on the type of weather you're likely to experience. In general, the west of Britain experiences wetter conditions than the east and more mountainous areas are also likely to have more challenging and changeable weather.
Despite the unpredictability, we're fortunate to have some great weather forecasting resources for both regional and local forecasts and you're never far from a source of good-quality weather advice.
UK weather websites
The Met Office: http://metoffice.gov.uk/
Mountain Weather Information Service (for our Lake District and Scotland walking holidays): http://www.mwis.org.uk/
Metcheck: https://www.metcheck.com/
We strongly recommend you check the weather forecast on every day of your walk to ensure both your safety and enjoyment of your walking holiday. Unless the forecast offers a very high confidence of settled weather, you'll need to pack for changeable conditions, which may mean carrying clothing and waterproofs in your daypack that you might not use. However, you'll be very glad you have them if weather conditions deteriorate.
We generally advise our clients to be prepared for all weathers, at all times of year and we have produced a list of items to bring on your walking holiday. Click on the following link to see the list: https://www.mickledore.co.uk/faq/equipment-and-luggage/
You will need to be prepared for hot weather as well as cold and wet, and below are our guidelines for dealing with the two extremes.
Sun protection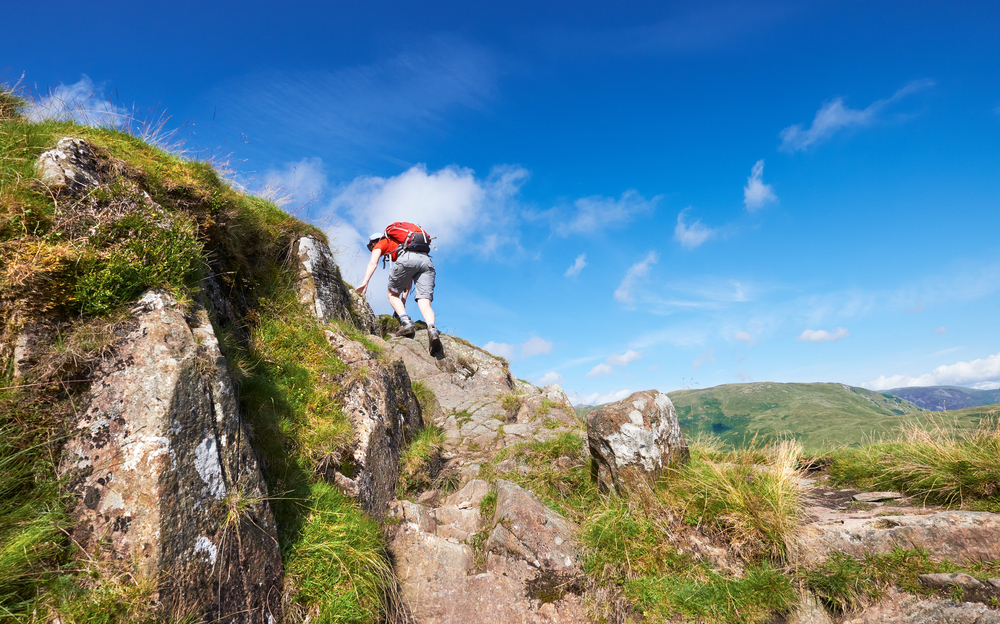 Ensure you have adequate protection for your skin type, high factor sunscreens should be utilised initially.
Re-apply sunscreen frequently.
If possible, stay out of the sun during the hottest time of the day.
Drink plenty of water to avoid dehydration.
At the first sign of burning, cover up and get out of the sun.
Carry a sun hat, sunglasses and lip salve.
Beware, you can still burn, dehydrate and get sunstroke in the shade, when cloudy or in the water.
Symptoms of heatstroke/exhaustion include very hot skin, heavy sweating (which can stop suddenly), dizziness, extreme tiredness, rapid breathing, nausea or vomiting, rapid heartbeat, confusion, urinating less often and much darker urine than usual.
If you suspect someone has heatstroke/exhaustion, seek immediate medical attention, move the person somewhere cool or in the shade, get them to drink fluids, use cool (not cold) water on their skin, loosen clothing and ensure the person gets plenty of ventilation.
Cold weather
Make sure you have appropriate clothing for the wind – wear multiple layers to trap warm air, put on a hat, ear warmers, neck gaiter/scarf and gloves.
Carry waterproof clothing with you (jacket and trousers) and put these on as soon as weather starts turning inclement – avoid getting damp!
When taking a break put on a layer straight away to stop you from cooling down too quickly.
Make sure you keep your energy levels up with snacks and keep hydrated.
Symptoms of hypothermia can include constant shivering, tiredness, low energy, cold or pale skin, fast breathing (hyperventilation), confusion, loss of judgement and coordination and slurred speech.
If you suspect someone has hypothermia, seek immediate medical attention, move the person somewhere warm and dry, wrap them in blankets and give them a warm drink and high-energy food if they are able to swallow.
Walking alone
We take bookings from groups, families, couples and individuals and we wouldn't want to deter walkers from undertaking a route alone. Many people undertake our trips alone and thoroughly enjoy the experience. If you do decide to do a route by yourself, please ensure you are properly equipped, sufficiently experienced, and confident at map reading and navigation.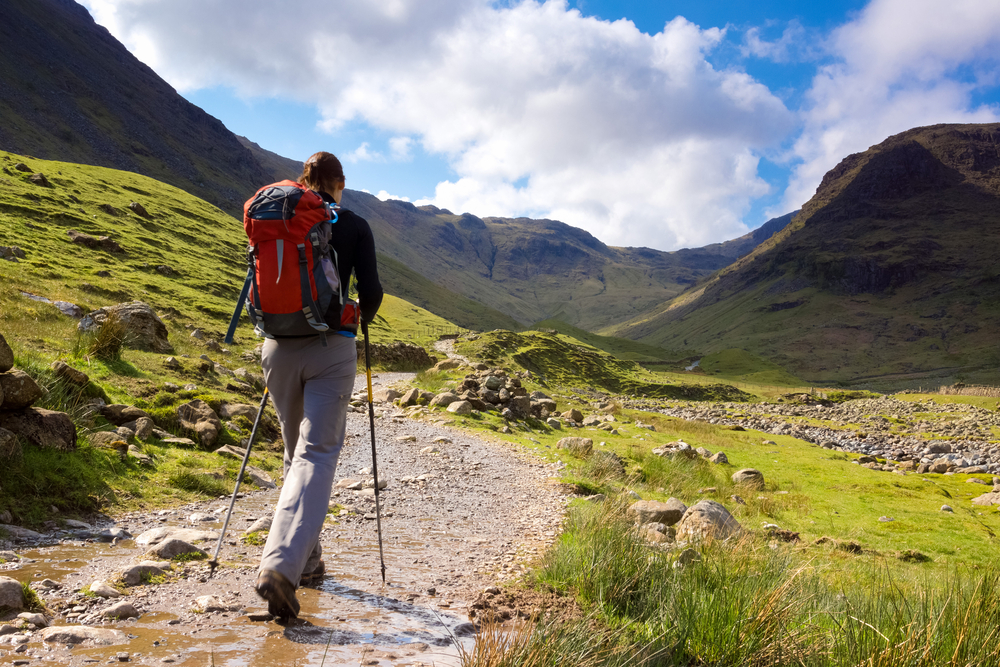 There's always the chance that you will meet other walkers to accompany you on your walk and this is a great way to meet like-minded people and make new friends. However, whether there will be other people walking on the same route as you will depend on a variety of factors, including time of year, weather and the popularity of the particular route. Relying on following other walkers is not recommended and you can't always assume the person walking in front of you is heading for the same destination. This can happen on the Coast to Coast, which crosses many popular walking areas where people might be out for just a day walk that takes in only part of your cross-country route.
Carry a mobile phone
Although it can be liberating to leave technology behind and experience the great outdoors without digital distractions, we strongly recommend you carry a mobile phone with you. The piece of mind gained from knowing you can summon help if the need arises will far outweigh the sense of being 'out of reach'.  Make sure the phone is fully charged and, if you're visiting from outside the UK, the roaming is switched on. Be aware, however, that signal coverage will be variable or absent in remote or hilly areas.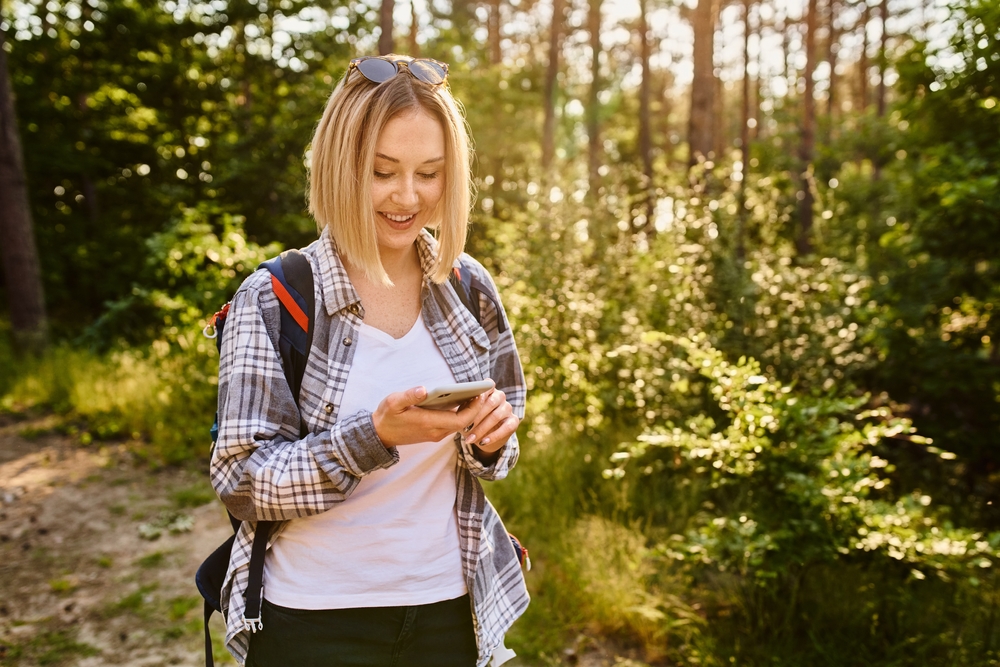 In case of emergency
In the event of an emergency follow these procedures:
Assess the situation and make sure everyone involved is safe. Make sure your situation is really an emergency before calling the emergency services or mountain rescue.
If it is an emergency situation and you have mobile phone reception call the emergency services. If there is no coverage, you should stay with the casualty if the path is a relatively busy route and someone is likely to come along who can assist. Send them to get help or to call the emergency services.
In an emergency telephone 999 to summon assistance from the three main services: Police, Fire & Rescue and Ambulance.
To contact Mountain Rescue or Coastguard, call 999 and ask for the Police. Most of our destinations have a local Mountain Rescue Team who will deal with mountain emergencies. Calls to the 999 service are free. Calls from the European Union standard emergency number 112 are automatically routed to 999 operators
We're Here to Help!
Please inform Mickledore Travel as soon as possible of any problem or emergency you may have, as we can't help unless we know about it. Contact Mickledore Travel on 017687 72335.
We will do our best to solve the problem at the time. Please do not wait until the trip is completed before bringing any matter to our attention as 99% of problems are easily and quickly resolved locally without affecting your enjoyment.
---
If you have any questions or concerns when planning your holiday, or if you'd like some tips on clothing or equipment, simply speak to one of our self-guided walking holiday experts on 017687 72335 or email [email protected]