Sue's Great Scottish Adventure on the West Highland Way
By Sue Williams
Having previously enjoyed familiarisation trips along Hadrian's Wall and on the South Downs Way, I chose this summer, to walk the West Highland Way. It's really popular with our customers and their feedback inspired me to want to experience the spectacular scenery for myself. Accompanied once again by my husband Mike, I'd learn about the route and meet some of our accommodation hosts as we worked our way northward.
Day 1: Milngavie to Drymen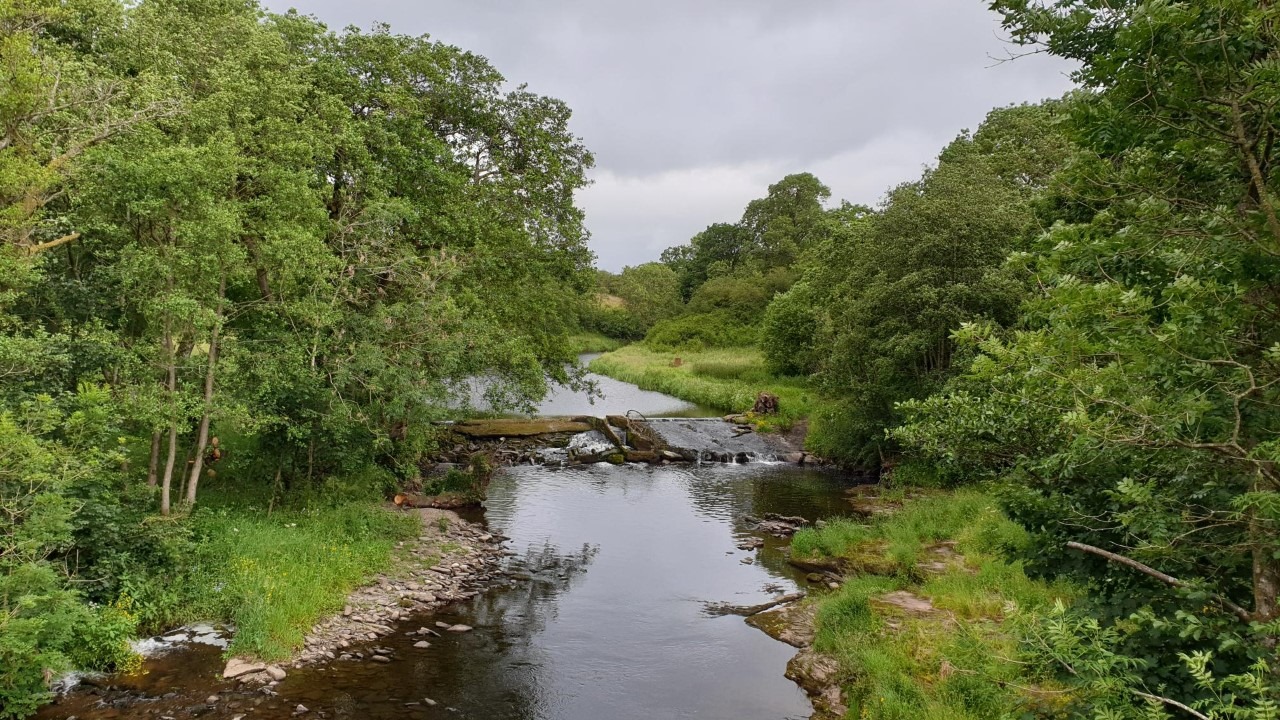 The route starts at Milngavie not far from Glasgow and we finish next weekend at Fort William. In between we have 96 miles of varied terrain to cross with some spectacular views to look forward to.
Our walk today was a gentle introduction to the trail. Starting near the river we walked through some lovely woodland and field side tracks with a mile or so of quiet lane to reach Drymen. It was from the lane we had our first sighting of Loch Lomond.
We saw golden-ringed dragonflies. They were very striking. We also saw a big toad hopping along the path, and lots of birdlife.
The weather has been very mixed today with showers often passing through. There were perhaps more of them in the morning when waterproofs were being put on or taken off regularly. It was too warm to want to wear them all the time.
Tomorrow we reach the bonnie banks of Loch Lomond and I'll let you know how we find them.
Day 2: Drymen to Rowardennan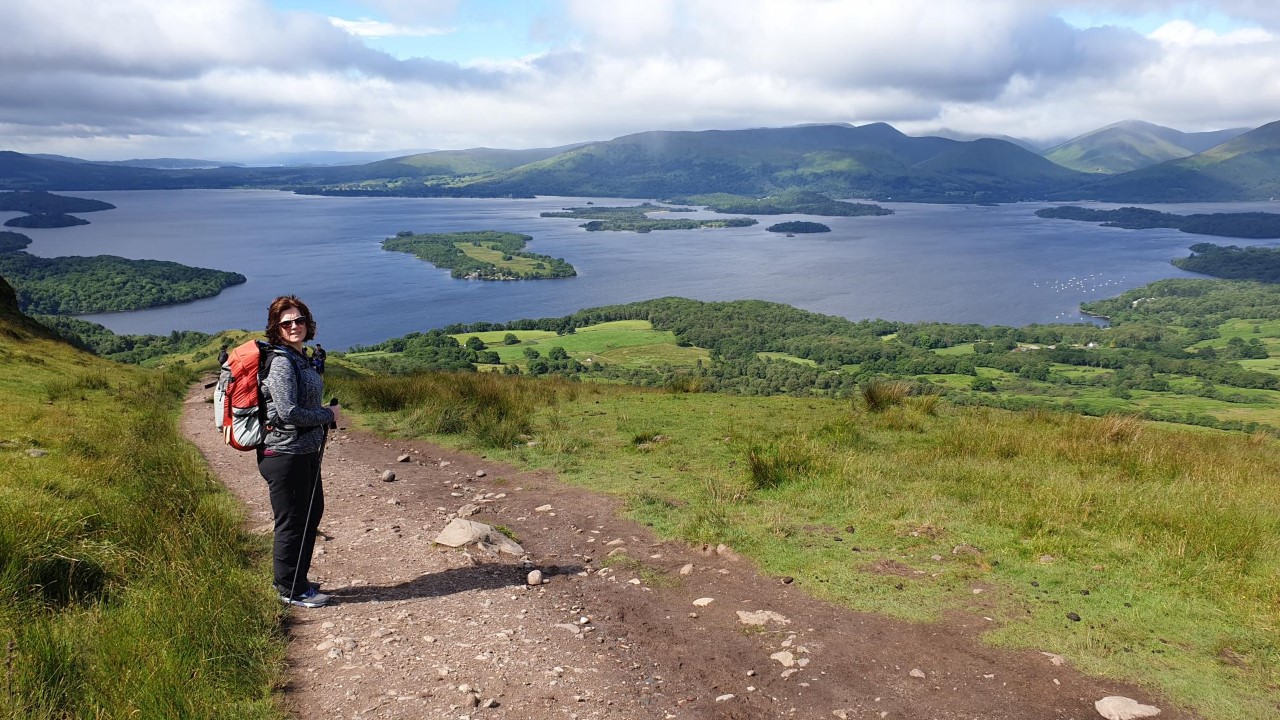 Our hosts last night were fantastic and sent us on our way after a good breakfast, with packed lunches stowed for later.
We started the day walking on a quiet road out of Drymen to rejoin the main path. The first hour was through lovely woodland with great loch and hill views appearing at times. We could see where we came from yesterday and Conic Hill our pre-lunch mission.
We made the side trip to the top of Conic Hill and the views were fabulous.
This afternoon we started our journey along Loch Lomond. Our picnic spot on a shingle beach by the lake was beautiful and peaceful. Walkers just occasionally passing by on the path behind us.
Loch Lomond and fantastic woodlands have been the dominating theme this afternoon.
The sun came out so a quick pint in the beer garden at the Rowardennan Hotel before dinner was just too tempting!
Day 3: Rowardennan to Inverarnan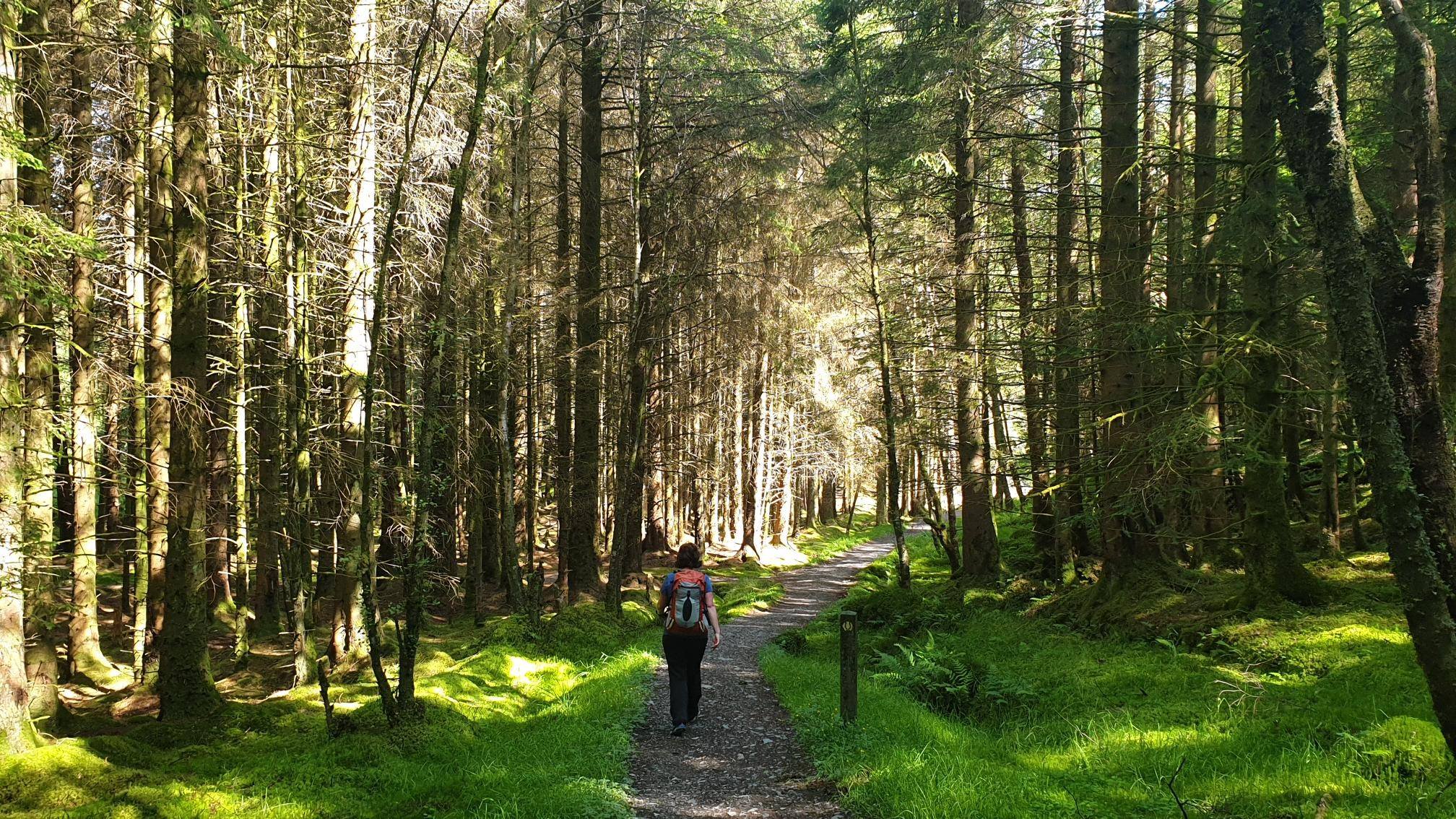 Today Mike and I walked from Rowardennan to Inverarnan. It was a day of ups and downs on a mostly rocky path. A path that required concentration as well as physical effort. Worth it though, some great walking with stunning views.
We started the day with a lovely breakfast before being returned to the path by our great accommodation hosts. A short way into the day you can choose a lake shore path or follow a higher track. They meet up again before Inversnaid.
We took the low path. It made its way through woodland with lots of steps – rocky ones, wooden ones and earth ones. There were some nice little beaches where you could stop to admire the views along Loch Lomond. One had a fabulous view of Ben Arthur on the other side of the loch. This mountain is better known as The Cobbler and has a distinctive profile.
We took a break at Inversnaid where we had some of our packed lunch. Now we were ready for the hardest part of today's walk. The path was narrow in places and it was rough going with some big steps up and down. We meandered through the trees until the terrain changes as you approach Doune. It helped that the weather was good and the streams we had to cross were not full.
At the end of the day we crossed over a low pass to Inverarnan. A glance back at the top gives a final view of Loch Lomond.
It has been a challenging and enjoyable day. More about The West Highland Way from me tomorrow.
Day 4: Inverarnan to Tyndrum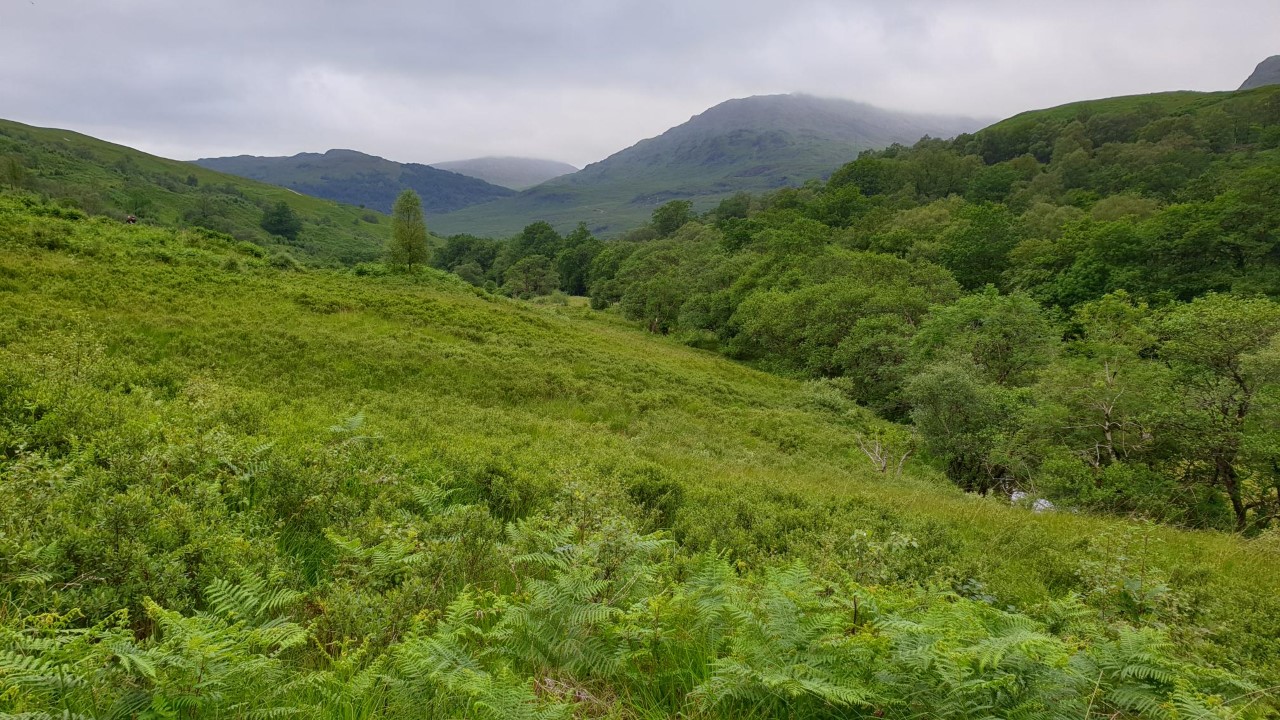 Today was the middle day of our walk on The West Highland Way. After another lovely breakfast provided by our excellent accommodation we set of from Inverarnan. Today we had more uphill than downhill but it was easy walking on good paths.
We had some great views on the first part of the route along Glen Falloch. We could often see and hear the river from the path. Following a section of the old military road we approached the turning for Crianlarich. We had a break at the path junction using a convenient bench but decided not to head into the village.
After Crianlarich we were in the forest for a few miles with glimpses of hills through the trees. The trees were mostly pines but others were intermingled, particularly along the path edge where Rowans lined the route at times.
The views opened up again for a section along Strath Fillan before another path through lighter woodland brought us toTyndrum.
We have now left the lowlands section of the route and will work our way through the Highlands on the remaining 3 days.
Arriving too early for check in at our accommodation this afternoon we called in at a local cafe for a cup of coffee, wandering back to our accommodation later our hosts gave us a great welcome with another coffee and cake.
Day 5: Tyndrum to Kingshouse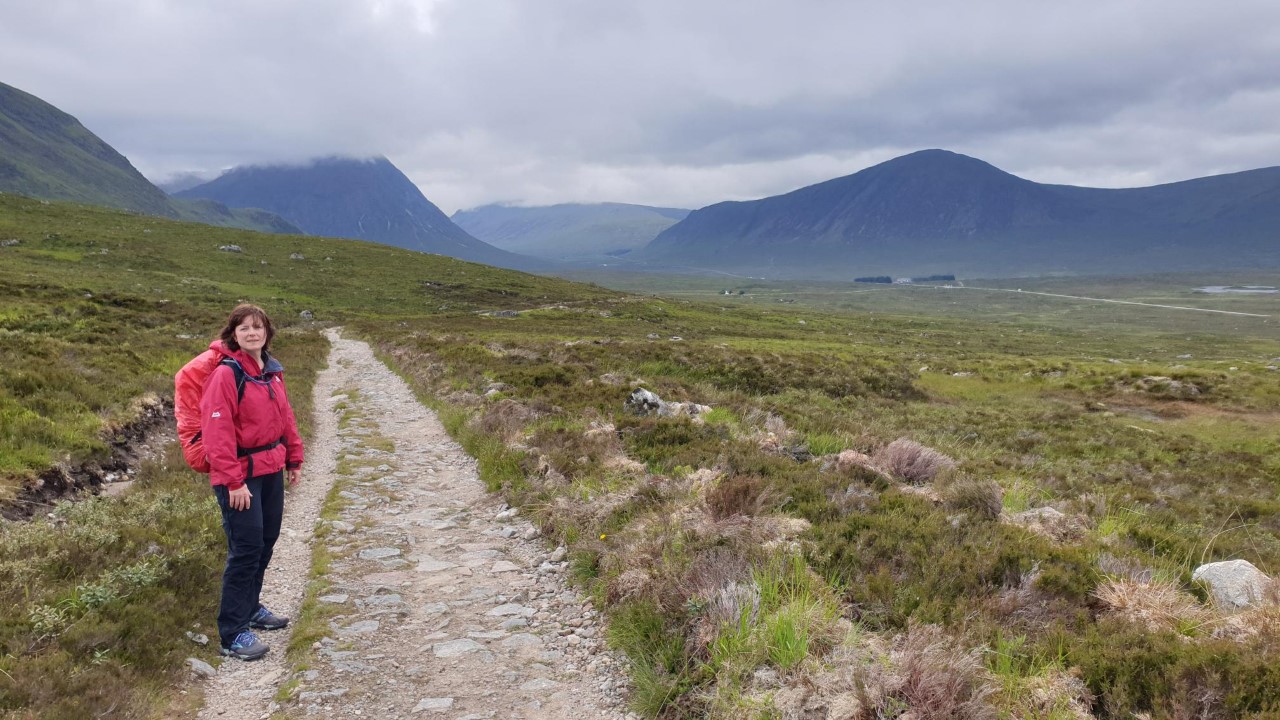 This was the longest day of our West Highland Way itinerary. We walked from Tyndrum to Kingshouse. We added in a quick visit to the ski centre as we were almost passing and had made good progress all day.
The route today follows the old military road and drovers road. It is easy walking but the hard surface is quite punishing for the soles of your feet. The track was up and down quite a lot too but generally not very steep.
The weather forecast for today was not great with the best of the weather earlier in the day. We had better views than anticipated but the hill tops stayed hidden in cloud. The rain didn't catch us although it threatened to with light drizzle a few times. We felt like we were on the edge of it all afternoon.
The scenery today was very different from previous days. More high mountains. Less woodland. Rannoch Moor laid out before us, and good paths all the way. We have heard skylarks on a few days and they were singing above our heads again today.
Day 6: Kingshouse to Kinlochleven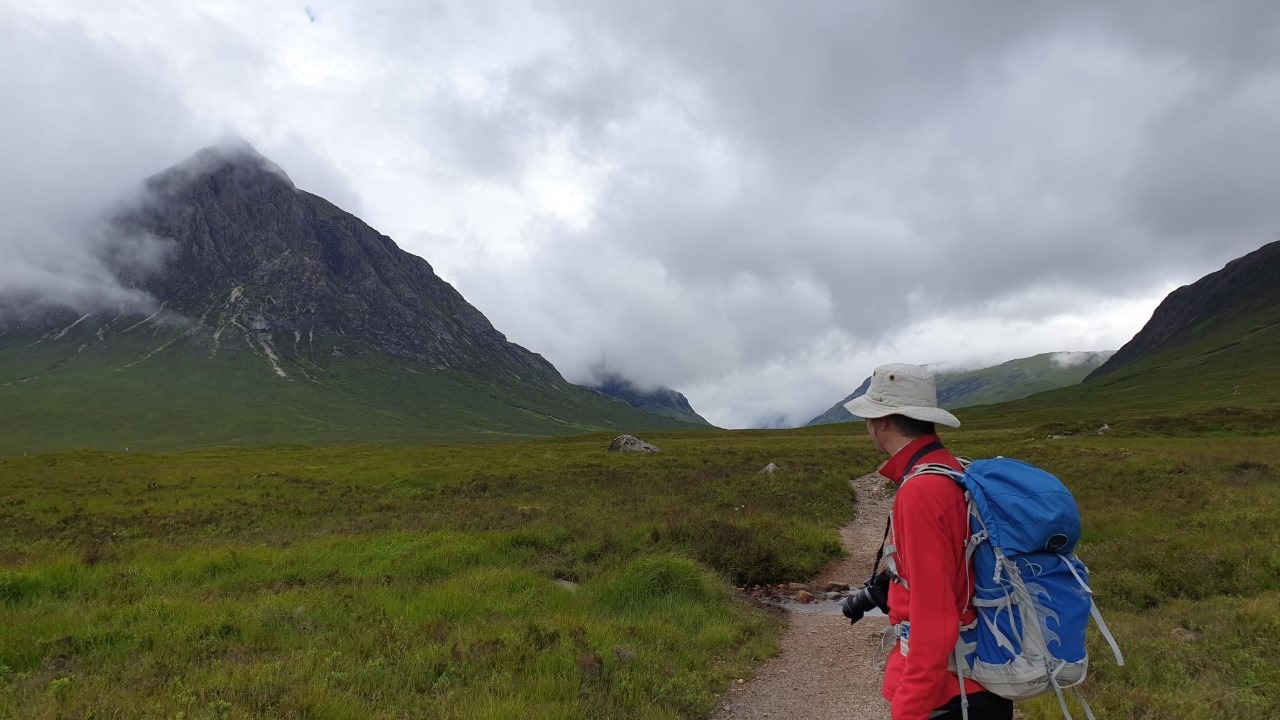 In contrast to yesterday, today was the shortest day of our trip. An up and over day from Kingshouse to Kinlochleven. Unfortunately the cloud was low so we didn't have the anticipated longer views of the high peaks. We did however reach Kinlochleven before the rain set in.
We made a later start this morning, hoping the cloud might lift above ridge level but it wasn't to be. The moody skies added their own kind of drama to the scene. The views still have a mystical magic. I hope you agree.
Our route today started along a quiet tarmac road. After less than 1km we turned on to a path which moves away from the main A82, then back towards it before heading off up the "Devil's Staircase". The climb was soon done. A downhill and a short uphill took us over the top before the route wiggles its way down to Kinlochleven.
We arrived early, just as the rain was starting. To keep out of the weather and with the additional benefit of coffee and cake, we spent some time watching indoor climbers at Ice Factor. Heading to our accommodation for tonight we were greeted with another warm and friendly welcome.
Day 7: Kinlochleven to Fort William
On our final day we walked from Kinlochleven to Fort William. We had some sunshine, some clouds and a light breeze. Really a perfect day to complete our journey.
Leaving Kinlochleven we had a stiff climb up through the woods. As the trees ended the gradient also eased and the path joined a track. We followed the track about half of the distance to Fort William. At times we had shallow streams crossing our way and plenty of puddles but overall not too muddy. Sometimes the track was surfaced with larger stones, sometimes small pebbles and sometimes sand. The views looking both forward and back along the pass were lovely.
From about half way we were back on a narrower path for a few miles. Much of the conifer plantation has been felled and it was delightful when Ben Nevis came into view. The top was almost free of cloud.
As we approached Glen Nevis the path joined a forestry track to wind down to the bottom of the valley. We followed the road into town to finish. Passing the sign showing the original end of the route to reach the current end sign in the town centre.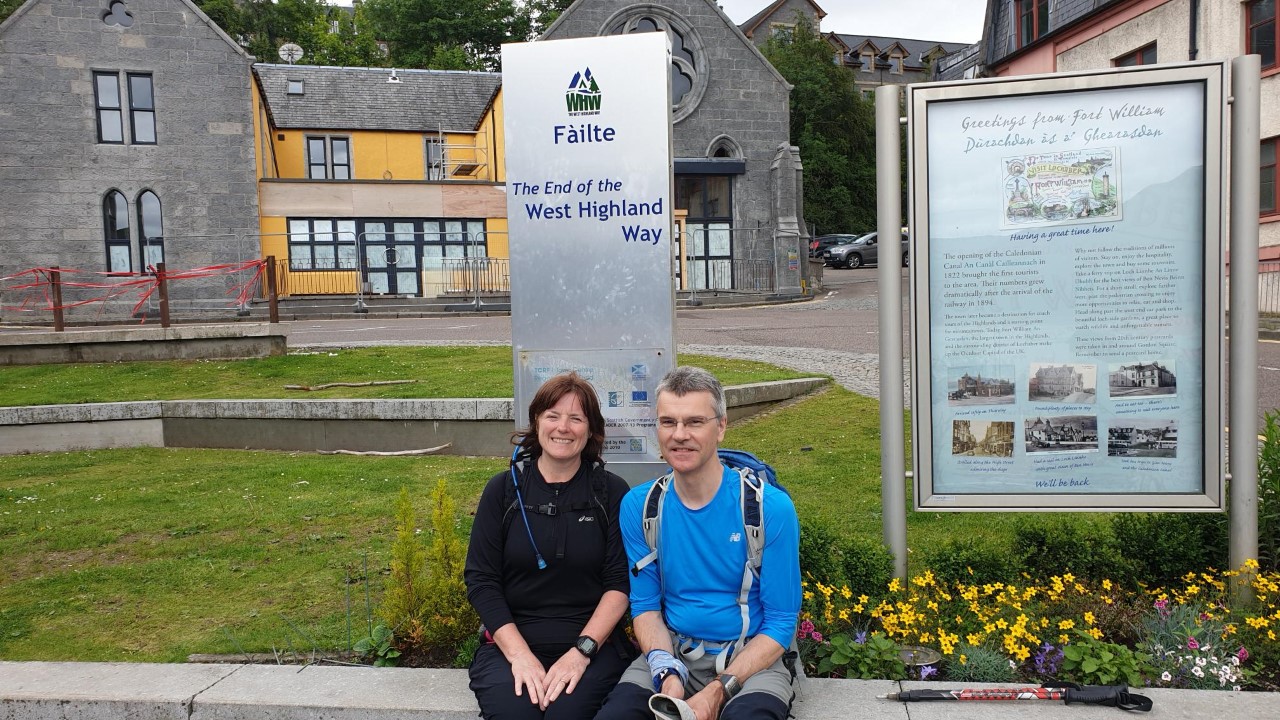 ---
This route has been one of varied scenery. Some challenging sections, some easier ones. The weather has mostly been kind to us and we have had a great Scottish adventure this week. I hope you have enjoyed our journey. For more information on the West Highland Way email us [email protected] or to speak with one of our walking holiday experts, call 017687 72335.