My Week Walking Hadrian's Wall
By Tara Walker-Rose
Rucksacks were ready, dogs were settled in kennels, parrot dispatched to whatever a parrot-sitter is called, and my husband Scott and I were off to start our walk along Hadrian's wall. It's Mickledore's most popular walk so it was important that I had first hand experience of the route and accommodation. How could I refuse?
For almost 300 years, Hadrian's Wall was the north-west frontier of the Roman Empire, stretching from coast to coast. It was built by the Roman army on the orders of the emperor Hadrian. The Wall was manned by troops from across the Roman empire. It has been granted World Heritage Site status due to its outstanding significance and extensive Roman remains and artefacts. I'll be starting the walk in the Roman town of Corbridge and walking all the way to Bowness on Solway on the west coast. I'll be updating you on the journey throughout the week!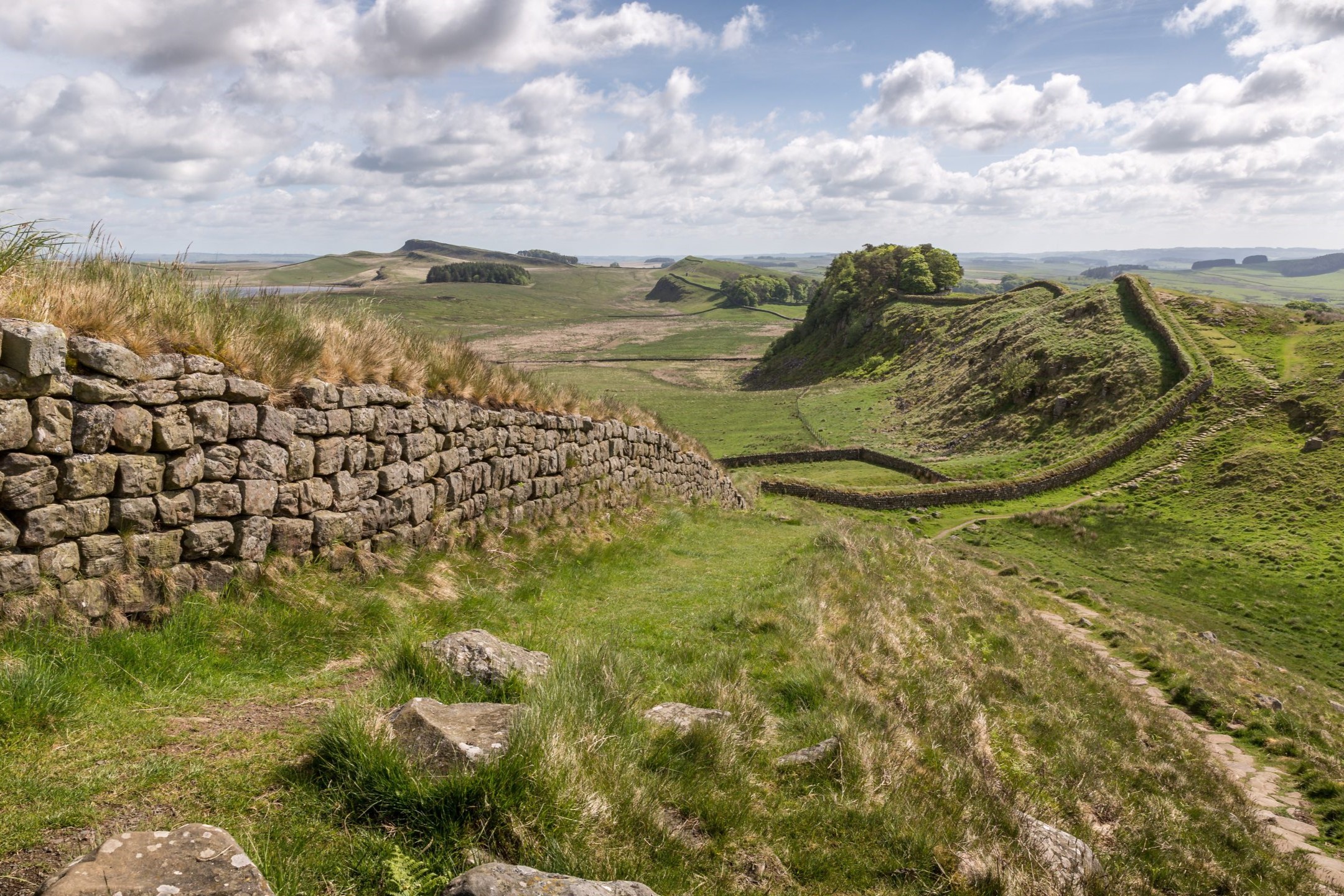 Day 1: Corbridge to Humshaugh
I started in Corbridge missing out the more urban section at the start (although I'm assured by many customers and people I spoke to in the B&B that this section is just as worthwhile). Instead of getting a taxi to Port Gate to start walking we decided to walk to the route via Halton Castle. I can recommend it, it's a lovely walk over agricultural and woodland passing Aydon Castle and Halton Castle to arrive at the route just east of Port Gate. This detour adds about 3 miles making the day's walk to Humshaugh about 9 miles in total. It's along undulating grassy paths for much of the route, along the site of the wall, with the vallum visible for much of the route , but the wall itself is not glimpsed until Planetrees.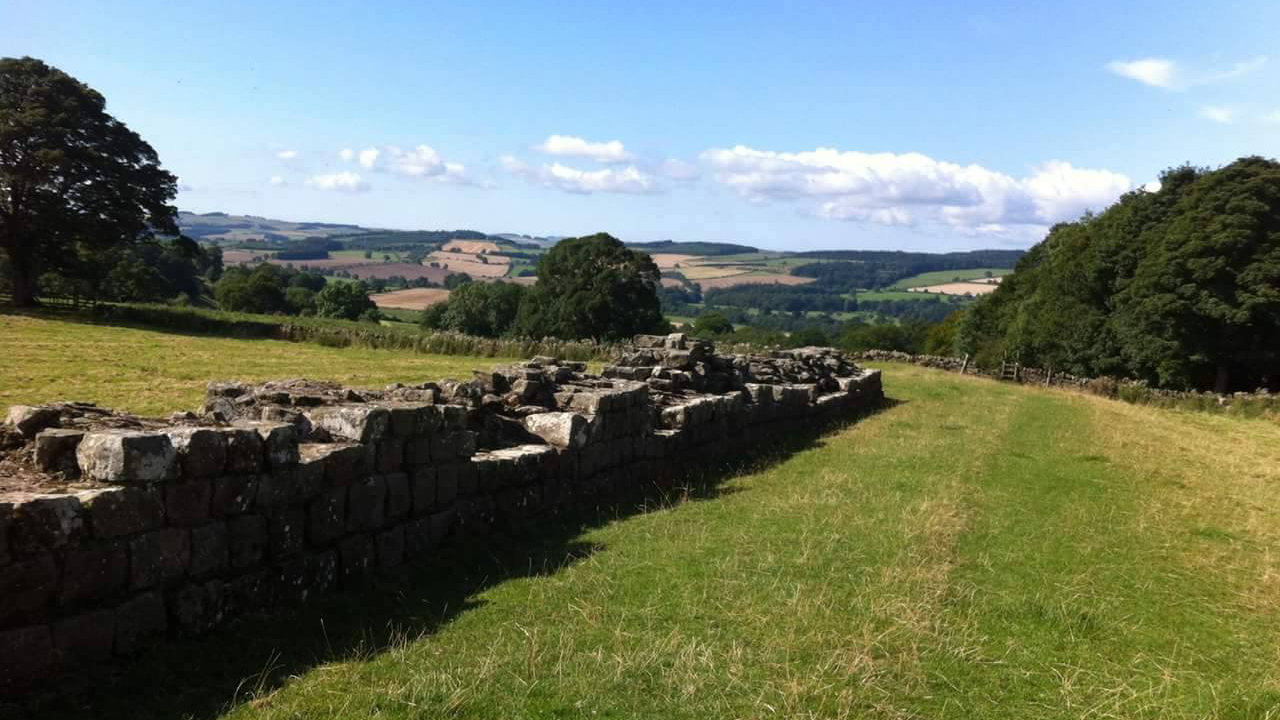 Not long after there is a little roadside walking into Chollerford where we visited the fascinating Chester's Fort and saw the excavated remains and the artifacts in the museum which is well worth a visit . We continued on to our fabulous accommodation in a converted dovecote, where we ate a lovely home cooked dinner with the other guests and swapped stories about the day . Here are a few photos for you, I hope you enjoy them .

Day 2: Humshaugh to Twice Brewed
We woke up this morning to fog and cloud which the weather man said would lift by lunchtime. Unless he has his lunch at 4pm he was telling us porkies as, disappointingly, we couldn't see much of the spectacular scenery promised by the guidebook due to the fog. Apart from this, which we get used to in this country, we had another great day rich in history as we passed the remains of milecastles, turrets, a temple and officers quarters and also visited the fascinating Housesteads Fort.
There was more in the way of steep up and downs today but none of these went on for too long. We're now in tonight's accommodation, a lovely lodge overlooking beautiful scenery. I've already made friends with their horses and there's a chicken looking in through our patio door. Tomorrow we're visiting Vindolanda which has amazing remains and we'll be walking to Gilsland.

Day 3: Twice Brewed to Gilsland
Day three on Hadrian's Wall started with a chicken looking in through the window! We wanted to squeeze in a trip to Vindolanda before today's walk, and the centre doesn't open until 10, so we decided to walk there. It was only 20 minutes over the fields and this way you see the fort from a distance as you approach, making you appreciate the size and significance. It's a fascinating place, I was mesmerised by the artifacts, especially the jewellery and the Vindolanda tablets – ancient 'postcards' on thin slivers of wood with the writing still visible revealing details of life there. There was not enough time to take it all in so we'll be returning for a full day some other time. I recommend a rest day in Twice Brewed to visit this and the Roman Army Museum.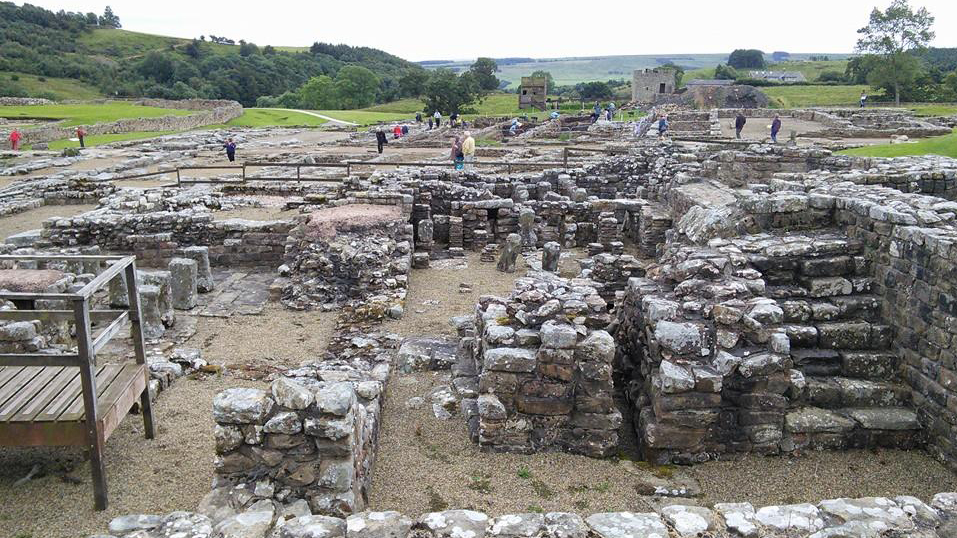 We left at 12 to start our walk, catching the bus back up to the trail. We walked 10 miles today from Twice Brewed to Gilsland and the terrain was similar to yesterday with a lot of up and down for the majority of the walk but, again, none of the climbs went on for too long. We passed the highest point of the wall at 345 metres. Although it was cloudy it was clearer today so we could see the far reaching views. Later in the day the terrain became flatter as we approached Gilsland where we're staying tonight, in a converted farm building. It's lovely and has a great wet-room which I'm about to try out . Tomorrow we'll be walking to Irthington and the Tour of Britain will be passing us on the route. I'll let you know how it goes!

Day 4: Gilsland to Irthington
Today was Gilsland to Irthington with a little detour to see Lanercost Priory, a total of about 11 miles. The walk started alongside a great section of well preserved wall up to 11 courses high in places, then followed the line of the wall all the way to Banks. The terrain today was easier, grassy pasture, rolling countryside and little villages. We had great views in the clear sunny weather.
From Banks we left the wall for a while to see Lanercost Priory which was partially built from stone pilfered from the wall. The Tour of Britain passed us between Banks and Lanercost which was an unplanned bonus and quite a spectacle, especially as it was on a fast downhill section. From Lanercost we rejoined the wall and headed for Walton, stopping to sample the tea shop. By this point we were only seeing bits and pieces of wall so from now on we'll just be following the path it took rather than the wall itself. The vallum is still visible in places.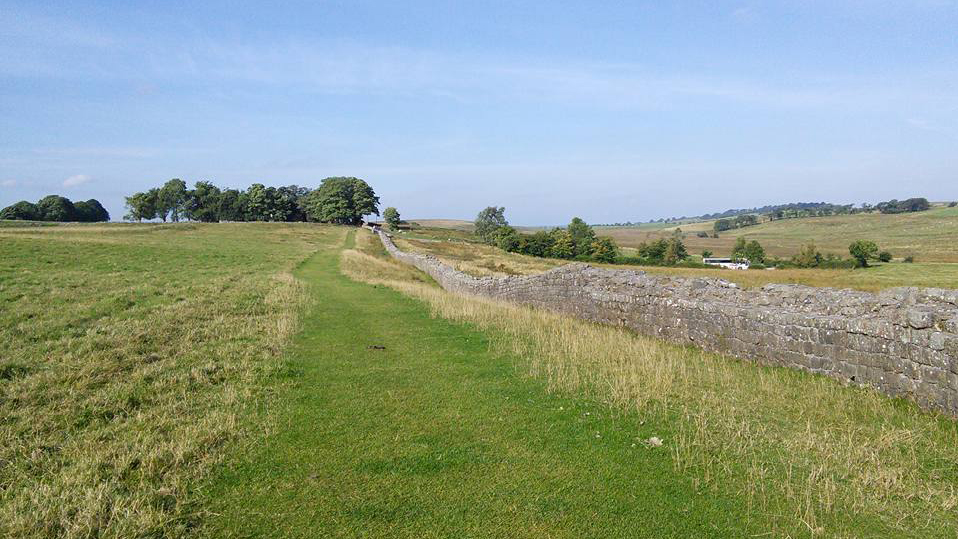 After Walton we walked to Newtown where I called in and said hello to one of our B&B hosts before making our way to Irthington and our stay in a converted barn. There are other Mickledore customers here tonight and they've told me they are having a great time and how happy they are with us and their holiday. We've just ordered a takeaway, so I'll leave you with some pics from today which I hope you will enjoy.

Day 5: Irthington to Carlisle
Today we walked from Irthington to Carlisle which was around 9 miles. The route took us over pasture land, past Carlisle Airport, along green lanes and ancient tracks, to Crosby on Eden where we picked up the riverside path for a while before walking into Carlisle via Rickerby Park and more pleasant riverside walking.
There's not much in the way of wall or excavated remains now but Carlisle has a castle partly constructed from Roman stone and also the Tullie House museum. We arrived in Carlisle mid-afternoon so there was time to meet up for a chat with another of our B&B owners before heading to our accommodation just a few doors further down. These are both beautiful Victorian buildings with rooms of a high standard.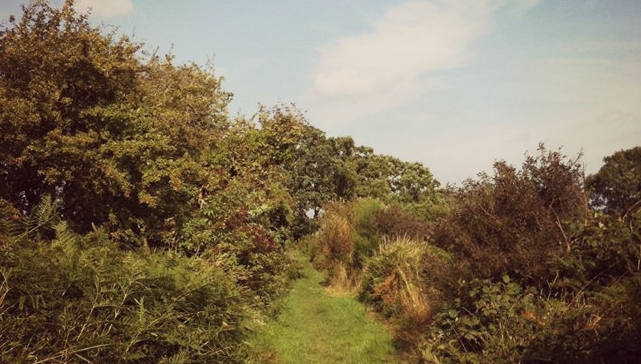 Tomorrow we'll be walking the 16 miles from Carlisle to Bowness on Solway and if the forecast is right we will be getting wet. My waterproofs have not made an appearance all week so I guess we have done quite well. I'll let you know how tomorrow goes.
Day 6: Carlisle to Bowness on Solway
Today was the last day of our Hadrian's Wall walk, 16 miles from Carlisle to Bowness on Solway. Although there is nothing to see of the wall the trail follows the line of it and the vallum is visible in places. Most of this mornings walk was over fields and tracks. It rained a little but the worst of it came when we were handily right by the Inn at Burgh by Sands!
Shortly after this and another pretty village, the trail joins a long flat road section along the marsh with views to the estuary to the north and Lake District to the south. It passes through a couple more villages before reaching Port Carlisle where the trail is along the shore rather than through the village giving amazing views of the birds that make their home here.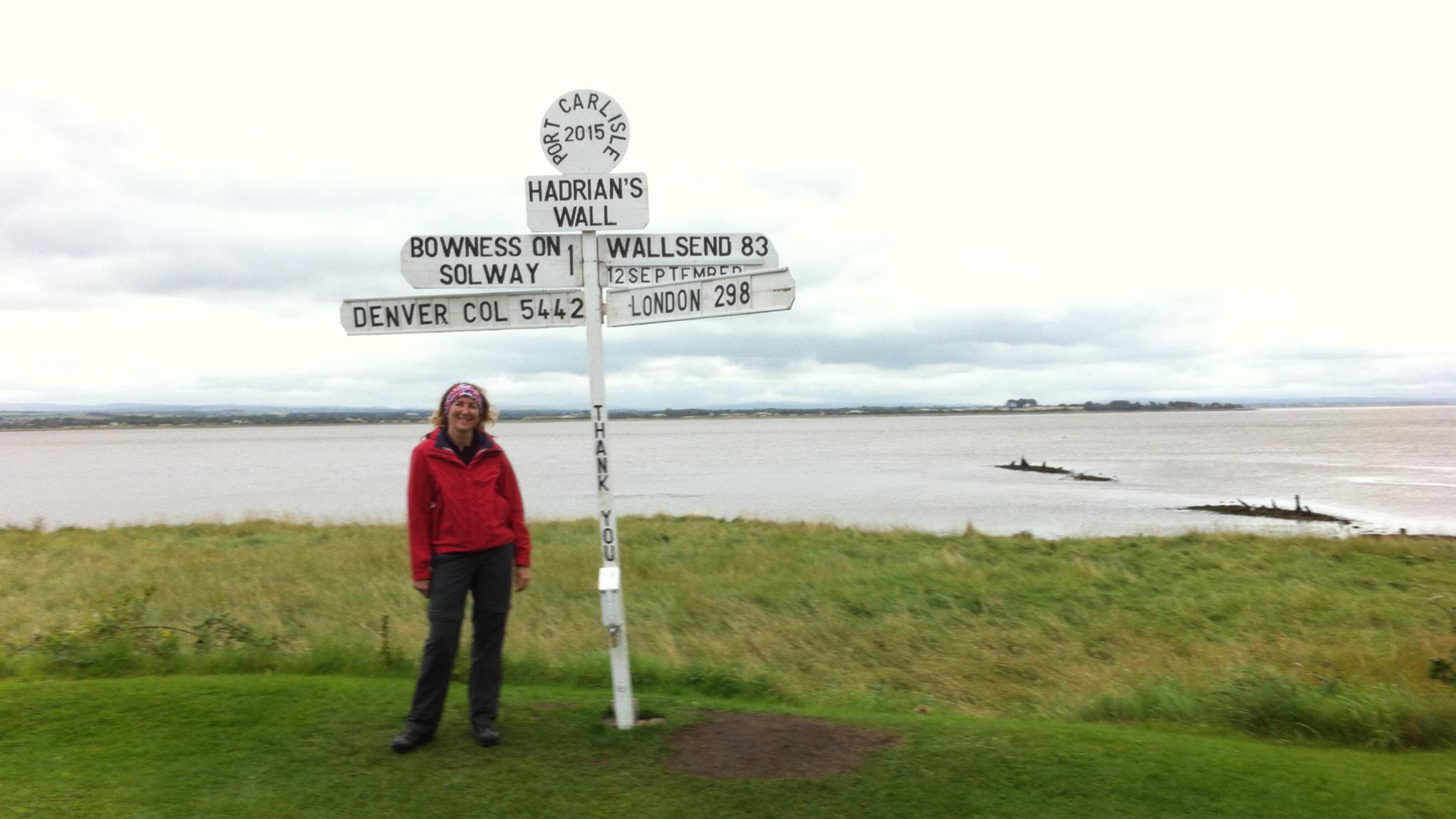 From here (after getting that photo taken next to the signpost made by a entrepreneurial local) the trail joins the road into Bowness on Solway. We visited the official end of the trail before checking in to tonight's accommodation which has fabulous views over the estuary. We're told porpoises and seals have been seen this week. I'm still looking out for them. Here's a few pictures. If any of you are trying to decide whether to do this walk I would definitely recommend it.

---
We have a range of walking holidays along Hadrian's Wall, from a 3 day short break on the most dramatic, central section of the wall between Humshaugh and Gilsland, to a 6 to 10 day walk over the entire length of the National Trail. For more information on any of these, email us [email protected] or to speak with one  of our walking holiday experts, call 017687 72335.