Katie and Shelley's Search for Knowledge on the Cotswold Way
By Katie Armitage
My colleague Shelley and I recently walked the Cotswold Way with the aim of enhancing our knowledge of the route as well as getting to know a few of our wonderful accommodation providers.
Day 1: Chipping Campden to Winchcombe
We started our Cotswold Way adventure from Chipping Campden. The trail started with a nice easy climb out of the village. We past several thatched houses and even spotted the house Graham Greene (famous English writer) once lived in!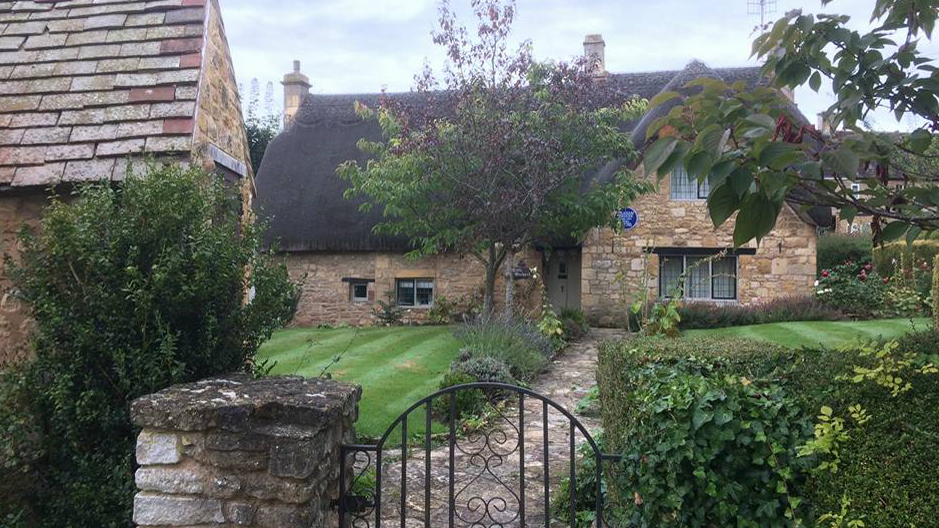 We continued the trail over stunning rolling hills with open views towards the South. After a few short climbs we arrived at Broadway Tower. Which is known for being the highest littlest castle in the Cotswolds. From there we made our way down to the picturesque village of Broadway. We happily stumbled upon a local food festival and as it was lunch time we tucked into some local delights!
The next few miles we we're treated to some outstanding views over the rural farmlands. We learnt that the Cotswold Way trail is made up of 83% of farmland. We found many benches along the route to rest our feet and take in the views. The trail then continued down through woodland passing the ruins of Hailes Abbey towards our accommodation for the evening in Winchombe.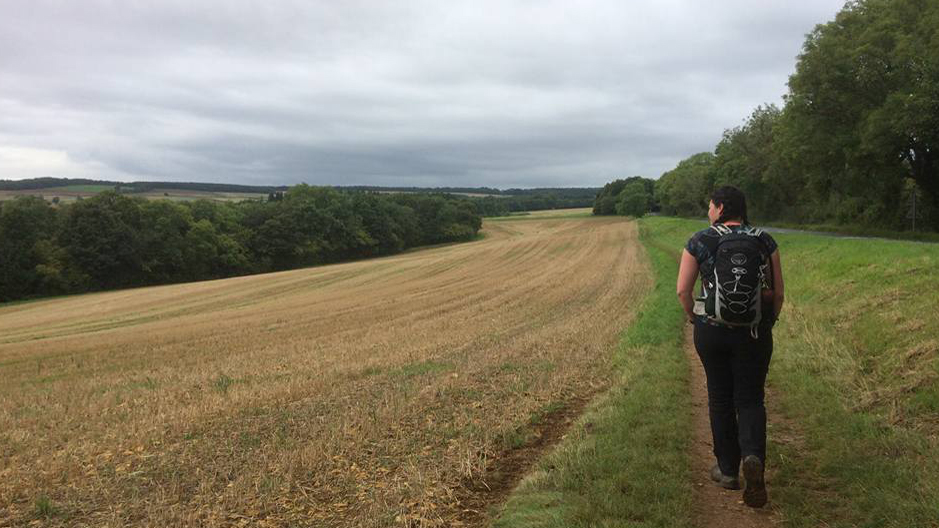 Day one would be one of our longest walking days, a  truly beautiful day with rewarding views and scrumptious food!
Day 2: Winchcombe to Dowdeswell
We woke after a great night sleep to a sunny Winchcombe. If you have the time Winchcombe is steeped in history having a bronze age long barrow, steam train, abbey and castle. The abbey is closely associated with St Peters church (1175AD) where you can see the grotesque carved heads along the church roof said to be caricatures of local people. Sudeley Castle a mile from Winchcombe, dates back to the 10th century. Katherine Parr who was the last wife of Henry Vlll, rests in Sudeley Castle chapel. Dying suddenly a week after giving birth to her daughter Mary, Katherine is said to wander the corridors of Sudeley Castle. There are reports of a tall lady in a green dress and a smell of apple scented perfume.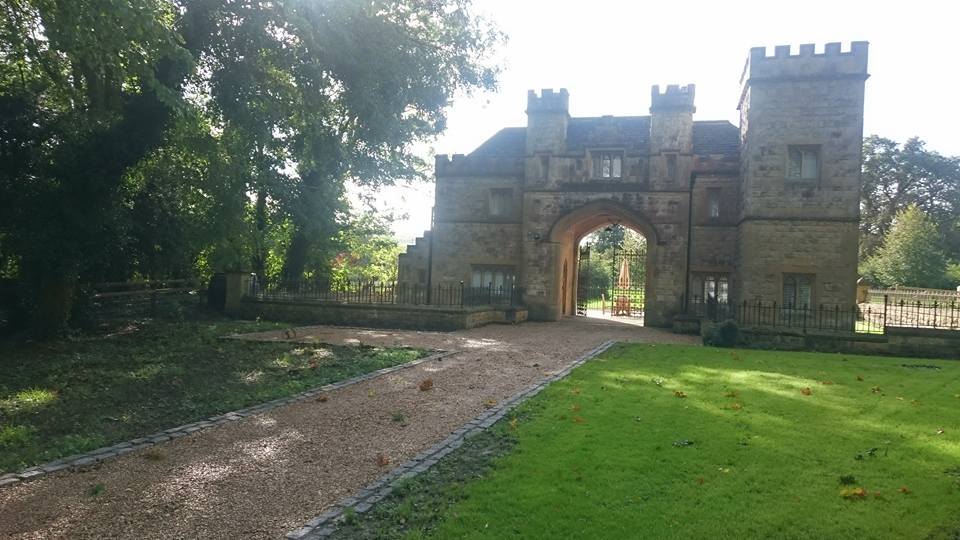 The path then winds away through beautiful countryside and woodland paths. Passing a feast of blackberry bushes, apple & pear trees and horse chestnut trees bearing copious amounts of chestnuts which we've saved for a competition at work on our return.
The route takes you past Belas Knapp barrow which is over 5500 years old and was constructed by prehistoric people as a place to bury their dead. At least 38 people were buried within the four chambers.
We continued to the highest point on the Cotswold Way at 330m on the top of Cleeve Hill. The area is an SSSI (site of specific scentific interest) with sand and limestone rock layers pushed up over time to form Cleeve Common.
A downhill path through arches of woodland takes us past a make shift club house hidden in the woods before emerging into Charlton Kings.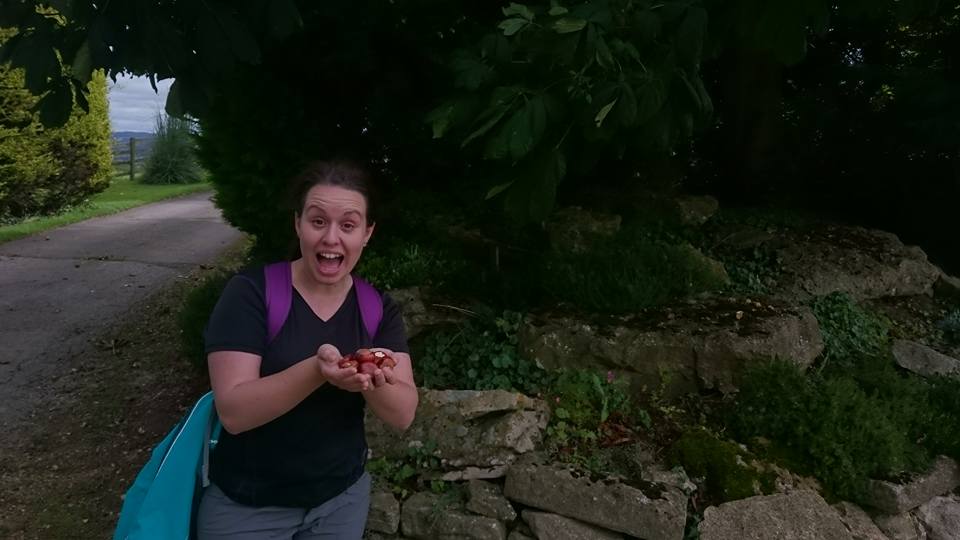 After refreshing at our welcoming accommodation we had a beautiful, short evening stroll through the village to fill up on some mouth watering treats. A beautiful warm evening allowed us time to stargaze on our walk back to our home for the night.
Day 3: Dowdeswell to Painswick
As soon as we start our day from Charlton Kings we are greeted by a sea of lime and beech trees and quaint steps leading through winding wooded paths. An interesting hillfort welcomes us at Leckhampton Hill. Once inhabited by the Dubai tribe and built more than 2000 years ago. Lekhampton hill also treated us to the magnificently imposing Devil's Chimney a result of quarrying that happened between 1617 & 1926. This crooked and twisted chimney rising from the ground has given claim to a legend involving the Devil hurling stones from this spot at worshipers as they made their way to church on a Sunday.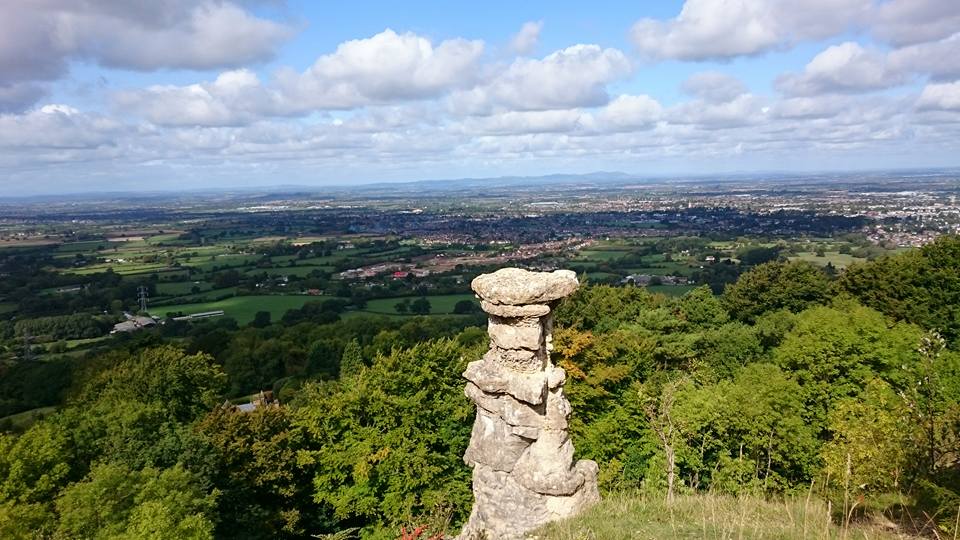 We pass a Neolithic settlement at Crickley Hill who were once among the earliest farmers in Britain. All while enjoying sunny views as far as the eye can see across Cheltenham and onto the Sugar loaf and Breacon Beacons in Wales. We pass fields of wild flowers. Squirrels scampering from branch to branch, paddocks of horses and beltie cows, wild deer, along with a sighting of a kestrel hunting its prey. Passing Birdlip we discover that Witcombe Wood is the place to make a camp with many fantastic homemade teepee shelters.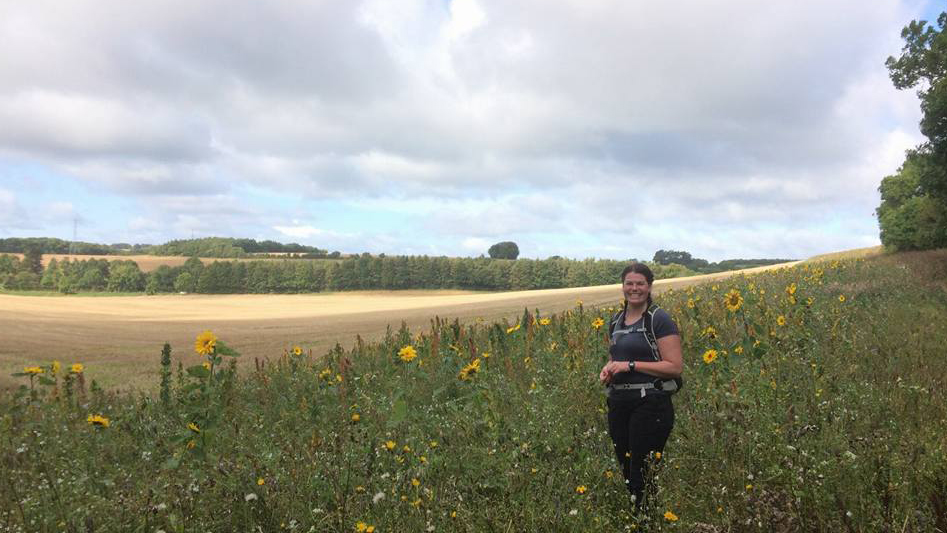 We decided cheese rolling might not be for us when we arrived at the home of this competition. For the only reason of winning cheese and glory, contestants chase a double Gloucester down an almost vertical hill!
Before our final gentle downhill walk to our accommodation we experience fantastic views from Painswick Beacon and enjoy the Iron Age hill fort remains which has helped make the golf course which is built on it possibly one of the most tricky in the world.
Day 4: Painswick to Dursley
Yet another glorious day of sunshine as we dip in and out of beautiful countryside, beech trees, wildflowers and wooded areas.
As we start to emerge from one of the wooded areas by Ringhill farm we see an eerie child in one of the open barn shutters on the top floor of the farm. We soon realise that this eerie child is actually a slightly creepy doll left there as an interesting welcome for Cotswold walkers. We go on to a narrow escarpment which twists and turns around Haresfield Beacon and see the once remains of an Iron Age fort.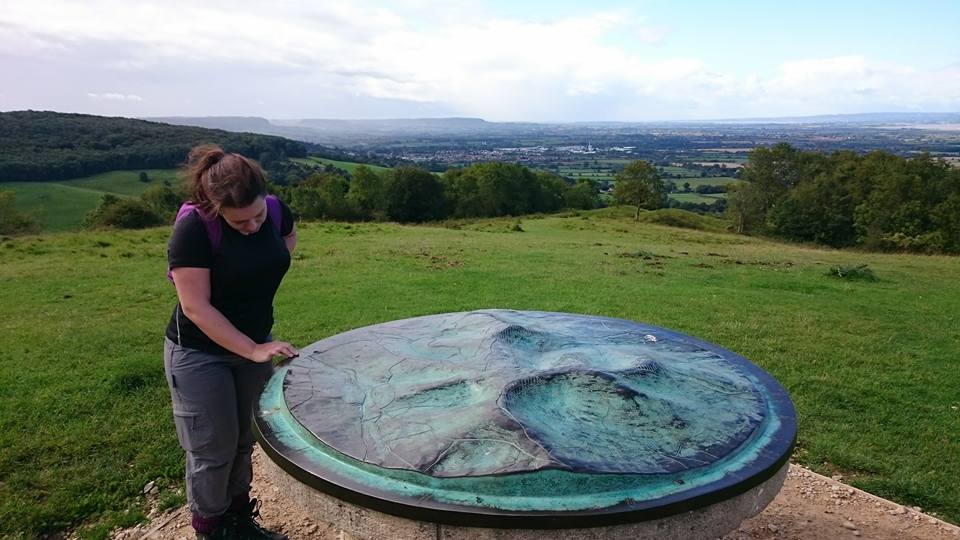 The path takes us through rows and rows of grapes at the new vineyard at Ryeford, making our mouths water, before reaching Stroudwater/Ebley canal, both the lowest point on the Cotswold way as well as one of the few areas of water on the route.
Other than the gorgeous variety of animals we have already seen on route we got to add a visit from a drove of friendly pigs to our list. Snuffling up to the fence close to the path in the hope of sharing our lunch.
On top of Coaley peak we discover Nympsfield Long Barrow, built over 5500 years ago. Although no longer complete and missing its roof you can still clearly see the burial chambers.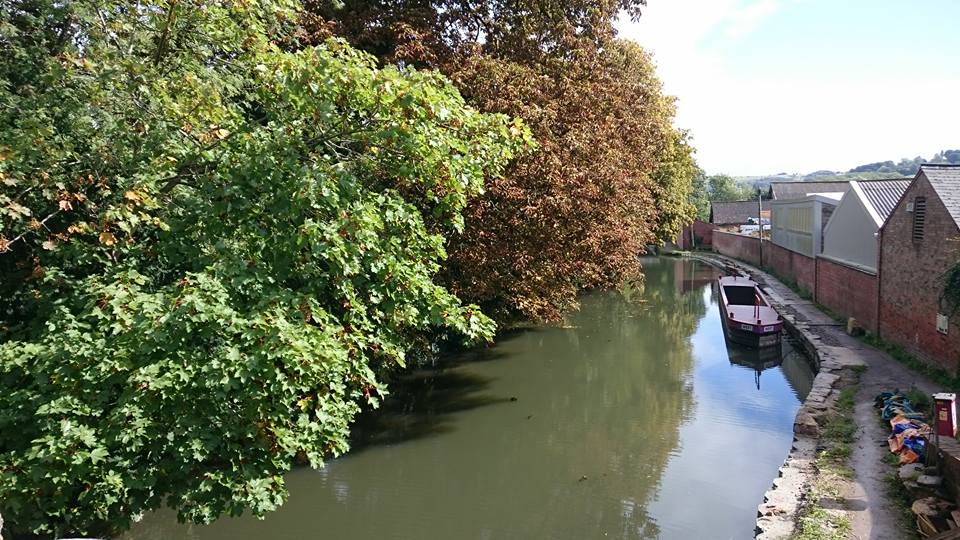 Coaley Peak offers more stunning views that include the Severn, Forest of Dean and even the Black Mountains in Wales are visible on a clear day over 40 miles away.
We finish by climbing to the top of Cam Long Down and enjoy the 360 degree panoramic views before descending into Dursley, our home for the night.
Day 5:  Dursley to Old Sodbury
Today we start with two options to our morning. You can take the slightly longer route round Stitchcombe Hill and golf course or you can take a short cut skipping this loop. If the weather is bad or you're feeling tired the shortcut is a good option, however if you're lucky enough as we were to wake to a gorgeous day and are feeling relatively fresh then the longer scenic route is well worth the extra effort. Make sure you go all the way to Drakestone viewpoint for your secluded morning views and first glimpse of the Tyndale Monument.
The Tyndale Monument itself appears suddenly as you turn the corner from a winding track. It was built in 1866 in honour of William Tyndale a translator of the new testament and stands 34 meters tall. It's left unlocked with an honesty box. So for a small contribution, and if you have the stomach for it, you can climb the 121 steps up the spiral staircase to the top for more tantilising views.
We thought we'd seen some impressive home-made shelters along the Cotswold Way but found the winner in Westridge Wood. It even had two chairs inside.
A little further along Wotton Hill we found a very sweet plantation of trees surrounded by a circular wall. They were planted in 1815 to commemorate the victory at Waterloo and then replanted after a bonfire for Queen Victoria's jubilee in 1887.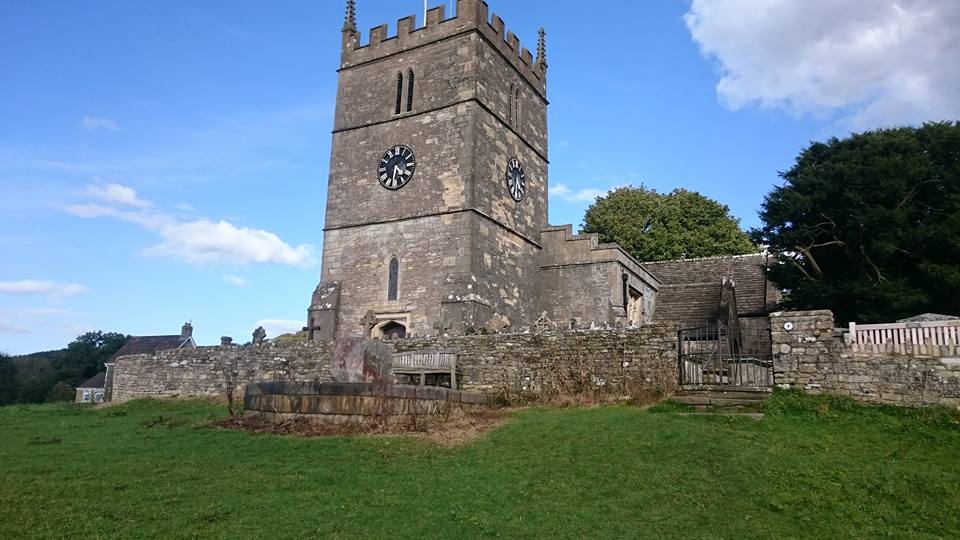 There are a number of fantastic churches that graced our route today along with another spectacular monument near Hawkesbury. We chose not to visit the top of this one though.
If the monuments are too tall for your taste then you might like the beautifully quaint folly near Horton. It was erected as a millennium project to provide a resting place for swallows and barn owls, which are in decline due to loss of habitat.
Before arriving at Old Sodbury for the night we pass the Iron Age fort of Soppa's at Woodcock farm which was mentioned in the Domesday book.
Day 6: Old Sodbury to Bath
Today was our last walking day from Old Sodbury to Bath. We were treated with sunny skies throughout the day. The route began fairly flat through peaceful farmlands. We past through Doddington Park (owned by James Dyson) and Dyrham Park, and spotted a group of young deer grazing in the field. We then zigzagged our way through fields of crops and woodlands towards Cold Ashton.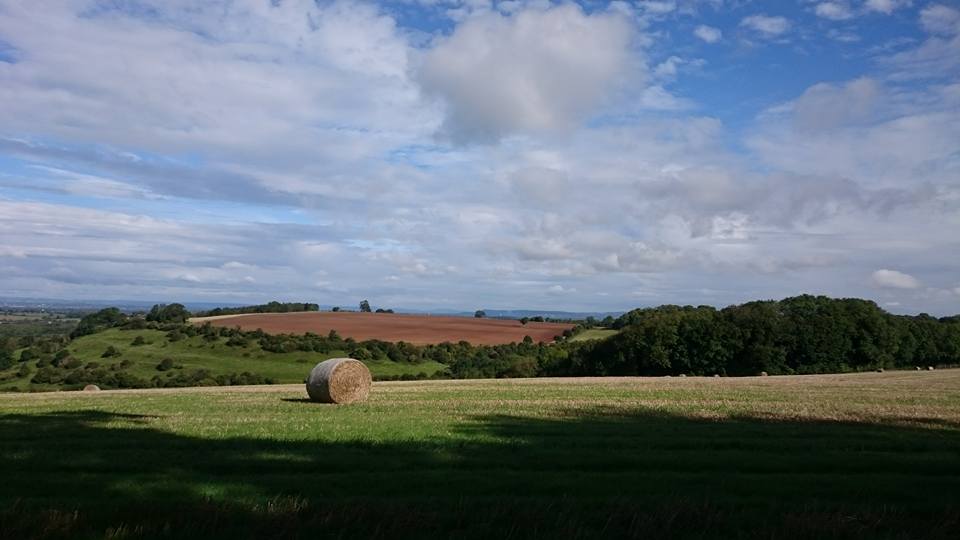 A few miles on from Cold Ashton we reached the very field where the Battle of Lansdown took place in 1643. You can't miss this historical point on the trail as it is marked with blue and orange signposts. The Battle of Lansdown was played out between two equally matched armies of the Royalists and the Parliamentarians. You can't help to imagine when walking the chaos that occurred all those years ago. We then spotted the war memorial which is linked to the battle which was built in 1720. It is known to be the earliest surviving war memorial in Great Britain.
The trail then winds slowly down towards our finishing point of Bath. This was a great highlight of the walk as our first glimpse of Bath is from Prospect Stile. We enter the city passing by the famous Royal Crescent. Bath has so much to offer from the famous Roman Baths to Jane Austen's house. The Cotswolds Way technically finishes at Bath Abbey where we both took in the magnificent architecture of the building.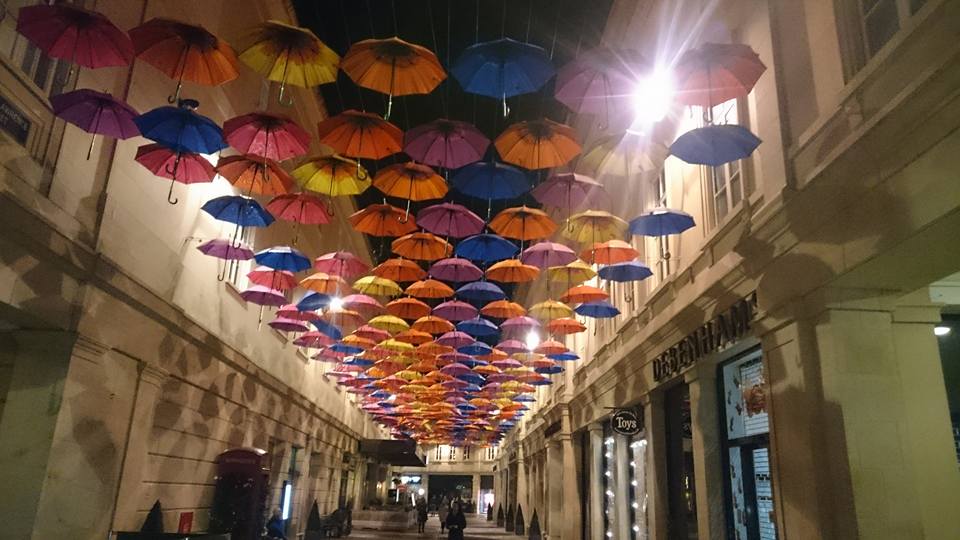 ---
Overall we have both really enjoyed our adventure through the Cotswolds. We have learnt a lot about the history and the local area. We chose to walk this route over 6 walking days. These were long walking days but really allowed us both to get a real feel for the route. Each village we passed through offers something different from the charming yellow stone houses to the secret gardens to explore! We offer a range of walking holidays along the Cotswold Way. You can walk the whole route in anything from 6 to 11 days, or we offer the northern and southern sections as self-guided holidays in their own right. For more information on the Cotswold Way email us [email protected] or to speak with one of our walking holiday experts, call 017687 72335.