History and Heritage on Hadrian's Wall
By James Taylor
This would be my first long distance trail and I couldn't think of a better 'first' than our most popular route Hadrian's Wall. I'd heard so many fantastic comments about the trail and the hosts along the way I had to experience it for myself!
Day 1: Bowness on Solway to Carlisle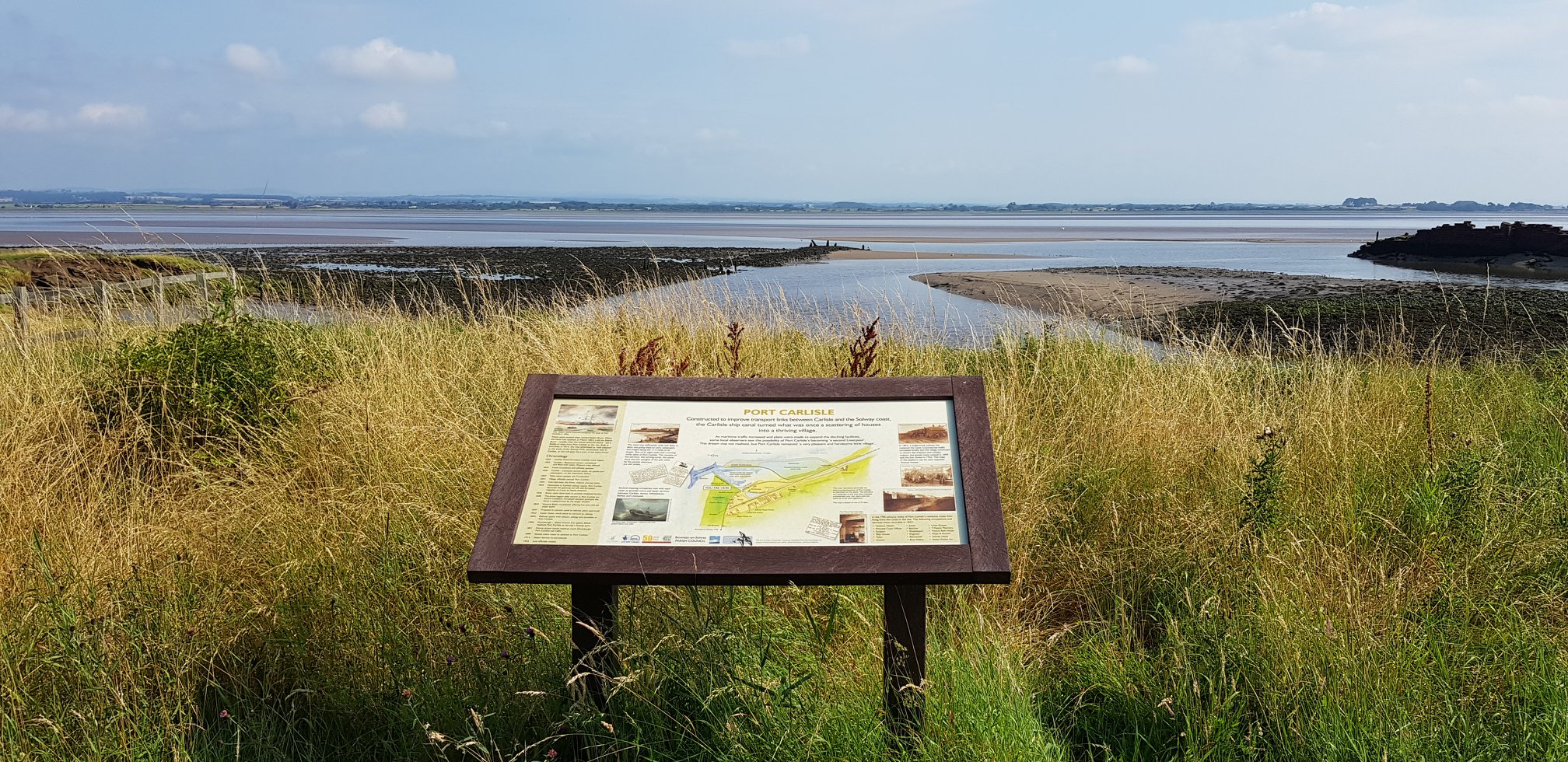 My first day was a fairly long and flat walk from Bowness on Solway to Carlisle, a far cry from the Lakeland fells I'm used to at home but walking along the Solway Firth was no less charming.
One thing I've really enjoyed is the history on this part of the trail which has very little to do with Romans. The death of a king, the journeys of a Bonnie Prince, the raiding Reivers, the pilgrimage of a US president and even the glimpses of a faded industrial heritage – a far more interesting day than I was expecting!
Day 2: Carlisle to Lanercost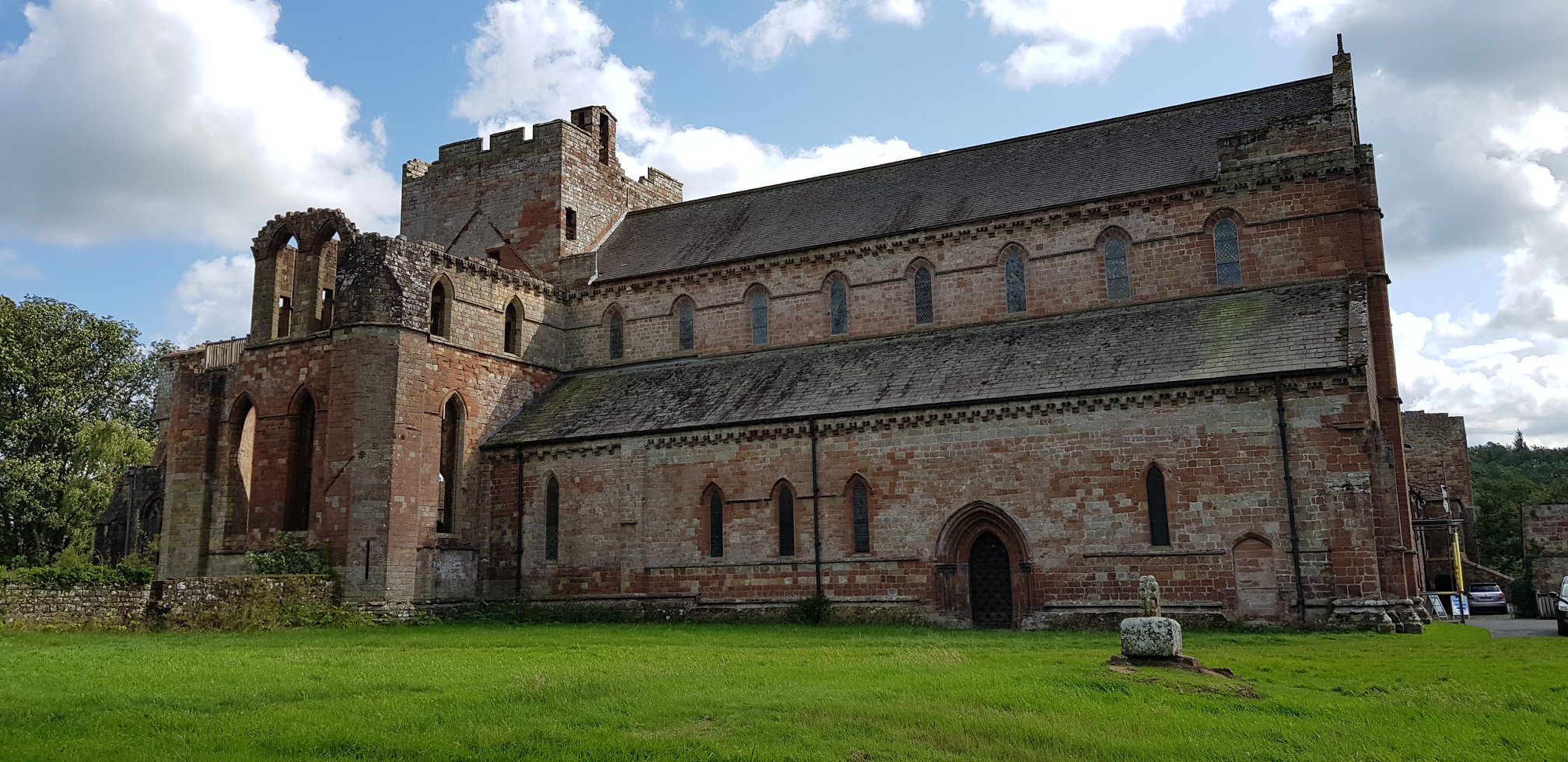 I wonder how suited I am to flatter terrain as we march steadily out of Carlisle with achier legs than I think I've ever had from a day's walk.
Luckily there's plenty of distraction in Carlisle's sandstone architecture, it's easy to overlook how lovely the rows of townhouses are and the cathedral and churches are marvellous. There are plenty of wonderful houses to keep this distraction going out of the city and on to Crosby before ending at St John's Church, worth a stop to look around.
After Crosby the trail turns more to farm tracks and green lanes. The miles are feeling tough now as we pass through Newtown but relief comes as the trail starts to rise, walking uphill feels great and there's a spring in our steps again. Perhaps not a sentiment widely shared.
Now we see a more varied countryside and what I think might be the first visible stones of the Wall, slightly overshadowed by a herd of curious cows probably not used to visitors as we realise we missed the diversion signs (it was much more signposted for westbound walkers in our defence).
The day ends in Lanercost in the shadow of the priory, with a link to the dead king I mentioned yesterday. I wanted to see the Abbey Bridge but the tearooms called more loudly. I don't think it's ever felt so good to get my boots off!
Day 3: Lanercost to Twice Brewed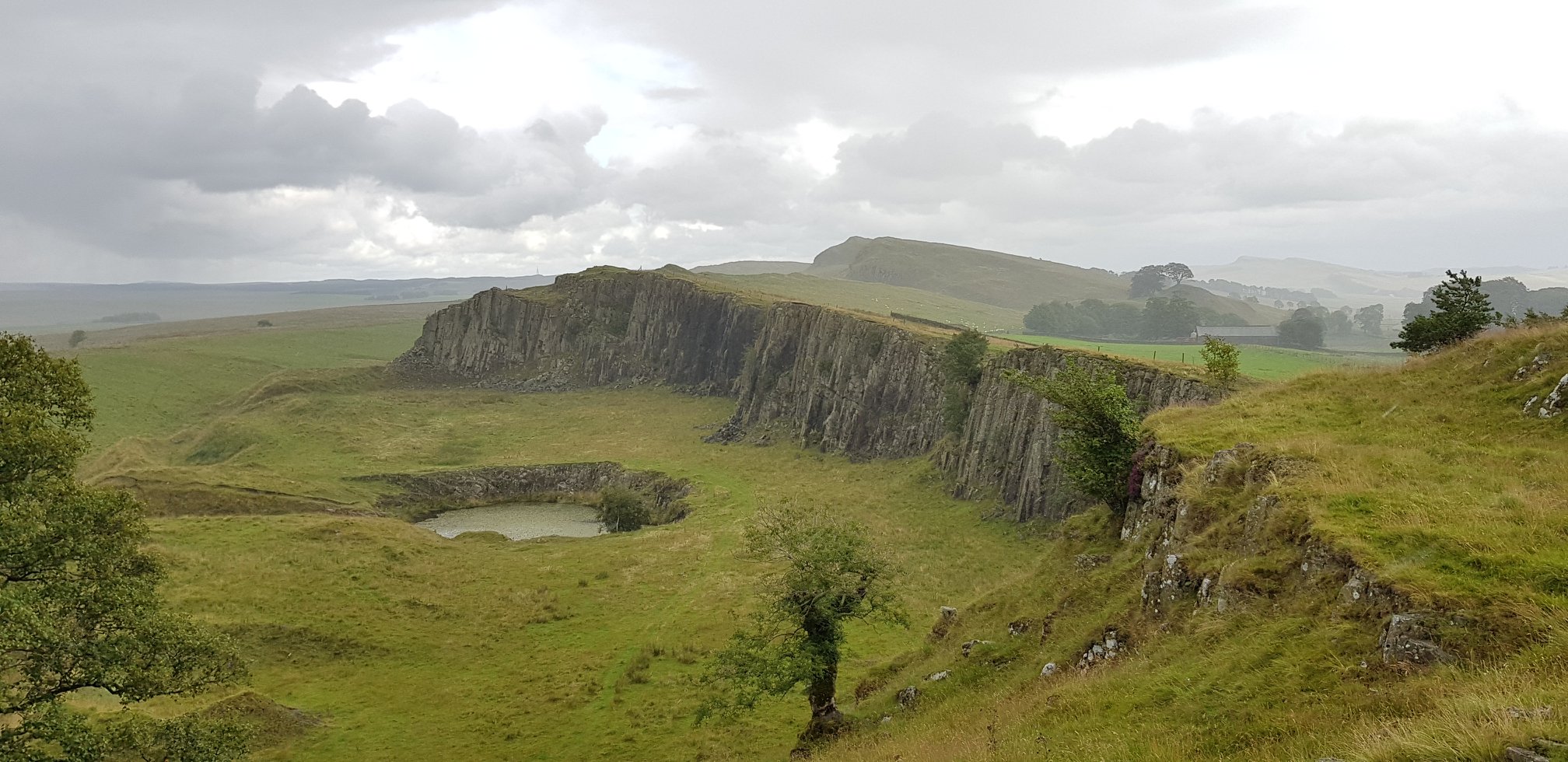 It felt great to walk on hillier terrain from the off today, the aches in my legs largely forgotten. Perhaps not a sentiment widely shared. My guidebook implies this will be the most interesting yet most challenging day yet.
Heading out of Lanercost towards Banks we come across the tallest surviving section of wall at Hare Hill. While that seems exciting it soon feels small by comparison as we come upon the Banks turret and signal tower, connected by the first real view of intact wall. A long stretch of milecastles, turrets and wall soon follows.
As the day goes on these prove to be mere morsels, dwarfed by the scale of the Wall on show at Birdoswald and Willowford. Birdoswald will be the first or last Roman Fort most people will see on the trail, depending on which direction they're heading, and it's worth taking the time to look around. Willowford has remains of a Roman bridge over the River Irthing, an interesting change from milecastles and turrets.
Through Gilsland and on to Walltown where the terrain takes on a more serious aspect. We start climbing onto Walltown Crags and glimpse Windshield Crags in the distance crowned with cows, a recurring theme.
As we crest the ridge the changeable weather makes up it's mind and gives us a soaking, the last few miles turn into a soggy plod. A window in the clouds opens up to show off a rainbow but the rain persists. Still, dampened shoulders don't necessarily mean dampened spirits, we leave the trail and head for the Twice Brewed Inn with laughter still in the air.
Day 4: Twice Brewed to Humshaugh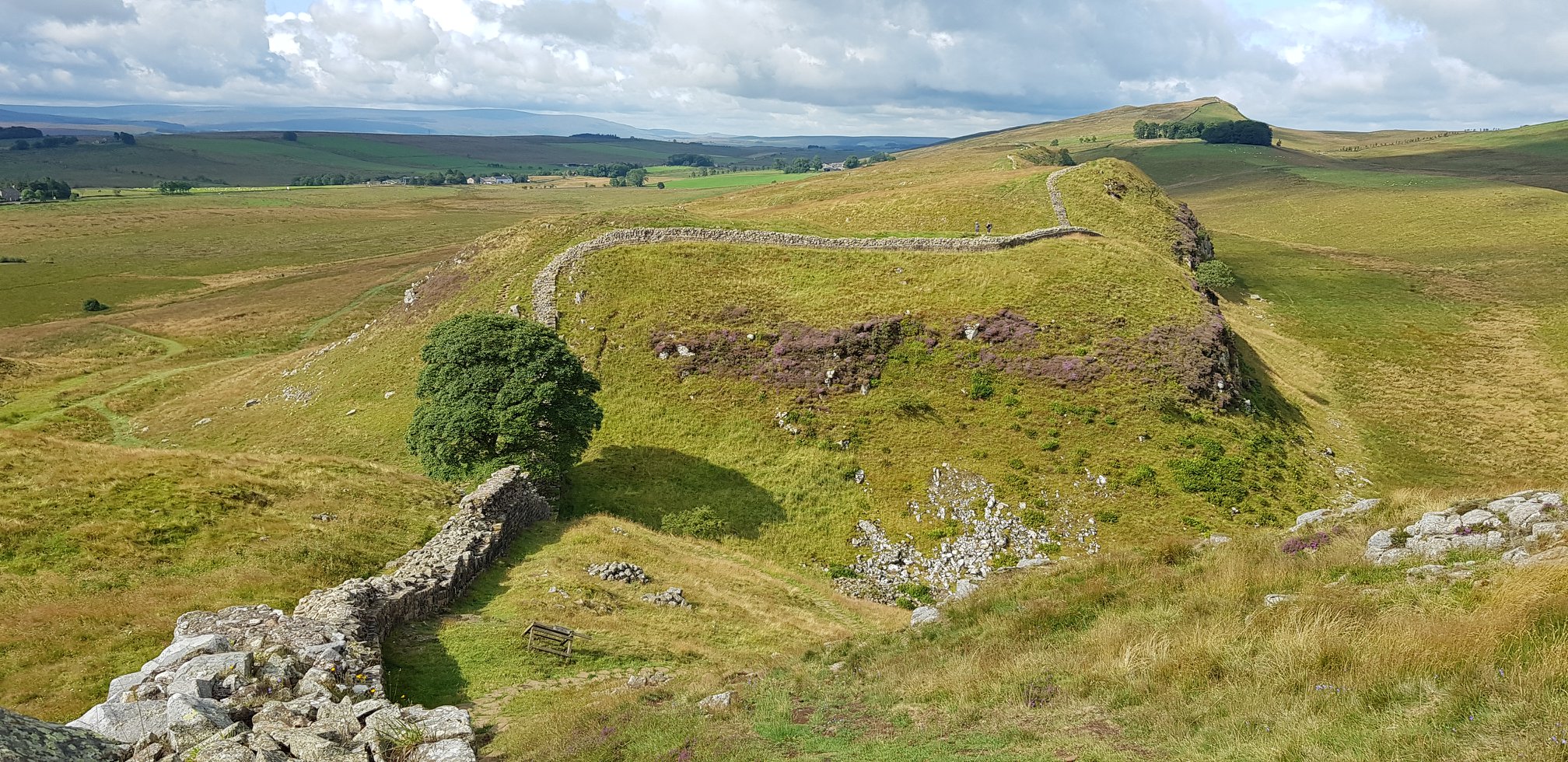 What was forecast to be the worst day of the week turned out quite pleasant, the prevailing wind up until now has had negligible effect but it definitely helped having it at our backs.
Today was a continuation of yesterday's ridge walking, there are paths which take the low ground but naturally I chose to stick as close to the tops, and thus the Wall, as possible. The reward is fantastic views in all directions, especially looking from Sewingshields Crags back along the line of ridges that form a natural barrier against the Picts.
I had to get the obligatory photo at Sycamore Gap, it is a lovely spot. Housesteads Roman Fort is on the Wall about 3 miles from Steel Rigg, if you can fit it into your day it is a worthwhile detour.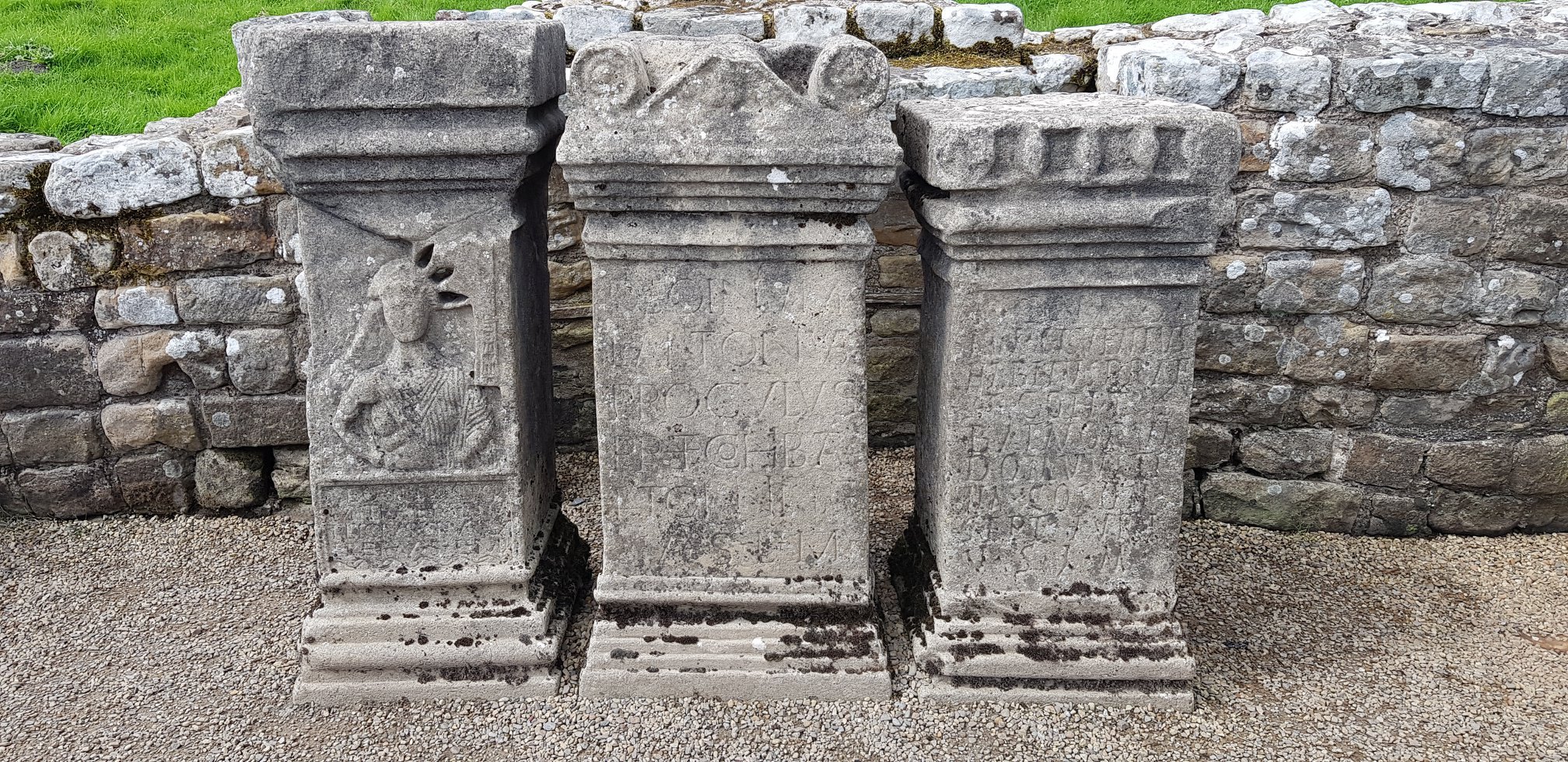 After dropping off Sewingshields Crags the path cuts a flatter, straighter line eastwards alongside the road. The visible sections of wall, milecastles and turrets seem to be fewer here and the last notable site is the Mithraeum, or Temple of Mithras.
It seems curious that there aren't more of these spiritual sites along the wall, were the Romans stingy with their worship? Did their faith falter at the frontiers? Or are there more of these sites yet to be unearthed?
Day 5: Humshaugh to Newburn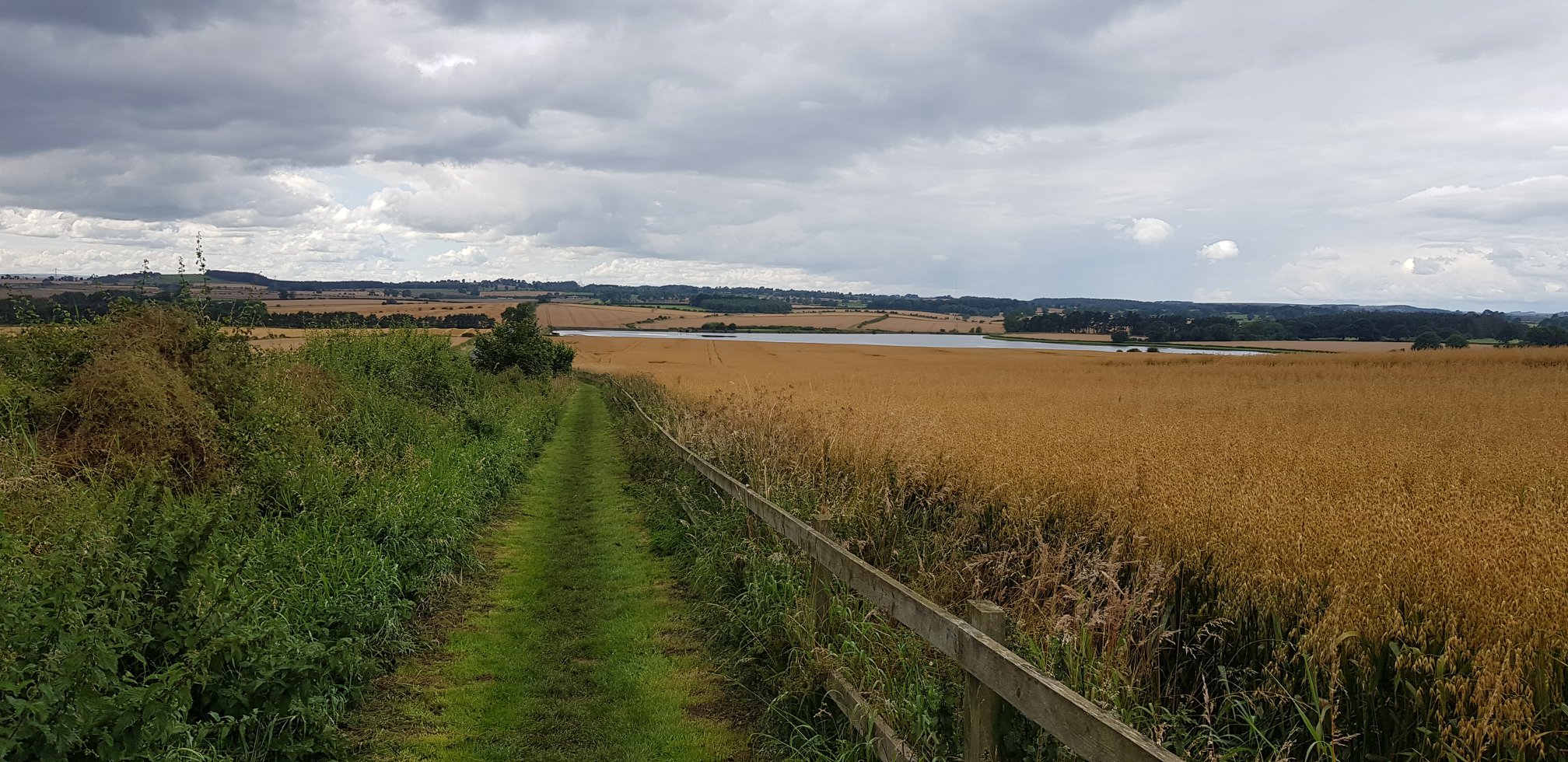 Today was the longest of the week at 19 miles, from Humshaugh to Newburn in Newcastle.
Up until now each day has held plenty of interesting sights to distract from the long miles but today was good, honest countryside walking through Northumbrian farmland.
Although I did find an answer to my pondering from yesterday, evidence of another temple of Mithras and a passage in my guidebook suggests a strong connection with the faith so perhaps other such temples are yet to be unearthed. Which I think is quite an exciting thought, who knows what other glimpses into Roman life still remain underground?
As the rural part of the trail comes to an end we walk into Heddon on the Wall, a lovely village which houses a stretch of the broad guage wall and has impressive views over the Tyne Valley.
The trail then drops sharply to the banks of the River Tyne, the official trail runs along the path of a dismantled railway but if the weather is nice then it's worth considering the riverside path since they meet up after a short while.
Before we know it we arrive at Newburn, it only took seven hours… A cold drink in the beer garden felt like it was a well earned reward.
Day 6: Newburn to Wallsend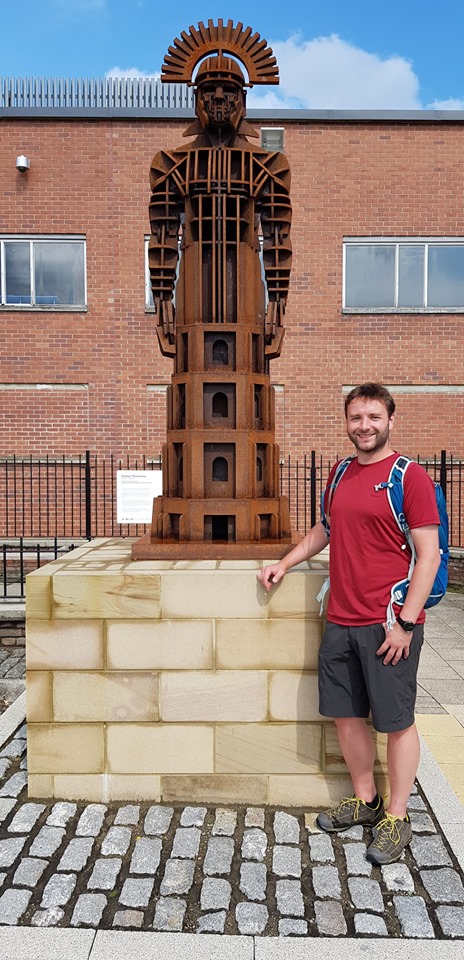 Our last day of the week was also the shortest, we waited out the torrential rain and started walking with just a bit of drizzle thankfully.
As with yesterday's walk the trail here runs along an old railway track but there is an alternative riverside path for the first 5 or so miles.
Most people who have been to Newcastle will have visited the quayside and it was nice to walk the length of it with views of the iconic bridges over the Tyne as well as the Sage and Baltic on the other side. I've always loved coming here, if my feet weren't so tired I would have taken the opportunity to visit the Baltic but I was afraid to stop in case I couldn't get going again!
The rest of the trail follows the riverside path more or less all the way to Segedunum in Wallsend, the eastern start/end point.
It's taken us just over 32 hours to walk 91 miles and I can feel every mile in my feet! We celebrated with a white Magnum, as is our tradition, having failed to find one on every other day this week. After a brief sit down it's off to Tynemouth for the B&B, it's such a lovely town in which to end the week.
So that brings to an end my adventures on Hadrian's Wall. I'll definitely be coming back to spend more time at the various forts and visitors centres, the long walking days meant it was hard to fit them in.
(*Okay I have to admit, we had 2 Magnums because it was cheaper to buy a box of 4 but I feel we'd earned it!)
I hope you've all enjoyed reading about my experience and if it has inspired you to do something similar then I really couldn't recommend it enough and I now see why the comments from people who have done this trail are so positive. For more information on Hadrian's Wall email us [email protected] or to speak with one of our walking holiday experts, call 017687 72335.