Happy Days on the Dales Way
By Tara Walker-Rose
Having previously enjoyed walks on Hadrian's Wall, West Highland Way and Herriot Way, I've decided this time to walk the 81 mile Dales Way from Ilkley in Yorkshire to Bowness on Windermere in Cumbria. Once again, I'll be accompanied by my husband Scott.
Day 1: Ilkley to Grassington
It was a lovely day today for the first leg of our Dales Way walk from Ilkley to Grassington which measured in on the GPS at 17 miles.
Ilkley is a nice place to start as it's an attractive town with lots of retail outlets, including an outdoor shop if you have forgotten anything. It also has a great choice of places to eat. We stayed in a great B&B close to the start of the trail so after a lovely breakfast we were quickly on our way.
The first part of the walk is outside the National Park and runs alongside or very close to the river Wharfe on easy paths. It passes through Addingham then continues along the river and enters the National Park just before the ruins of Bolton Abbey and the hamlet that shares its name.
There are two great tea shops here and we visited one of them to refuel for the next stretch. I decided to cross the river via the stepping stones as the water was so low. It seemed like a good idea until halfway across. Fortunately it was without incident as I had a small audience on the bridge.
There's a stretch of lovely woodland walking now which leads to Strid Wood, named after the short and narrow but deadly rapids at the centre. The water is low at the moment but the flow is still violent – the Strid has claimed lives due to its underwater caverns and strong undercurrents. It's said that before the Strid claims it's next victim, the apparition of a white horse is seen nearby. We didn't see anything today whilst eating our packed lunches close by!
This afternoon continued on riverside paths to Barden Bridge, Appletreewick and Burnsall. The terrain from Barden Bridge onwards is more classic Dales scenery and the walking is straightforward. Many of our itineraries stop for the night at Burnsall but ours continued to Grassington, passing Loup Scar, a limestone escarpment, and crossing the old suspension bridge at Hebden (it also has stepping stones but this time Scott took those and I took the bridge!)
We arrived in Grassington soon after and checked in, this time into a bigger guest house. It's a lovely little town with a choice of pubs for dinner.
Tomorrow we will be walking to Hubberholme.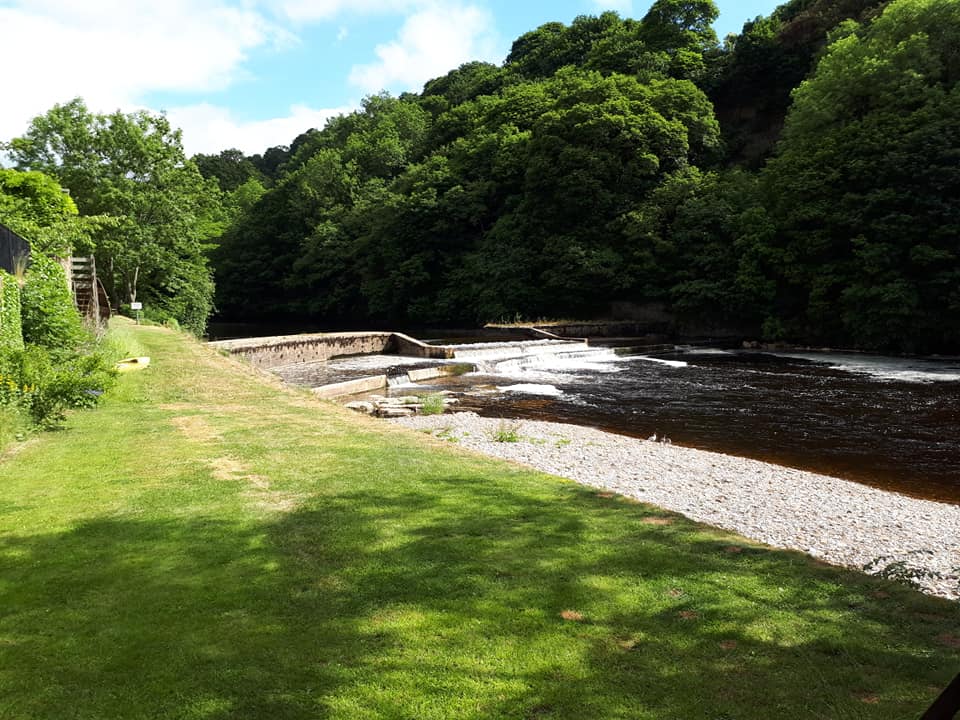 Day 2: Grassington to Hubberholme
Day two of our Dales Way walk today took us from Grassington to Hubberholme, a 12 mile stretch.
On leaving Grassington this morning I noticed a real difference in the terrain compared to yesterday, it's now far more typical Yorkshire scenery.
It was a gradual climb out of the town and into higher dry stone walled fields containing evidence of the old medieval village. The route passes by limestone pavement, the odd tree, a lime kiln and a feature called Conistone Pie, a rocky limestone outcrop with good views around, although it was cloudy this morning so the photos probably dont really do it justice. Eventually the trail starts to descend again through a pine plantation and through a series of small fields, each with a teeny gate or stile, or both, to test your legs on the way to the pretty, sleepy village of Kettlewell where we stopped for lunch. If any of you know the 2003 film Calendar Girls, you would recognise the garage here. (In the film, a calendar on the garage wall here inspires the WI ladies).
After Kettlewell the Dales Way once again follows the river onwards to Buckden, a lovely little village with a pub and tea shop. From here it was just another couple of miles to Hubberholme. As recommended by our friend Bob, we took some time to visit the church here, finding out some of its history and spotting the mice carved into the pews, said to commemorate the time when the church was flooded and rodents got in. The author J B Priestley described Hubberholme as one of the most pleasant places in the world. His ashes were scattered in the churchyard.
We are staying on a farm tonight and eating in the George Inn- they hold awards for their pies so I'm looking forward to trying them.
Tomorrow we are heading for Ribblehead, another 12 miles.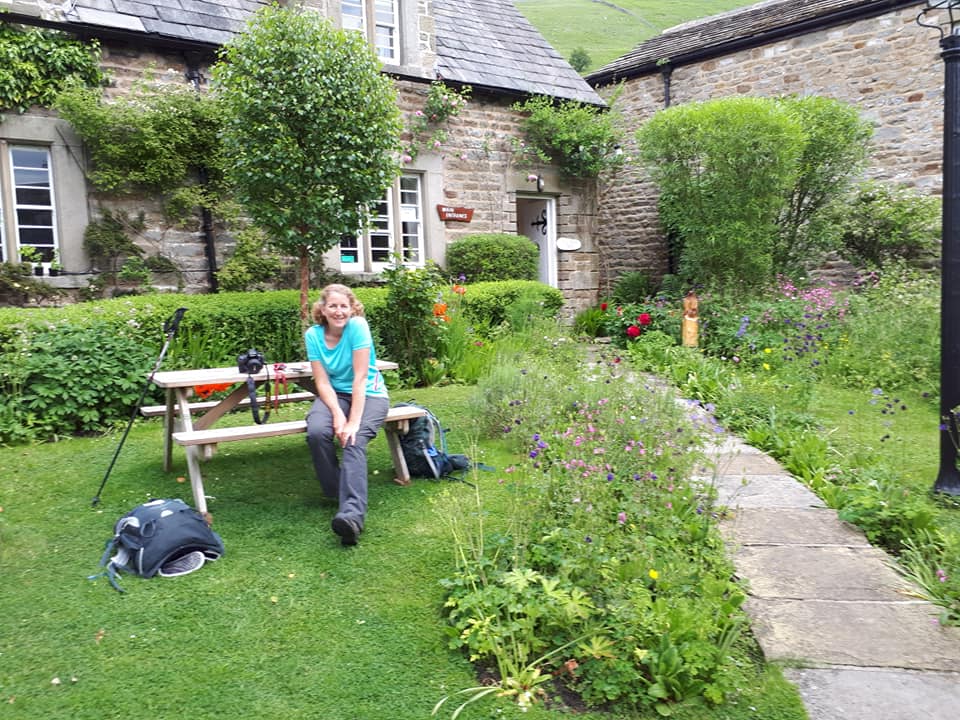 Day 3: Hubberholme to Ribblehead
Today certainly blew away the cobwebs! A severe weather warning for strong wind wasn't what we wanted to hear on our highest day, from Hubberholme to Ribblehead. However, although it was blustery and sometimes rained a little, it was fine.
From Hubberholme the route followed the Wharfe again for much of the morning to Beckermonds then joined a minor road for a mile through the hamlet of Oughtershaw. We had a welcome break at Nethergill Eco Farm soon after, it's a working farm with a field centre open to walkers, you can use their kitchen for hot drinks and they have home made flapjack, you just pay in the honesty box. It's a great place.
The route changes soon after and becomes more open and fell-like climbing slowly to Cam Houses. There's an alternative higher route from here but this would have taken us away from our accommodation so we took the traditional path, passing the cairn marking the highest point of the trail.
From here it's a steady descent, with the lovely view of Ribblehead viaduct, although it was a bit hazy for us. Soon after reaching the road at Far Gearstones we reached our B&B with 12 miles on the GPS.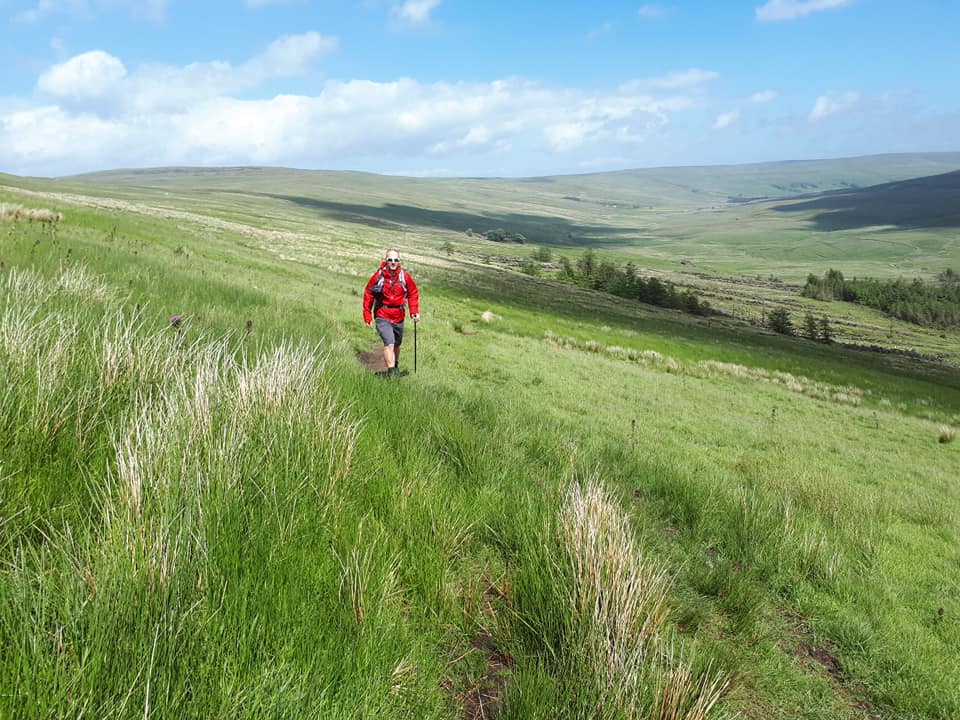 Day 4: Ribblehead to Dent
After the strong winds yesterday we started out hopeful that it might be a nice day but it turned into what I call a yo-yo day- fleece on, waterproof on, waterproof off, hat on, hat off, fleece off. you get the picture.
From our B&B we headed straight up the hill over Blea Moor until we met the Dent Road to take the longest stretch of road walking on the route, which is a couple of miles. The road leads downhill and passes beneath Dent Head Viaduct. On the walk down we were lucky enough to be able to watch a barn owl hunting over the fellside. In fact there has been so much birdlife to see on this walk, Lapwings, Curlieus, Oystercatchers, Herons and even Red Kites.
At Cowgill the trail leaves the road and joins the river Dee , once again following the familiar fields of sheep along the riverside until it turns off through fields of wildflowers for a while, then rejoins the river to Church Bridge at Dent. Today was 10 miles so we were fairly early into Dent. We had a look around the pretty cobbled streets before heading to our accommodation. The B&B is also a tea shop so of course it would be rude not to try the cake.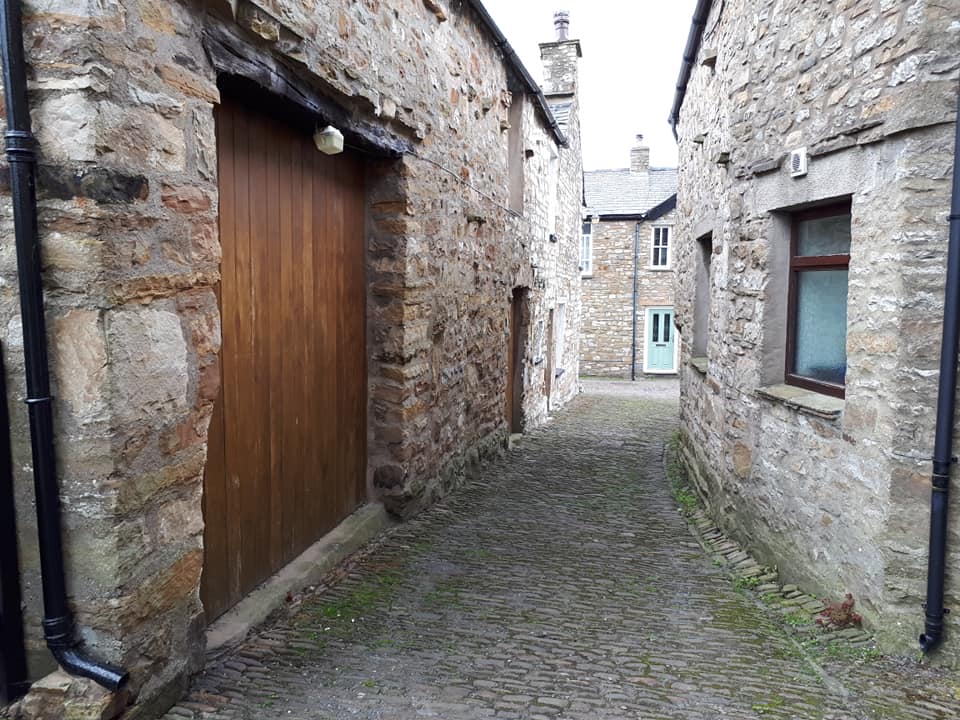 Day 5: Dent to Howgill
Today was wet!
It started off in pretty Dent quite promising, with intermittent drizzle, but still warm. Unfortunately it deteriorated so our photos show you why you need to always have waterproofs in your rucksack!
I think today was my favourite so far, it was 10 miles and the scenery was always changing, it was pretty despite the weather, and we managed a side excursion to Sedbergh on the way.
The first few miles are along the river Dee, then joining a very quiet lane with lovely views over the pastures of Dentdale. More slate became apparent, and less limestone, as we headed for the Lake District and left the Dales behind. The trail eventually descends into Millthrop and from here it's a 10 minute diversion to Sedbergh, or you can carry on if you're not tempted by coffee and cake like me.
Sedbergh is the last town before the end of the walk at Bowness on Windermere. It is dominated by a very well regarded and expensive boarding school reminding me of Harry Potter's Hogwarts. After checking out the cafes and walking through some of the school grounds we left the town behind and picked up the trail alongside the River Rawthey which led us to an impressive 19th century iron railway bridge. Soon after we switched rivers and followed the Lune which marks the boundary of the National Park. Its really pretty and fairly easy walking. This was the final part of our day and it was raining heavily at this point, so after a quick look at the Lune viaduct we headed straight to our farm B&B. The weather has improved since we arrived and the views back to where we came from are lovely from our window now. Fingers crossed for tomorrow.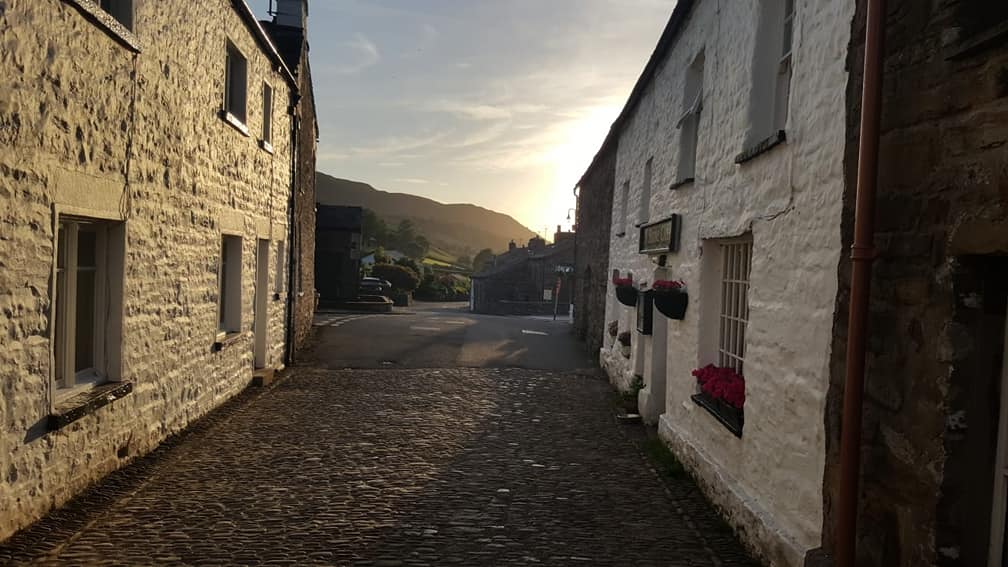 Day 6: Howgill to Burneside
Day six of our Dales Way adventure began in Howgill with the backdrop of the Howgill fells. These are a collection of smooth-topped, velvety looking hills described in many ways, with my favourite being a basket of Labrador puppies.
Thanks to last night's hostess our boots were surprisingly dry, amazing considering the pool of water we left on her kitchen floor when we arrived.
We started the day by descending down to the river, for more lovely riverside walking with wildflowers and birds along the way. Soon after we passed the medieval Crook of Lune Bridge, damaged in storm Desmond but still functioning and awaiting some repair. We crossed the bridge and climbed on towards the 11 arch Lowgill viaduct and at this point we finally left the Yorkshire Dales National Park. From here the landscape became more pastoral with many sheep and cows watching our progress. We had to cross the bridge over the M6, it's noisy for a few minutes but it's soon behind you. The route continued through farming landscapes passing cows, chickens and ponies on the way. We ate our packed lunches on the top of a sunny bank with lovely views. You could also stop a little further on at Black Moss Tarn which I imagine would be a nice place to sit down for a rest on a sunny day.
More woodland and farmland tracks followed before we once again hit civilisation at the A6. A quick cross over and it was only a short way to Sprint bridge then Burneside, an 11 mile day in total.
Our usual Burneside accommodation was already full tonight so we are staying in nearby Kendal. We make this arrangement sometimes for our customers to make the holiday possible. Its straight forward-the taxi is usually provisionally booked for 4pm and you ring them when you are on your way. We were early, so I changed it to 3pm and we were dropped off in town instead of the B&B and spent an hour exploring Kendal (and eating cake).
It's our last day tomorrow, a shorter one at 9 miles or so. We will be walking to lovely Bowness on Windermere in Mickledore's home, the Lake District National Park.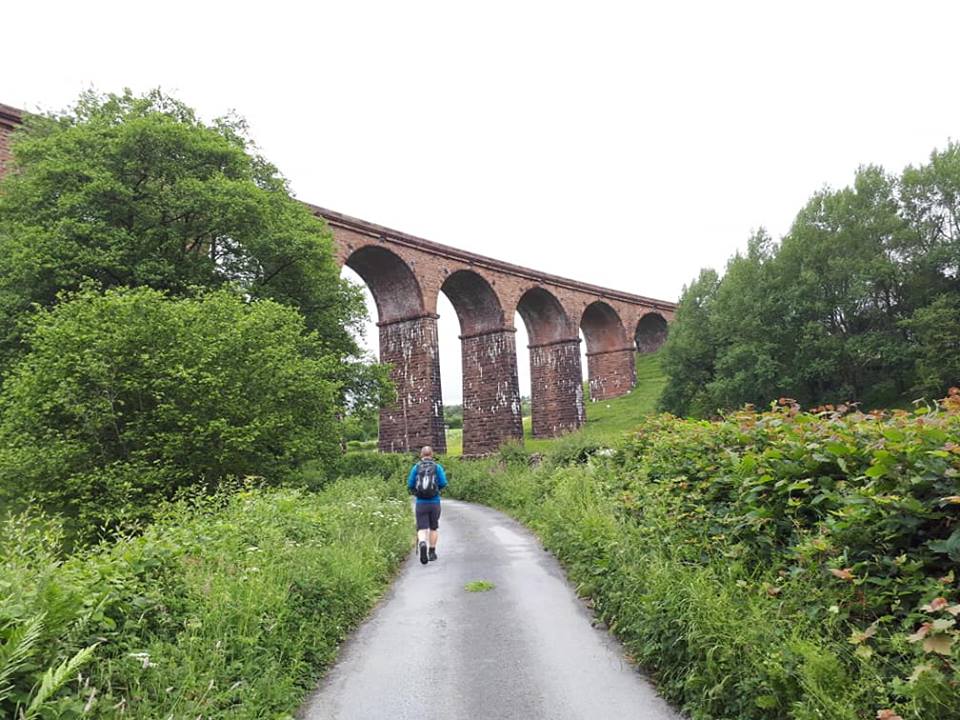 Day 7: Burneside to Bowness on Windermere
Last walking day today on the Dales Way,  a 10 mile walk from Burneside to Bowness on Windermere. It started once again alongside the river, this time the Kent, through fields of livestock. We made a detour into Staveley, only a 10 minute walk off route and well worth it. This was to visit Wilf's Cafe as many of our customers had recommended it. A sausage butty later we were back on the trail. From here there were views back to the Howgills and ahead to the Lake District for most of the rest of the walk. The end felt close but the trail kept on going, through fields and woodlands, past farmhouses and down lanes and tracks. All of a sudden, the stone bench appeared, matching the one at the start and marking the end of the trail. A man out walking his dog congratulated us and told us he had walked it a number of times. We took photos and headed into Bowness on Windermere, busy with tourists and completely different to the quietness of the last week!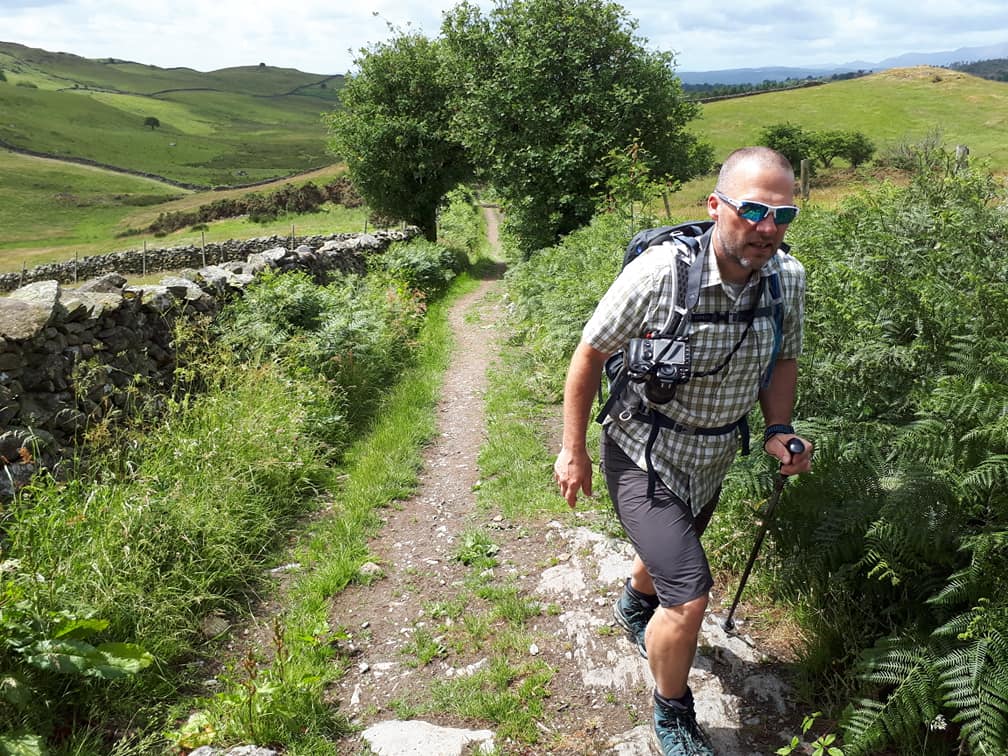 ---
We offer 3 itineraries over the entire length of the Dales Way ranging from 6 to 8 days. For more information on these, email us [email protected] or to speak to Tara or any of our walking holiday experts, call 017687 72335.