Embracing the Elements on the West Highland Way
By Katie Armitage
Myself and my partner Pedro recently walked the West Highland Way over seven days. We couldn't wait to see what the route will treat us with! I've been booking the accommodation on our West Highland Way holidays for the past five years at Mickledore and I was really looking forward to meeting our accommodation hosts along the way.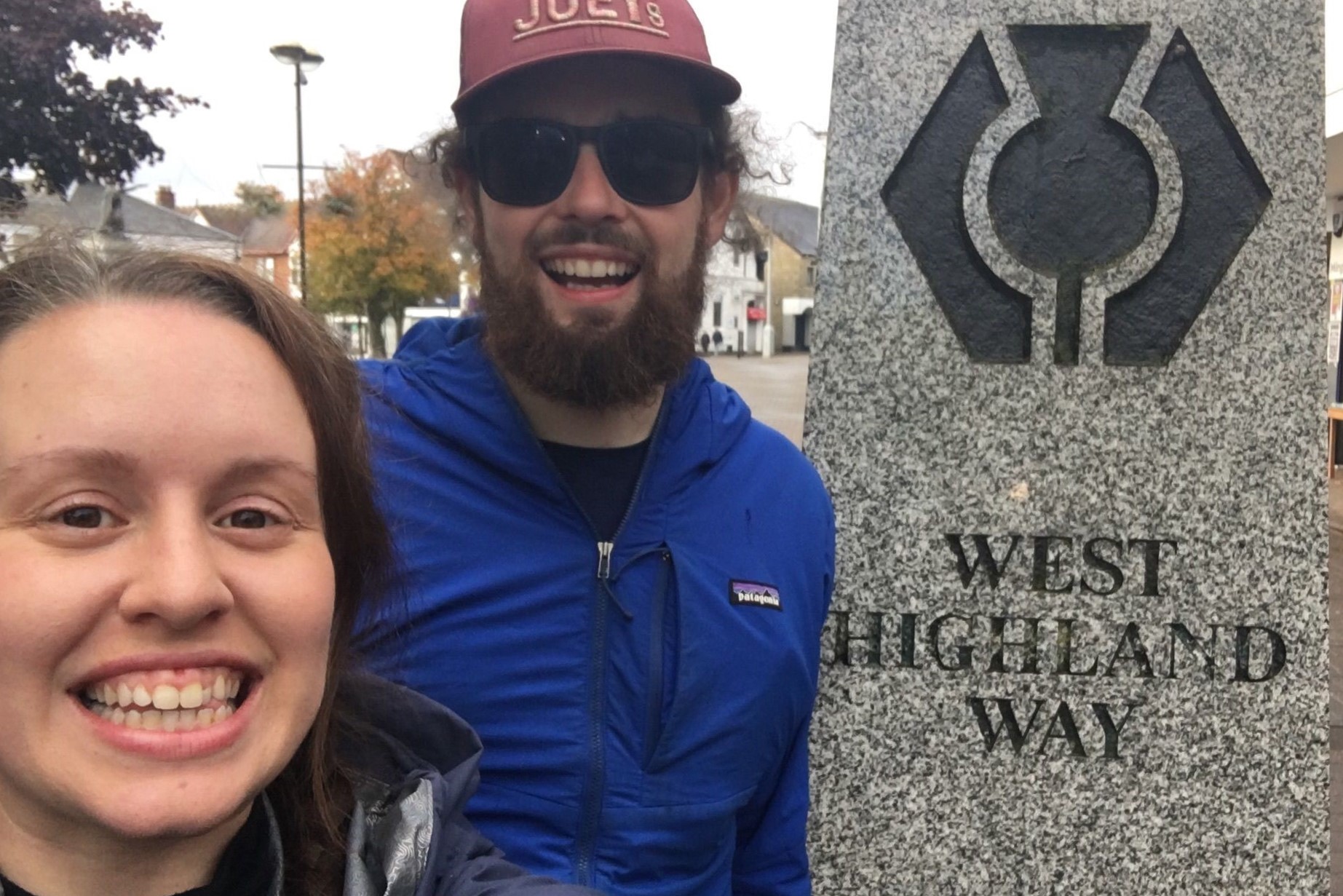 The route begins in Milngavie which is just outside of Glasgow and finishes in the heart of the highlands in Fort William. Mickledore offer several different walking itineraries depending on how far you like to walk each day. We decided to walk the route over seven days so that we could slightly challenge ourselves but still have a few shorter walking days.
Milngavie to Drymen
We left Milngavie after a perfect full Scottish breakfast to gear us up for today's 12 mile adventure. The weather was surprisingly sunny whilst we walked through the outskirts of Mugdock Country Park. We then passed Craigallian Loch and had beautiful views of Dumgoyach which is a very distinctive circular hill. We even spotted some highland cows and a few buzzards! If you like a dram of whisky the Glengoyne Distillery is a short walk from the route just before the Beech Tree Inn in Dumgoyne which is also a brilliant coffee stop!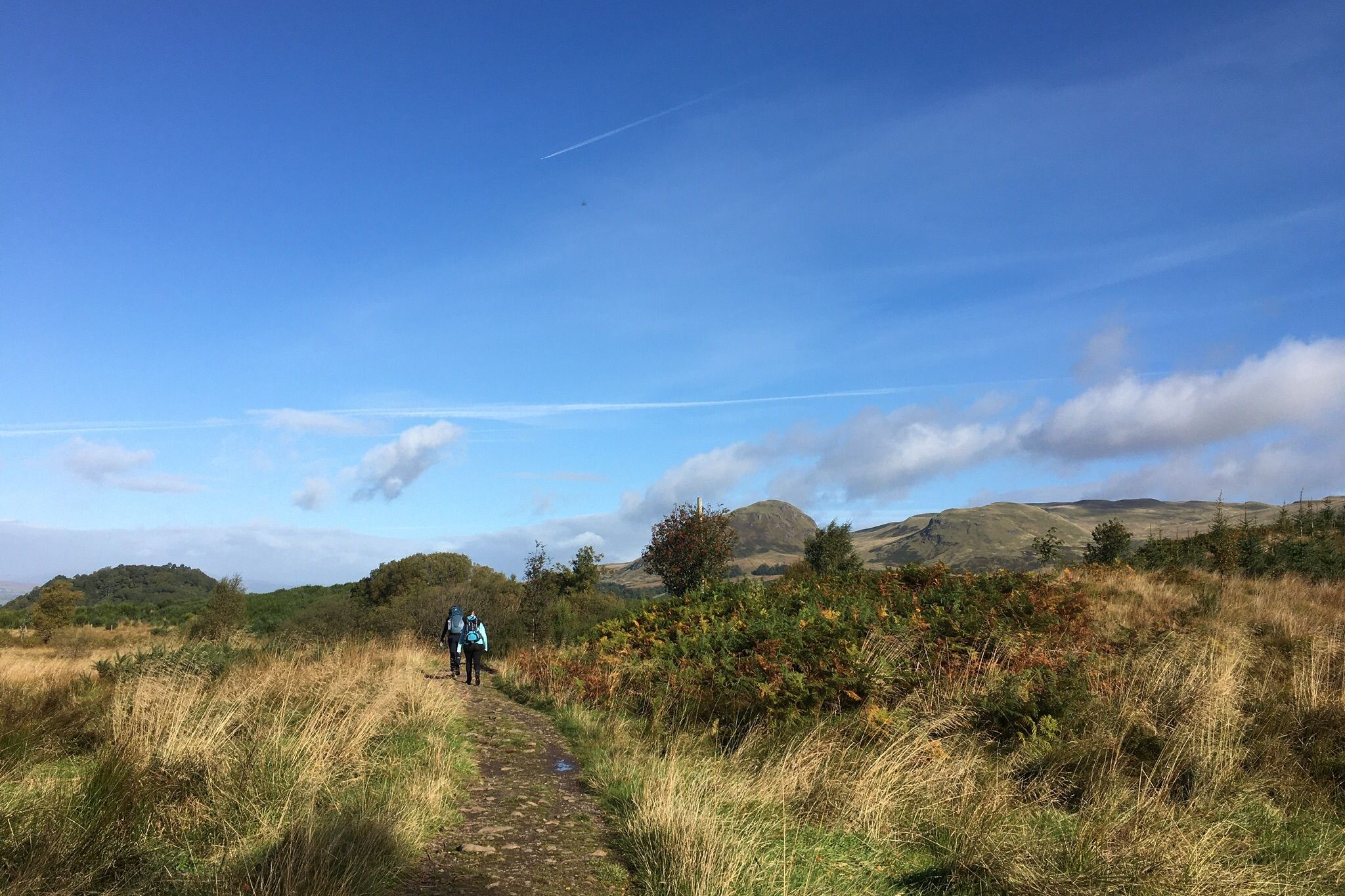 The next few miles we were rewarded with our first views of Conic Hill and there were even a few Honesty boxes for walkers which is such a great perk if you're needing a sugar hit. Today's walk was very flat on mainly a well-trodden path with small sections of quiet road walking. We got to Drymen and met our lovely hosts and checked in for the evening.
Drymen to Rowardennan
We left Drymen after a tasty breakfast and met our friend Flora who was joining us for the first 7 miles. The route from Drymen started with a very short road section. We then joined a forestry track at Garadhban Forest which lead us to the start of the climb up Conic Hill.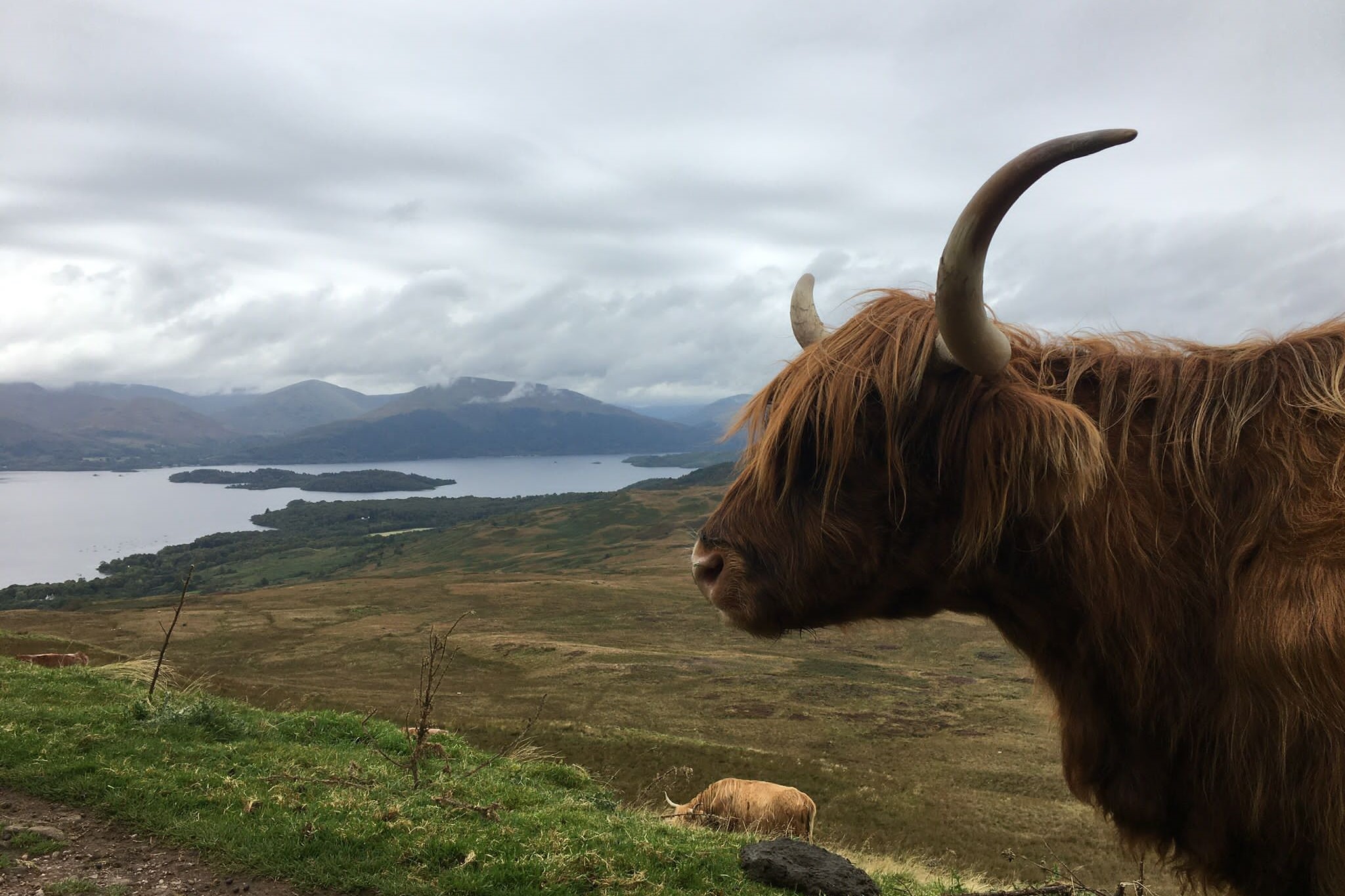 Conic Hill is 361m high and has stunning views of Loch Lomond and the local Highland Cows love to roam the paths here. The descent was rather muddy at times and so you had to take care on the slippery sections!
We then reached Balmaha which is the halfway point of today's walk which has a great visitors centre and pub for walkers to take a break from the weather. This is when the rain really started!
From Balmaha we followed the banks of Loch Lomond for the next 7 miles. As the weather was quite wet we pushed on but did enjoy the views from the beautiful bays. We arrived at our accommodation and had a wonderful view from our room of Ben Lomond which was a lovely surprise to end today's walk with.
Rowardennan to Inverarnan
We started today's walk in our full waterproofs and I'm very glad we did as the weather forecast was 98% chance of rain! We left Rowardennan and took the forest track path past the hostel. So far we have spotted several honesty boxes and the one at Ben Lomond Cottage has definitely been the best so far as it's filled with every treat you could ever dream of!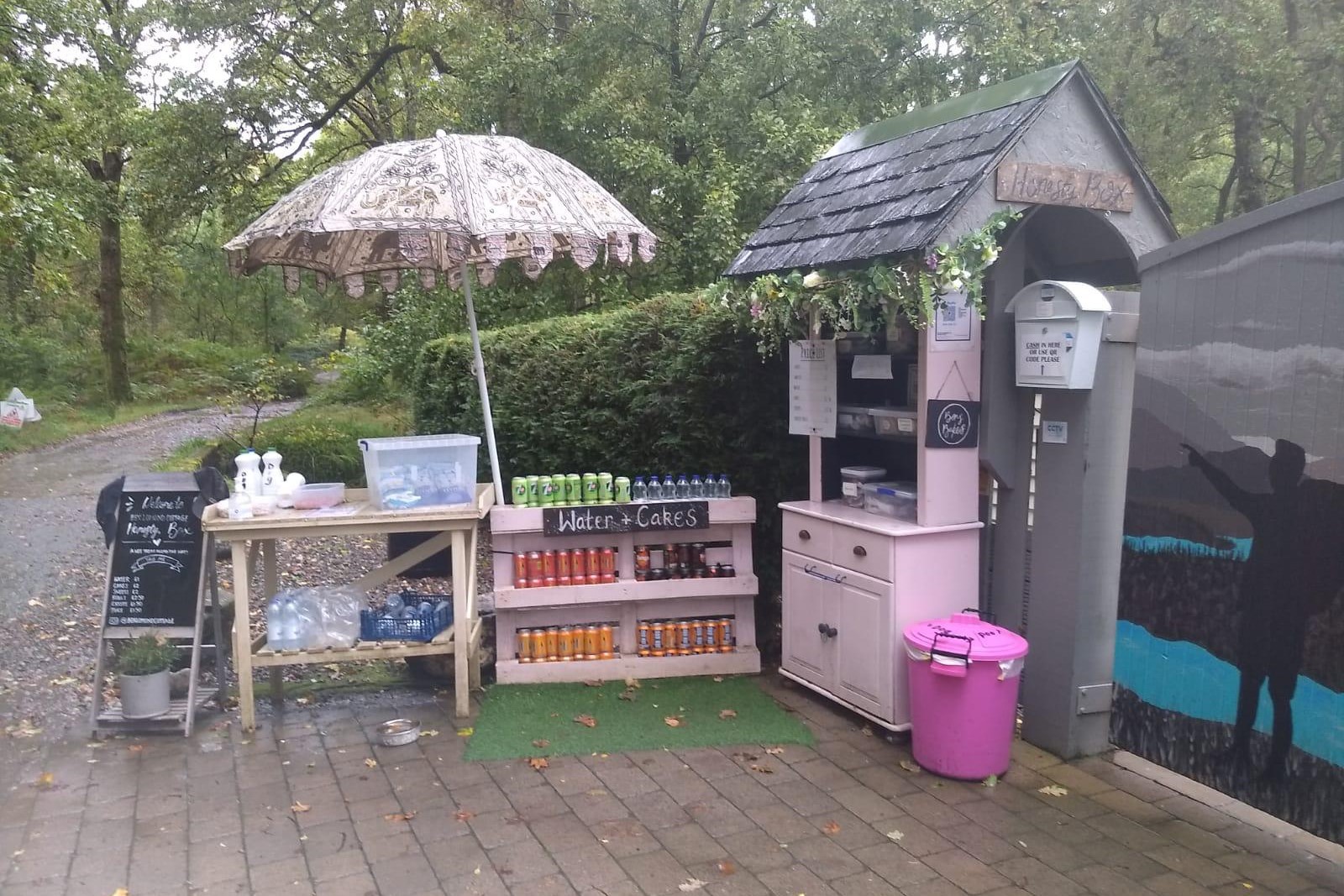 We then had the choice of a high or low route. As the ground was very wet under foot, we took the higher path as this was a flatter forest track. The low route hugs the shores of Loch Lomond and we were able to join the low route later on so we could explore Rowchoish Bothy and have a break from the rain! This seven mile section between Rowardennan and Inversnaid was filled with mossy woodland which felt so magical. We reached Inversnaid and passed one of the most fast fallowing waterfalls I have ever seen. The route had a small diversion here as a bridge was down but this was well signposted.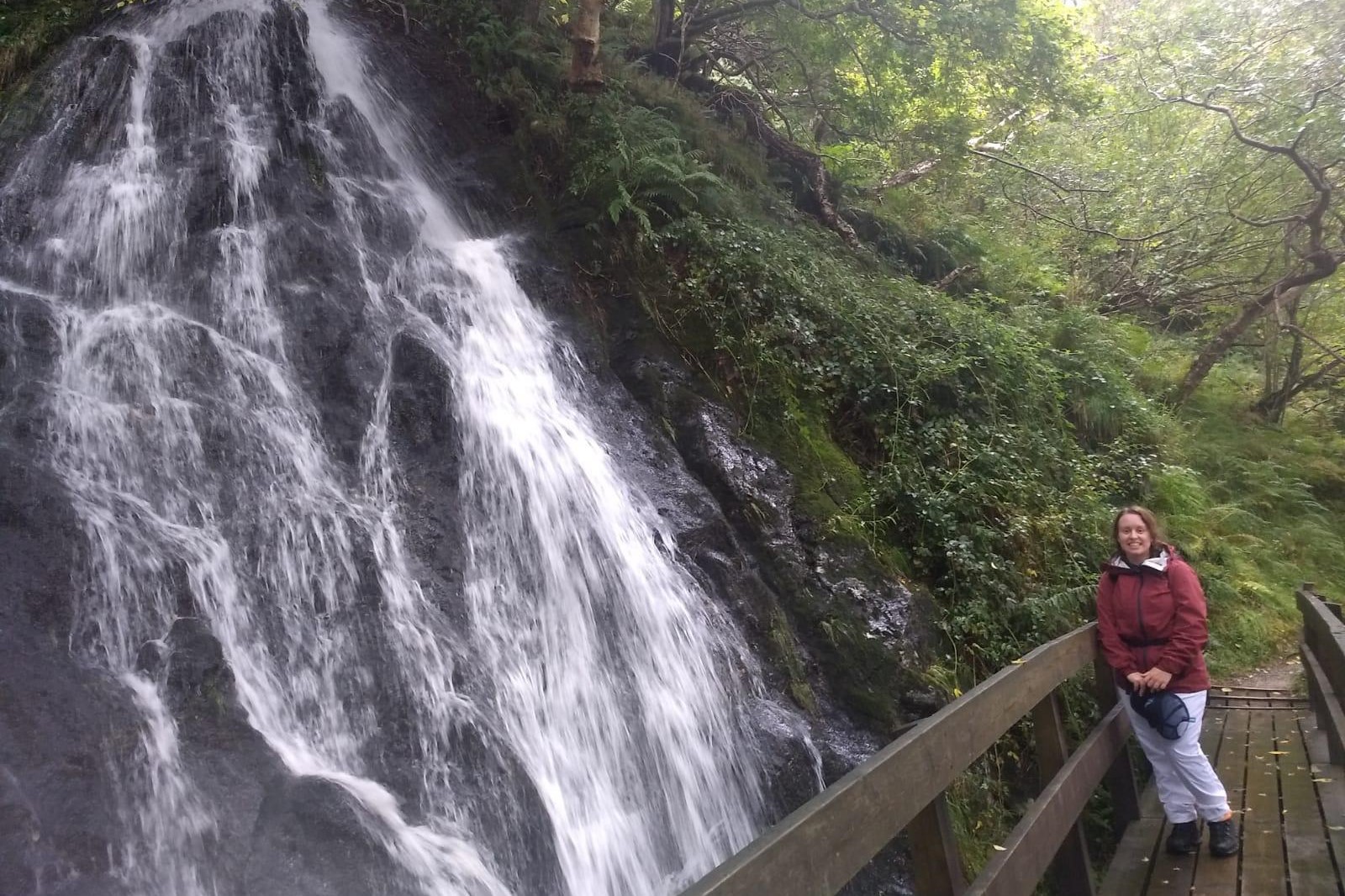 After following the path for a while you then pass Rob Roy's Cave which is quite hidden and difficult to get to but you can imagine what it must have been like all those years ago. The terrain on this section was quite tricky with the wet ground as there are lots of slippery tree routes, stones and stream crossings but we managed okay but walking poles would have been useful.
We then came away from Loch Lomond as the path climbs gradually and we kept looking back at the spectacular view of the Loch, it was just stunning. The next few miles were much better under foot and we made it downwards to our accommodation for the night.
Inverarnan to Tyndrum
So after yesterday's very damp walk our boots hadn't quite dried out but that didn't matter as the rain was even heavier on today's walk to Tyndrum.
We left our accommodation and re-joined the route at Beinglas Forest. The path kept slowly climbing and we then past the famous Falls of Falloch. The Falls were so dramatic after this week's rainfall and it was spectacular to see the rapids crashing and whirling around. The trail then started to climb and we kept looking back at the mountains behind us, the colours this time of year are so beautifully orange and warm.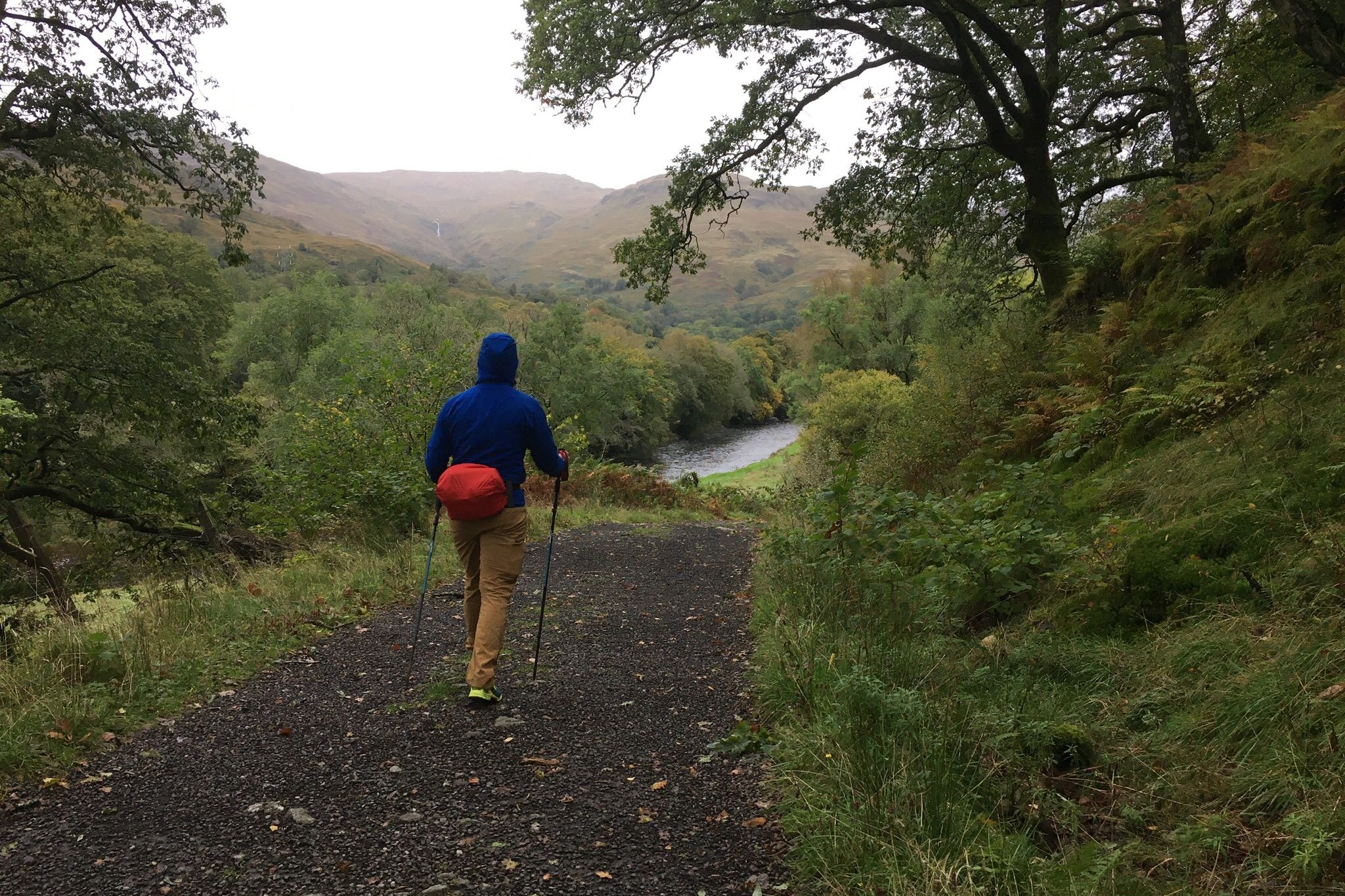 The next few miles felt very quiet as we walked up and down the dark path through the deep Ewich Woods. We spotted so many different types of wild mushrooms here. After the woods we crossed the main road and a bridge and walked towards Kirkton Farm. This is where St Fillian's Priory used to stand about 700 years ago, there are still some of the ruins here and the graveyard up on the hillside. Even Robert the Bruce has links here from back in 1318.
The trail then takes you directly past Strathfillian where there is a farm shop where you can get a quick snack. The last few miles are up over compact moorland which was a lovely contrast from the woods earlier. After a very short climb we spotted a lochan (small loch) and there was a large rectangular stone on the ground with a thin long sword. It's said that a battle between Robert the Bruce and the Clan McDougall led to Robert the Bruce's men being forced to flee. Hiding their weapons in this lochan and the legend is that Robert the Bruce's longsword is still hidden here!
We then headed into the village of Tyndrum and couldn't wait to get our wet boots off. Our host treated us to tea and homemade cake which was very much appreciated after today's wet walk.
Tyndrum to Kingshouse
I thought yesterday's downpour was bad but this mornings matched with strong winds was pretty tough! As we had 19 miles from Tyndrum to Kingshouse we had an early breakfast which really got us ready for what today had.
Our accommodation was directly on the trail and we headed up the track on a gentle climb. This section was then mostly level walking along a worn cobbled surface of an old military road. This was where we had our first glimpse of some big Monroe's. With the heavy rain this section really was very atmospheric!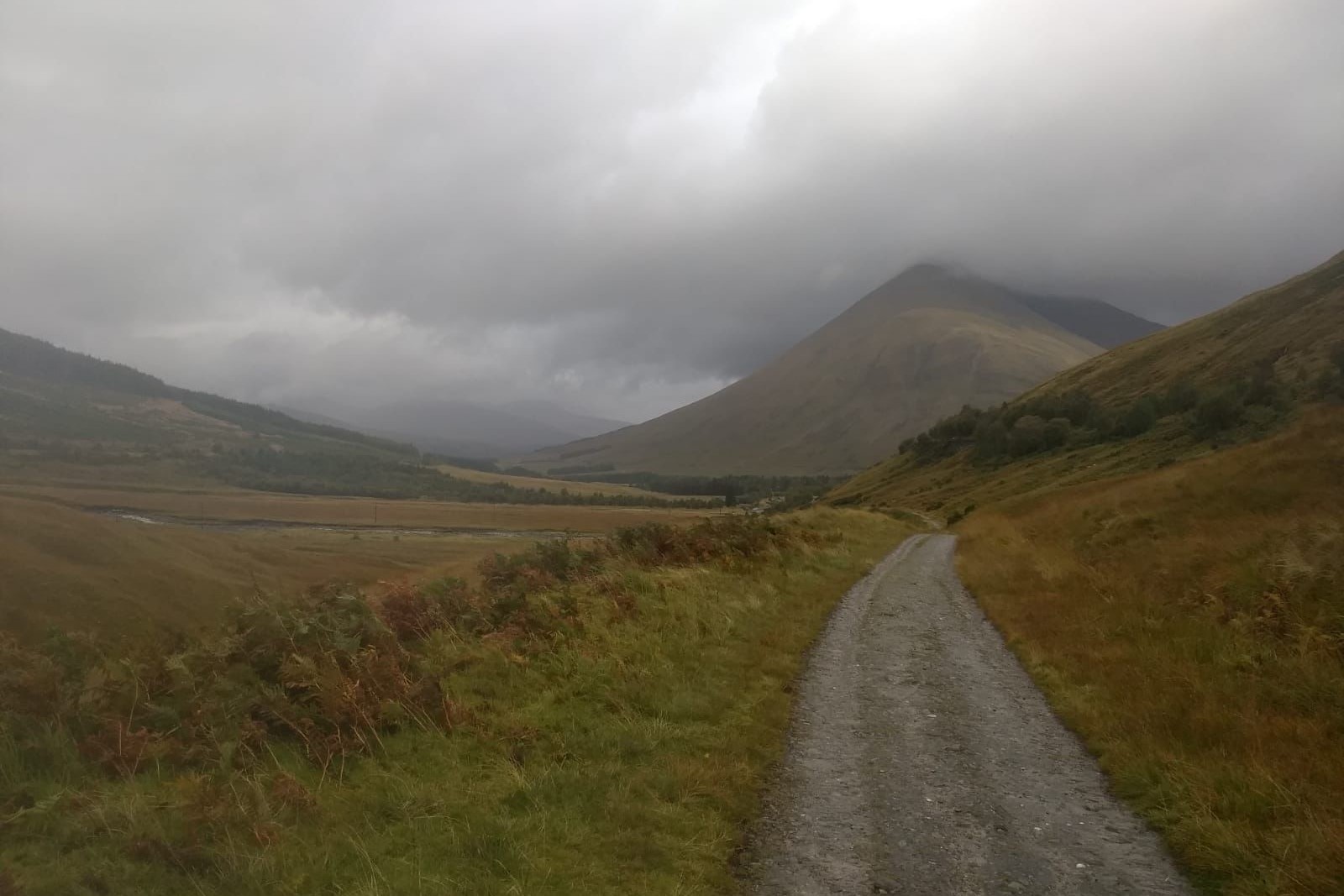 We pasted the slopes of Beinn Odhar and then Beinn A'Chaistell. We then crossed the bridge at Auch where the track gets wider. We had met two other walkers on this section and it was lovely to chat with them whilst we braved the weather together, it helped us to get through the first 8 miles of today's wet walk. We then descended into Bridge of Orchy and this is when we decided to finish today's walk. Being completely wet through with 11 miles to go in the most exposed section we decided to catch the bus.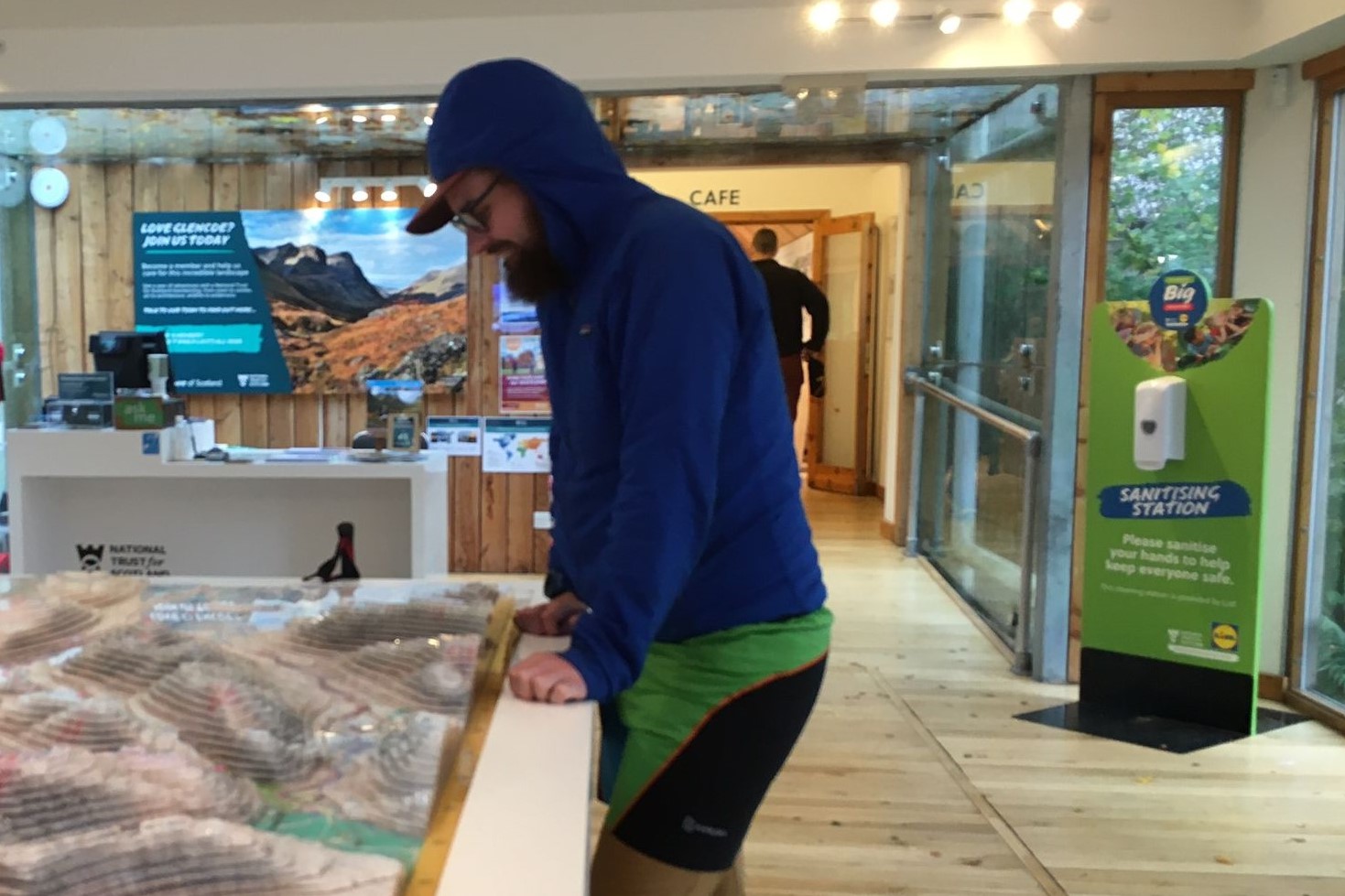 After a lovely hot chocolate we caught the bus to Glencoe Visitors Centre, as it was only 12pm we decided to have a little explore before we could check into Kingshouse. The scenery from the bus journey was absolutely stunning. The bus went through the Glencoe Pass and past the famous Three Sisters, which was so incredible to see! The visitors centre was filled with all the stories of the past and had a great mountaineering section.
We then travelled back up the Glencoe Pass and checked in to the Kingshouse Hotel for the night. We were delighted when we found the drying room, fingers crossed for dry boots tomorrow!
Kingshouse to Kinlochleven
Before breakfast I popped to the drying room to check on how my boots were doing … they were only slightly damp, what a nice surprise!
Today's walk from Kingshouse to Kinlochleven is only 9 miles and so we treated ourselves to a leisurely breakfast. We left for today's walk in our full waterproofs again and walked over the bridge to begin our adventure.
Today's route follows a wide track for the first 2 miles with the most dramatic views to our left of Buachaille Etive Mor. A bit of blue sky appeared and so I decided to take a few photos before hiding my camera away in my rucksack before the rain set in.
The next few miles we encountered 'the Devil's Staircase' which is the biggest climb (548m, 1797ft) on the West Highland Way. We didn't find it particularly steep but with the strong winds and rain it did make us push on. I can imagine on a lovely sunny day the views to the left of Stob nan Cabar are stunning. Once we reached the top of the Staircase we had views of the Blackwater Reservoir in the distance to our right and Na Gruagaichean straight ahead and so many other of the mountains that are near Ben Nevis, on a clear day the guidebook says this is where you can first catch a glimpse of Ben Nevis!
The route then follows the Old Military Road zig zagging down into Kinlochleven for a few miles. We arrived in Kinlochleven quite early and so had a lovely wander round before we checked in for the night.
Kinlochleven to Fort William
So today's walk is the last section of the West Highland Way from Kinlochleven to Fort William. After a scrumptious breakfast we left to rejoin the trail for our last fabulous 15 miles. We left Kinlochleven by following the Old Military Road again and it was a long zig zag climb (250m) which is quite tough in full waterproofs! We had stunning views behind us of Kinlochleven, Loch Leven and to our left the Pap of Glencoe!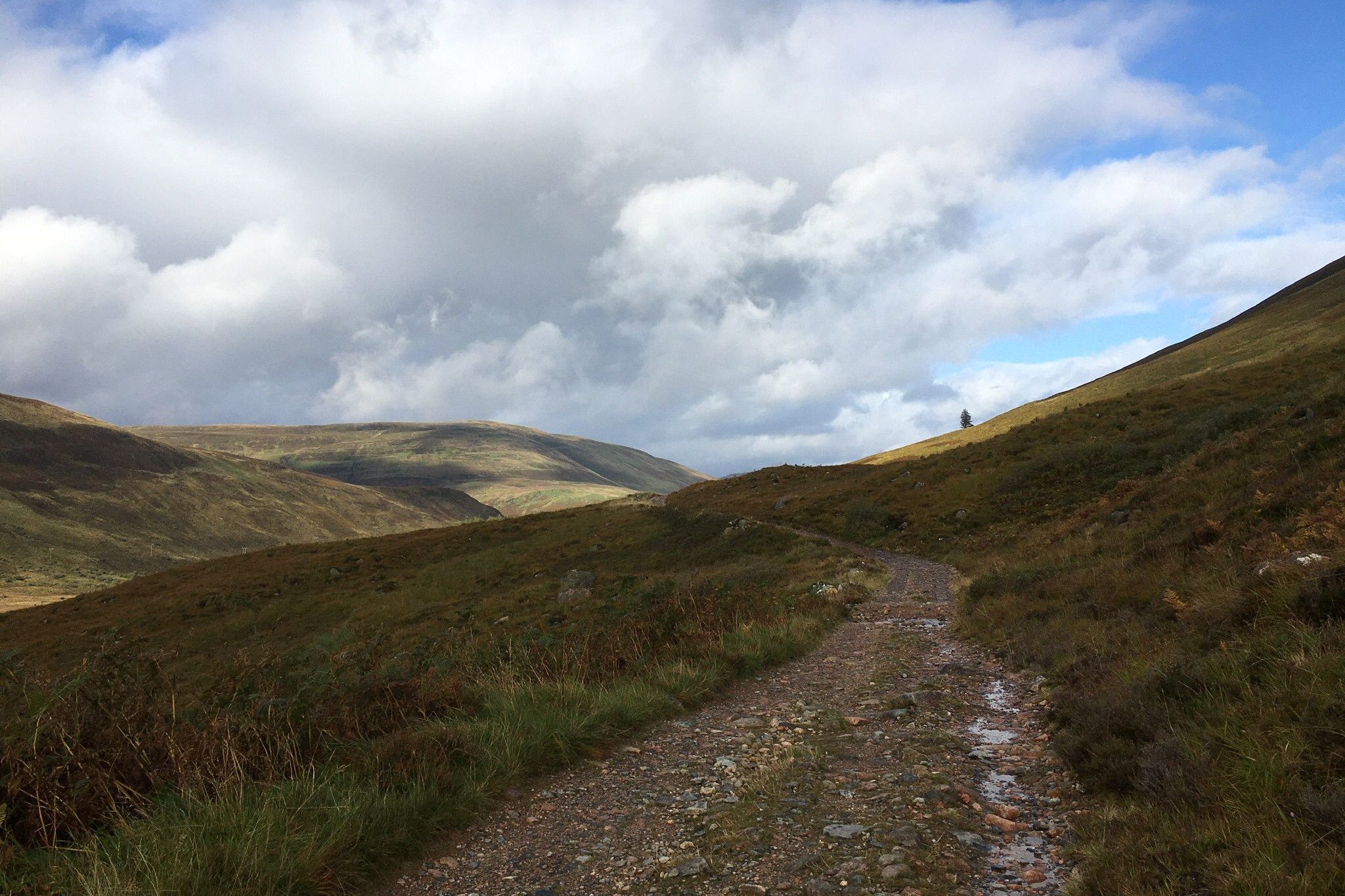 From here the trail rises gently through a wide U-shaped valley to a broad pass known as Lairigmor. This was very easy terrain as we followed a wide flattish track which then starts to descend as we reach the forest. After the next few miles we finally caught our first glimpse of Ben Nevis in the distance! We then came across a sign to Dun Deardail Fort which is a very small detour from the trail. The views from here were totally worth the 500m extra walking and to see the remains of the Fort were very interesting.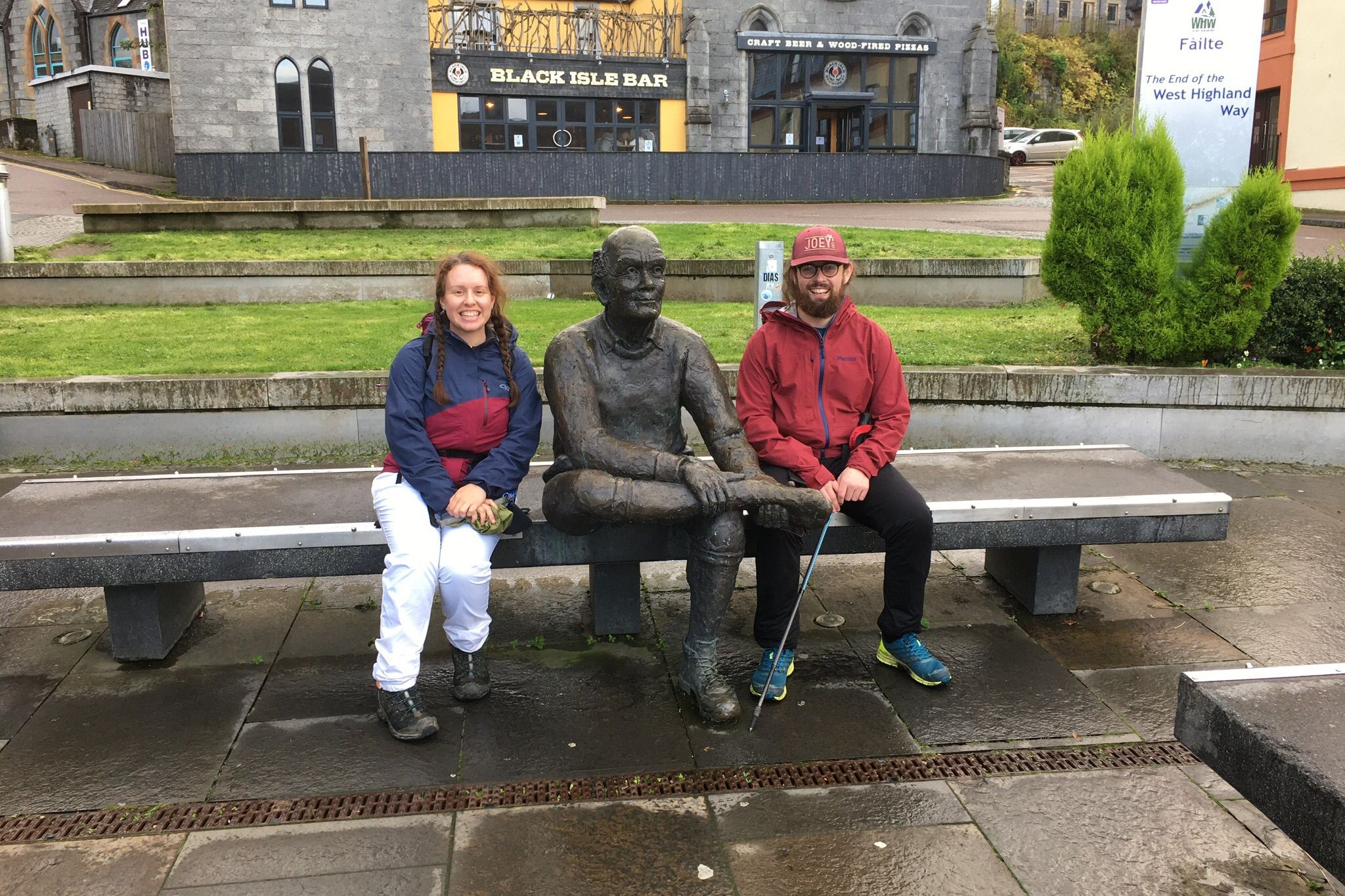 We rejoined the trail and gradually descended through the Glen Nevis forest which lead us to our finishing point in Fort William. We felt such a sense of achievement as we walked through the main street to the official finishing point.
The stormy weather this week certainly made it tougher but overall we had such a fun and adventurous week! I've walked this route before a few years ago again in October but had lovely sunny t-shirt weather and so you can never predict the Scottish weather at the end of the season.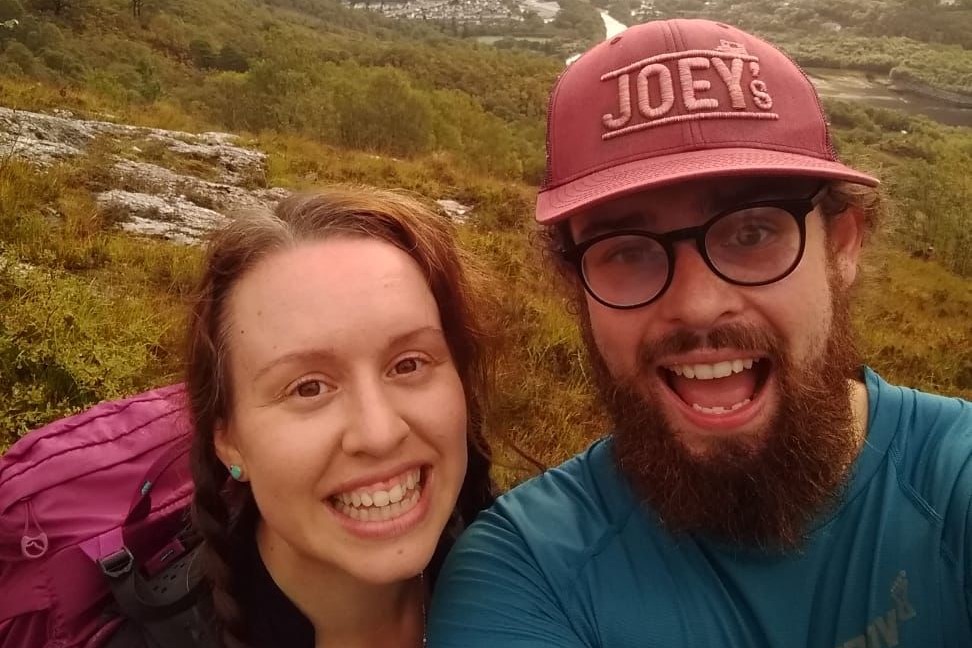 I love the West Highland Way route, every day is different and you get to explore such a change of scenery each day.
---
The highlight of this special holiday was meeting all the other West Highland Way walkers along the way, such likeminded walkers from all over the world. At Mickledore we offer so many different itineraries to suit how far you wish to walk each day and so we can tailor the route to suit you. If you have any questions about the West Highland Way then please do get in touch, you can email us [email protected] or call 017687 72335.