Dream Days on the Dingle Way
By Lynne Batey
I work in our Sales Team here at Mickledore. I felt so lucky both to be given the chance to head over to South West Ireland to walk part of the Dingle Way and to be able to ask my family to join me on the trip too.
We as a family have always enjoyed walking on holiday but never done a walking holiday, this was an incredible chance to spend quality time with my family away from busy modern day life.
Most importantly it gave me the chance to walk and experience exactly what our clients do, so any questions about this route you know who to ask.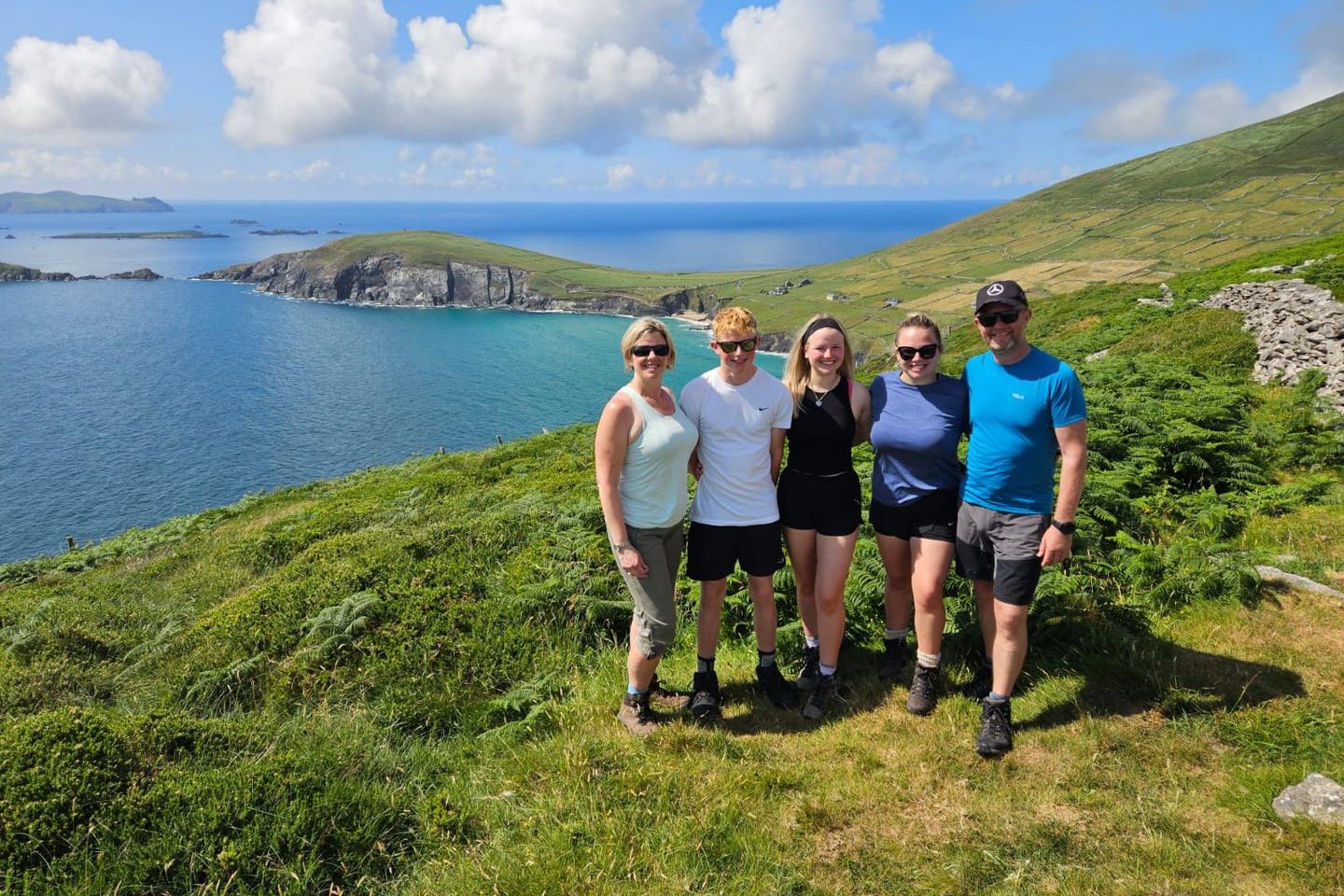 North West England to South West Ireland
An early set off for us to travel to Holyhead to catch the ferry over to Dublin. There are many ways to travel to the Dingle Peninsula but because there were five of us, taking the car then ferry made most sense. We had a good journey down, the boarding was very straightforward and the picnic we took for the three hour ferry crossing helped pass the time.
Feeling rested we set off on another four hour drive across Ireland from Dublin to Cloghane. The roads were good with very little traffic. Brightly coloured houses scattered the countryside and we passed through some pretty towns and villages, one being Adare, if you are travelling this way I would recommend calling off there – it looked lovely!
We arrived in Cloghane and met with our taxi driver Paddy, which I had pre-arranged prior to our trip. He welcomed us in true Irish nature and set off on our onward journey to Annascaul. Paddy talked nonstop, he was so interested in every one of us and asked so many questions. He then proceeded to take us on the scenic route to show us the best bits of the peninsula – he drove even further out of his way to show us his favorite pub! By the end of the journey we felt like we knew him (and his family and friends) well! We were tired after our day of travelling but genuinely blown away by the scenery and his friendly Irish personality, meaning that we actually finished the journey feeling refreshed! This really whet our appetite for what the days ahead had in store for us.
When we arrived in Annascaul a little later than expected, we were met by our friendly host who showed us to our rooms and pointed us in the direction of good food across the way. The pub across the road welcomed us warmly with locals giving up their seats to stand at the bar to allow us to sit and enjoy our food.
Annascaul to Dingle: Blue Skies and Fucshia Pink Hedgerows
We woke to heavy rain but as we finished our full cooked Irish breakfast we set off feeling well fed and rested. Today we walked to Dingle on quiet country roads and farm tracks. The roads were super quiet and any vehicle we did meet was generally a farm vehicle.
As a group the one ahead would whistle if they heard a vehicle coming so we could safely step in the side – a method that worked well until we realised we were collecting sheep dogs from farmyards along the way!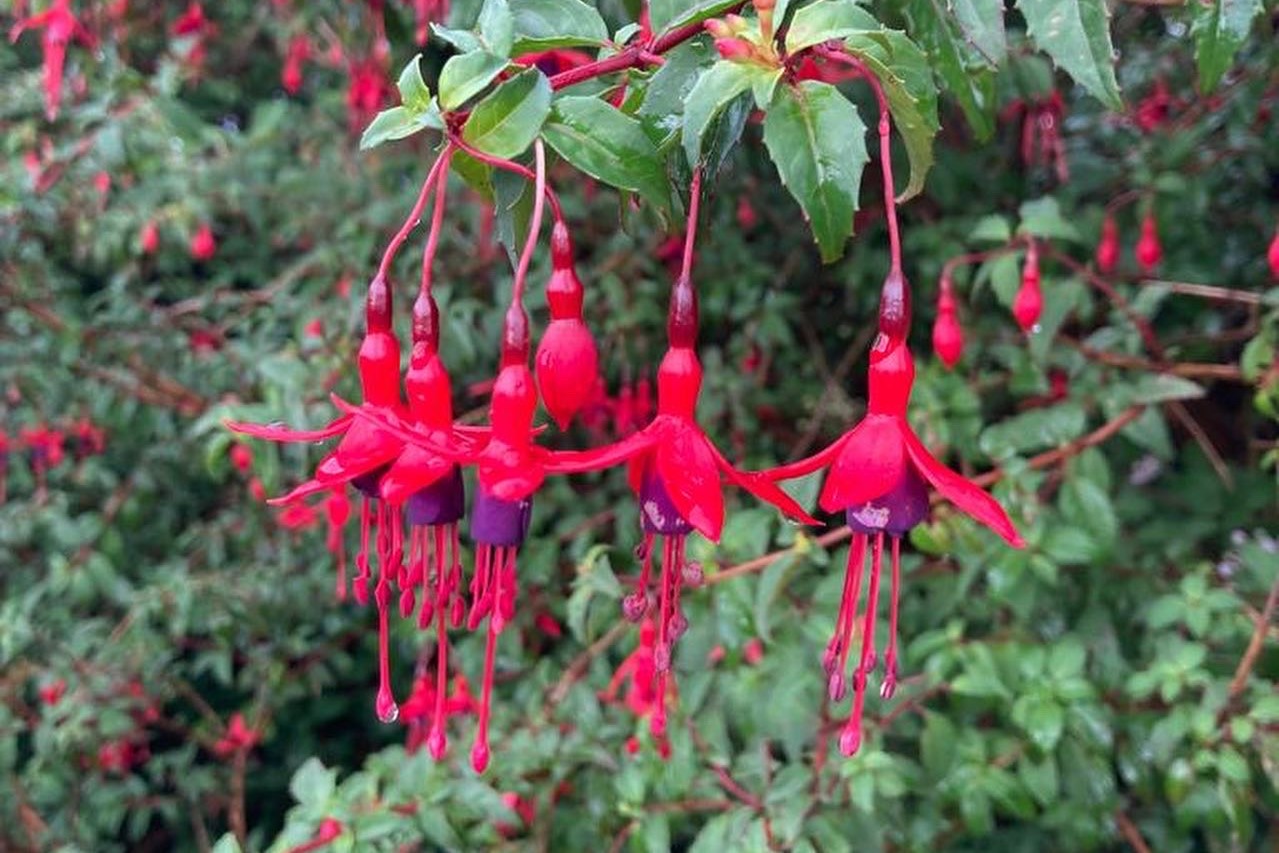 The hedgerows were full of wild fuchsia – an absolute delight. A sight I have never seen before and will now always remember. I had to google it and apparently this deciduous shrub favours coastal locations and rocky ground and can be seen all along the roadways of the south west of Ireland. This is something I can vouch for as the splendid sight continued with us for the next four days.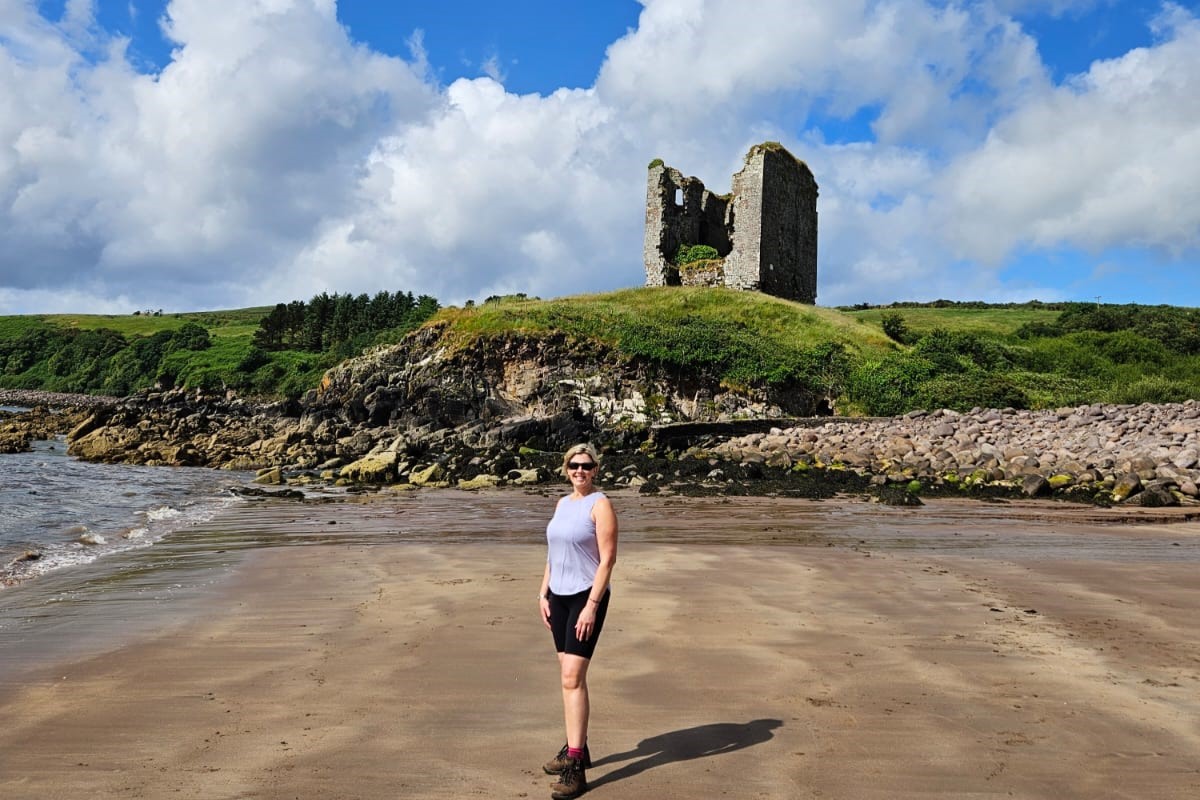 We came across picturesque coves and Minard Castle ruin, a tower house built in the 16th century and partly destroyed in 1650 by Cromwell's forces.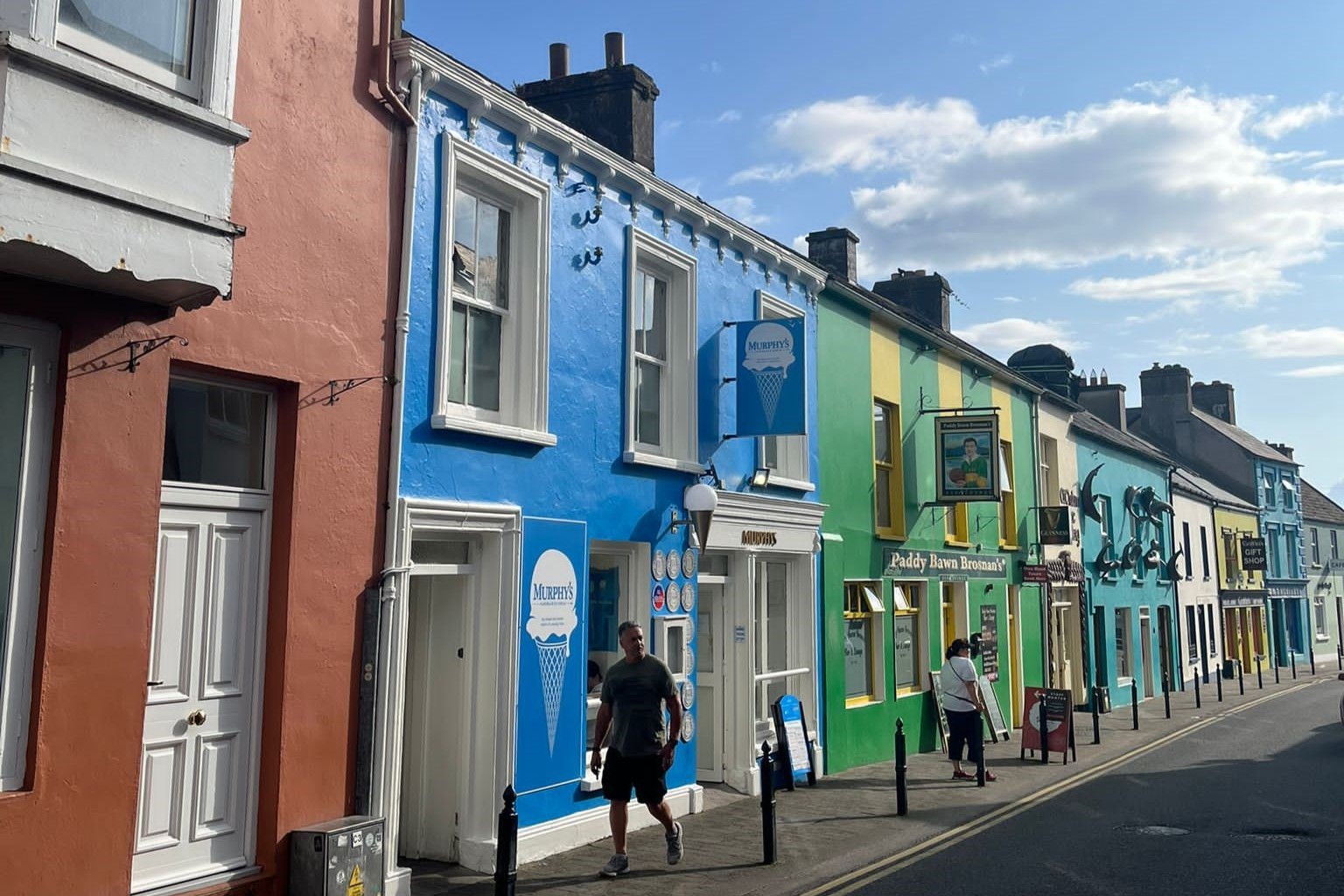 We then enjoyed the final descent into Dingle – a sheltered harbour town well known for its hardware pubs (where you can buy a pint and some wellies.) Our hosts gave us a map showing us where to head for the restaurant we had booked and which route to take to pop in to some of the best bars playing live Irish music! In one of the bars, Curran's Bar, there was a group of men playing traditional Irish music, we chatted to one of them who told us they were a family of sheep farmers just out for the day and always take their musical instruments with them as an impromptu performance was often how the day ended.
Wow, those bars were the liveliest and most atmospheric bars I have ever been in – and I've been in a few!!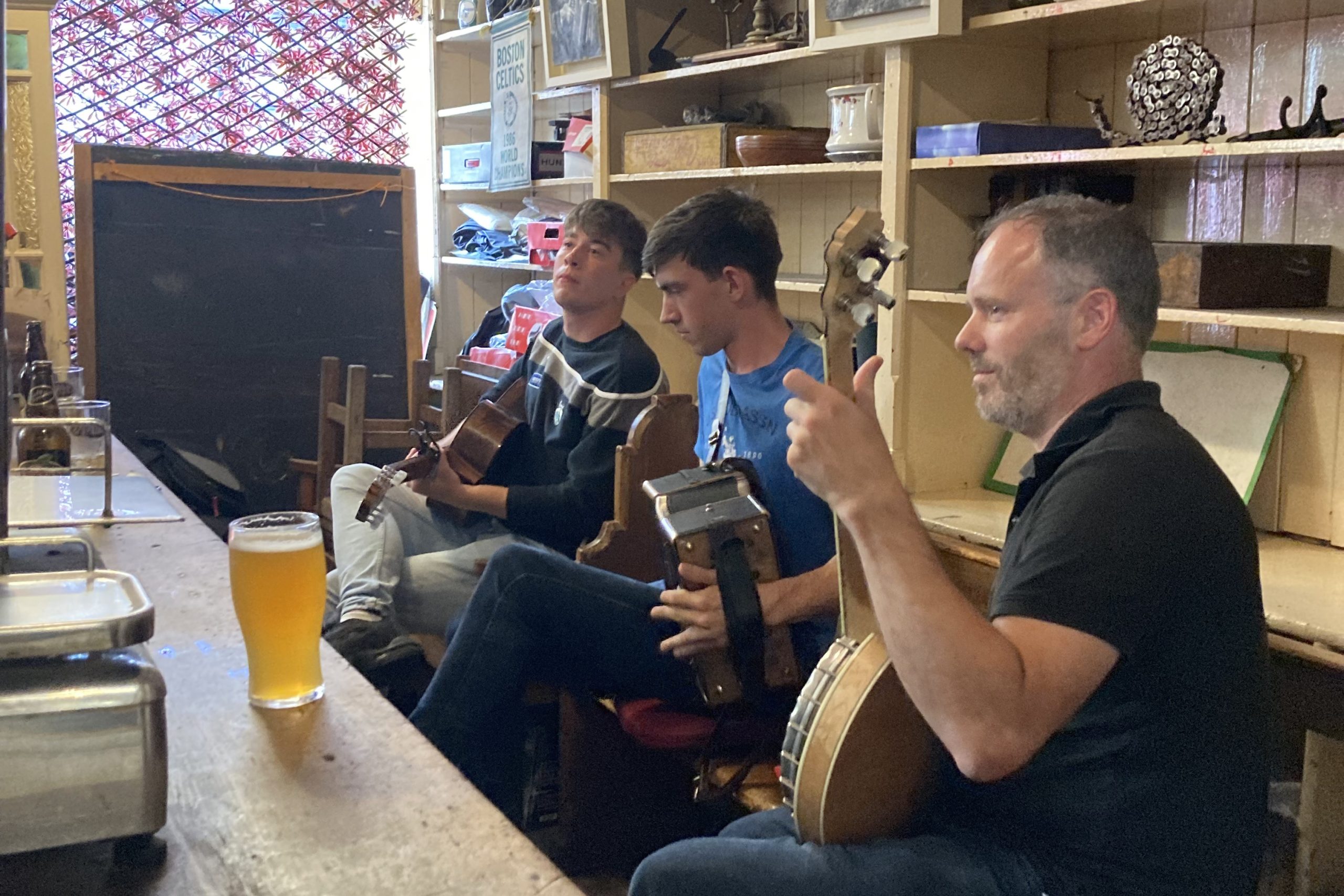 I would certainly recommend if time allows to have a rest day there, the town has numerous superb seafood restaurants along with the bars and the boat trips along the bay, I feel it would be time well spent having an extra day there.
Dingle to Dunquin: Headlands and Bays
As you will have gathered we loved Dingle and we reluctantly left our beautiful accommodation and friendly hosts to set off on our walk to Dunquin. Today was predominantly based around walking along headlands and bays that make up the peninsula's coastline. The views today were amazing sea views of the Blasket Islands.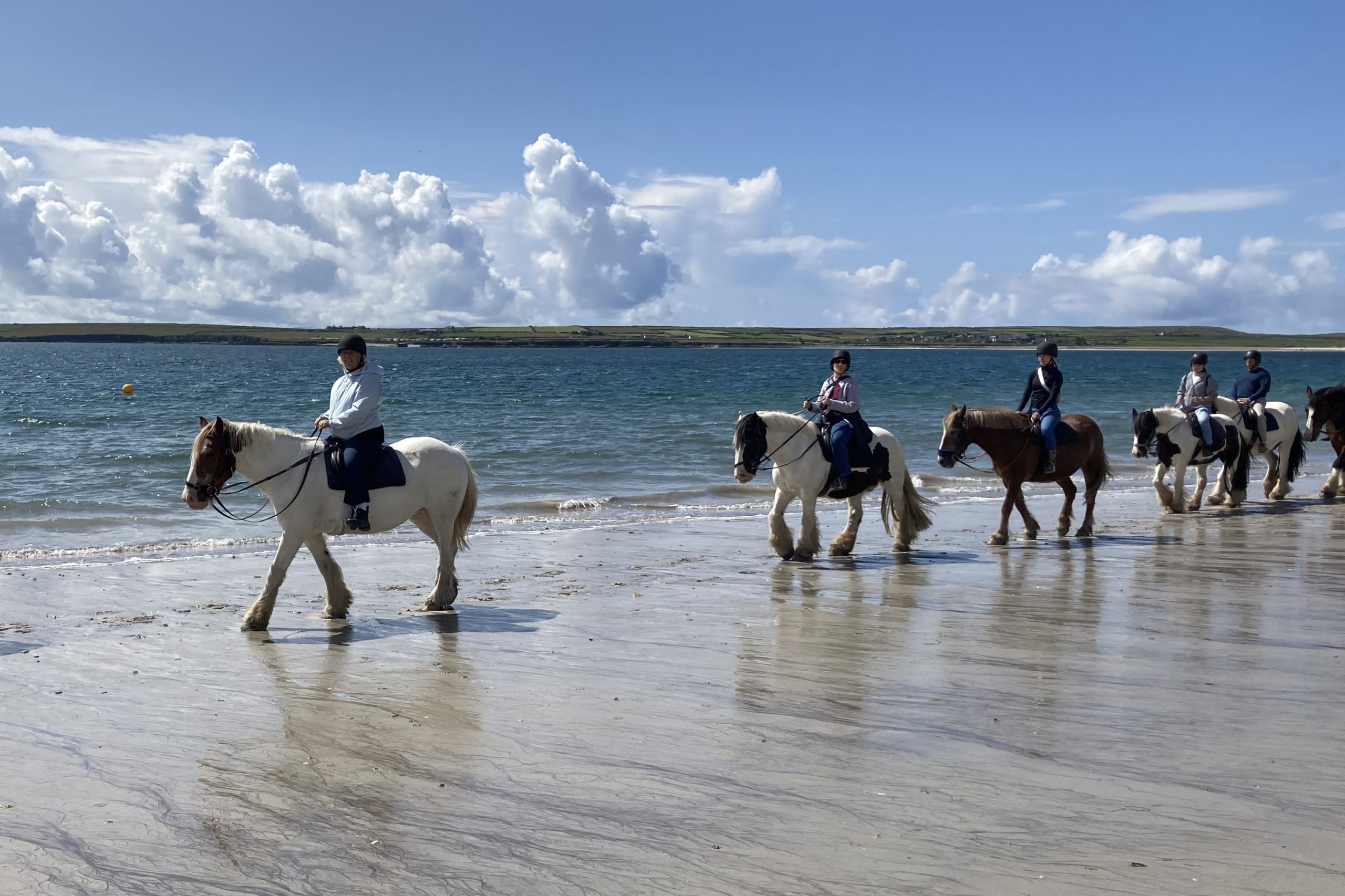 Ventry Harbour was a lovely section of beach walking where we saw a horse riding trek enjoying the vast expanse of sand.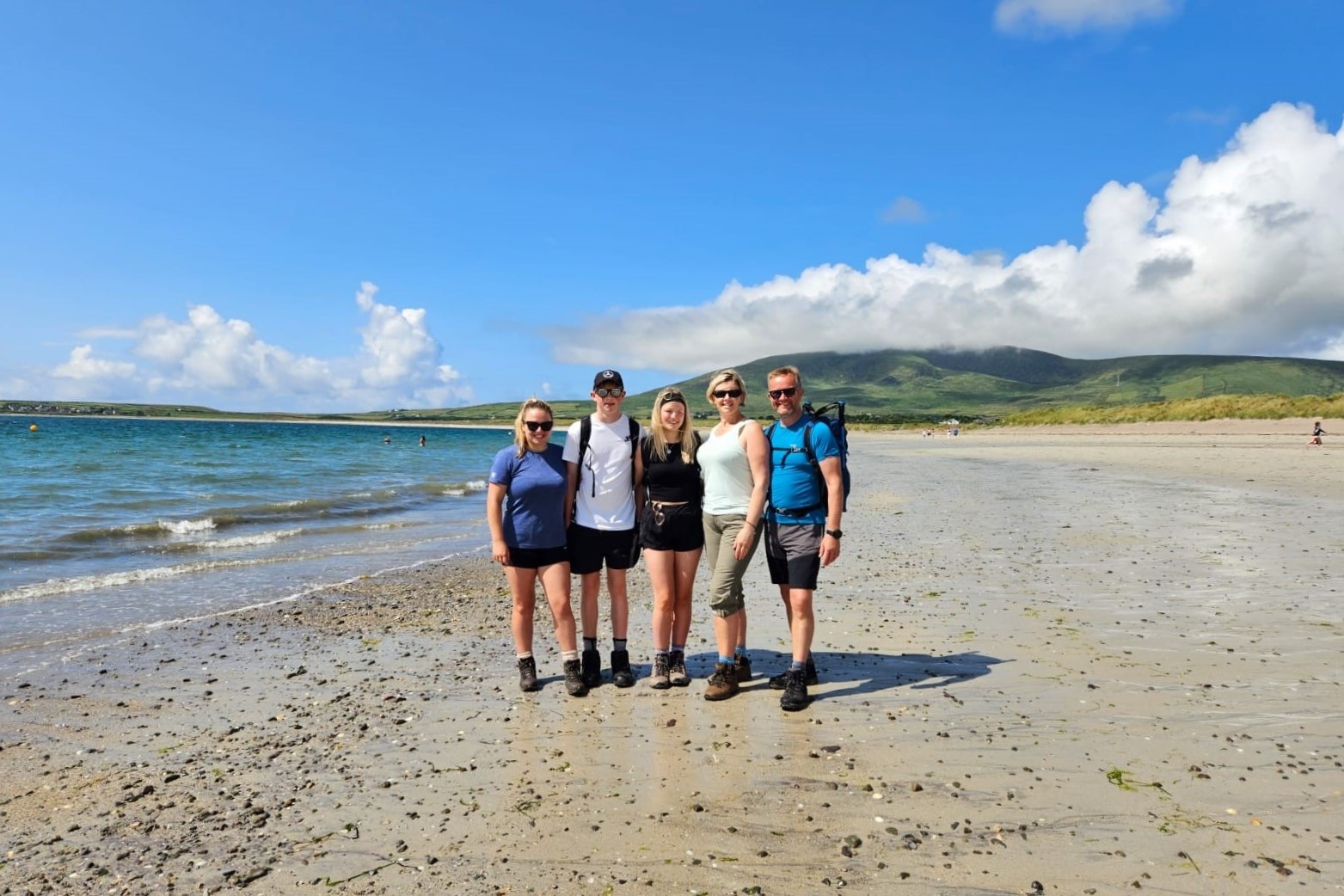 It was an especially warm and sunny day but the sea breeze from the Atlantic kept us cool.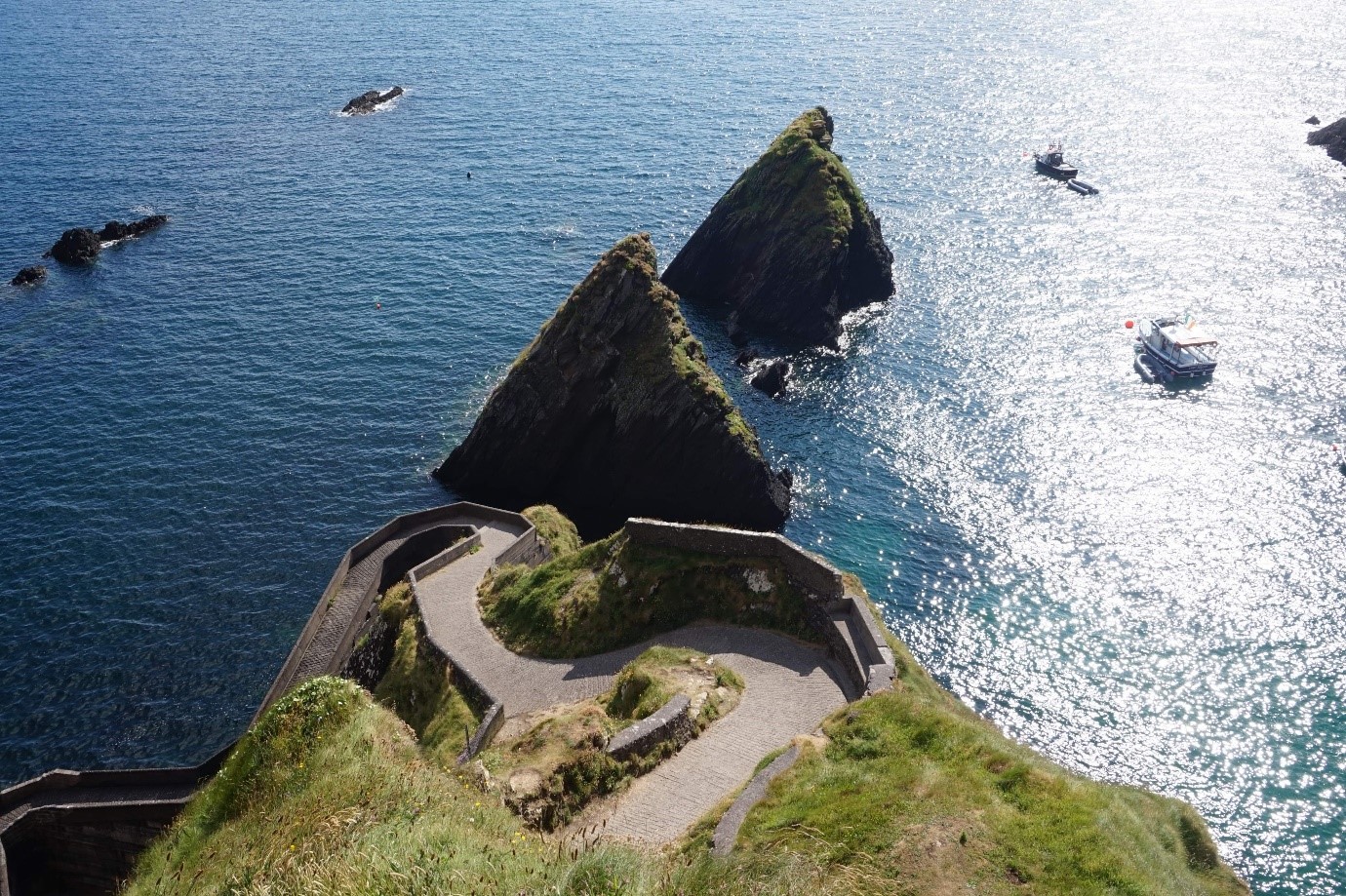 Toward the end of the day we came across the impressive Dunquin Pier, time for a rest and a photo or two!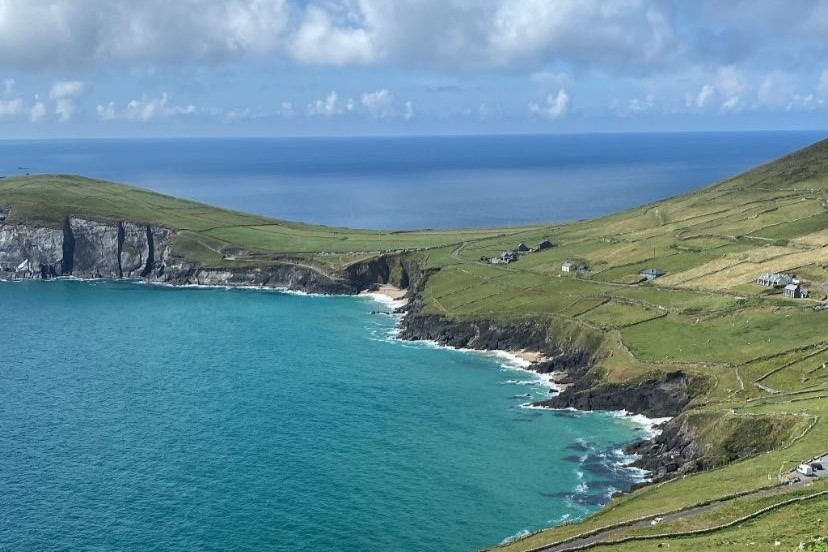 From here it was a short stroll to the tiny Gaelic village of Dunquin, home to the most westerly pub in Europe, and of course we checked it out and it was here where we enjoyed our evening meal and more Irish craic with the locals.
Dunquin to Feohanagh: More Clifftops and Sandy Beaches
After heavy rain first thing again we were blessed with more beautiful sunshine and set off mainly walking stretches of cliff top tracks and expanses of deserted white sandy beaches.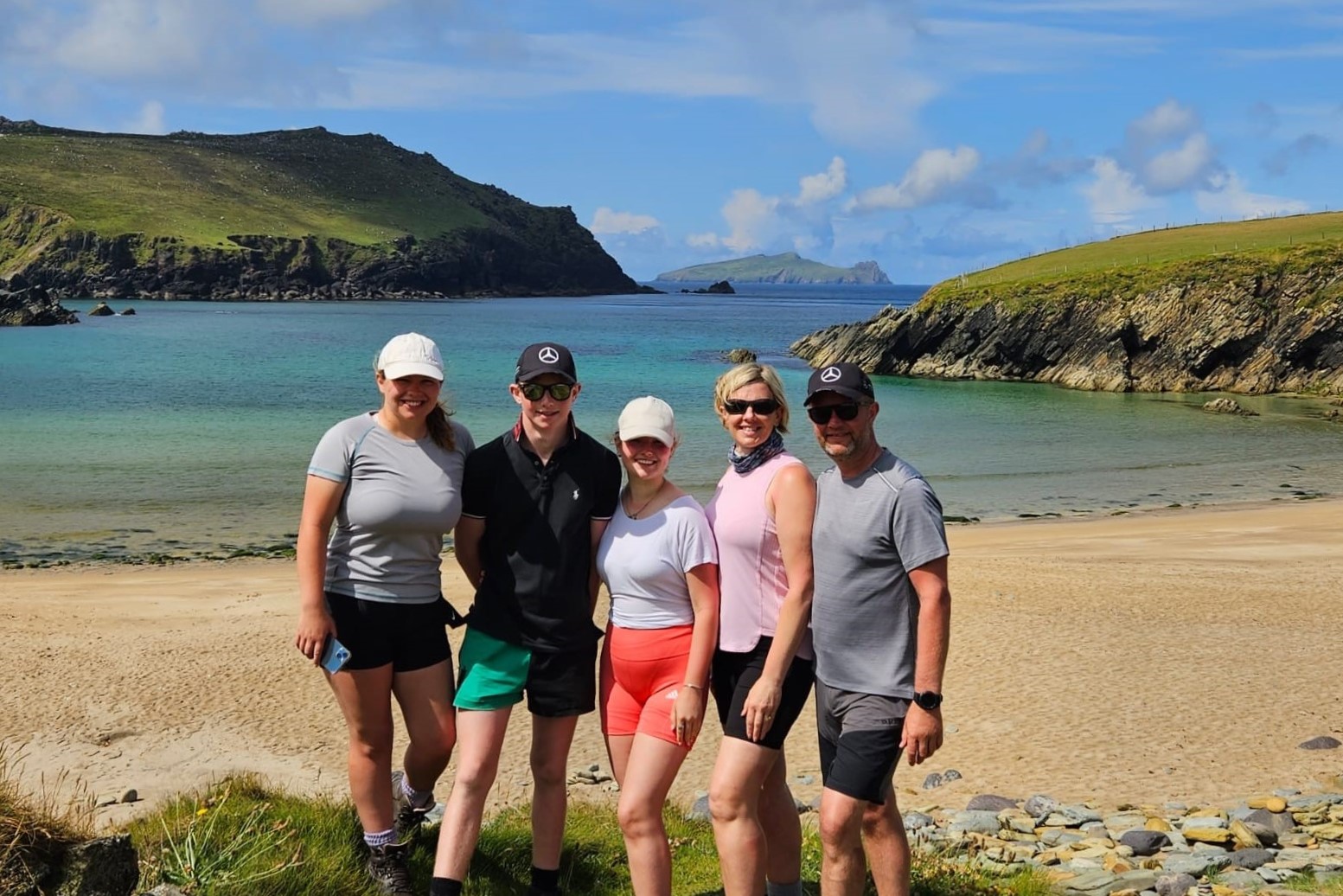 We enjoyed dipping in and out of bays and coves with stunning scenery from Clogher Beach, Smerwick Harbour and Dooneen Pier.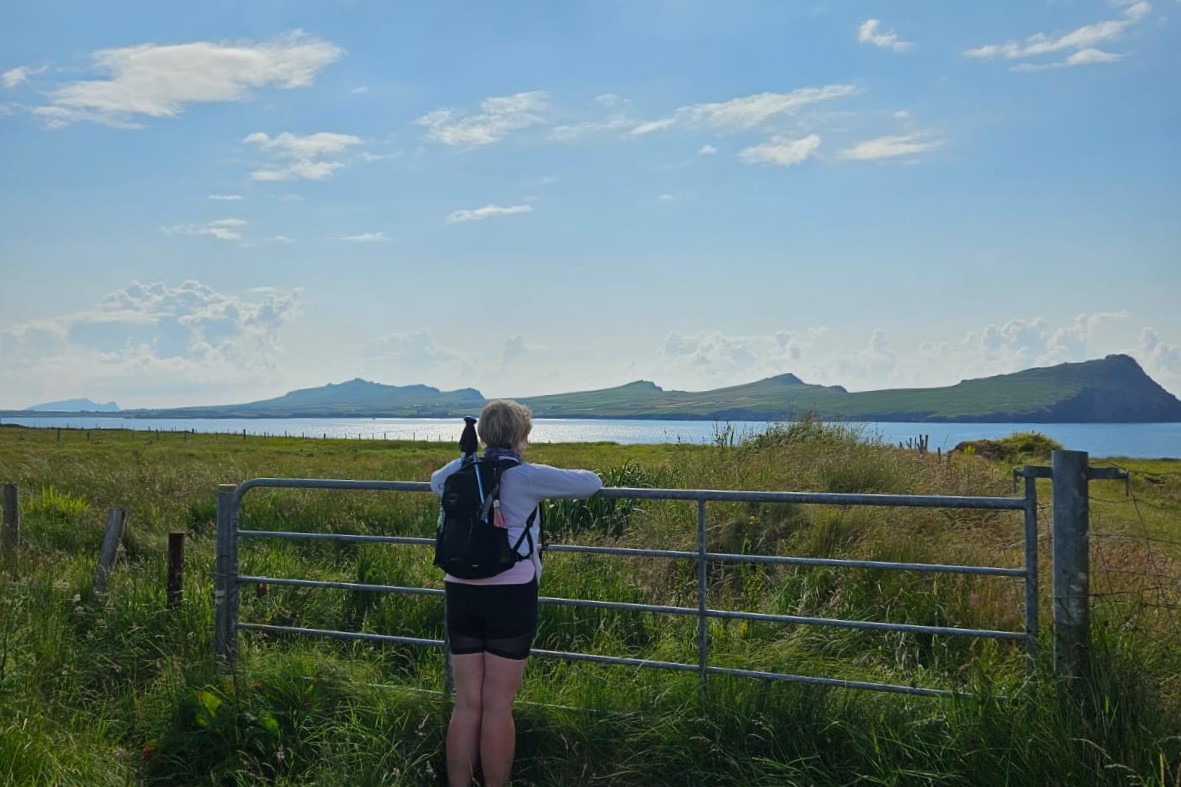 The Three Sisters Peaks were able to be seen pretty much from the start to the end from almost every angle.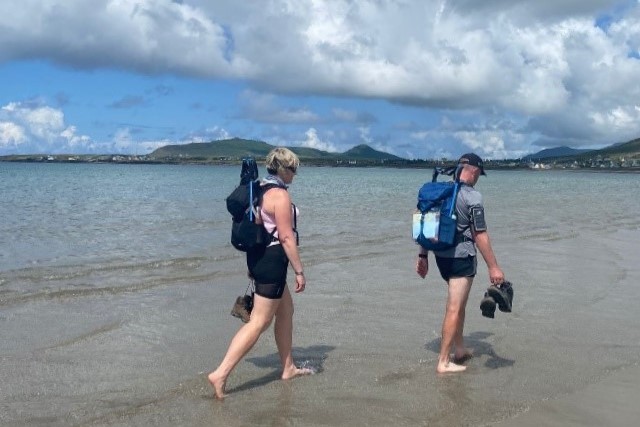 We have always enjoyed summer holidays by the beach so it was only fitting to take off our boots and paddle the two kilometres from Ogham Stone to Murreagh. It was a lovely sight to see the local school children all heading down to the beach for a swim after a long hot day.
Feohanagh to Cloghane: Saving the Best Views 'til Last – Mount Brandon to Brandon Bay
After breakfast we enjoyed a great chat with our host about the history of the area and Saint Brendon the Navigator. As we were set to leave she was insisting on driving us to the mountain "to save our legs" (we insisted on walking!) She thought we were slightly mad walking up the mountain!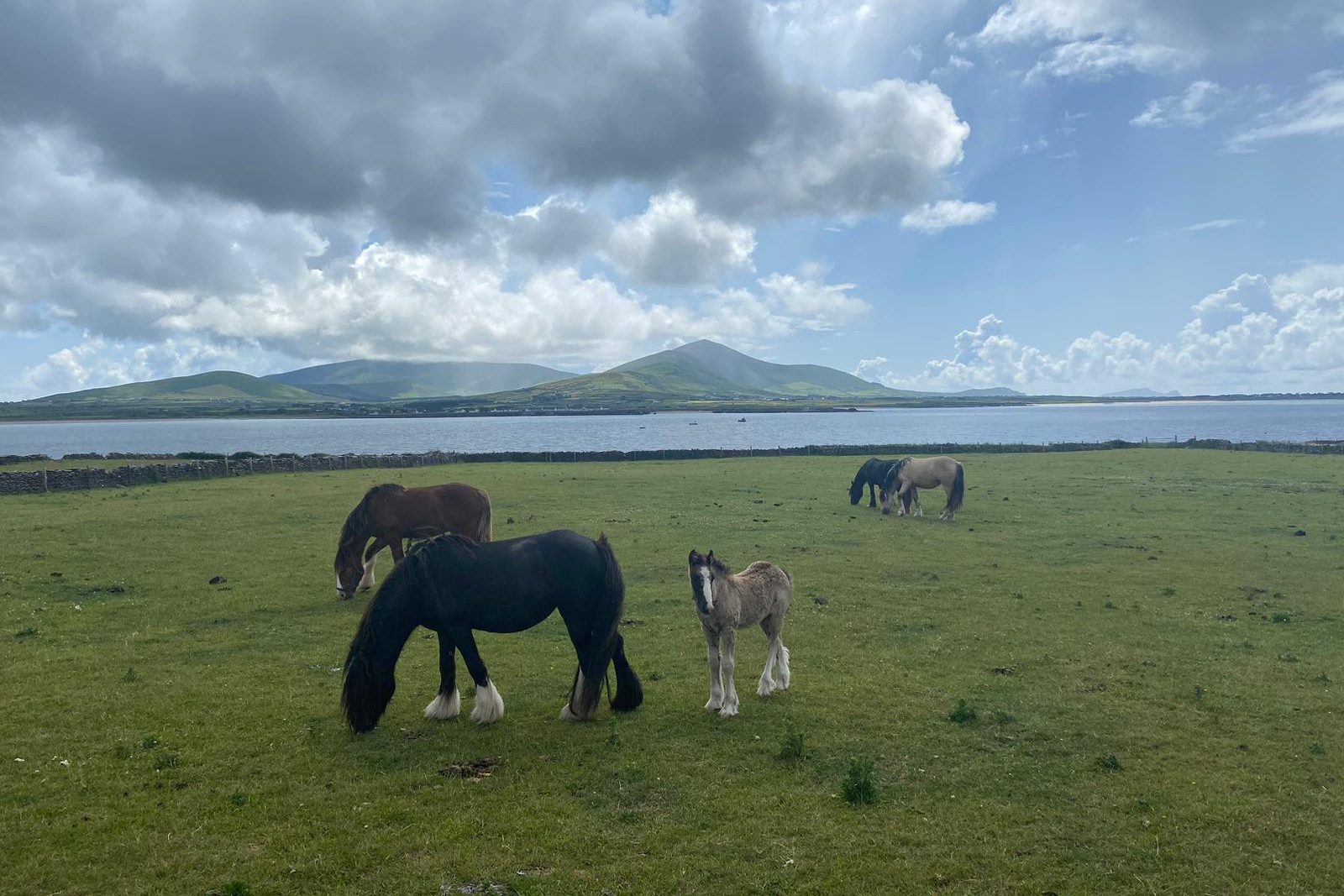 It was again quiet roads and farm tracks on the way to Brandon Mountain. We saw very few people and when we did it became quite the norm for farmers to stop their tractors and folk passing by to stop and chat even offering to fill our water bottles. One farmer who was also a teacher and was as much interested in us as we were in him, having farming roots ourselves as a family we really enjoyed these conversations. Agriculture in this part of Ireland felt like we had stepped back in time, small flocks of sheep and herds of cattle all seemed to be enjoying life on the peninsula. The farm equipment was also small and normally very old – almost vintage, things we might see at a country show. We loved seeing this way of farming and enjoyed saying hello to many goats, donkeys, horses and ponies too.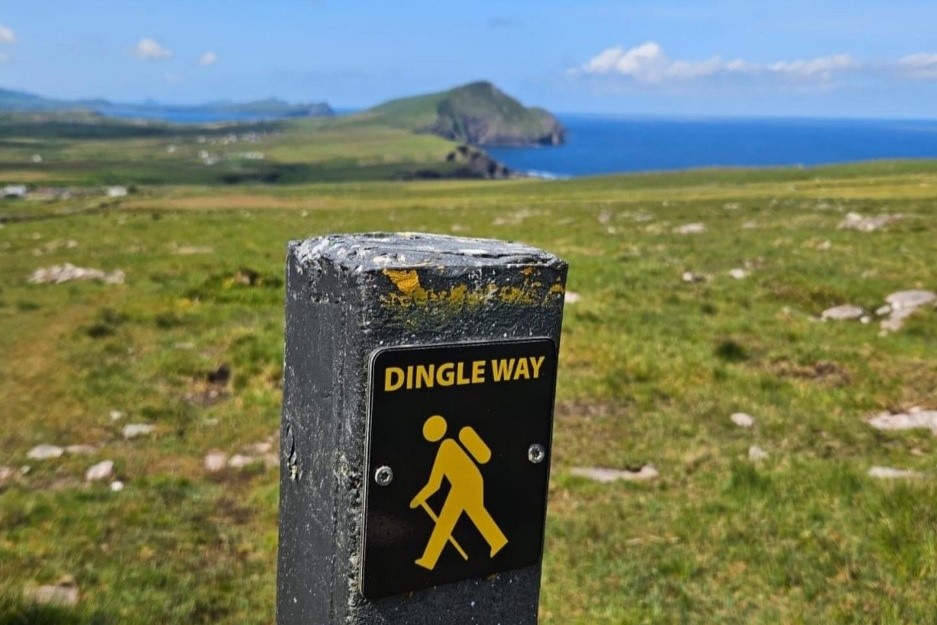 The route up Brandon mountain was so well signed you could easily see the next marker to head towards even when the ascent took you up into the clouds the markers became reflective to always keep us on track.
The view provided a good opportunity to look back (have a breather) and appreciate the scenery behind us as we left the breathtaking views of the low lying hamlets and dramatic coastline behind.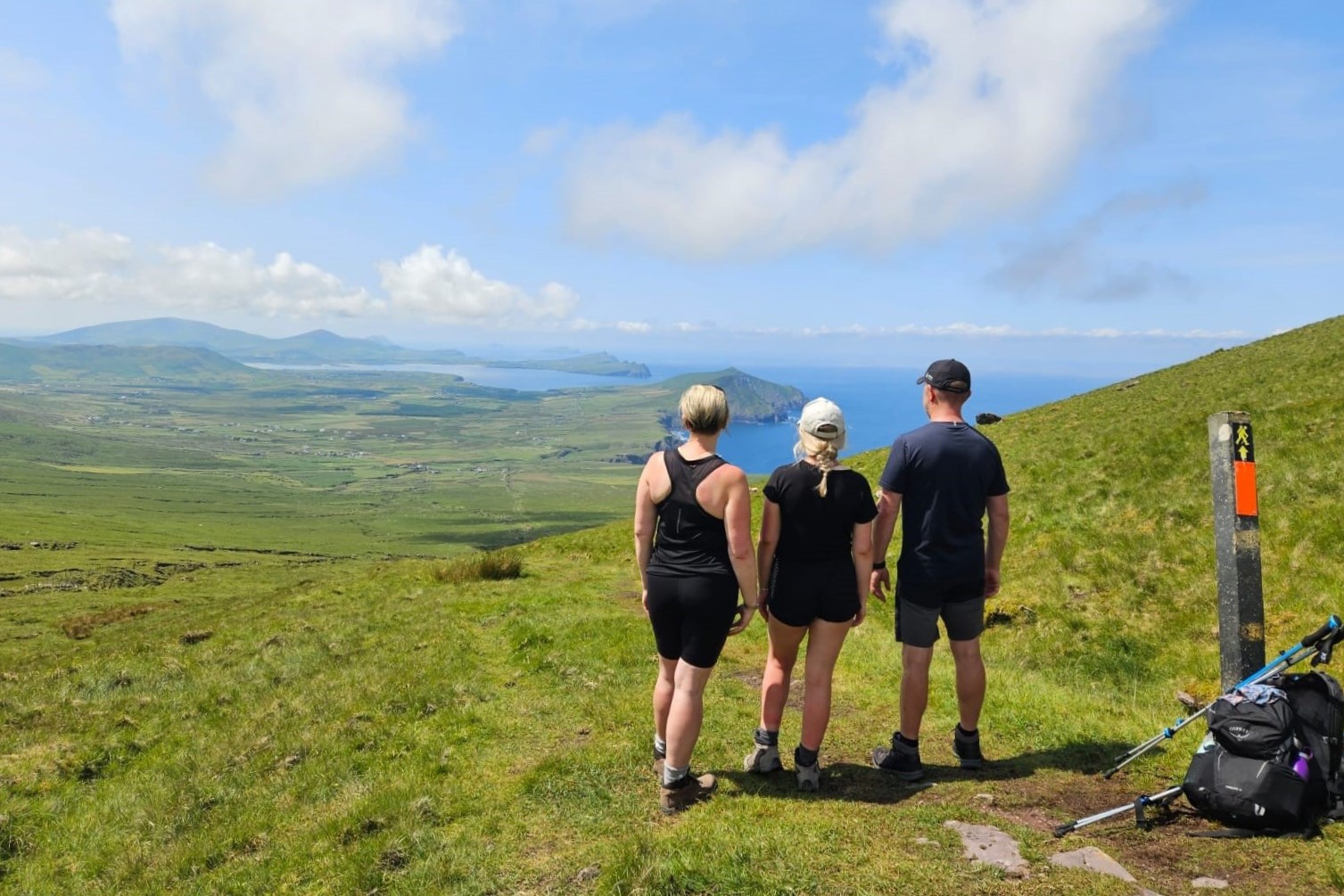 The route up and over the shoulder of Mount Brandon was worth it because at the highest point of at 780m we were rewarded with the beautiful view of where we were heading; Brandon Bay with its calm blue waters.
The descent was made easier by stone steps, taking us to a gravel road which gradually dropped down to the village of Brandon. This is where we enjoyed a cold drink from the village pub.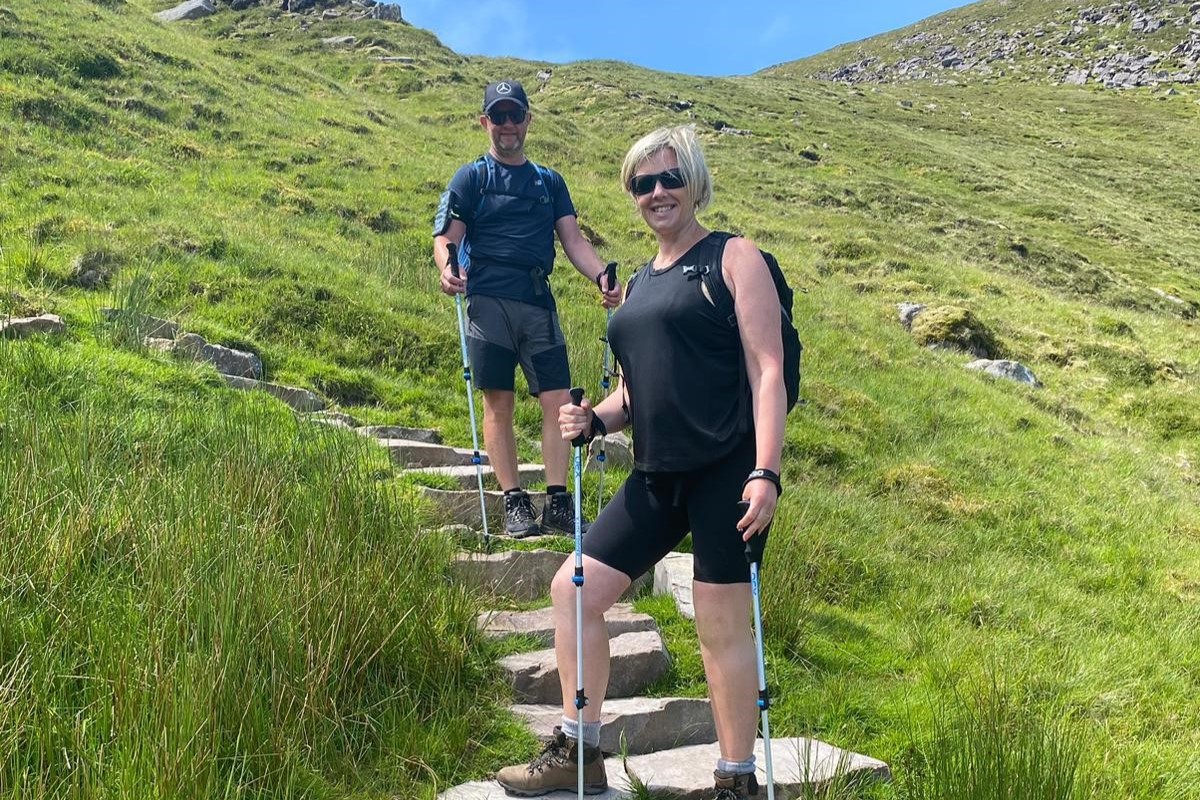 The last leg of the walk was from Brandon to Cloghane alongside the bay and then to our B&B where we were greeted by our host who welcomed us to his home. He went around every table asking where we were from and before dinner he stood up and told stories. We had a lovely evening and enjoyed a well-deserved Guinness or two!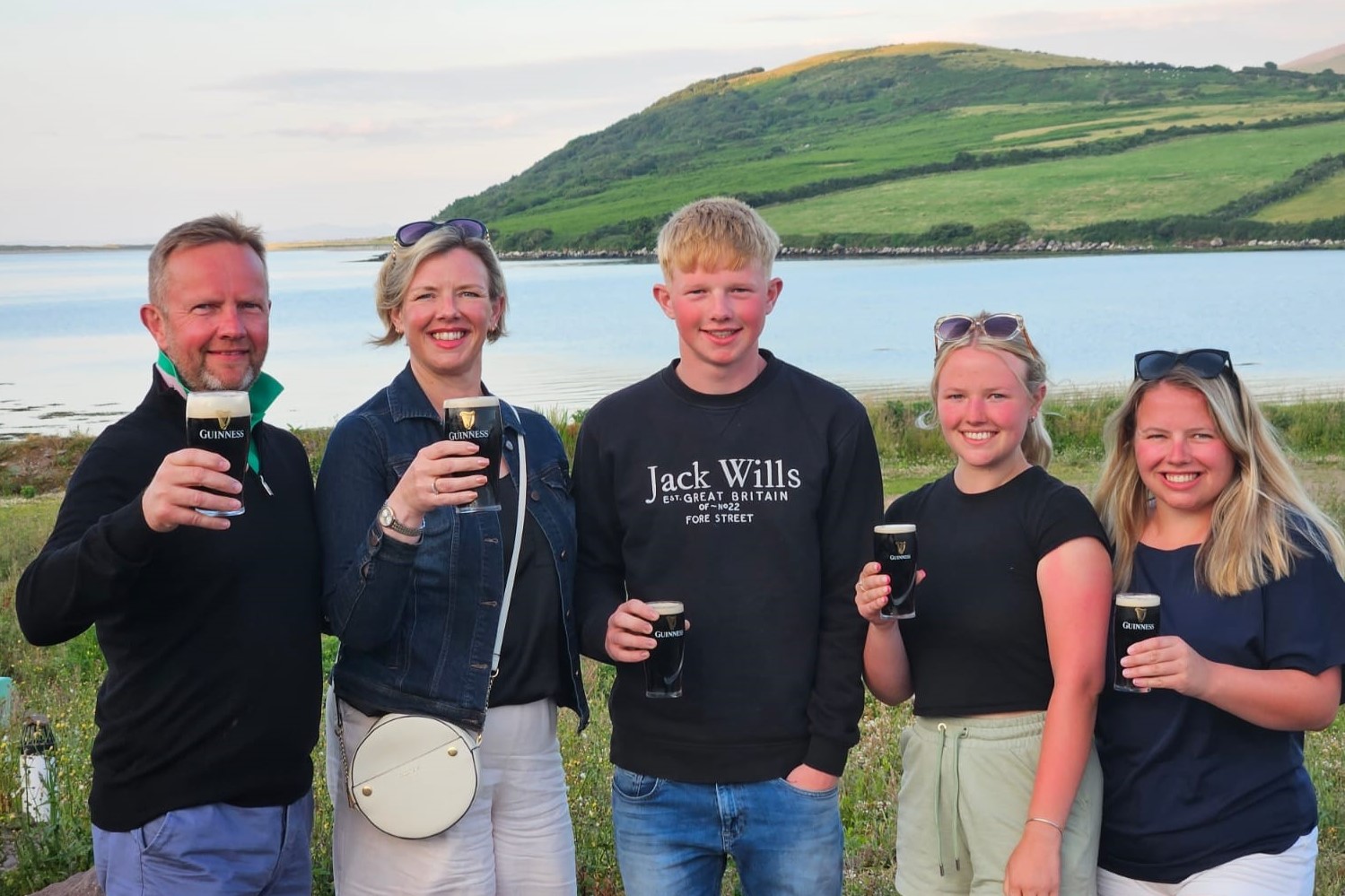 The scenery, culture and hearing the Gaeltacht language spoken was wonderful. We all agreed this route really does have it all and there's not many people there – a real escape from it all!!
---
If you'd like to follow in Lynne's footsteps then please do get in touch, Lynne and our friendly Sales Team will talk you through all our itineraries on the Dingle Way, and don't forget to ask about our Kerry Way holidays on the neighbouring Iveragh Peninsula … email us [email protected] or call 017687 72335.