Captivating Cleveland Way
By Sarah Bennett
When my husband Paul and I were asked if we would like to walk some of the Cleveland Way, the second oldest National Trail, we jumped at the chance. Mickledore offer a range of itineraries along this 109 mile route. We walked the Moorland Highlights adding an extra walking day along the coast to Runswick Bay.
Mickledore offer bespoke itineraries like ours so if you would like to walk something different to what is advertised on our website we are always happy to see if we can make it work for you.
Day 1: Helmsley to Sutton Bank
After arriving the evening before at the beautiful Yorkshire market town of Helmsley we were offered by our very kind hosts to walk the first day in reverse. This gave us the opportunity to visit a few historic landmarks along the way and walk downhill back into Helmsley for our second night stay.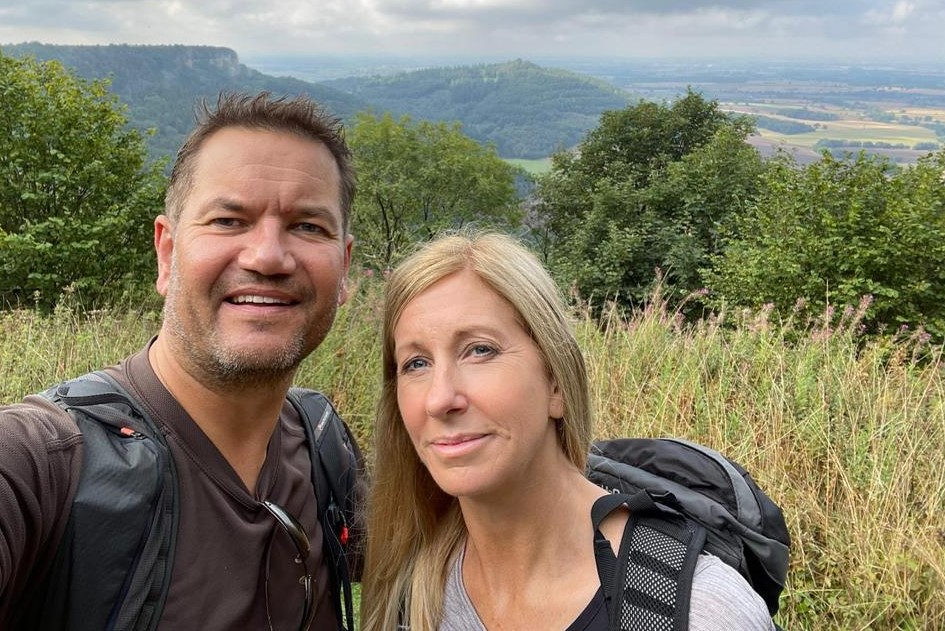 So after a lovely Yorkshire breakfast including homemade yogurt and jam made by our host we were taken to Sutton Bank to start our adventure. From there we had great views to places like Richmond, Knaresborough Castle and York.
Following the trail past the gliding club to the White Horse at Kilburn, a figure cut into the hillside dating back to 1857, we went down the steps to the other end of the car park to get a complete view of this spectacular chalk creation. Walking back up the steps certainly got the heart racing.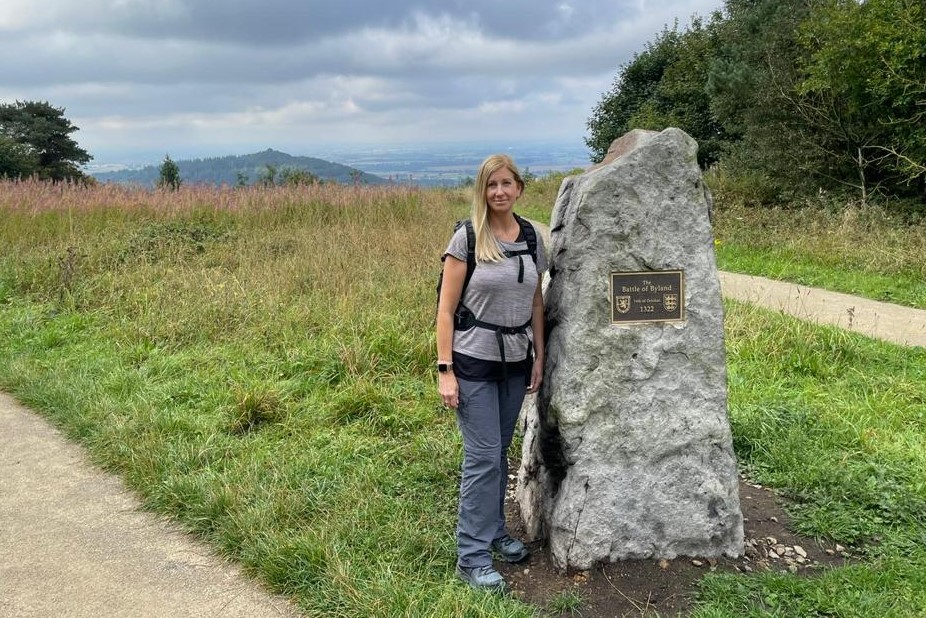 Back onto the route walking through varying landscapes of woodland farmland with spectacular panoramic views, we came to the first village of Cold Kirby. We were delighted to see an honesty box with yummy flapjack. The donation was to help those in the Ukraine so we had to try it and would recommend it should there be any there in the future.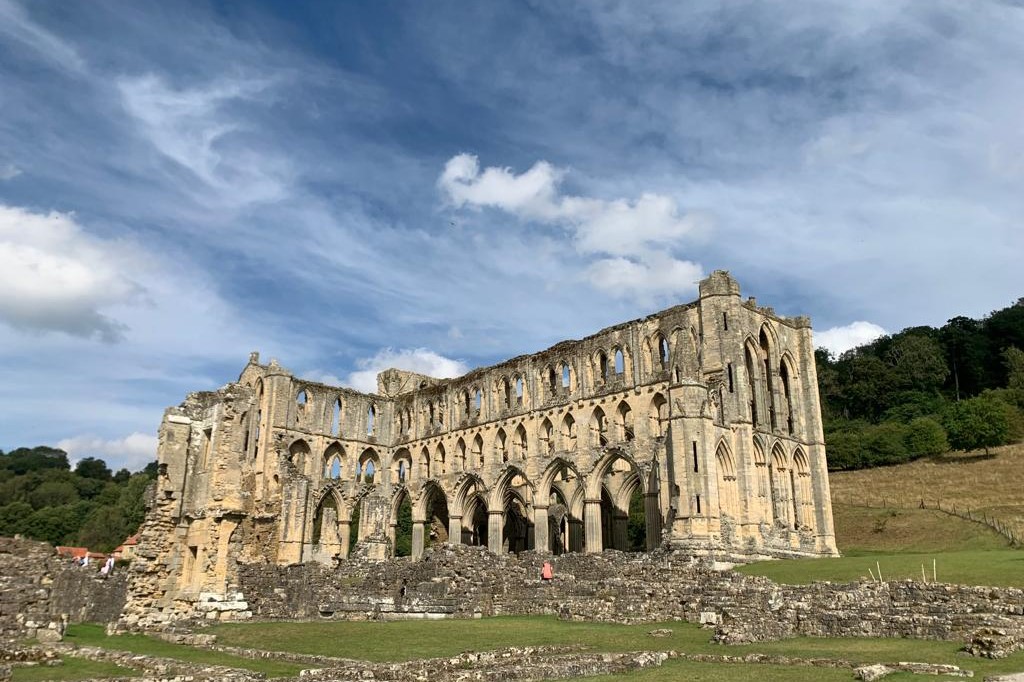 Onwards to our next stop, a village called Rievaulx. We decided to divert slightly from the trail to take in the spectacular Rievaulx Abbey, an 11th century Cistercian monastery. After an hour of exploring, refreshments were in order and they did not disappoint. I chose the Abbey cake served with local Wensleydale cheese. It was delicious and the first time I had eaten fruit cake with cheese on. It won't be the last.
Back onto the trail with views across the Yorkshire Moors our last stop of the day was the brooding remains of Helmsley Castle a great place to end our first sunny walking day.
Day 2: Sutton Bank to Osmotherley
After another hearty breakfast we started on our second day's walking. We knew the weather wasn't going to be kind to us today so with the thunderstorms ahead and our waterproofs on we made our way across the escarpment of Sutton Bank. We still had the beautiful views over the Yorkshire Dales at this point, known by James Herriot as 'The Finest View in England'. Below was Lake Gormire one of the few natural lakes in Yorkshire. There are a few myths surrounding this lake that are interesting to read.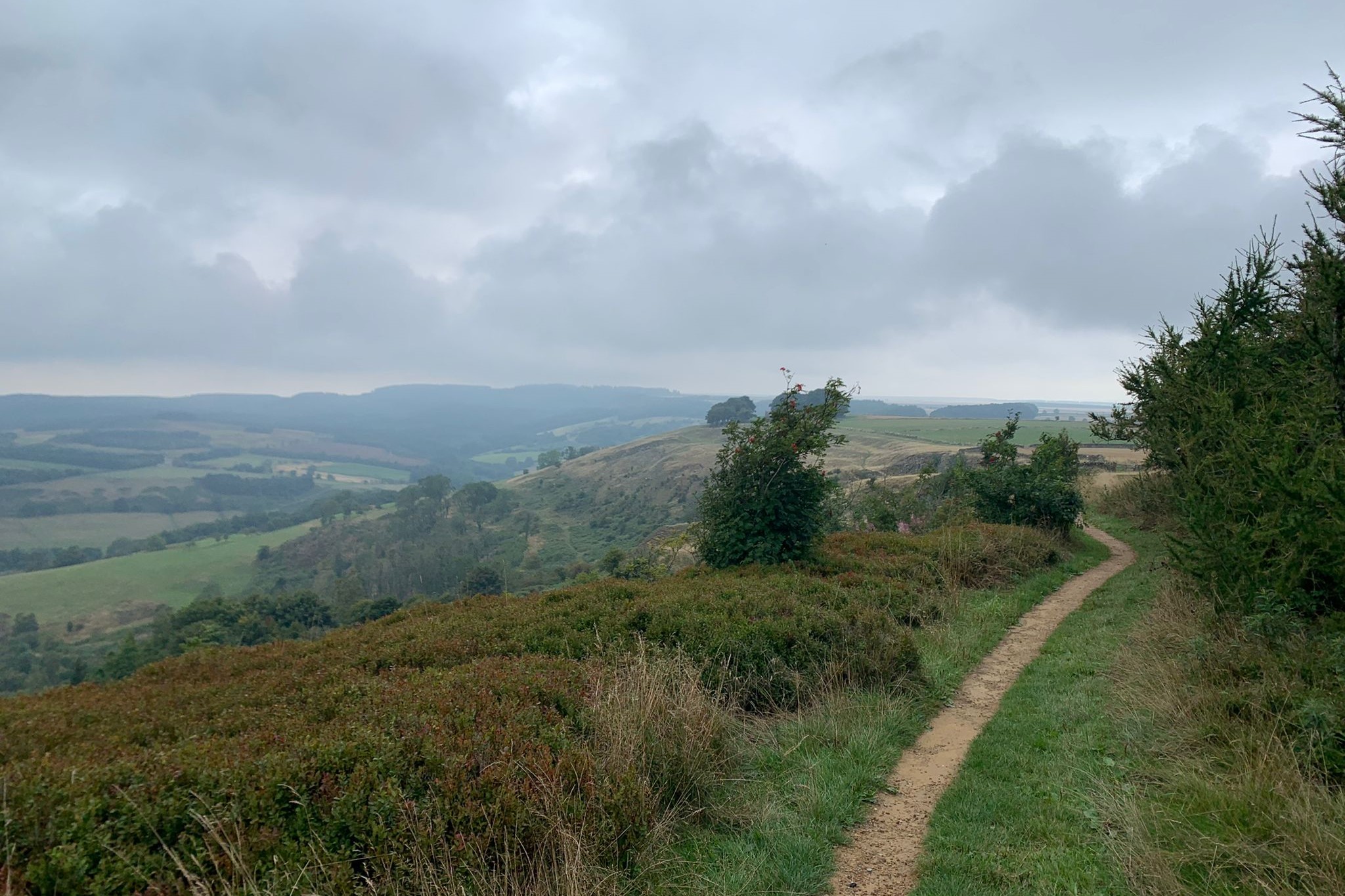 Walking on a bit further we started to see the purple heather of the moorlands on our right as our views across the dales disappeared and we entered Boltby Forest.
We soon reached High Paradise Farm which teased us with its tea room signs. Unfortunately in September it isn't open every day so we carried on through the conifer trees which were now sheltering us from the heavy rain. Then onto the moor surrounded by heather and listening to the laughing sound of the red grouse. This was a noise that we would become familiar with over the coming days.
The route was fairly level at this point for some distance before the gentle climb along Black Hambleton where you can normally see Osmotherley in the distance. We had a steep climb down some steps along to a former reservoir past a farm and up a steep climb to see the welcome view of Osmotherley, where we dried off in the pub with a well-deserved pint of local ale.
Day 3: Osmotherley to Clay Bank
We started day three with a much sunnier day, and after a very tasty evening meal at our accommodation we were ready to start the day and set off early as we knew although it was a short walking distance, we had a lot of steep ups and downs, and wanted to be able to take in all the views that these would provide as we walked along the Cleveland Hills.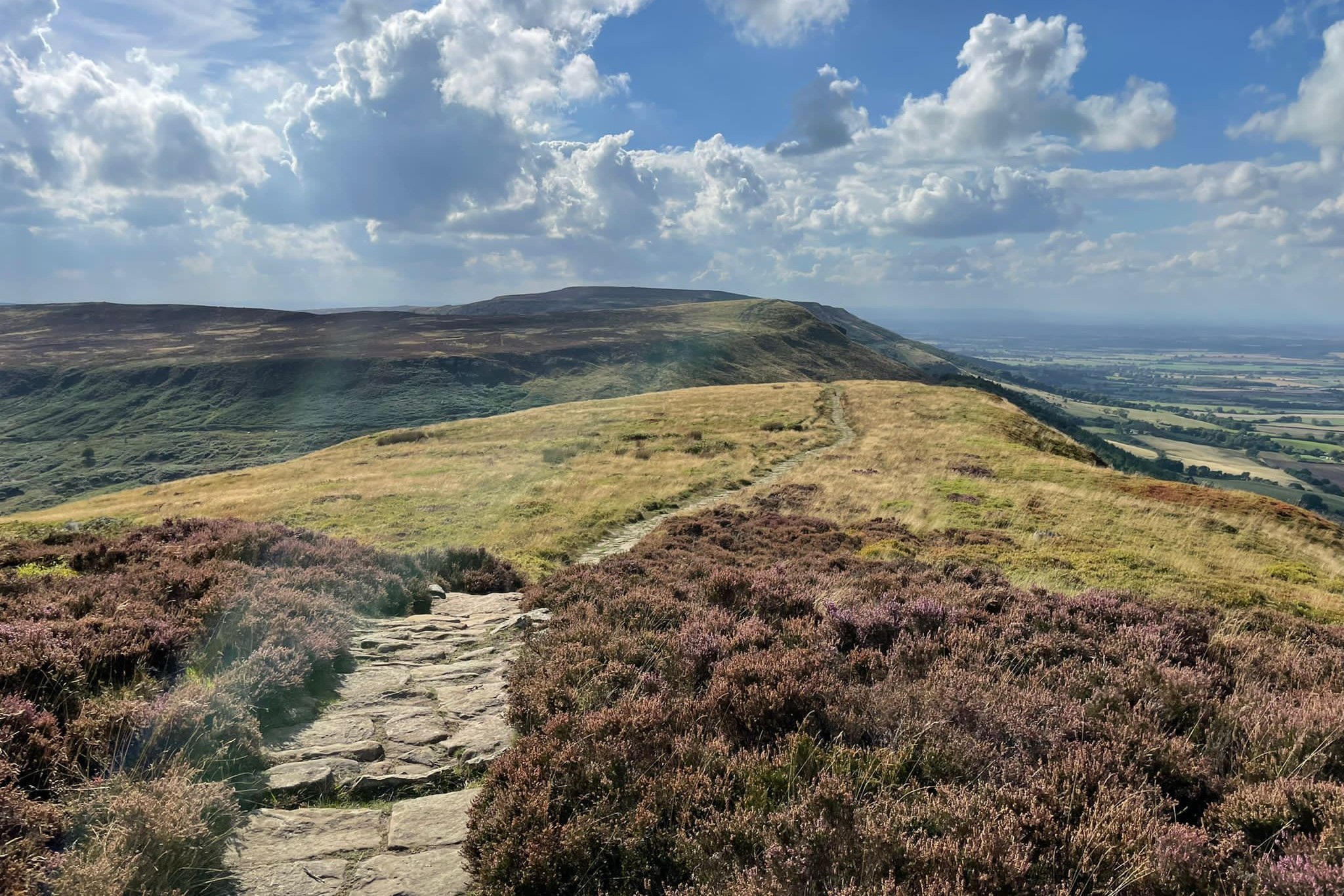 As we walked out of Osmotherley we were now also following the route of the Coast to Coast. We had met several people in last night's accommodation that were walking along this, so it was nice to bump into some friendly faces along the way.
Our first climb was through woodland and some old stone quarries. At the top of the hill we had views north to the Cleveland Hills and Roseberry Topping, a climb we would be completing later on in our walk.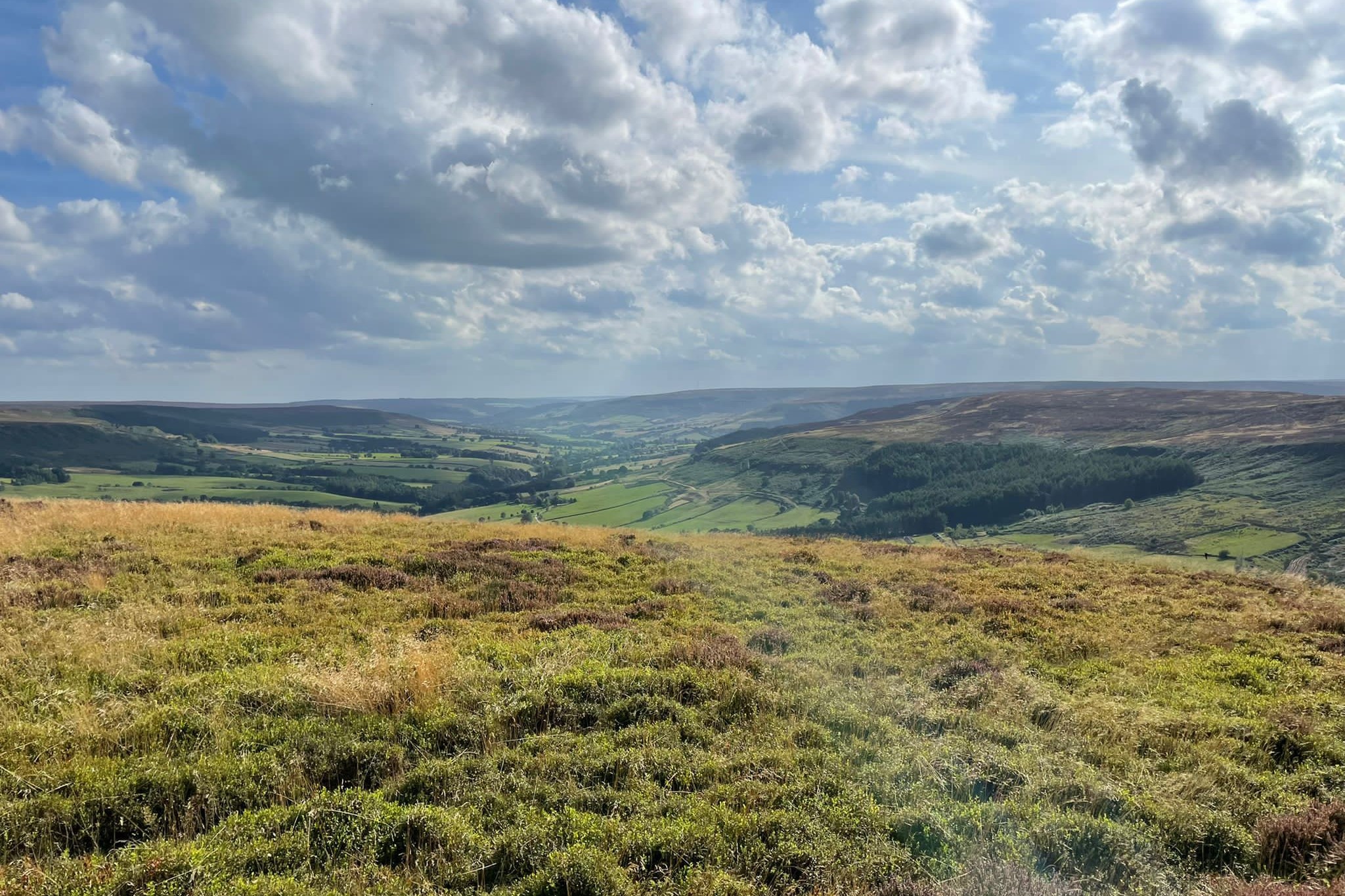 After a few more ups and downs we reached the summit of Carlton Moor where we were very surprised to bump into some friends that we hadn't seen for a few years. They were in the area to watch the Tour of Britain pass through. It was a perfect place to bump into them as just at the bottom of the hill was the very welcoming Lord Stones Café and Restaurant, a great place to soak up the party atmosphere of the cycling event with a very tasty bacon butty.
Then onto the next few inclines and declines with a bit of a scramble between the large rocks of the Wainstones, passing by the 'liquorice allsort' cattle, they are black with a white band around their middle. Their meat is used in Lord Stones Café. Looking over to the right Roseberry Topping is in view again, the Yorkshires Matterhorn.
A steep descent now to Clay Bank car park where we were delighted to see a mobile coffee van. Just what we needed as we waited for our taxi transfer to tonight's accommodation.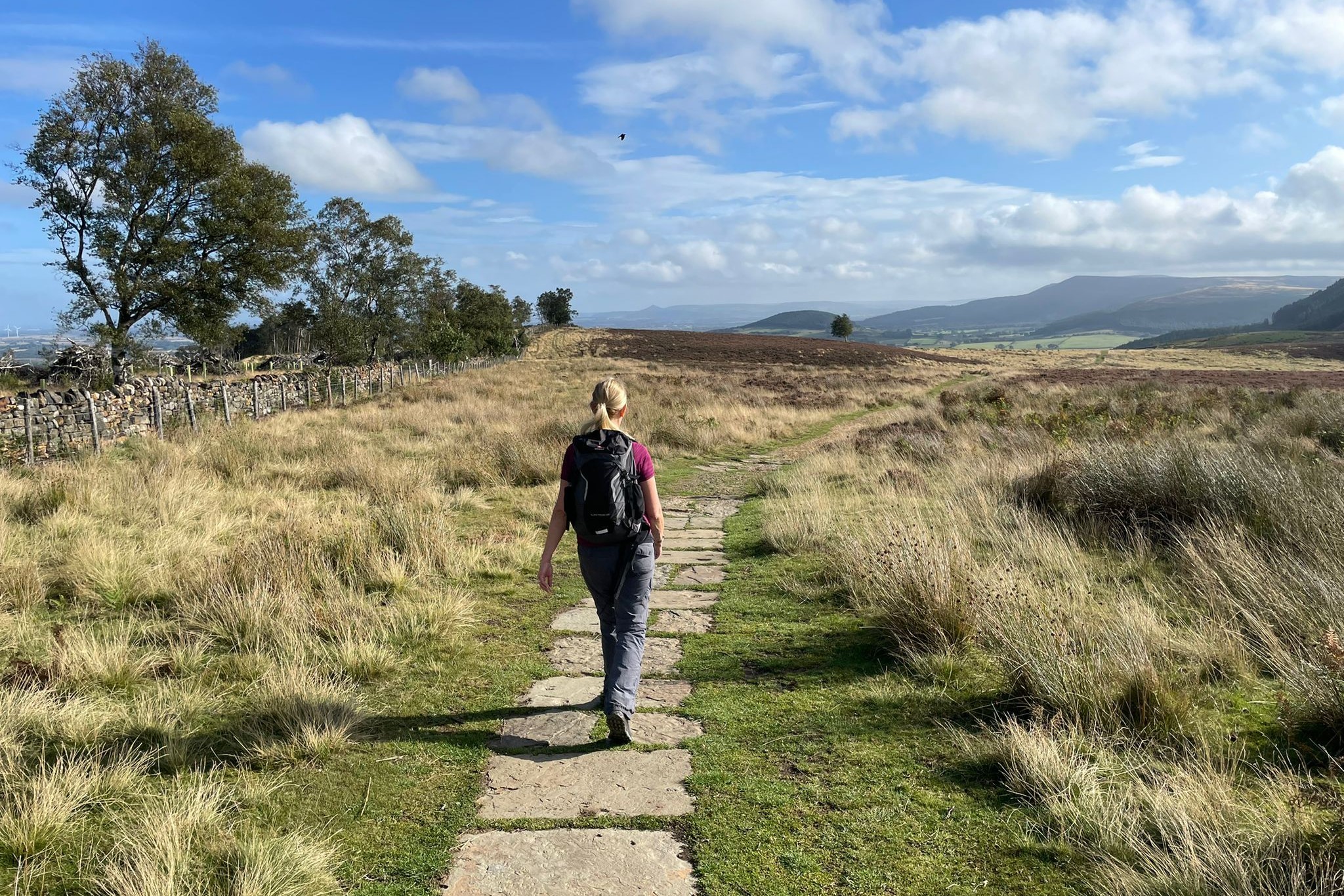 Today the work definitely began with its stiff climbs and steep descents, however it was definitely worth it for the spectacular views.
Day4: Clay Bank to Captain Cook Monument Kildale
After a good night's sleep resting our legs from yesterday's walk, and with a full tummy from yet another Yorkshire breakfast (we couldn't resist), we were ready for the incline that was awaiting us first thing. This was to be the highest point within the Yorkshire Moors. We didn't mind as we knew it was a gentle coast down to Kildale from here.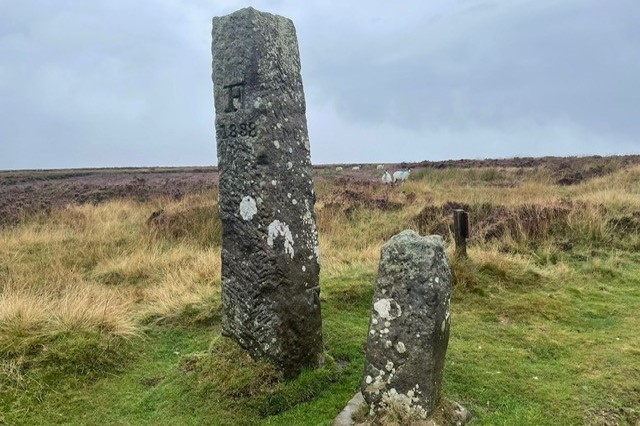 Today's walks were along moorland tracks and an old mineral railway to Bloworth Crossing. This is where we said goodbye to some walkers we had met over the last few days walking the Coast to Coast. As they walked straight ahead we turned left following the Cleveland Way sign posts downhill along a tarmac road to Kildale.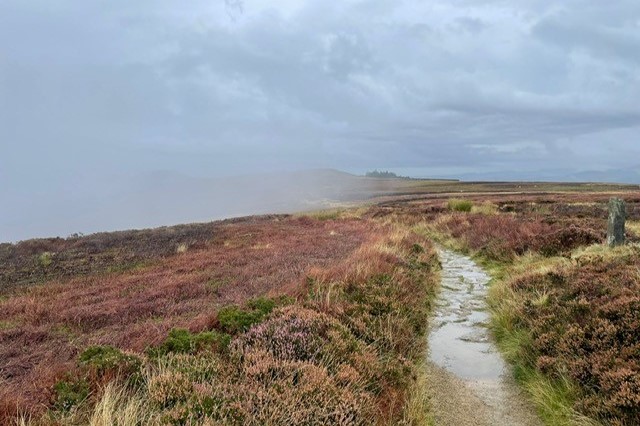 Our views today were of heather and red grouse. There were no other walkers after Bloworth Crossing, just peace and quiet, lovely. Unfortunately we didn't get great views today due to the low cloud and drizzle.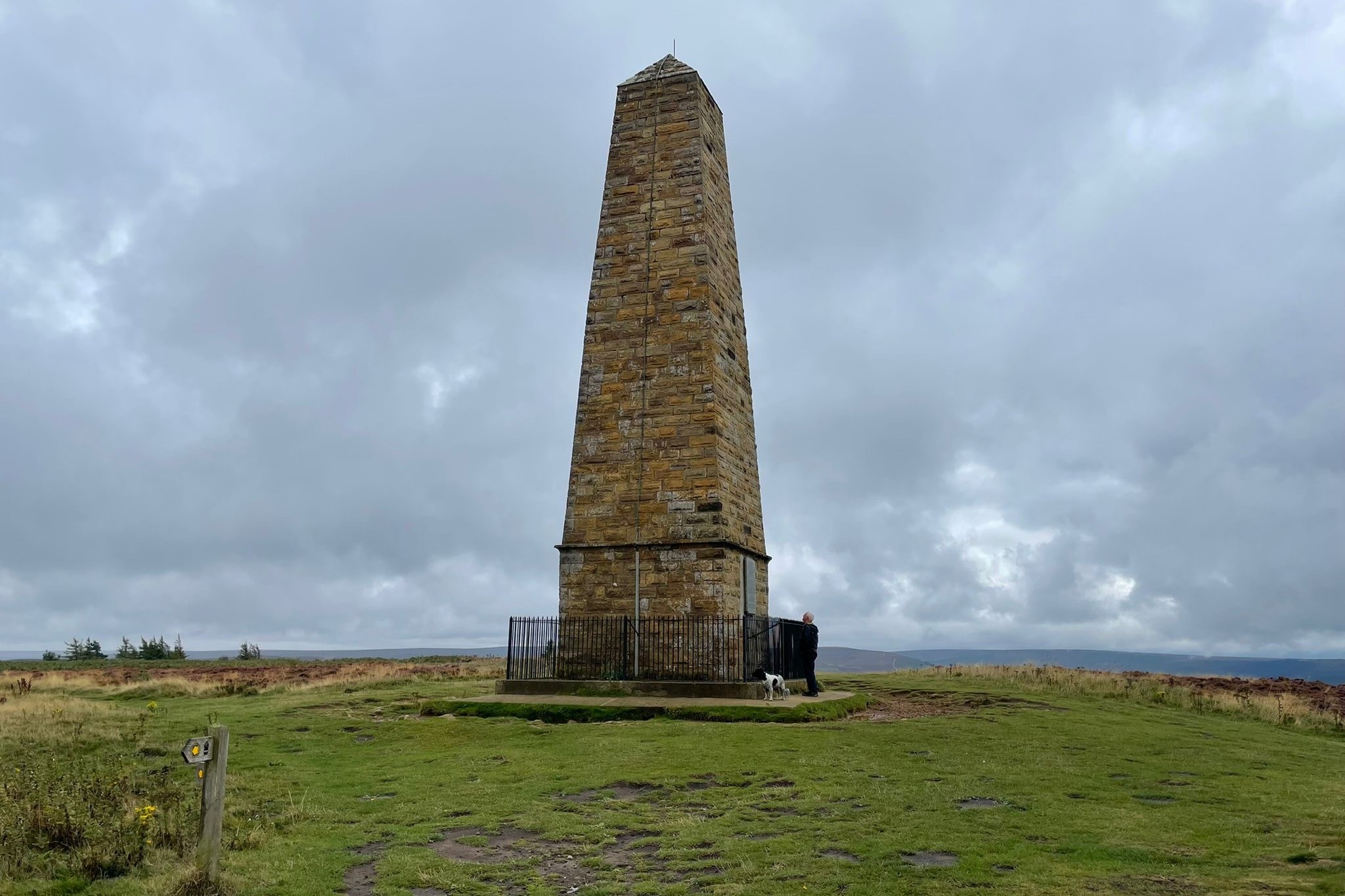 When we arrived at Kildale we sat in the memorial shelter to eat our packed lunch as the café there is no longer open. We needed the fuel as our last part of the walk today was uphill, through Bankside Farm, along a forest track and the woodland of Coate Moor emerging onto Easby Moor to find the imposing Captain Cook Monument, erected in memory of the great navigator.
To complete our walk today it was downhill to Gridale car park where we were transferred to our accommodation for tonight, just under Roseberry Topping where we start our adventure tomorrow.
Day 5: Captain Cook monument Kildale to Saltburn-by-the-Sea
After another restful night's sleep we started our walk to Roseberry Topping. This is an additional part of the walk although it is on the official Cleveland Way route. As it has been so prominent throughout the last few days of our walk we couldn't miss the opportunity to climb it.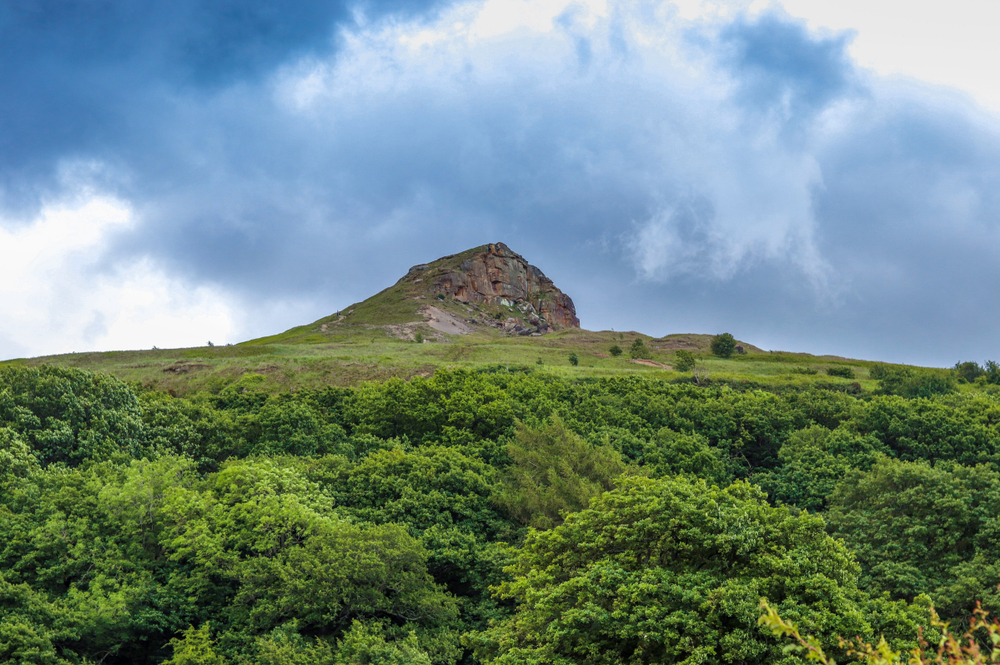 The climb was definitely easier than it looked although a little slippery underfoot. It was well worth the view from the top looking across to Teesside.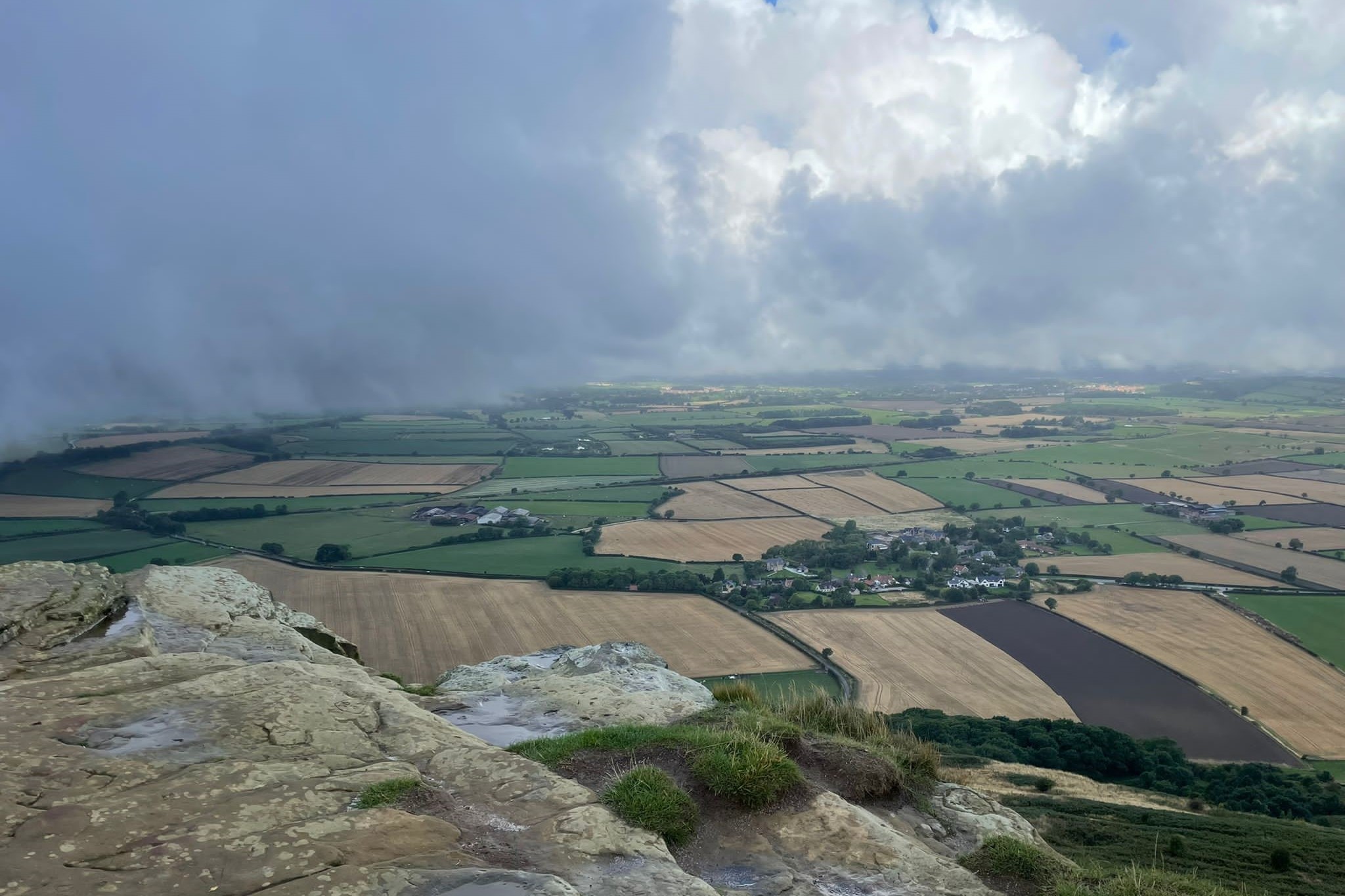 We returned to the main escarpment crossing Newton Moor along a forest walk and a sharp climb to Black Nab where we had extensive views across Guisborough. This was our picnic spot for today.
On our descent out of the National Park we made our way to Charltons. We got a little lost here as we took a wrong turn, however we soon found our way back to the trail. The signposting along the Cleveland Way is very good but at this section there are lots of different paths to take.
After crossing the road near The Fox and Hounds pub we were about to make our last steep climb of the day up through the old quarry through some woodland and across a farm which had views over to Skelton.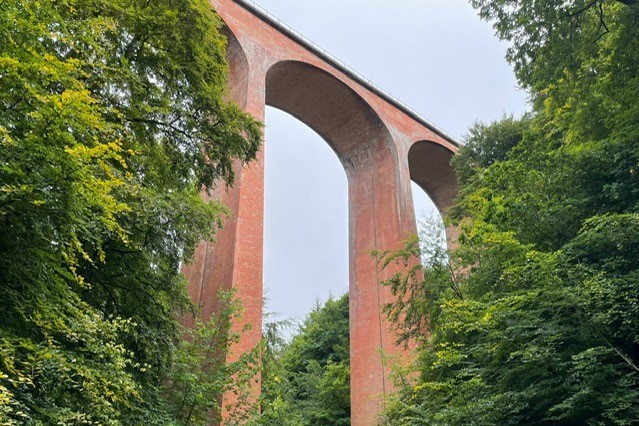 Walking through a housing estate onto a woodland path the impressive Skelton Viaduct came into view. Through more undulating woodland we saw the welcoming signs of Saltburn-by-the-Sea. Walking past the Victorian bandstand down the steps and we were at tonight's accommodation ready for a fish and chip supper and a nice rest before our final day's walk.
Day 6: Saltburn-by-the-Sea to Runswick Bay
After breakfast today we took in the sights of Saltburn before starting along our last day along the Cleveland Way.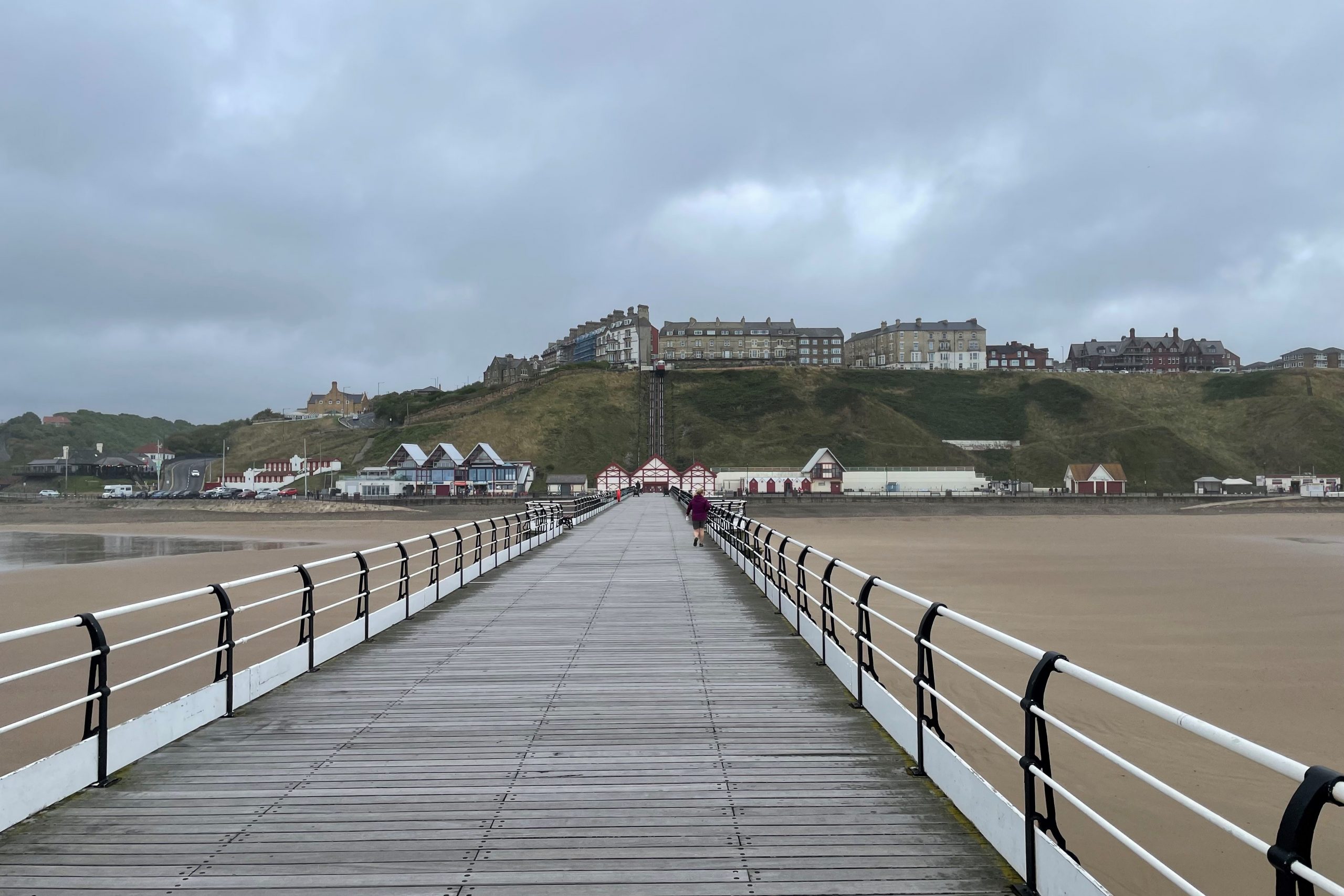 We walked along the promenade to see the famous cliff lift, the oldest of its kind, followed by a brisk walk on the pier watching people enjoying their early morning walks, and the dogs running up and down the beach.
We made our way back up the cliff steps looking back to admire Saltburn from a distance and catching our breath!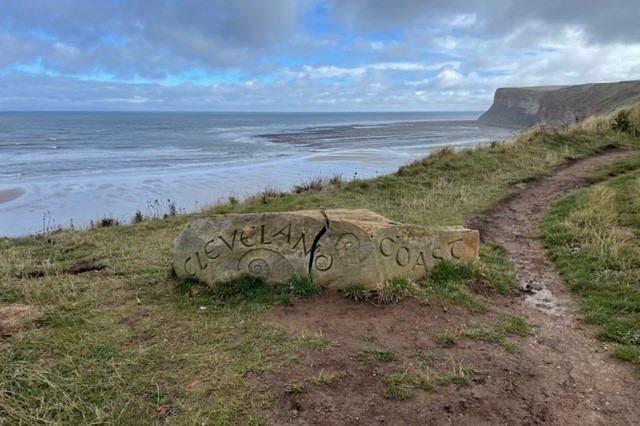 The coastal path continued along the cliff with extensive views towards Hartlepool and Sunderland. We passed the Charm Bracelet sculpture erected in 1990 to celebrate Ironstone mining. From here you can also see views of Skinningrove and Boulby Cliffs in the distance.
We headed down a flight of steps towards the beach into Skinningrove where we were recommended by another walker to go to the Old Post Office for a cup of tea and slice of homemade cake. We didn't need telling twice.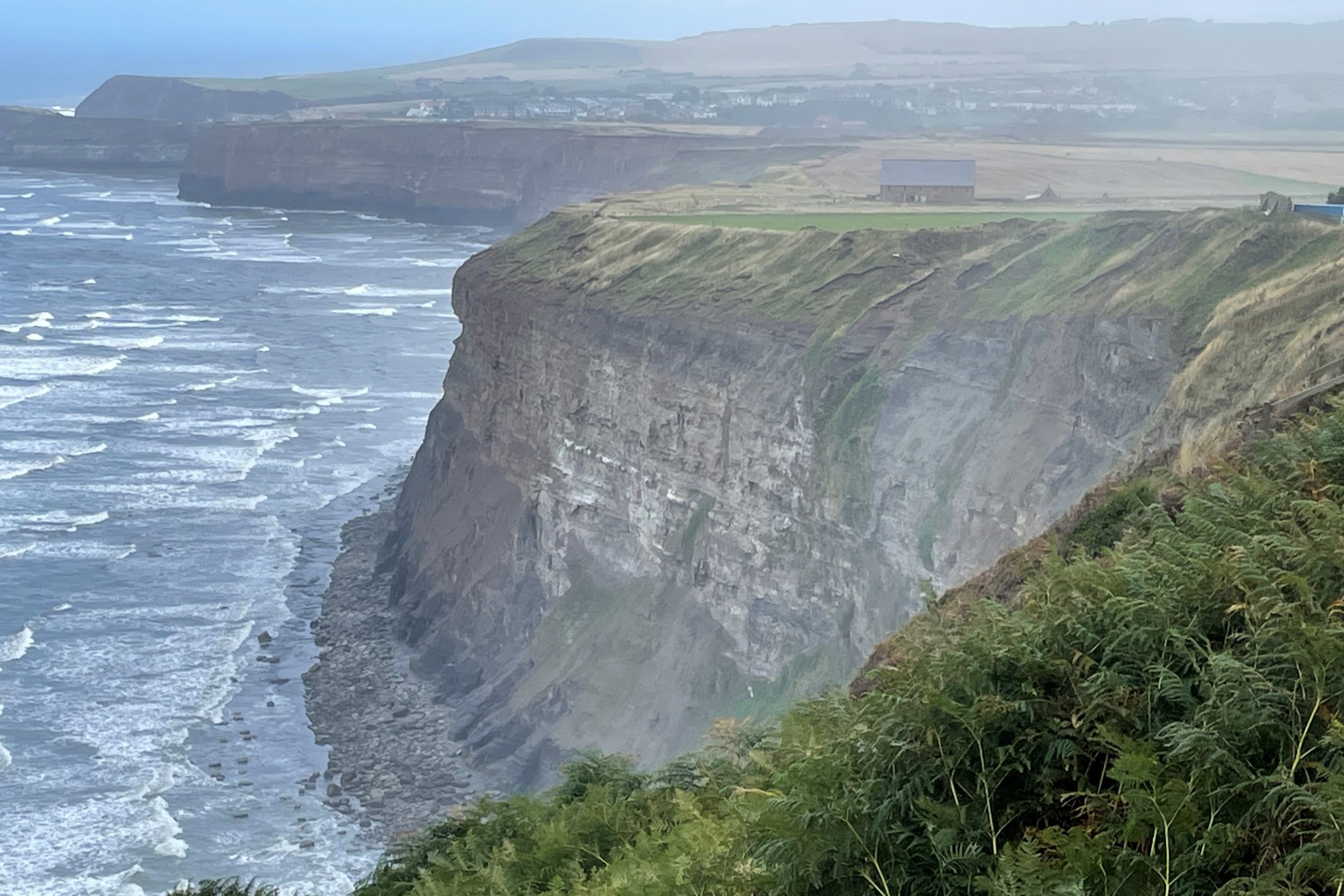 Back uphill along the cliff path where the sea fog decided to make an appearance, so our views were now restricted. These are the highest sea cliffs on the east coast and on a clear day you would have magnificent views of Staithes in the near distance. Below, the remains of Alum Quarries, in operation in the 18th and 19th centuries.
It was now downhill all the way to Staithes where the fog started to disperse and Staithes appearing like a picture postcard fishing village.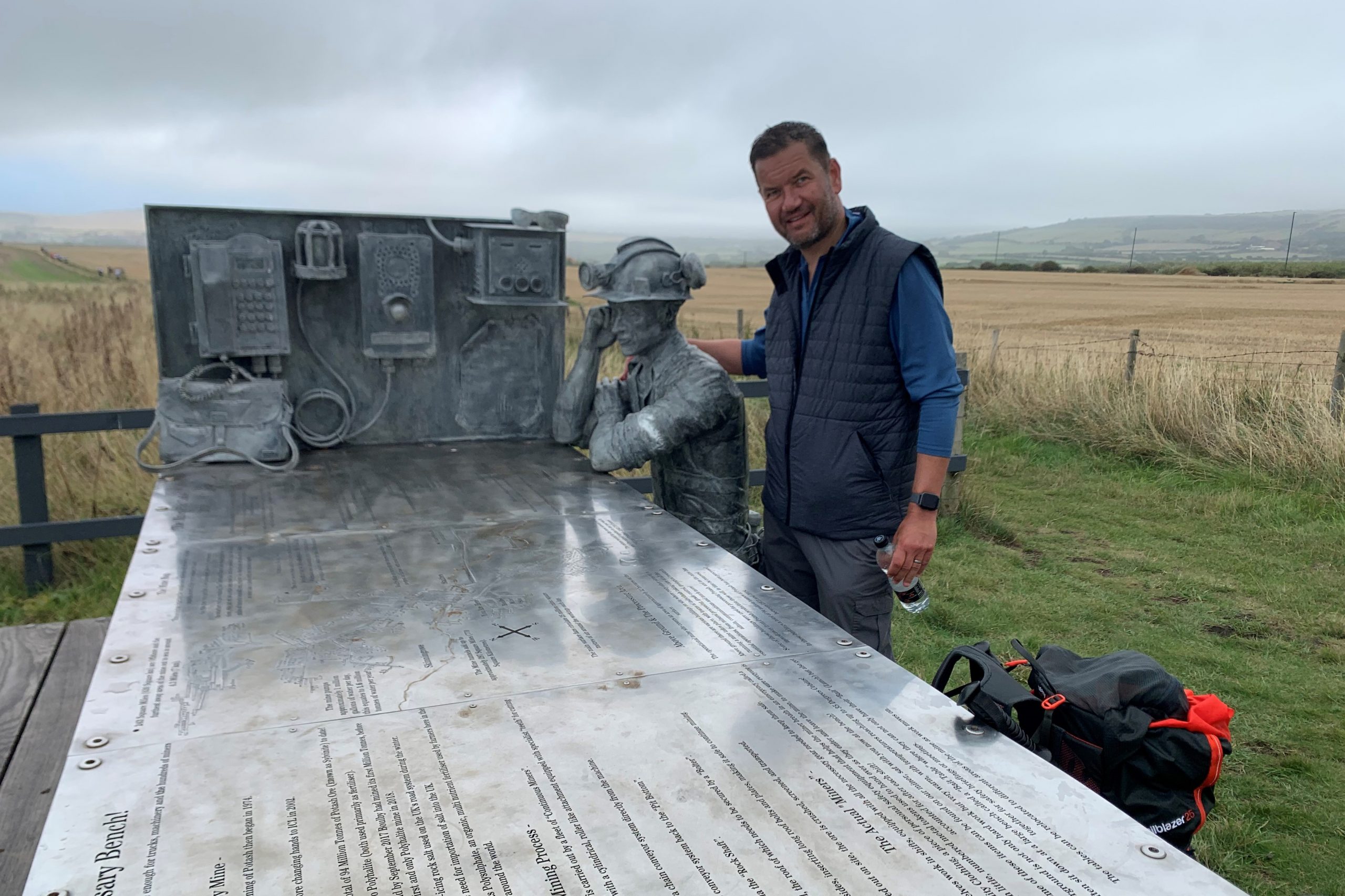 Our picnic today was just before we arrived at Staithes at a life size sculpture of a bait table where miners sat to take a break and eat lunch. This was to celebrate 50 years of mining in Boulby, a perfect place to sit and eat taking in the surrounding sights of the cliffs and sea.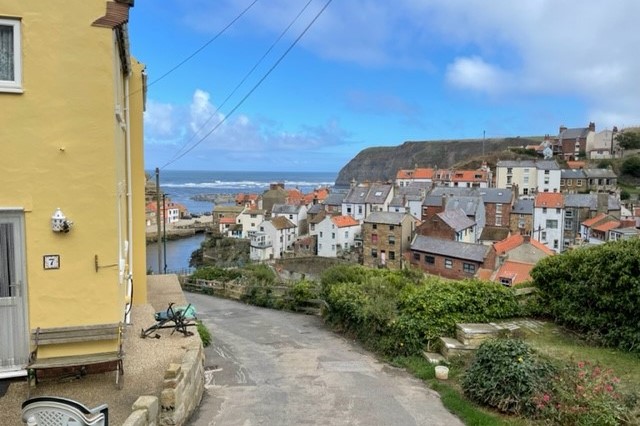 We headed through the very beautiful Staithes coastal village, stopping for an ice cream and to soak up the sun that had made a welcome appearance.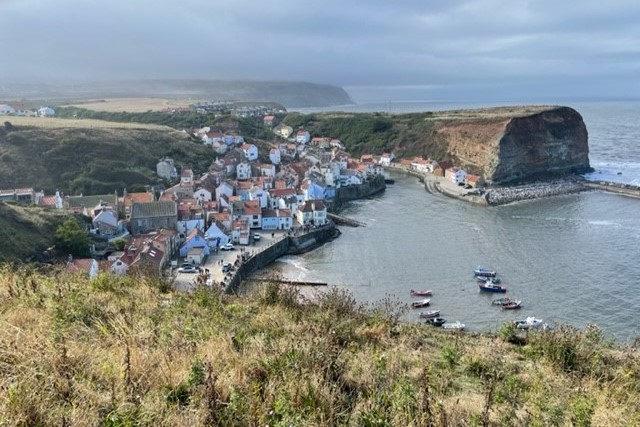 Our final walk uphill was to Port Mulgrave although there isn't much left of the port to see. We made our way along the coast to our final night's accommodation in Runswick Bay. After freshening up we walked down into the bay, we didn't want to miss out as it is known as the prettiest. It certainly lived up to its name with its white washed red roofed cottages and colourful surfboards and kayaks. It was a perfect way to finish our adventure.
---
Our walk along the Cleveland Way was certainly captivating, with the range of high heather clad moorland to coastal cliffs, from rolling farmland to steep inland escarpments, sandy beaches to attractive woodland. All with well-maintained footpaths and bridleways and good signposting. Our only disappointment was that we were unable to carry on to the end of the trail in Filey. Cleveland Way we will be back.
For more information on the Cleveland Way email us [email protected]. or to speak to me Sarah, or any of our walking holiday experts, call 017687 72335