South West Coast Path: North Devon
The South West Coast Path is England's longest waymarked long-distance footpath and National Trail. Our North Devon holidays include overnight stays in the popular towns of Minehead, Lynmouth and Ilfracombe.
There is diverse scenery all along this section of the South West Coast Path. The first stretch takes you over some of the highest cliffs in England where the expanse of Exmoor meets the sea. There are extensive views inland and north across the Bristol Channel with the coast of Wales as the backdrop. You will pass through coastal woodland and see vast sandy beaches popular with surfers. In contrast is the large estuary of the Taw and Torridge rivers, flanked by sand dunes and marshland, where the path follows the former railway and later the estuary.
This is an area valued for its birdlife and incorporates the Tarka Trail, a series of footpaths following the route taken by Tarka the Otter in the book by Henry Williamson.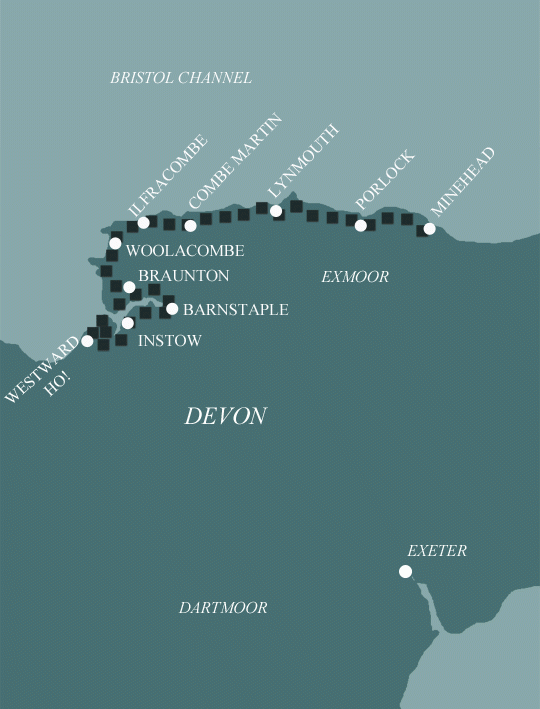 Our Holidays
We have a range of walking holidays along the entire length of the South West Coast Path. All routes are well worth undertaking in their own right and you can take on each section separately until you've completed the whole path.
We offer 3 itineraries walking from Minehead to Westward Ho! on the North Devon section of the South West Coast Path.
Please bear in mind that the distances each day are trail distances only. They do not take into account walking to your accommodation. On some days the accommodation might be on or close to the trail but on other days you may need to walk one or two miles to get to your overnight stop.
Note on transfers: Many of the accommodations on the South West Coast Path operate a two night minimum policy, therefore when booking, you need to be prepared to be transferred to and from your accommodation on several nights of your holiday.
North Devon Coast Path: Minehead to Westward Ho!
Minehead to Westward Ho! 88 miles/142 km
We offer 3 itineraries from Minehead to Westward Ho! Choose from 7, 8 or 9 days walking, depending on how far you want to walk each day. This section of the South West Coast Path follows a quieter and remote section of the trail passing through Exmoor National Park. You will walk over high cliffs, past sandy beaches and through ancient coastal woodland.