Fife Coastal Path
The Fife Coastal Path is a journey of discovery. Designated by Scottish Natural Heritage as one of Scotland's Great Trails the path is an absolute joy every step of the way as it stretches 81 miles from the Forth Estuary in the south, to the Tay Estuary in the north.
The path begins at North Queensferry with spectacular views of the estuary, the iconic Forth Bridges and the Edinburgh skyline. The walking is relatively straightforward, but the terrain is fascinating with evidence of lava flows and limestone strata containing marine fossils. Dysart Harbour and the Harbourmaster's House are highlights as you make your way through the 7th century Royal Burgh. Cultural heritage, historic monuments, quaint villages, valued nature reserves, volcanic plugs and Fife's only working fishing harbour are just some of the gems decorating the path as you continue to St Andrews and your journey's end at Newport-on-Tay.
Clifftop walking, woodland, abandoned railway and of course gorgeous grassy paths through golden sand dunes, combine to deliver an incredible walking experience as you travel through the Kingdom of Fife. Always charming, at times challenging, the Fife Coastal Path and the warm Scottish welcome of its hosts, will remain long in the memory of the walker.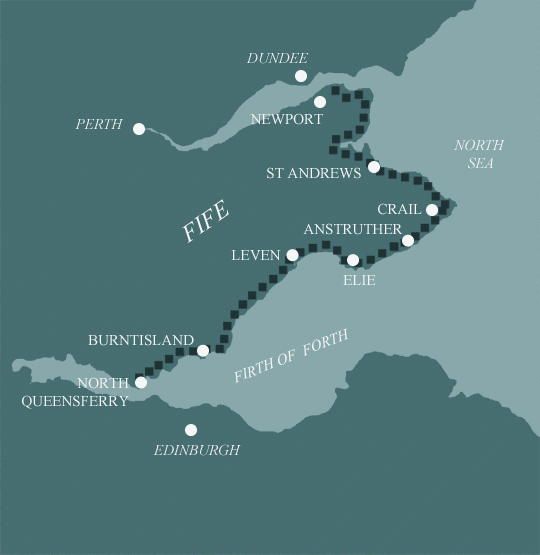 Our Holidays
We offer 5 itineraries over 3 holidays on the Fife Coastal Path. Of those, 2 cover the whole route from North Queensferry in the south to Newport-on-Tay in the north. Choose from 5 or 6 days walking depending on how far you want to walk each day.
Our 3 shorter itineraries each end at St Andrews. We have a 4 day walk beginning at Burntisland as well as 3 and 4 day walks beginning further along the coast at Leven. Each of these shorter routes enjoy a similar mix of terrain as experienced over the full route.
Please bear in mind that the distances each day are trail distances only. They do not take into account walking to your accommodation. On some days the accommodation might be on or close to the trail but on other days you may need to walk one or two miles to get to your overnight stop.
The Whole Fife Coastal Path
North Queensferry to Newport-on-Tay 81 miles/130 km
We offer 2 itineraries covering the whole of the route. The longer the itinerary, the shorter the distance that you have to walk each day.
Fife Coastal Path Highlights: Burntisland to St Andrews
Burntisland to St Andrews 51 miles/82 km
This is the longer of our 2 highlights holidays. After a long first day from Burntisland to Leven the remaining days are shorter.
Fife Coastal Path Highlights: Leven to St Andrews
Leven to St Andrews 34 miles/55 km
This is the shorter of our 2 highlights holidays. Again ending in St Andrews but avoiding the long first day from Burntisland.