Wharfedale: Heart of the Dales
Burnsall to Buckden in 3 Days Walking Code: DWW4
This is easy walking in classic Yorkshire Dales country. From the beautiful Bolton Abbey, along river sides and through woodlands, meadows and moorlands, to Buckden in Upper Wharfedale.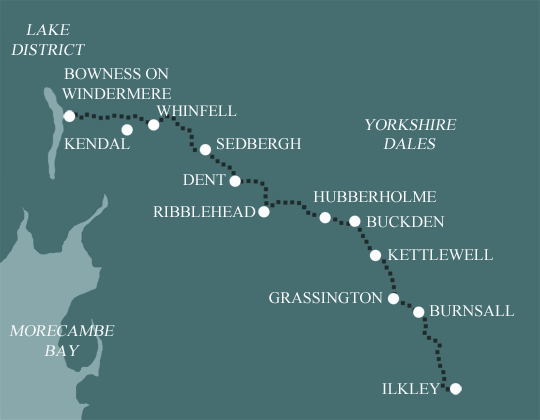 This is perhaps the gentlest walking holiday in our whole range, just 3 days walking from the beautiful Bolton Abbey through woodlands, meadows and moorlands to Buckden in Upper Wharfedale. Despite distances being short, there is plenty to see with time to explore the villages, churches and towns enroute, or simply to take in the views along the way.
Your first night is at Burnsall. The following day you take a 20 minute bus ride to Bolton Abbey, before walking back to Burnsall for your second night. The third and fourth nights are spent in the idyllic village of Kettlewell. On  day 3 you walk is from Burnsall to Kettlewell, whilst on day 4 you walk up the Wharfe to Buckden before catching the bus back to Kettlewell for your final night's stay.
| | | Miles | Km |
| --- | --- | --- | --- |
| Day 1 | Travel to Burnsall for your first nights accommodation | | |
| Day 2 | Bus to Bolton Abbey then walk to Burnsall | 8 | 13 |
| Day 3 | Burnsall to Kettlewell | 10 | 16 |
| Day 4 | Kettlewell to Buckden then bus to Kettlewell | 4 | 8 |
| Day 5 | Depart from Kettlewell after breakfast | | |
Lower Wharfedale: Bolton Abbey to Burnsall
The walking starts at Bolton Abbey, an impressive 12th century ruin set in the parkland of the Duke of Devonshire's estate. Upstream from Bolton Abbey the path enters Strid Wood, where the River Wharfe is forced through a narrow chasm and can be particularly spectacular after rain. More riverside walking leads to Appletreewick, the first in a string of delightful limestone villages and on to Burnsall which is idyllically situated on a large meander in the river.
Classic Dales: Burnsall to Buckden
From Burnsall the route carries on along the Wharfedale valley and enters the small market town of Grassington, on the eastern fringes of the National Park. After Grassington the route leaves the valley for a few miles and climbs up to a plateau of limestone pavement. Here, millions of years of rainwater have dissolved deep crevices in the limestone, splitting the surface spectacularly. The Wharfe is rejoined at Kettlewell, one of the honey pot villages of the Dales and the path follows the river gently upstream past the village of Starbotton to Buckden.

Easy
The route, which is waymarked over its entire length, is relatively straightforward. The paths follow the River Wharfe and the valley slopes throughout.
Terrain: The route generally follows rivers and valley bottoms.
What's it like underfoot? On the whole the paths are well defined and maintained, but at times it can be muddy, so good footwear is essential.
How Much Up & Down? Not too much. Rolling with gentle ascent and descents.
Signposting: Generally good, but use your map and guidebook as well.
Navigation: Pretty straightforward.
Weather: You may be lucky enough to encounter warm, dry weather over the whole route and enjoy dry paths and tremendous views, but you must be prepared because the weather can change quickly. Good clothing and waterproofs essential!
All Holidays

Accommodation
Overnight Bed and Breakfast accommodation in selected hotels, farmhouses, village inns, guest houses and family B&Bs.Full English or Continental breakfast.
Guidebook
A detailed guidebook with route information, maps, photos and background information.
Information of Services Along the Route
A comprehensive Service Info sheet, including services such as cash points, banks, post offices, village shops, inns, cafes and taxis.
Maps
A waterproof 1:40000 map from Harvey Maps covering the whole route.
Personal Itinerary
A personal itinerary setting out each overnight stop, including large scale maps of each accommodation, to ensure you find it easily.
Emergency Telephone Support
If you get in to difficulties during your holiday, we are always available to help, even out of office hours.
15% discount at Cotswold Outdoors
We will issue you with a 15% Discount Card valid at all Cotswold Outdoor stores, and online, for the whole year on confirmation of your booking.

Options

Luggage Transport
We will transfer your luggage between each overnight stop – if you leave your luggage at the accommodation when you set off in the morning, it will be moved on to your next B&B. You only need to carry a small day sack with the clothes and provisions you require during the day's walk.
Packed Lunches

Provided for each day's walking and recommended on this holiday as there will not always be a handy shop or cafe on the route.
Off Road Parking
If you are travelling by car we can usually arrange off road parking for the duration of your trip. (There may be a small charge for this).
Arrangement of return transport
We can also arrange your transfer back to your car, (or advise you when public transport is a better option)!

What's not Included

Evening Meals
Your evening meal isn't included in the package, but we include full details and recommendations for each evening meal in your itinerary. You will normally be within walking distance of a pub and/or restaurant, or where there is good food available at the accommodation, we'll book that for you. Allow about £20.00 per night.
Transport to the Start & Away from the Finish
Have a look at the "Travel Info" tab above for suggestions. If you're still struggling, get in touch and we'll help you sort it out.
Travel Insurance
Even if you are based in the UK travel insurance is worth having.
In selecting the accommodation we look for helpful, friendly hosts with good quality, characterful accommodation close to the trail. We always try to arrange en suite accommodation, i.e. rooms with their own bathrooms for each night of your stay. However, in some of the more remote locations accommodation is limited and occasionally we may have to book rooms with shared bathrooms for one or two nights of your holiday, (especially if the booking is made at short notice), but we will always let you know if this is likely to be the case.
Single Rooms We are happy to book single rooms on this walk but cannot normally book more than 2 for any one group. Single room bookings include a supplement.
Here are a couple of examples of the accommodation we use along the Dales Way: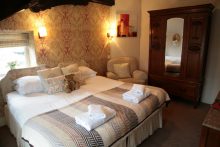 The Burnsall Manor House has comfortable, modern bedrooms, most of which have lovely views of the River Wharfe and village of Burnsall. A real fire welcomes you in the residents lounge and you will find the staff very friendly and attentive. Visit their website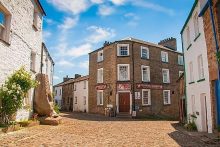 The George and Dragon is a characterful and welcoming pub in the centre of the little village of Dent, this offers everything an English pub should – real ale, great food and a very comfortable place to spend the night. The cobbled street outside and the obvious age of the building give the place a very special atmosphere. Visit their website
General travel information on the Dales Way area will be in your holiday pack including train and bus timetables where available.
Detailed instructions on getting to your first night's accommodation by car, or on foot from the nearest train or bus station, will also be included in the holiday pack on individual accommodation maps.
To view train times please visit www.qjump.co.uk where you can also purchase tickets in advance. For information on bus timetables please visit www.traveline.info
If you require secure car parking whilst walking this route, please contact us for detailed information.
Getting There: Burnsall
By Air: The nearest airports are Manchester International (MAN) and Leeds Bradford (LBA). There are frequent buses or trains from the airports to Ilkley (Manchester to Ilkley is 53 miles, and Leeds to Ilkley is 17 miles). There is a limited bus service to Burnsall or a taxi from Ilkley to Burnsall will cost you approximately £20.00.
By Public Transport: Frequent buses and trains run to Ilkley, and then there is a limited bus service to Burnsall. Alternatively, a taxi from Ilkley to Burnsall will cost you approximately £20.00.
By Road: Take the A59 to Skipton, and then the B6160 to Burnsall.
Returning from Kettlewell:
By Public Transport: There is a very limited public bus service from Kettlewell to Ilkley. A taxi will cost approximately £40.00. There is a railway station in Ilkley for onward travel.
By Road: From Buckden head to Skipton on the B6160 (18 miles) to join the A roads for onward travel.
No recommended rest days available for this holiday
Prices

AUD ($)

Accommodation, map & guidebook only
$788
with Luggage Transport
$845
with Packed Lunches
$838
with Luggage & Lunches
$892

Other Options

Extra Nights (per night)
$133
Single Supplement (per night)
$67
Solo Luggage Supplement (per day)
$0