Pembrokeshire South Coast: Amroth to Milford Haven
Amroth to Milford Haven in 5 Days Walking Code: PCS6
The "tamer" end of the route but with a very varied scenery takes you up and down along spectacular precipitous cliffs, past MoD firing ranges and along the wild and remote Angle peninsular all the way past the industrial oil refineries and through the historic town of Pembroke with its beautiful castle.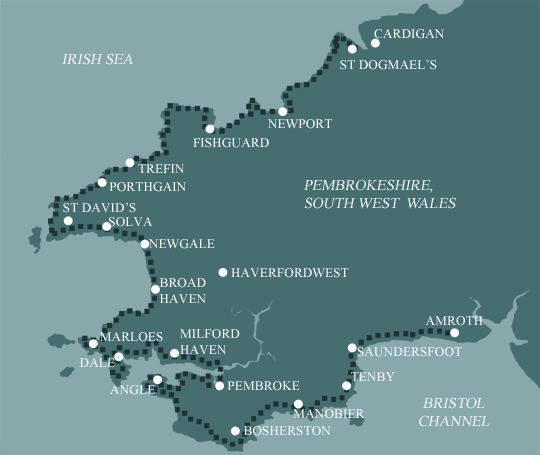 | | | Miles | Km |
| --- | --- | --- | --- |
| Day 1 | Travel to Amroth for your first nights accommodation | | |
| Day 2 | Amroth to Manorbier | 14 | 23 |
| Day 3 | Manorbier to Bosherston | 10 | 16 |
| Day 4 | Bosherston to Angle (plus 1.5m if firing range is open) | 16 | 26 |
| Day 5 | Angle to Pembroke | 10 | 17 |
| Day 6 | Pembroke to Milford Haven | 11 | 18 |
| Day 7 | Depart from Milford Haven after breakfast | | |
Amroth to Angle – Beaches, villages, coves, cliffs and gun fire!
The beautiful beaches and tourist attractions around Tenby make this the busiest section of the whole route with superb views of Caldey Island, and the coasts of The Gower and Exmoor. This section really typifies why this coast is worthy of National Park status. It contains Barafundle beach which was recently voted one of the top ten beaches in the world! It also fringes the famous Lily Ponds at Bosherston which are a National Nature reserve. The path is quite undulating, but you're never far from a beach or village pub. Also included is possibly the flattest section of the trail much of which is restricted because of military use. Despite being a firing range, this ranks as one of Britain's most important wildlife sanctuaries and is protected by some of Europe's strongest designations. This final part of this section is very rugged and once away from Angle village it is deliberately managed to retain a 'remote and challenging ' experience. The entire stretch is coastal – no roads, no houses, few stiles and no amenities at all.
Angle to Dale – History Mixed with Modern Industry
Due to its shelter from coastal winds this stretch includes many sections of woodland. Care must be taken to check the tidetables in two locations to avoid long detours on roads. Unfortunately a large part of this section is not within the National Park due to the proximity of industry associated with the haven. It is however still a very interesting walk rich in history, environmental and agricultural interest. The historic town of Pembroke and its castle are well worth a visit.



Moderate
The most popular section of the entire path. A mixture of woodland cliff top walking, sandy coves, the historic town of Tenby, pretty villages and some of Britain's award winning beaches.
This is not a technically difficult walk and should be easy to tackle for most reasonably fit people. The paths are good, and there are no major route finding challenges.
Terrain: A coastal path mainly through farmland and moorland on the cliff tops, with stretches along sandy beaches.
What's it like underfoot? Generally good paths and tracks, although a few sections can get muddy after heavy rain.
How Much Up & Down? More than you'd think! Although you never reach more than 200m above sea level (and most of the time not more than 100m) there are many short steep sections. Most days involve ascents of 200-500m metres, although no section is very steep for very long.
Signposting: Good - the path is well waymarked.
Navigation: Pretty straightforward – good signposting, and generally well defined tracks.
Weather: You may be lucky enough to encounter warm, dry weather over the whole route and enjoy dry paths and tremendous views, but you must be prepared because the weather can change quickly. Good clothing and waterproofs are essential, but don't forget you sunhat, sunblock and shorts!
All Holidays

Accommodation
Overnight Bed and Breakfast accommodation in selected hotels, farmhouses, village inns, guest houses and family B&Bs.Full English or Continental breakfast.
Guidebook
A detailed guidebook with route information, maps, photos and background information.
Information of Services Along the Route
A comprehensive Service Info sheet, including services such as cash points, banks, post offices, village shops, inns, cafes and taxis.
Maps
A waterproof map from Harvey Maps covering the whole route.
Personal Itinerary
A personal itinerary setting out each overnight stop, including large scale maps of each accommodation, to ensure you find it easily.
Emergency Telephone Support
If you get in to difficulties during your holiday, we are always available to help, even out of office hours.
15% discount at Cotswold Outdoors
We will issue you with a 15% Discount Card valid at all Cotswold Outdoor stores, and online, for the whole year on confirmation of your booking.

Options

Luggage Transport
We will transfer your luggage between each overnight stop – if you leave your luggage at the accommodation when you set off in the morning, it will be moved on to your next B&B. You only need to carry a small day sack with the clothes and provisions you require during the day's walk.
Packed Lunches

Provided for each day's walking and recommended on this holiday as there will not always be a handy shop or cafe on the route.
Off Road Parking
If you are travelling by car we can usually arrange off road parking for the duration of your trip. (There may be a small charge for this).
Arrangement of return transport
We can also arrange your transfer back to your car, (or advise you when public transport is a better option)!

What's not Included

Evening Meals
Your evening meal isn't included in the package, but we include full details and recommendations for each evening meal in your itinerary. You will normally be within walking distance of a pub and/or restaurant, or where there is good food available at the accommodation, we'll book that for you. Allow about £20.00 per night.
Transport to the Start & Away from the Finish
Have a look at the "Travel Info" tab above for suggestions. If you're still struggling, get in touch and we'll help you sort it out.
Travel Insurance
Even if you are based in the UK travel insurance is worth having.
Good accommodation and friendly hosts are an essential part of any holiday. We understand this and go out of our way to find the best. We put a great deal of effort into hand picking our accommodation and matching it to individual customer requirements. As well as visiting the accommodation ourselves, we ask all our customers to complete a short evaluation on each night's accommodation, which then gives us an insight in to the day-to-day operation, and lets us spot any potential issues before they become a problem.
We use a variety of accommodation, including small country house hotels, guest houses in market towns, bed and breakfasts in farm houses, country cottages and Victorian town houses. In selecting the accommodation we look for helpful, friendly hosts with good quality, characterful accommodation close to the trail. For example, over the course of your trip you might stay in a village inn, a bed and breakfast in a converted barn, a Victorian guest house, on a working farm, and in a Georgian hotel.
We always try to arrange en suite accommodation, i.e. rooms with their own bathrooms for each night of your stay. However, in some of the more remote locations accommodation is limited and occasionally we may have to book rooms with shared bathrooms for one or two nights of your holiday, (especially if the booking is made at short notice), but we will always let you know if this is likely to be the case.
General travel information for the Pembrokeshire Coast route will be in your holiday pack including train and bus timetables where available.
Detailed instructions on getting to your first night's accommodation by car, or on foot from the nearest train or bus station, will also be included in the holiday pack on individual accommodation maps.
To view train times please visit qjump where you can also purchase tickets in advance. For information on bus timetables please visit traveline
If you require secure car parking whilst walking this route, please contact us for information.
Getting There:
By Air: The nearest airports are Cardiff and Bristol – International airports are London, Birmingham and Manchester. You can then travel by public transport to Amroth.
By Public Transport:
By train from London (5-6 hours) via Swansea to Kilgetty (request stop) or from Bristol and Cardiff (2-3 hours). Then bus to Amroth (3 miles).
By coach National Express from London or Birmingham to Haverfordwest via Tenby.
By Road: M4 to Swansea, A48 to Carmarthen, A40 to St Clears, A477 to Kilgetty then a short drive to Amroth.
Leaving from Milford Haven:
By Public Transport: Train via Cardiff for main city links.
By Road: A40 to Carmarthen, A48 and M4 for all directions.
Pembroke
Pembroke is the birthplace of Henry VII and is steeped in history. The 900 year old castle is the focal point of the town, standing guard over the river and well worth a visit. The town itself was fortified and walled, and sections of these walls are still visible. Visitors can take the popular town trail and there is also a daily indoor market and numerous small craft, gift and specialist shops.
Prices

GBP (£)

Accommodation, map & guidebook only
£477
with Luggage Transport
£527
with Packed Lunches
£514
with Luggage & Lunches
£561

Other Options

Extra Nights (per night)
£60
Single Supplement (per night)
£30
Solo Luggage Supplement (per day)
£5