Next year's holiday at this year's price!
By Mark Wright
It makes sense to book early if you are hoping to enjoy one of our walking holidays next year, especially if you are thinking about one of our most popular routes such as Coast to Coast, Hadrian's Wall or the West Highland Way.
Booking early also saves you money. We told you if you booked your 2022 holiday by the end of September, you'd enjoy next year's holiday at this year's price.
Well, we've had such an amazing response so far, and we know many of you are still trying to arrange leave and decide which holiday to choose, so we've decided to give you an extra weekend to finalise your plans. So if you can secure your holiday over the weekend, with just a 20% deposit, we'll still offer it at our 2021 prices.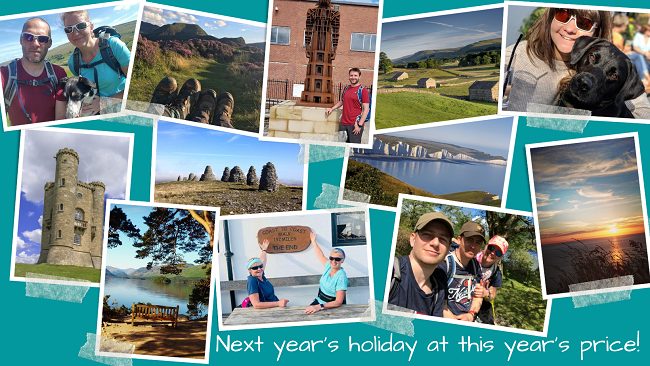 With over thirty routes to choose from, our holidays enable you to experience some of the most beautiful corners of Britain. You'll enjoy remote uplands, mountain passes, dramatic coastlines with sweeping beaches, sublime countryside and charming villages. It's not surprising that they start to book up well in advance.
Not only have many of our overseas clients rescheduled their trips for next year, and our regular UK based clients booked their place once again, but also dozens of this year's first time walkers have already told us they'll definitely be back next year.
We've all missed out on so much over the past two years, meaning the desire to have an extra special experience next year has never been greater. Book over the weekend, secured with just a 20% deposit and yes, you'll enjoy next year's holiday at this year's price. Save money and start looking forward to your next adventure!
---
For information on any of our walking holidays email us info@mickledore.co.uk or call 017687 72335 to speak with one of our walking holiday experts.