Arran Coastal Way - Northern part
Brodick to Blackwaterfoot in 3 Days Walking Code: ACH4
The northern part of the Arran Coastal Way skirts the mountainous part of Arran, with great views over the water to Bute, Loch Fyne, and Kintyre. You also have the option of climbing Goat Fell, Arran's highest mountain. We have 2 options on the northern part of the walk.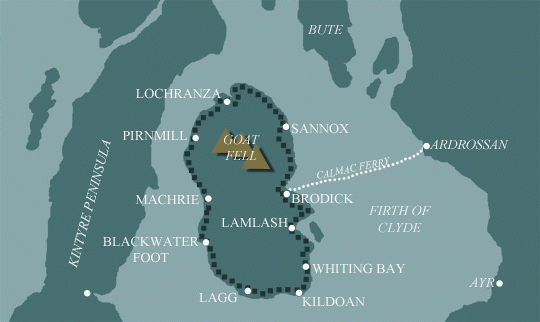 A point to point walk over three days taking on the northern section of Arran, with the option of climbing Goat Fell, the highest peak on the island. Passing through some spectacular coastal scenery with a good chance of seeing deer and seals along the way.
| | | Miles | Km |
| --- | --- | --- | --- |
| Day 1 | Travel to Brodick for your first nights accommodation | | |
| Day 2 | Brodick to Corrie | 6 | 10 |
| Day 3 | Corrie to Lochranza | 11 | 18 |
| Day 4 | Lochranza to Blackwaterfoot | 18 | 29 |
| Day 5 | Depart from Blackwaterfoot after breakfast | | |
Brodick to Corrie

After a brief walk along the main road in Brodick you then walk along the beach, cutting through the golf course, before picking up the road again at Strabane. Follow the main road north until you reach Cladach. After a short climb from Cladach you have the choice of continuing on up Goat Fell, or a more leisurely walk through the forest. The forest trail saves about 1.5 miles and 1600 feet of climbing and is therefore suitable for those wanting a less strenuous walk, or in bad weather (the path up Goat Fell is not signposted).  We also recommend the forest trail for those walking from Brodick to Lochranza in one day. Both trails take you back to the coast road and into Corrie.
Corrie to Lochranza
Leaving Corrie it is a short walk to Sannox. From Sannox cross over the stepping stones at Sannox Burn and continue along the beach – looking out for dolphins and basking sharks! If the tide is out you can cross the stream at the north end of the beach to access the picnic site, or head up the bank of the stream to cross at the bridge if the burn is impassable on the beach. From the picnic site continue around the coast passing Fallen Rocks, Laggan Harbour, The Cock of Arran, and Scriodan Rock Fall. The Coastal Way Project has recently improved the path through Scriodan Rock Fall making it much easier to negotiate, especially in wet weather. The path then leads around to Lochranza passing Hutton's Unconformity to the north of Newtown Point. There is also an escape route from Laggan Cottage just after Laggan Harbour.
Lochranza to Pirnmill

Upon leaving Lochranza on the coast road immediately head up the track leading to the cliff tops overlooking the north shore and follow the trail to Catacol. This section has recently been upgraded by the Arran Coastal Way team. From Catacol follow the road as it swings southwards towards Pirnmill.
Pirnmill to Blackwaterfoot
After Pirnmill follow the rocky shoreline to the south side of Imachar brae where you re-join the road heading south toward Machrie. As you head out of Machrie eventually pass King's Cave where, it is believed, Robert the Bruce stayed en route to taking the Scottish crown in 1314. The path then continues south past Doon Fort, a 2000 year old Iron Age fort, before heading into Blackwaterfoot.



Moderate
There are several rocky sections along this route which should be easy enough to tackle for most reasonably fit people. Goat Fell has a sheer drop on one side on the descent and a river crossing via stepping stones, this can be avoided in bad weather or for people with vertigo by taking the low route. The paths along the shore are not always clear but as the route follows the coast it is hard to get lost. As some sections are impassable at high tide it is important to check the tides before setting off. If in doubt use the alternative routes.
Terrain: A coastal path with a mostly rocky shoreline, some road sections (not very busy) and forest tracks. Depending on the tide the route can be sandy or shingly with some boulder fields that are slow going and can be tiring. Consider an itinerary with shorter days than you would normally choose to allow for this.
What's it like underfoot? A mixture of road, rocky shoreline (which can be slippery after high tide or in wet weather) forest tracks and some constructed paths. A few sections may be muddy after heavy rain.
How Much Up & Down? Mostly flat, apart from the Goat Fell option which involves a climb of 874 meters (there is a get out at 630 meters). The alternative forest route between Lagg and Whiting Bay rises up to 250 meters.
Signposting: There is little signposting on the route.
Navigation: A compass is required if you do the Goat Fell section – the map is sufficient for the coastal paths.
Weather: You may be lucky enough to encounter warm, dry weather over the whole route and enjoy dry paths and tremendous views, but you must be prepared because the weather can change quickly. Good clothing and waterproofs are essential, but don't forget your sunhat, sunblock and shorts!
All Holidays

Accommodation
Overnight Bed and Breakfast accommodation in selected hotels, farmhouses, village inns, guest houses and family B&Bs.Full English or Continental breakfast.
Guidebook
A detailed guidebook with route information, maps, photos and background information.
Information of Services Along the Route
A comprehensive Service Info sheet, including services such as cash points, banks, post offices, village shops, inns, cafes and taxis.
Maps
 A Ordnance Survey Explorer (1:25000) map covering the whole route.
Personal Itinerary
A personal itinerary setting out each overnight stop, including large scale maps of each accommodation, to ensure you find it easily.
Emergency Telephone Support
If you get in to difficulties during your holiday, we are always available to help, even out of office hours.
15% discount at Cotswold Outdoors
We will issue you with a 15% Discount Card valid at all Cotswold Outdoor stores, and online, for the whole year on confirmation of your booking.

Options

Luggage Transport
We will transfer your luggage between each overnight stop – if you leave your luggage at the accommodation when you set off in the morning, it will be moved on to your next B&B. You only need to carry a small day sack with the clothes and provisions you require during the day's walk.
Packed Lunches

Provided for each day's walking and recommended on this holiday as there will not always be a handy shop or cafe on the route.
Off Road Parking
If you are travelling by car we can usually arrange off road parking for the duration of your trip. (There may be a small charge for this).

What's not Included

Evening Meals
Your evening meal isn't included in the package, but we include full details and recommendations for each evening meal in your itinerary. You will normally be within walking distance of a pub and/or restaurant, or where there is good food available at the accommodation, we'll book that for you. Allow about £20.00 per night.
Transport to the Start & Away from the Finish
Have a look at the "Travel Info" tab above for suggestions. If you're still struggling, get in touch and we'll help you sort it out.
We have a variety of accommodation on Arran, including small country house hotels, guest houses, bed and breakfasts and farm house accommodation. In selecting the accommodation we look for helpful, friendly hosts with good quality, characterful accommodation close to the trail. We always try to arrange en suite accommodation, i.e. rooms with their own bathrooms for each night of your stay. However, in some of the more remote locations accommodation is limited and occasionally we may have to book rooms with shared bathrooms for one or two nights of your holiday, (especially if the booking is made at short notice), but we will always let you know if this is likely to be the case.
Air travel via Prestwick Airport (PIK) is another option and here you take a train from the airport to Kilwinning (KWN) railway station. Then change at Kilwinning and catch the train to Ardrossan ferry terminal.
By Public Transport: Head to Glasgow Central (GLC) via the West Coast Maine Line then onto Ardrossan Harbour (ADS) to get the ferry.
By Car: M6 northbound – at Gretna A74(M) to Abingdon, M74 to Glasgow – M8 until Glasgow Airport then A737 then follow signs to Ardrossan. Then ferry to Arran, if you are leaving your car at Ardrossan parking charges apply.
Ferry: Ardrossan – Caledonian MacBrayne ferries – crossing take 1 hour. If you are bringing your car to Arran then you need to book ahead. Call CalMac on 0800 066 5000 or book tickets via this link: calmac
Getting back:
Bus: Bus to Brodick, a bus timetable will also be included in your holiday pack.
Ferry: Ardrossan – Caledonian MacBrayne ferries – crossing take 1 hour.
By Public Transport: There is a train station at Ardrossan ferry terminal with regular trains to Glasgow.
Brodick
Brodick is the capital of Arran, centered round the ferry port and beach. Visit the castle and gardens, have a tour of the brewery, or visit the Isle of Arran Heritage museum. If the weather's good, have a well earned day off on the beach, or have a round of golf! There is a great walk up Goat Fell, the highest mountain on the island, with stunning views of the surrounding mountains, and across the sea, from the summit.
Lochranza
A rest day in Lochranza could be spent exploring the ruin of Lochranza Castle, spotting seals on the shores of the loch, visiting the Arran whisky distillery, or even playing a round golf.
Prices

GBP (£)

Accommodation, map & guidebook only
£396
with Luggage Transport
£426
with Packed Lunches
£419
with Luggage & Lunches
£448

Other Options

Extra Nights (per night)
£63
Single Supplement (per night)
£32
Solo Luggage Supplement (per day)
£6