The Arran Coastal Way – Scotland in Miniature
By Mark Wright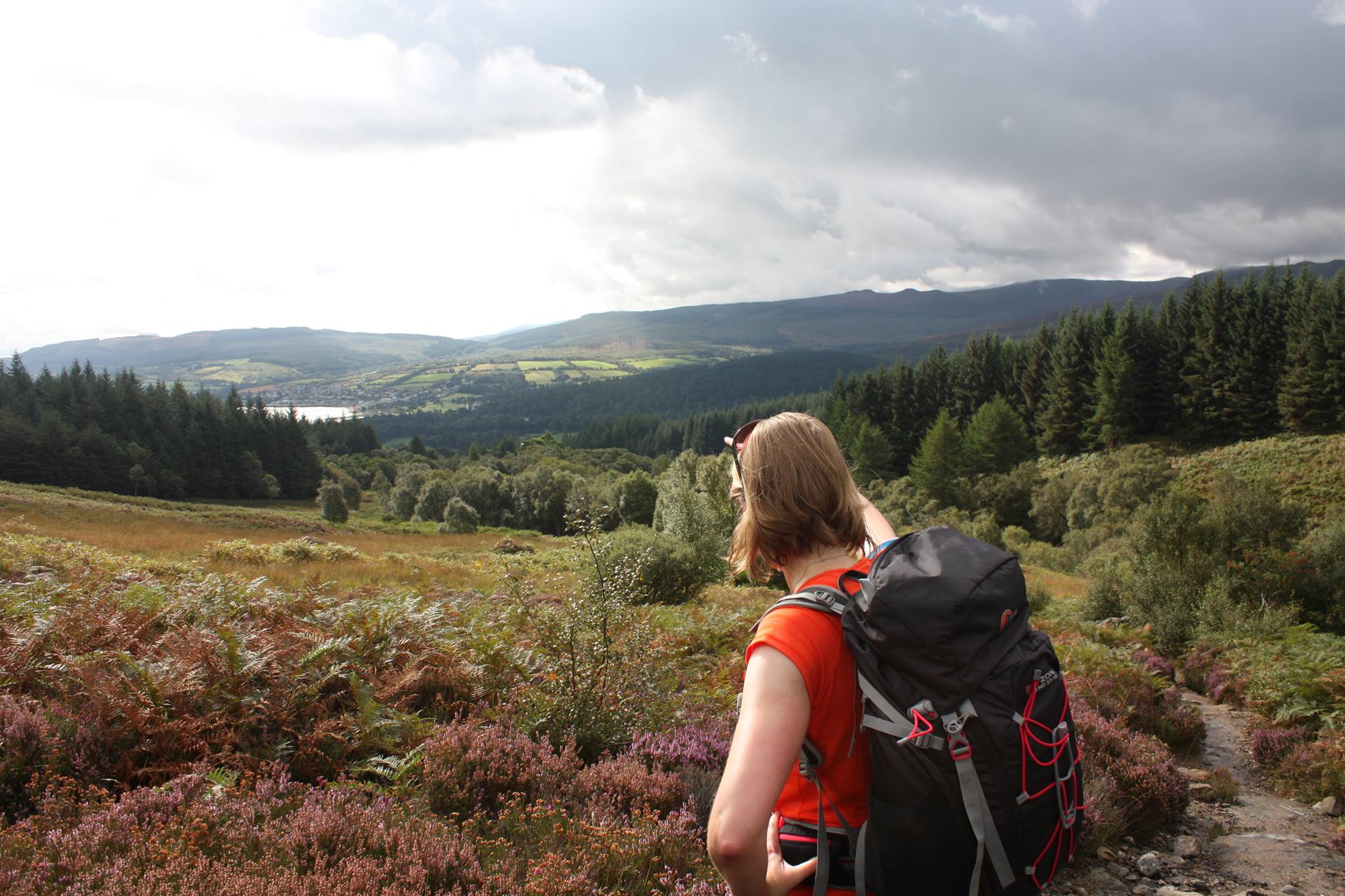 Lynne set off yesterday on her 64 mile Arran Coastal Way adventure. Accompanied by her husband Jon, Lynne is making the trip to gain further knowledge of the route as well as to enjoy the superb hospitality of our accommodation providers. This in turn will help us to deliver you even better walking holidays in the future.
Having arrived to grey skies and rain on Saturday Lynne and Jon were pleased to see some sunshine at breakfast yesterday morning. When planning their itinerary the couple had decided on a short first day from Brodick to Corrie with, weather permitting, an ascent of Goat Fell.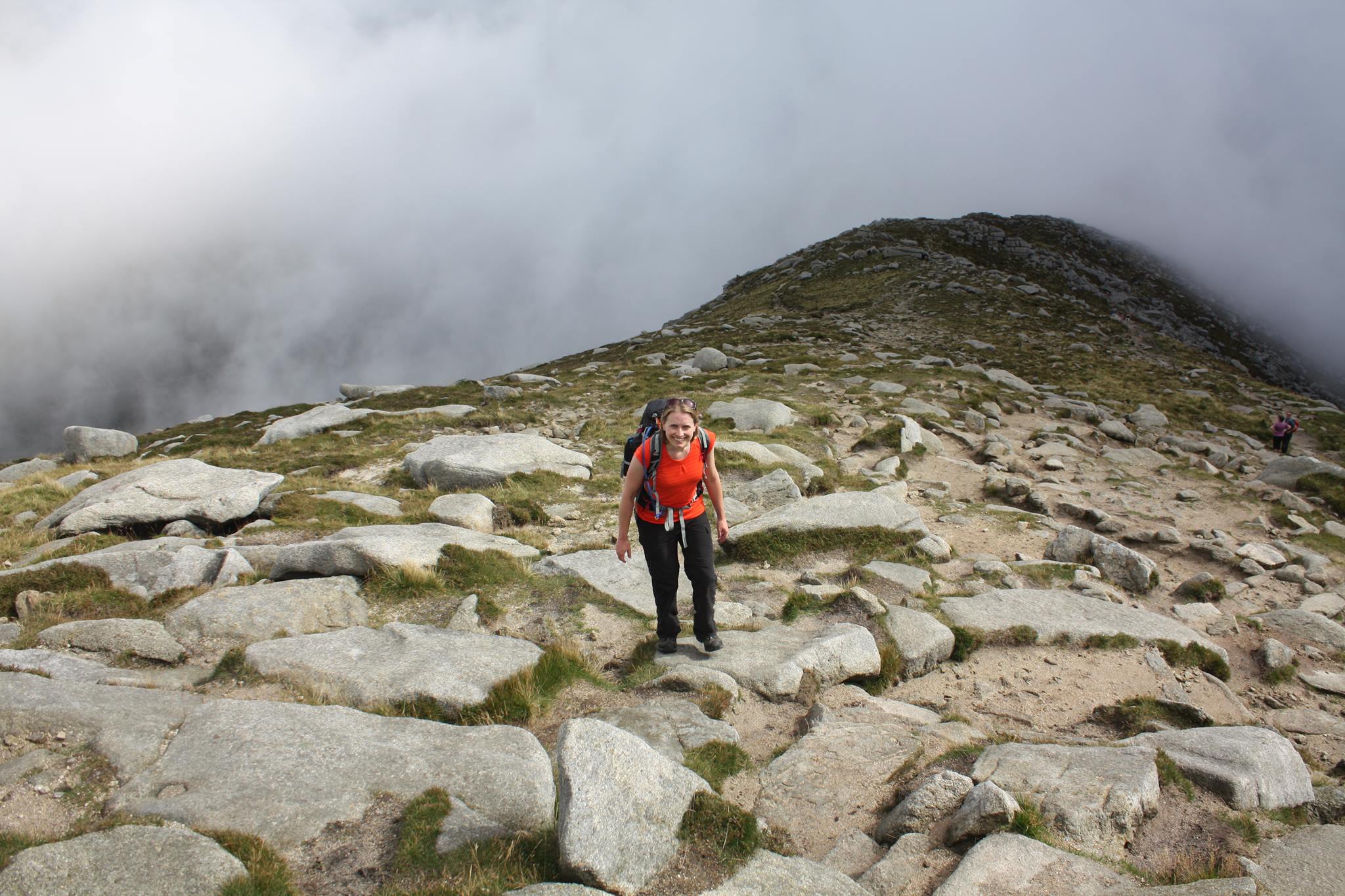 At 874m Goat Fell is the highest peak on the island. In fine weather, it is a hugely satisfying climb and the walker is rewarded with some amazing views. We don't recommend the route in poor weather.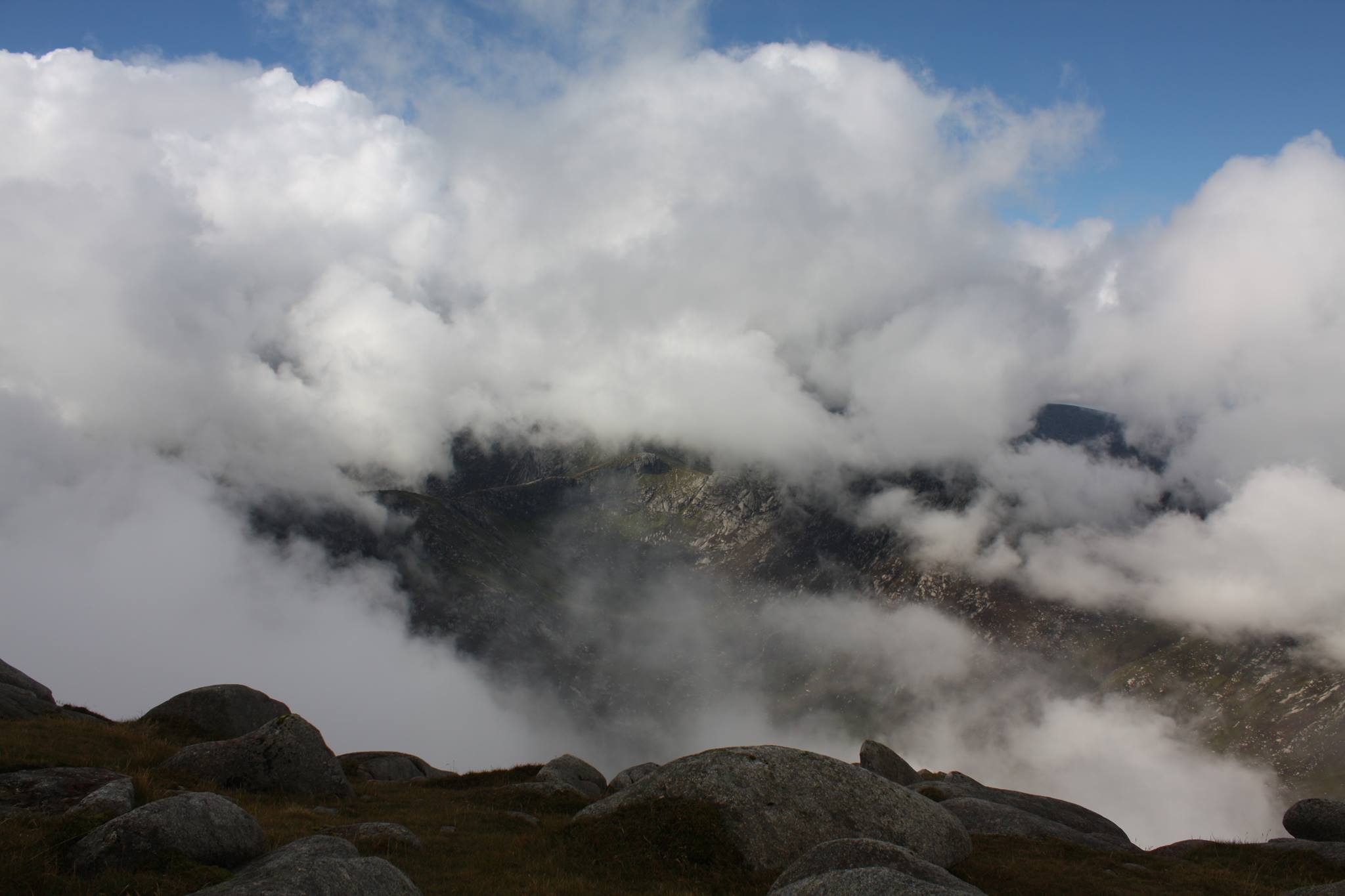 As you will see from Lynne's pictures they certainly didn't have clear blue skies but there were enough breaks in the cloud to make it more than worth the effort.
Corrie to Lochranza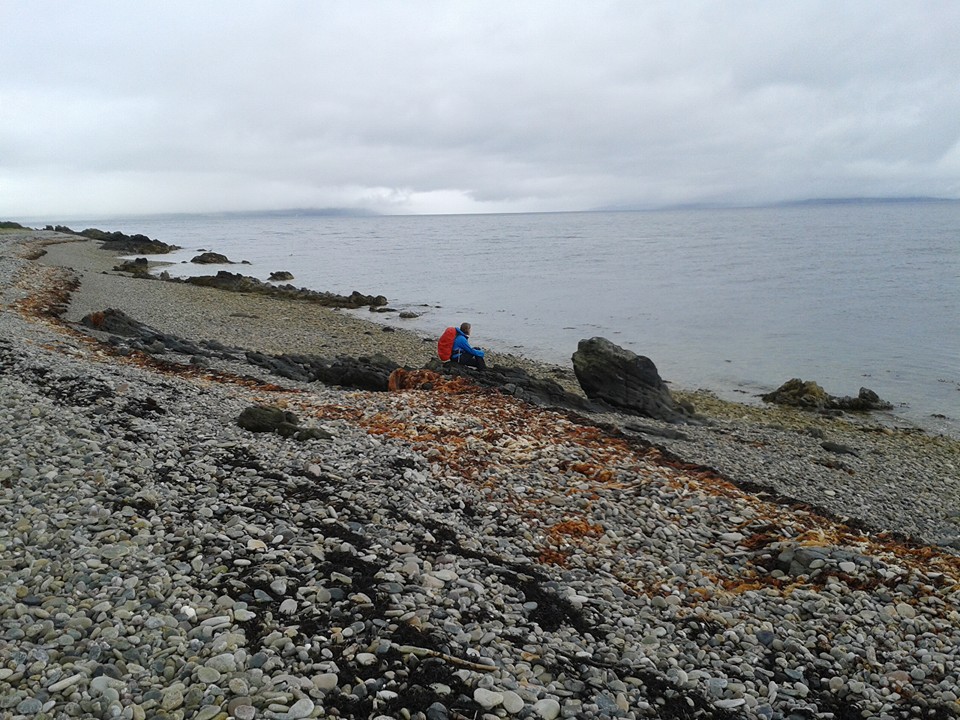 Having spent a relaxing evening in Corrie, Lynne and Jon woke to rain on day 2 of their Arran Coastal Path holiday. Thankfully they were prepared with their waterproofs as they set off towards their destination of Lochranza, which was about 11 miles away.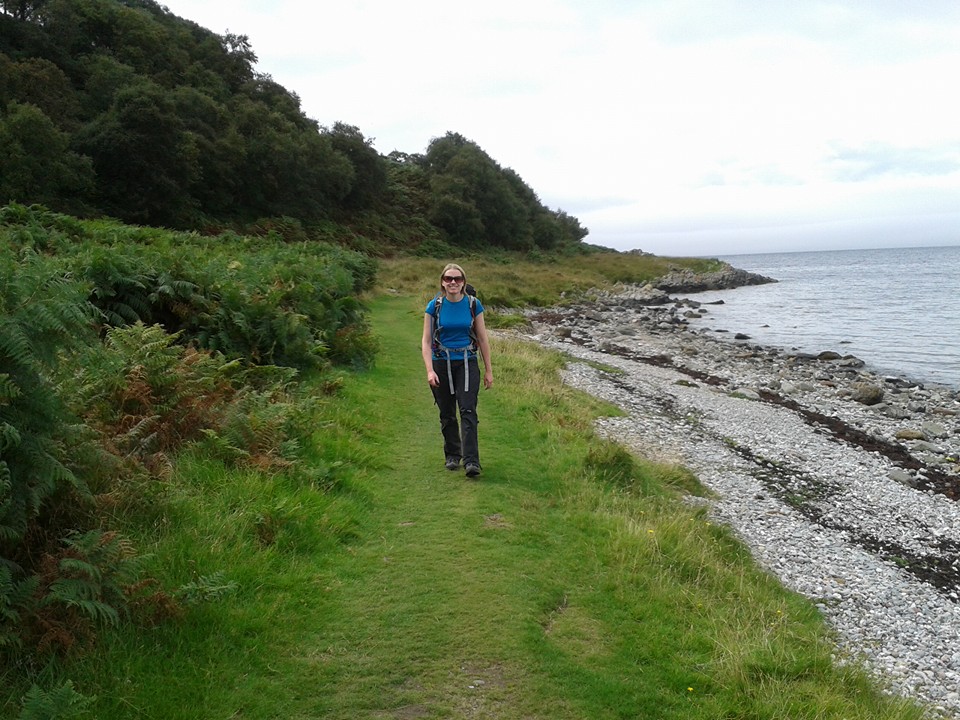 The Coastal Path is easy to follow and for the majority of the day the walking was at sea level on good paths. Once you leave Sannox there is no habitation for several miles, which brings a real sense of solitude. Lynne tells us a seal put in a brief appearance alongside them. Too brief to capture a good photograph.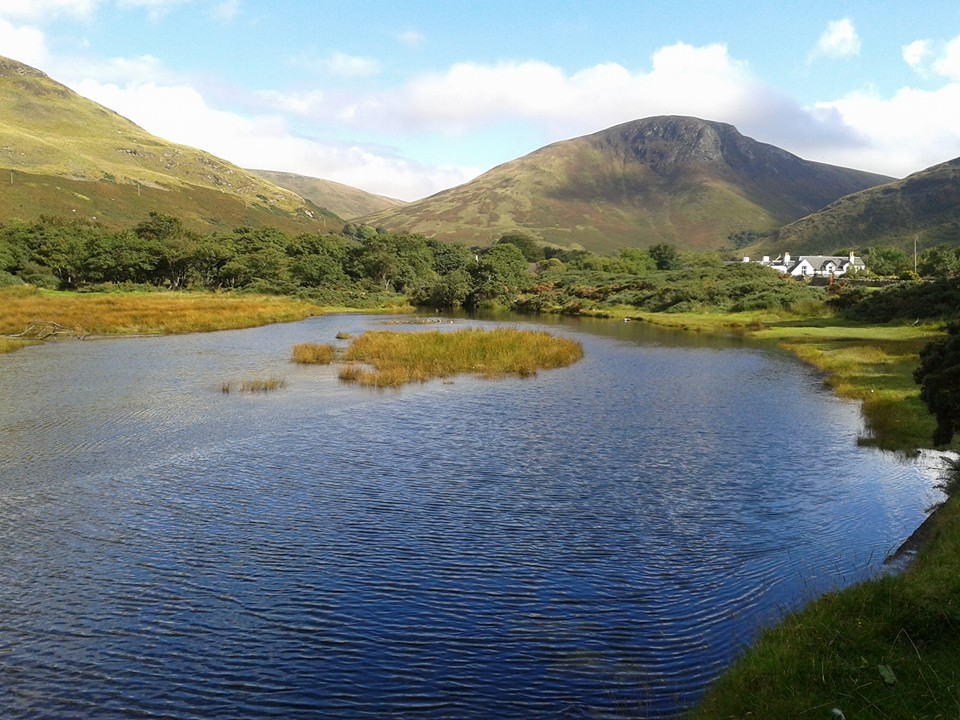 As they rounded the northern tip of the island the terrain changed and became rockier underfoot and some concentration was required at this time. The efforts of the Arran Coastal Way project has improved this path and it didn't present any real problems for Lynne and Jon.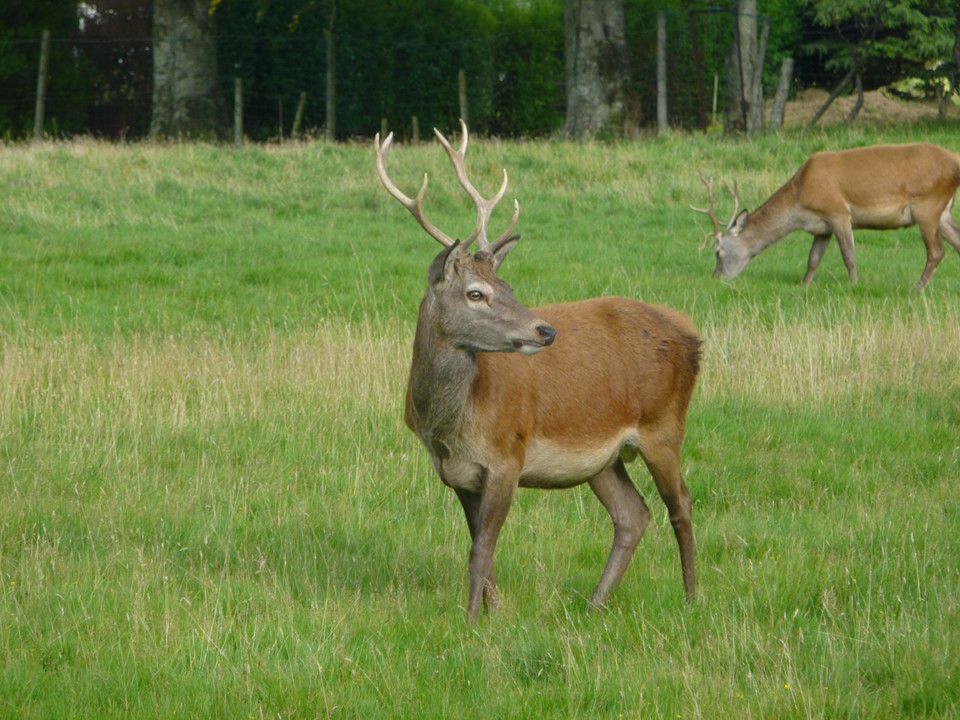 Later in the day the sun came out, which made for a fabulous couple of hours in Lochranza in the evening. It's a pretty village with a very relaxed feel to it. Lynne reports that they made sure they saw some of the resident red deer. However they didn't quite make it to the distillery to sample the whisky. Tomorrow perhaps!
Lochranza to Blackwaterfoot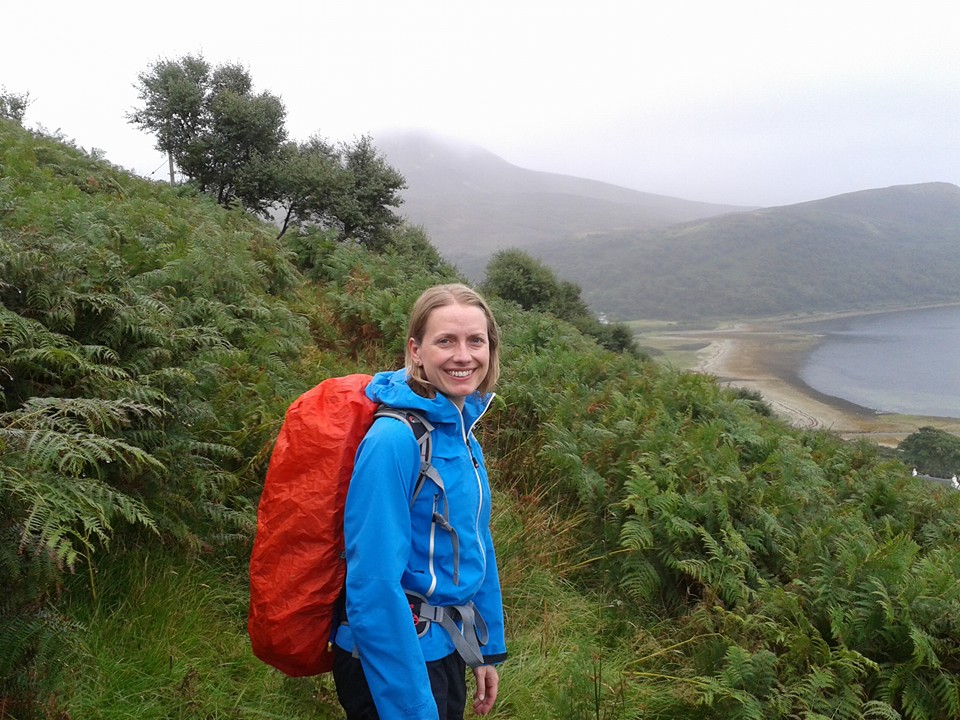 Anyone who has walked in the UK will know that the skies sadly aren't always blue, and as you'll see from these photographs, that was certainly the case for Lynne and Jon yesterday on day 3 of the Arran Coastal Path.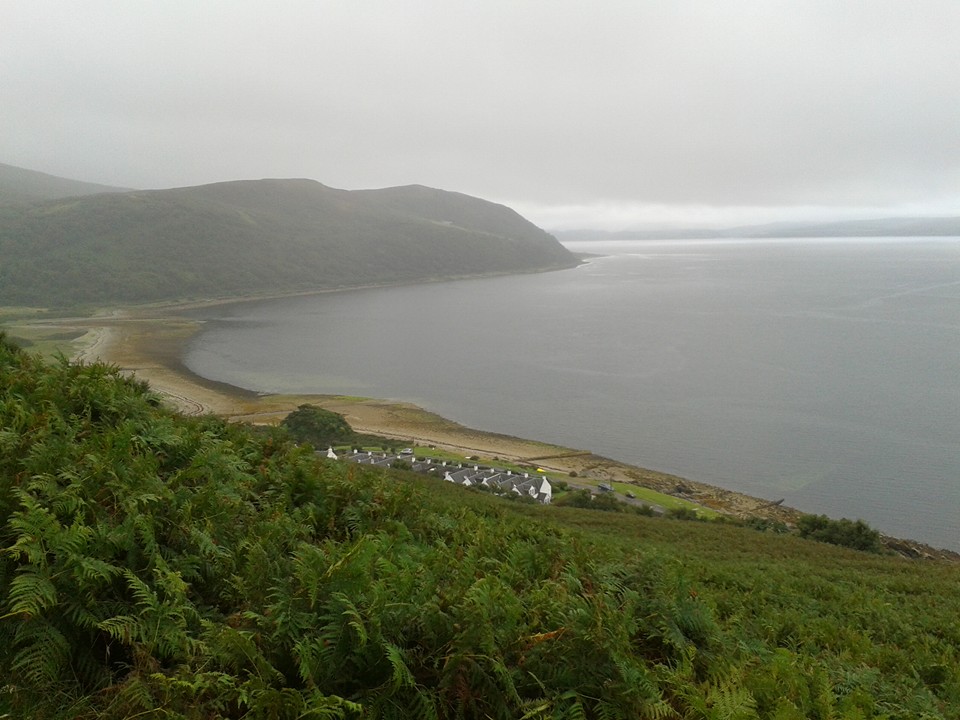 They had an 18 mile day ahead of them, walking from Lochranza to Blackwaterfoot and in Lynne's words she "Much to Jon's distaste" tried to set a fast pace. After an initial short climb the path returned to sea level for most of the day keeping with the coast road. This provided Lynne and Jon with fabulous views across to Kintyre. There were lots of sea birds to watch and once again they were constantly on the lookout for seals. They saw two, which was twice as many as the previous day, but still no photo!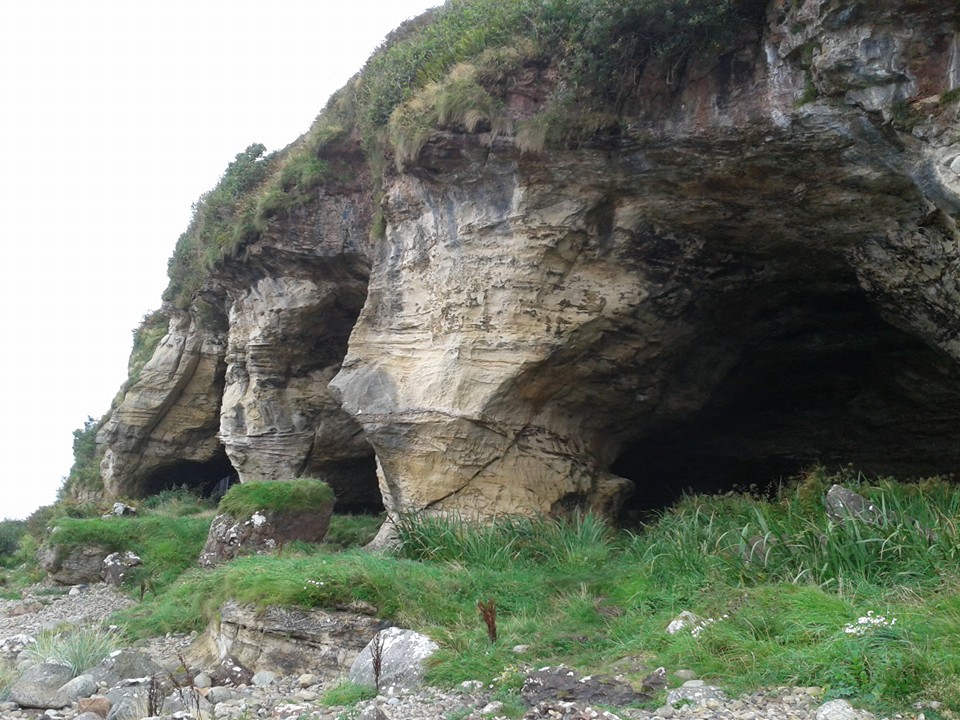 After a welcome cup of tea in Machrie in the afternoon the couple enjoyed their favourite part of the day when the remaining few miles took them onto the clifftops where they enjoyed some lovely views, which would be even better in fine weather, before dropping down again to King's Cave and then continuing along the shoreline around the imposing rocks of Drumadroon Point. The final leg of the day was along the beach to Blackwaterfoot where they were warmly welcomed at their accommodation. All in all, despite the lack of blue sky, it had been a very good day.
Blackwaterfoot to Lagg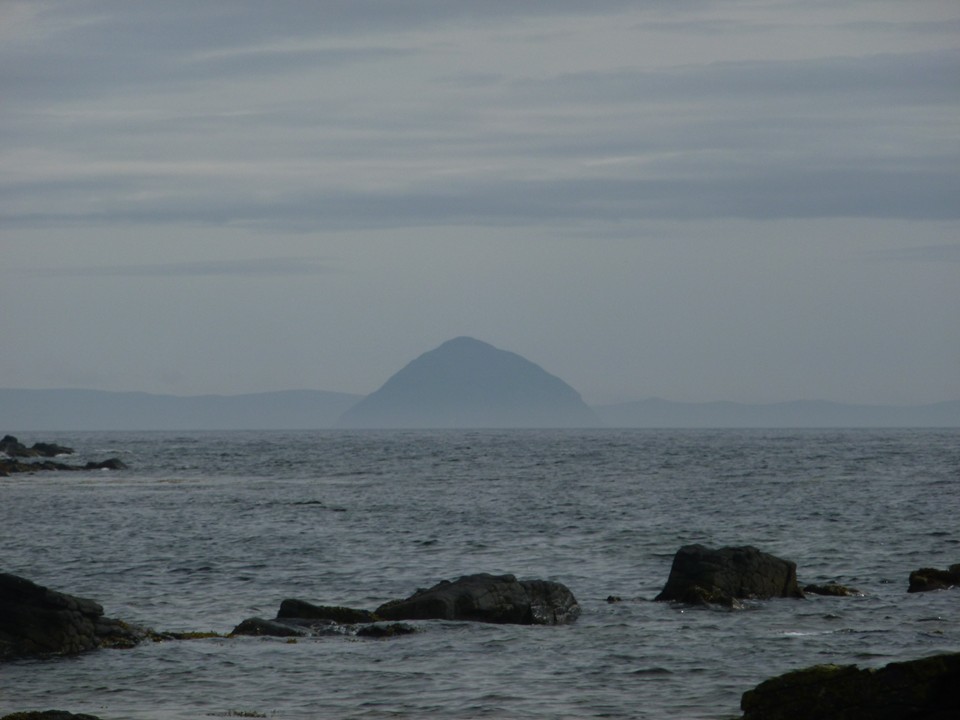 After a long day on Tuesday, Wednesday's walk from Blackwaterfoot to Lagg was a much shorter one for Lynne and Jon at just 8 miles. To make the most of their day they adopted a more leisurely pace than the previous day.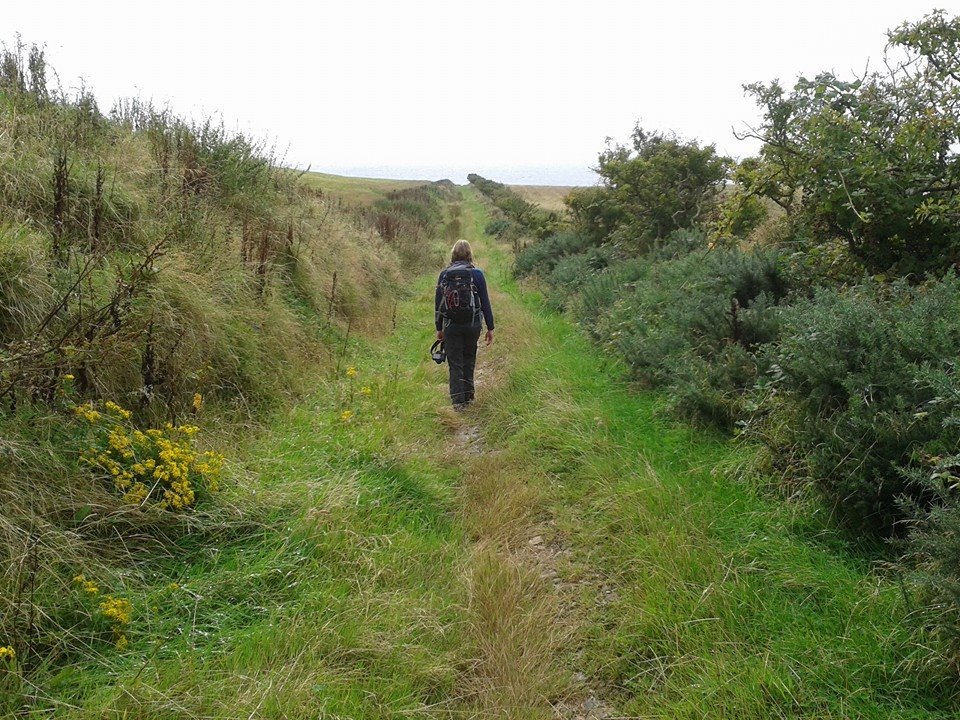 The path follows the shoreline to begin with, providing gorgeous views back to Blackwaterfoot and Drumadoon Point before climbing to the road and rewarding you with elevated views and a host of blackberry laden hedgerows to forage on!
Lynne and Jon had their first sighting of a red squirrel on the island yesterday as it scampered along the road ahead of them. However as in previous days with the seals the squirrels also were camera shy.
Once again the last few miles proved to be their favourite of the day. The tide was out allowing them to walk along a stretch of beach, which was sandier than many they've encountered. The weather brightened up too, making for a very enjoyable last hour.
Lagg to Whiting Bay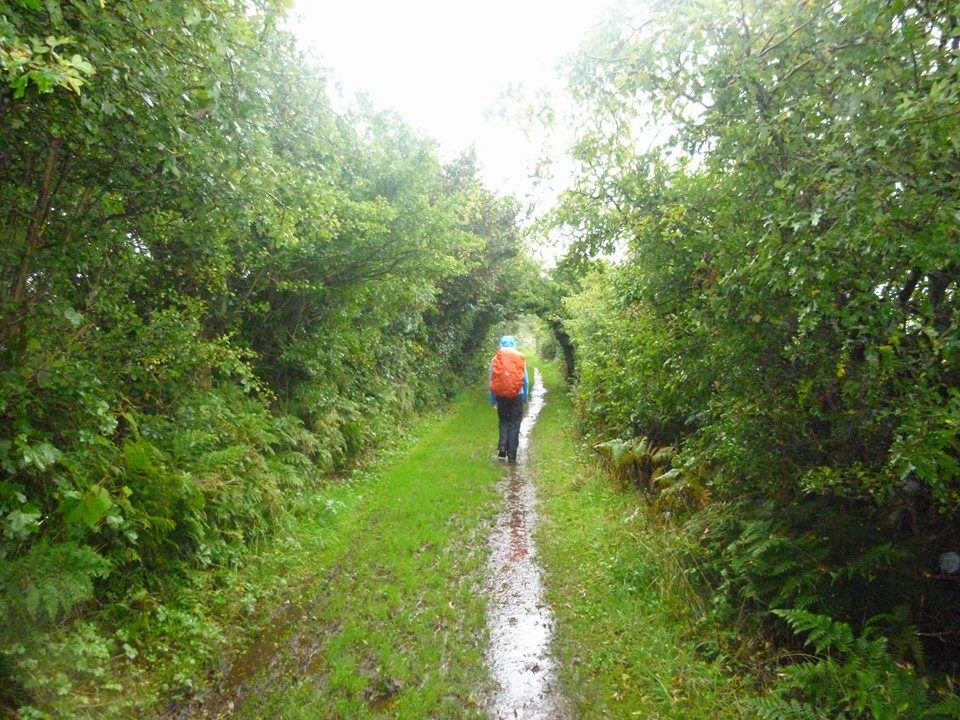 The penultimate day on the Arran Coastal Path dawned wet for Lynne and Jon. They prepared themselves for a soaking, as they headed off from Lagg in the direction of Whiting Bay, and it did indeed happen. Not once, but twice.
However the day had plenty of highlights and Lynne tells us it was perhaps one of the most enjoyable days they've had.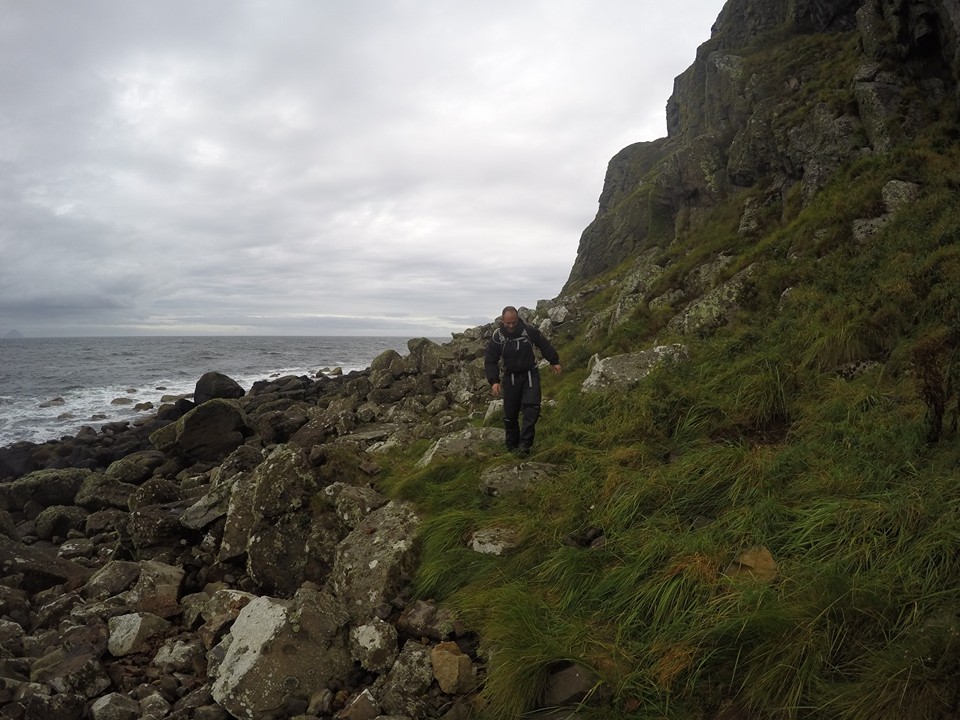 They started out with an easy walk on the beach before taking advantage of the low tide which allowed them to tackle the rocky path around Black Cave, and Brennan Head. This section being impassable at high tide.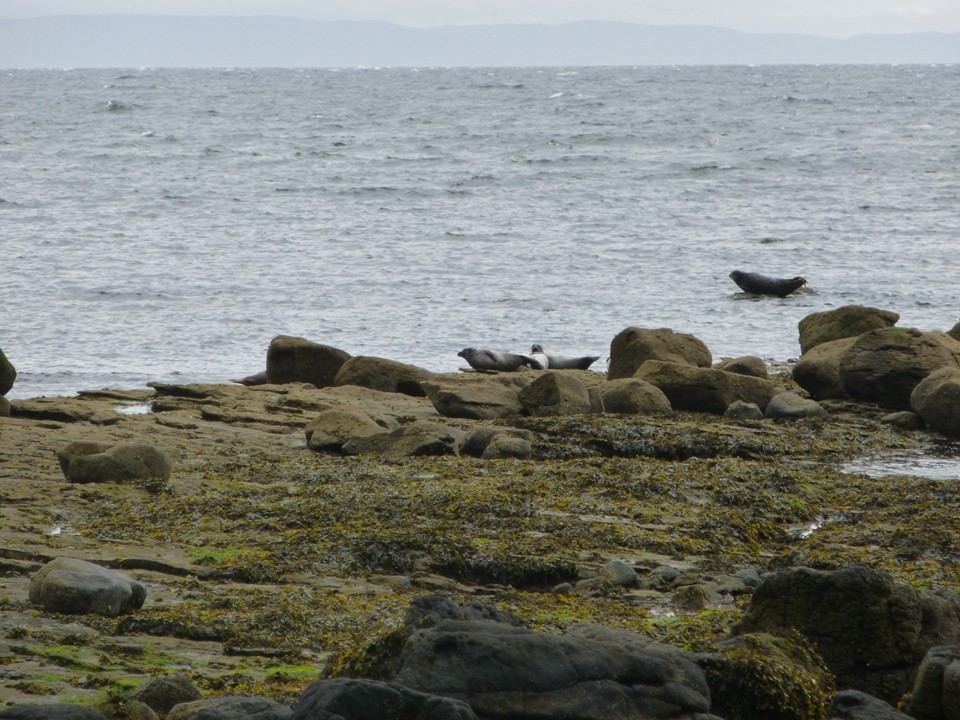 The couple then approached Kildonan and were incredibly fortunate to see not only seals, and there were many of them, but also an otter and at fairly close range too. An absolute joy to watch. Their only disappointment being they didn't have a better zoom lens on their camera.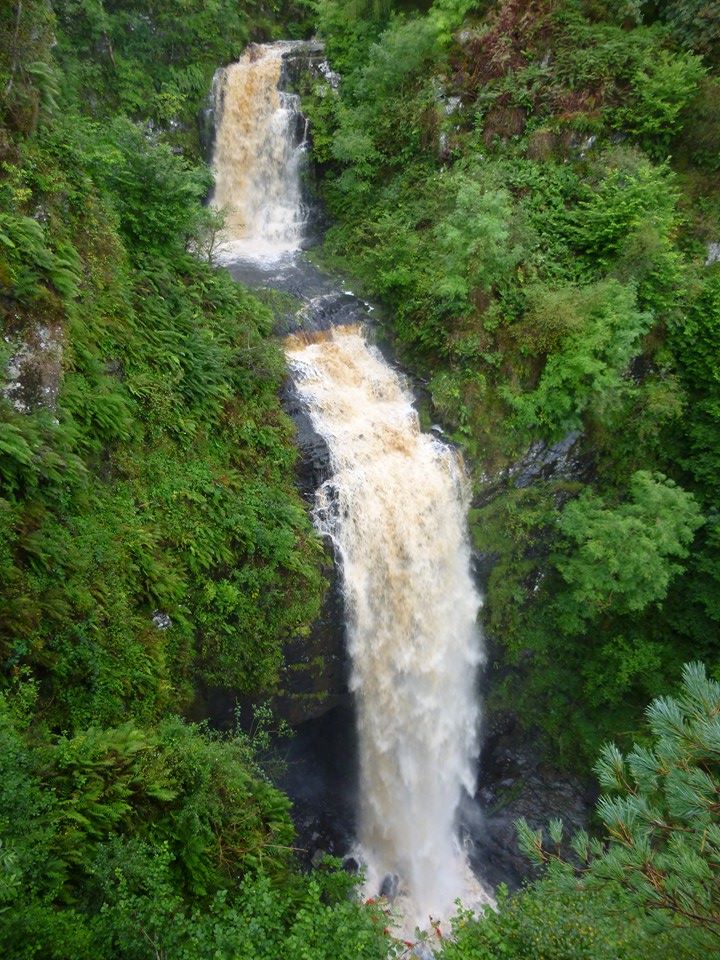 The rising tide in the afternoon forced Lynne and Jon to take the alternative path inland and as a consequence were unable to document the path around Dippin Head. However the alternative path gave them the opportunity to view Glenashdale Falls, which Lynne has described as one of the most impressive waterfalls she has seen in the UK.
Only one day remaining!
Whiting Bay to Lamlash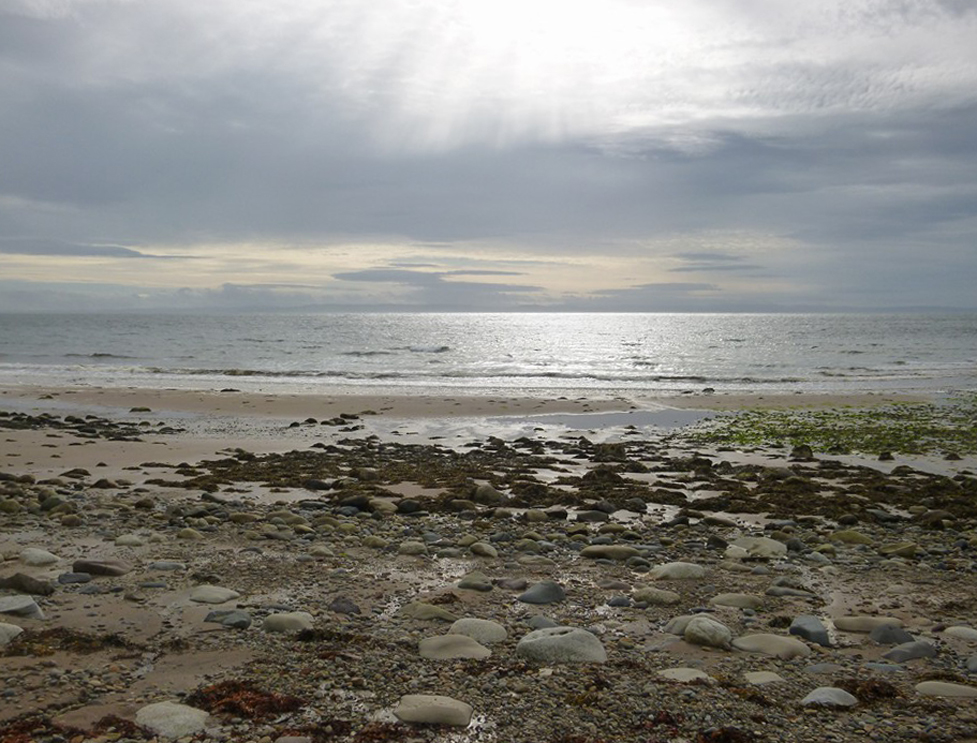 Lynne describes her final day on Arran as 'soggy'.
Lynne and Jon arrived in Brodick on Friday afternoon very, very wet but having had an enjoyable day nevertheless, and we're told they enjoyed some brightness first thing to spur them on their way.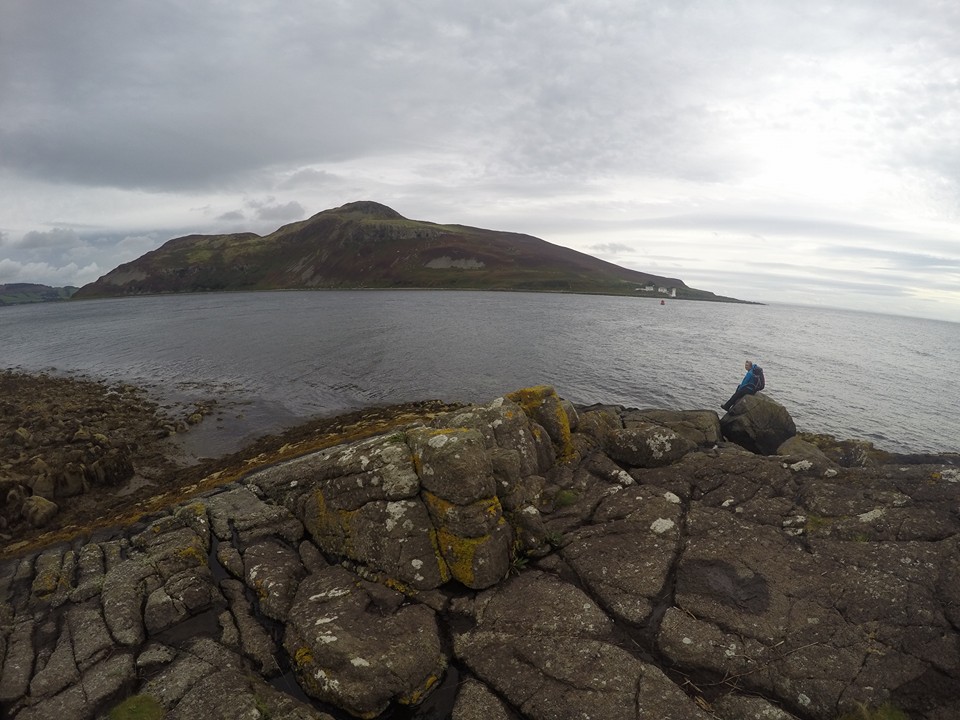 The main path from Whiting Bay to Lamlash journeys inland but there is an alternative route tracing the beach around Kingscross point at low tide. Lynne and Jon obviously chose the coastal route and were rewarded with fabulous views of Whiting Bay and Holy Isle before rounding the headland for their first sighting of the calm waters of Lamlash Bay.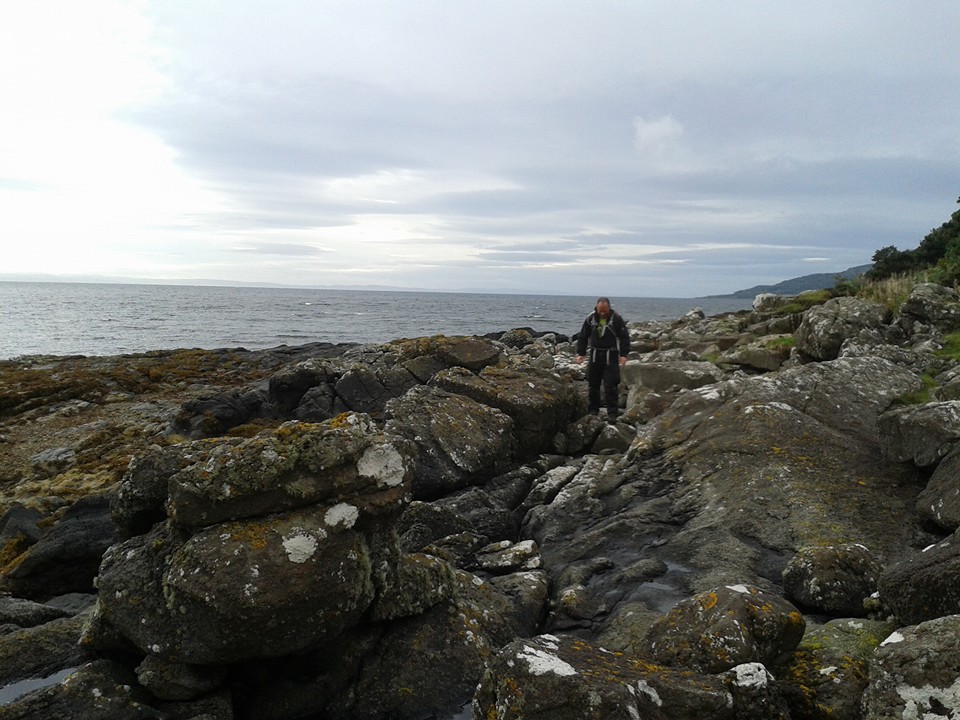 Lynne tells us she experienced some very slippery terrain on this section which meant that the walking was far from easy, however they were delighted to see that sections of boardwalk are being installed which will make this route a much more attractive option in future.
Following a coffee break in Lamlash the final stretch of the walk to Brodick took them around Clauchlands Point before following the coast on a well-defined path which was a blessing considering the blustery wet conditions in the afternoon.
Summing up their week on Arran, Lynne tells us she and Jon had a great time. The walking was challenging at times but always incredibly enjoyable with some wonderful wildlife sightings. Highlights included; the otter in Kildonan Bay, Goat FelI, mile after mile of lovely coastal scenery and not forgetting, some great hosts and lovely places to stay.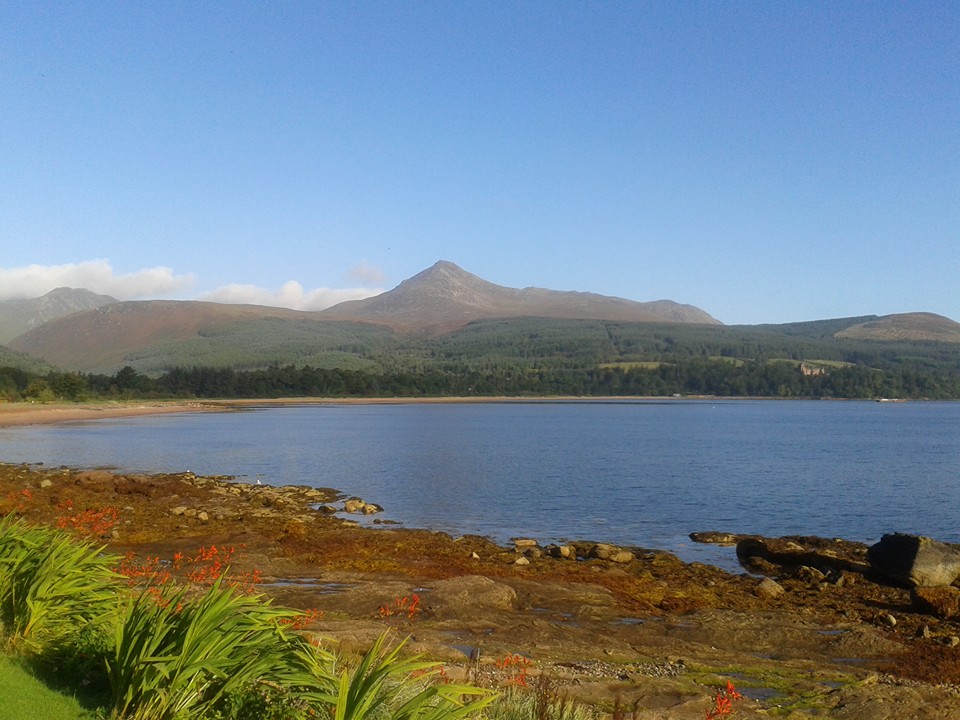 And on Saturday morning as Lynne and Jon were preparing to the leave the island, the sun was shining again just as it had done on their arrival a week before!
We have a variety of options for the Arran Coastal Way including walking the whole trail over 5 to 8 days, or doing either the Highlands or Lowlands sections over 3 to 5 days.  For more information on the Arran Coastal Way email info@mickledore.co.uk or to speak to Lynne or any of our walking holiday experts, call 017687 72335.