Wainwright: A Love Letter to the Lakeland Fells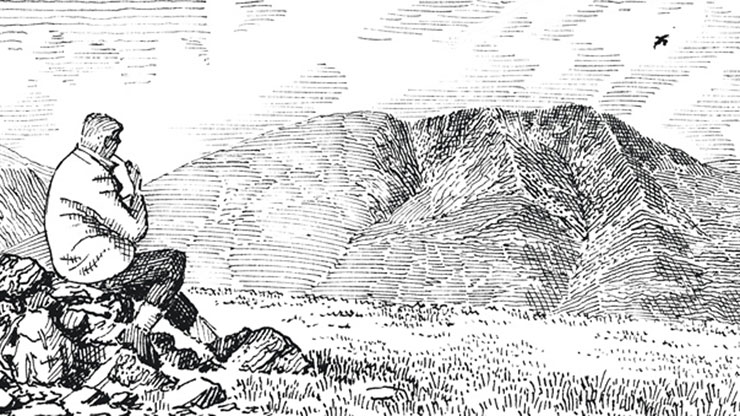 'All who truly love Lakeland are exiles when away from it.'
The words of Alfred Wainwright, written over 60 years ago in 1955, in his introduction to 'A Pictorial Guide to the Lakeland Fells, Book One, The Eastern Fells'. This was the first of 7 pictorial guides to the Lakeland Fells. A task that kept Wainwright busy for all but 1 week short of 13 years.
We are proud sponsors of a major exhibition exploring Wainwright's world; his walks and his unique method of recording them. The exhibition, Wainwright: A Love Letter to the Lakeland Fells, hosted by Keswick Museum & Art Gallery opened last week and will run until 4th January 2017.
Wainwright concluded in that first introduction, 'This book is one man's way of expressing his devotion to Lakeland's friendly hills … It is, in very truth, a love letter.'
This exhibition, dedicated to the legendary walker, will use archives, original artifacts, film and interactive exhibits to recreate Wainwright's early life and reveal his unique drawing and mapping methods. The museum is working with Kendal Archive Centre who have in recent years acquired a large archive of his material as part of a Heritage Lottery Funded project. The exhibition will feature original drawings, letters and manuscripts from this collection.
Visitors to the exhibition will be able to explore AW's life through film, archives and his possessions; share the awe of his first fell-top moment; fly round all the Wainwrights in ten minutes in our mini cinema; immerse yourself in our interactive Wainwright map; get to grips with Wainwright's creative methods; see original Wainwright drawings and his possessions and find out what made Wainwright's guides so special.
Visitors will also get the opportunity to contribute to the exhibition with their 'Wainwright moment' by telling the story of the moment they woke up to the magnificence of the Lakeland Fells. Alfred Wainwright first 'stood transfixed' by Lakeland on Orrest Head, Windermere in 1930. He was 23 at the time and taking his first holiday from Blackburn in Lancashire.
See Julia Bradbury's Wainwright moment at Facebook's Wainwright in Keswick page and be inspired to add yours and get involved!